Bearing Witness: A Unique Opportunity for Catholic School Educators
About The Author
Donna Tarney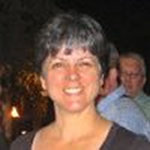 Donna Tarney is the Theology Department Chair at Charlotte Catholic High School in Charlotte, North Carolina. She earned a Masters in Religious Education from Loyola University in New Orleans and has taught at the high school level for 9 years. She currently teaches World Religions, Holocaust Studies, and Christian Lifestyles and uses Echoes and Reflections in all of these courses. Donna participated in the Bearing Witness and Bearing Witness Advanced programs sponsored by the Anti-Defamation League, the Jan Karski Institute for Holocaust Education Summer Institute, and the Holocaust Educators Network program in NY City.
04/15/2015
Bearing Witness™ is a professional development opportunity that brings together Catholic school educators to learn strategies for teaching about antisemitism, the Holocaust, changes in Catholic teaching on Jews and Judaism, and contemporary prejudice in their schools and communities. The program is open to Catholic school educators of history, religion, social studies, and English at the middle and high school levels, as well as administrators and librarians.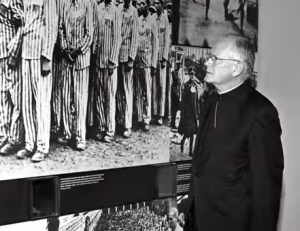 Bearing Witness utilizes fundamentals from Echoes and Reflections and has trained nearly 1,900 Catholic school educators, impacting over 280,000 students across the country. As a joint professional development program of the Anti-Defamation League, the National Catholic Educational Association, the Archdiocese of Washington, the United States Holocaust Memorial Museum, the US Conference of Catholic Bishops, and the Georgetown University Program for Jewish Civilization, Bearing Witness is changing relations between Catholic and Jewish communities. Applications for the National Bearing Witness Summer Institute are due April 17th 2015.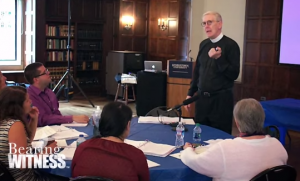 Donna Tarney, an 11th and 12th grade theology teacher at Charlotte Catholic High School heard about Bearing Witness through her archdiocese. "I've been personally interested in the Holocaust since I was in high school when it came to the forefront of the Catholic discussion. It really captured my imagination. A lot of stories I heard then were of righteous gentiles and of people who took a chance to save others. They made me think, even as a high school student, about what would it take for me to do that for somebody else? What does it take to risk everything to protect someone?"
Tarney participated in Bearing Witness in the summer of 2012 in Washington DC. She then applied and traveled on the advanced track to Israel in 2013. In Israel, along with twenty other Bearing Witness alumni, she engaged in an even deeper exploration of the Holocaust.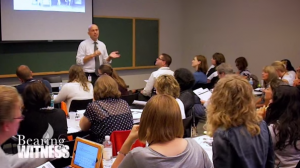 Interested in social justice and morality within the context of the Catholic faith, Tarney found that, "Bearing Witness brought home for me the power of religious thought in influencing the way a person behaves. In particular, Hitler ostracized people who were viewed as different. He played on religious fears and used religious morals to marginalize people… religion is never meant to do that and it is so easy to misappropriate God."
"Being a participant in Bearing Witness changed the way I think about education and my role as an educator. Attending a professional development program that was tailored to my specific teaching environment was really special. I learned so much, even about the Catholic Church, and about Judaism that I had not known before, in a context that tied everything together. Bearing Witness weaves a tapestry through different disciplines."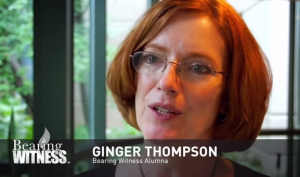 "Meeting with people that share a common understanding opened up opportunities for conversation. We talked through what we do in our classrooms and different pedagogy we have learned. I learned about student-led learning, and how to support critical thinking development. One educator shared that after his unit on the Holocaust he encourages students to reach out and interact with members of their local community, looking for opportunities to lend support to those in need. So many colleagues had wonderful strategies and imaginative approaches to inspire meaningful action."
Tarney emphasizes student exploration in her Holocaust unit and guides her students by asking challenging questions. "If you don't come to the answers through investigation it doesn't stick. Everything we did as learners during Bearing Witness trained us to facilitate lessons in which struggling and wrestling with information is encouraged. For me, this emphasized the importance of not just giving students information but helping them to really work with it."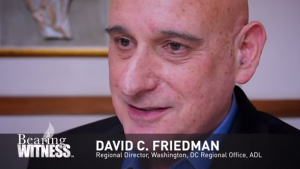 In implementing what she learned, Tarney found that Bearing Witness helped her students put themselves in other's shoes. "We examine people's individual stories and learn to see that one's perception of what is happening becomes reality. A lot of times in the classroom I get comments like, 'That's not right because I don't think that way' from students. I send them to the news to find instances of similar things happening in today's world, and encourage them to look outside of themselves, away from their own mirrors. I challenge them to consider their own stance. I ask, 'What do you think now? What can we do and how can we affect change?' Being in the Bearing Witness program gave me tools to help my students see something through another person's eyes and develop empathetic thinking."
Bearing Witness was a recipient of the National Catholic Educational Association's 2008 President's Award. It is open to Catholic school teachers and funded through generous grants. All participants are eligible to apply for an underwritten trip to Israel to continue their learning. View the Bearing Witness informational video to hear from other educators and apply now!