Who is Margaret Lambert? – Teaching with Testimony and the 1936 Olympics
About The Author
Robert Adler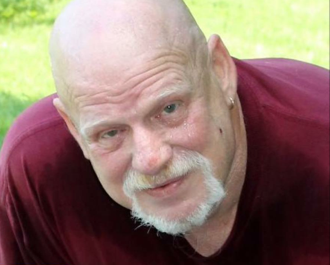 Robert Adler was born in New York City and earned his BA from the University of Buffalo. After many years in the garment industry, he moved to Berks County, Pennsylvania in 1996, returned to school, and became a special education teacher. With more than 31 years of experience supporting people struggling with substance abuse, Adler was brought on as an Alternative Education teacher at Berks County Intermediate Unit in 2001. Adler holds teaching certificates in Special Education, Social Studies, English and Biology. He earned his MS in Education from Wilkes University and is an experienced Echoes and Reflections educator.
06/29/2016
Born Gretel Bergmann on April 12, 1914, Lambert achieved the German high jump record in 1931 and, as a young athlete, was committed to pursuing a career in athletics. In her 1995 interview with the USC Shoah Foundation, Lambert shared that with the Nazi rise to power, "Everything changed. People that you knew wouldn't talk to you anymore," and Lambert was excluded from organized sports because she was Jewish.
"Teaching with Margaret's testimony, and sharing her story with students, adds a unique dimension and depth to learning about the Holocaust," shares Robert Adler, a history, special education, and English teacher at Berks County Intermediate Unit in Pennsylvania. "Here is somebody who actually lived the experience," he says, emphasizing that her unprecedented athletic career and discussion about life under the Nazi dictatorship is a powerful introduction for students to the study of the Holocaust, and the complexity of persecution, bias, and antisemitism.
"In my classroom, we talk about Margaret's life, how affected she was by the prejudice she faced, and the injustice of what she experienced. Margaret's testimony brings light to the fear and trepidation people felt when the Nazis took over, people's responses, and the way they changed their behavior. Suddenly her friends were not her friends. It is an experience that is relatable for today's kids…"
In her testimony, Lambert explains that in an effort to continue her career she moved to the United Kingdom where, in 1934 she won the British high jump Championship with a height of 1.55 meters. However, under the pressure of an international boycott of the 1936 Olympics in protest of Germany's treatment of Jewish athletes, the Nazi dictatorship exerted pressure on Lambert's family and she was forced to return to Germany. In what Lambert describes as a "charade," she was placed on the German Olympic team.
"The reason why I was put on the German Olympic team was that the Americans, the French, the English, they all wanted to boycott the 1936 Olympics in Berlin. I was the only Jewish athlete with world-class capabilities… If you can imagine what it feels like to compete in the Adolf Hitler stadium in front of only non-Jewish people who… didn't have very nice thoughts about me. What is this Jew doing there?"
One month prior to the opening of the 1936 Olympics, Lambert tied the German high jump record of 1.6 meters when she won the Württembergian Championship. However, with the boycott movement subdued and international teams enroute to participate in the Olympic games, the Nazi regime officially struck Lambert's accomplishment from the record books, and the German sports authorities removed her from the national team for under-performance.
Adler's students examine the challenges Lambert faced and are able to draw connections to behavior they have witnessed in their own lives. "The Holocaust is devastating, but Lambert's story encourages students to think critically about the way we behave toward one another and to take a hard look at what people can do, the strength of the human spirit, and to see the lessons we can learn from today."
"We talk about how Margaret fought as best she could not to give into the pressures she experienced and I emphasize that history is ongoing and active. My students are moved by her courage and they are inspired to act on what they see happening today."
Adler also highlights that a number of other historical themes are brought to the forefront when students learn about Lambert. "Born in 1914," Adler explains, "Her story is one about women's roles too. She broke the norm with her independent spirit and the way she preferred to dress in pants. She asked tough questions about why she should be relegated to a particular role. In the 1920's and 30's it couldn't have been easy. She wasn't about to let herself be typecast and that is powerful for my students."
Margaret Lambert's life story is one of perseverance, persistence, and strength. As a talented athlete she faced extraordinary challenges and did everything that she could to follow her dreams.
In 1937, Lambert immigrated to the United States where, determined to leave her German past behind, she Americanized her name to Margaret. That year, she won the US women's high jump and shot-put championships, and in 1938, she again won the US high jump. She resigned from her career in sports after the outbreak of World War II.
Lambert married Bruno Lambert in 1937 and had two sons, Glen and Gary. She published a book about her experiences in 2004 entitled, By Leaps and Bounds and was featured in a 2004 HBO documentary Hitler's Pawn about her athletic career in Germany. Following her career in sports she became a physical therapist and, at the age of 102, Lambert currently lives in New York.
In recent years the German track and field association has worked to make amends. In 1995, a sports complex in Berlin was named in Lambert's honor. She and her husband were Germany's guests of honor at the 1995 torch lighting at the Olympics in Atlanta. And, in 1999, the Laupheim stadium that Lambert had been banned from in the 1930s was officially named after her. Lambert's 1936 German national record was officially restored in 2009.
Image of Margaret Lambert when she was five years old.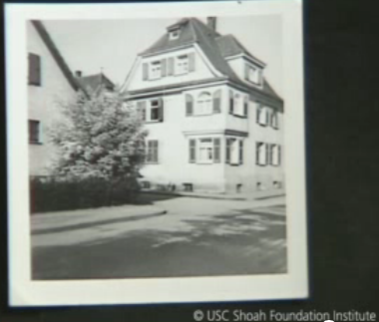 Margaret Lambert's childhood home in Laupheim, Germany.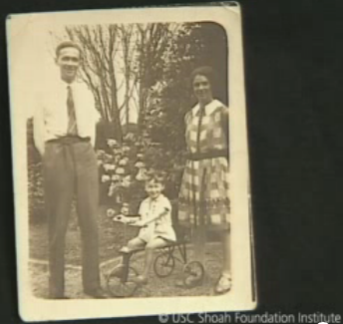 Margaret Lambert with her brothers Rudolph and Walter Bergman.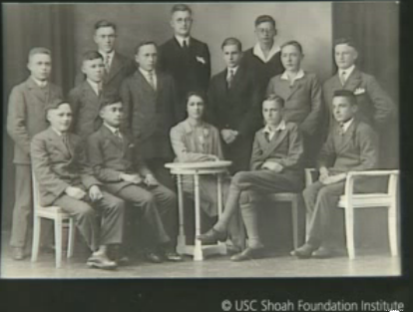 Margaret Lambert's 9th grade graduating class in Laupheim Germany. She was the only Jew and the only girl.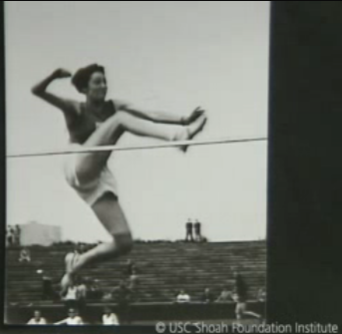 Image of Margaret Lambert at the Württembergian Championship in which she beat the German record prior to the 1936 Olympics.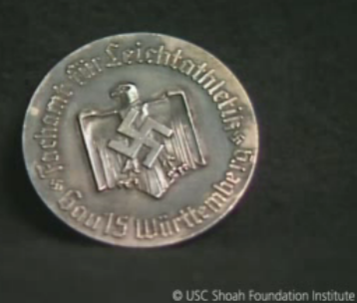 The medal that Margaret Lambert won in Nazi Germany when she beat the German record prior to the 1936 Olympics.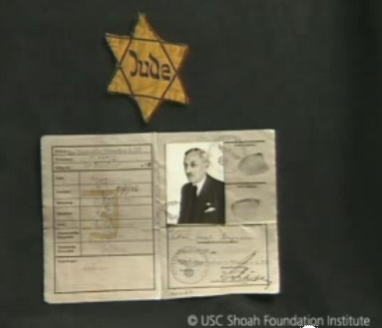 Margaret Lambert's father's identification papers that he had under the Nazi government and the yellow star he was forced to wear.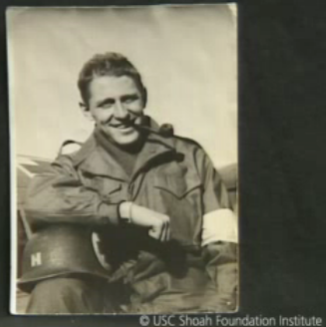 Margaret Lambert's husband Bruno Lambert served in the United States army.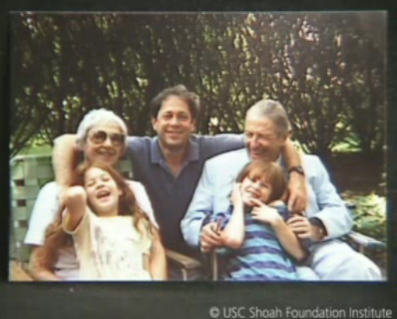 Margaret Lambert with her husband Bruno, their son Glen and two grandchildren.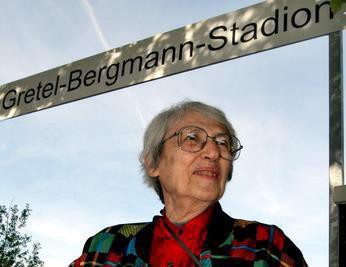 Margaret Lambert at the stadium named in her honor in Laupheim, Germany.