Taking Responsibility: The Value of Holocaust Education for Students
About The Author
Dr. Paul B. Winkler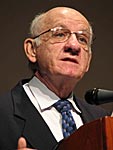 Dr. Paul B. Winkler has been formally involved in Holocaust, genocide, and prejudice reduction education since 1974. Over the last 50 years, Winkler was a teacher, principal, superintendent, Regional Education Director, New Jersey Deputy Assistant Commissioner of Education for Exceptional Children at the New Jersey Department of Education, and Director of a Teacher Training Center.

He has written many articles dealing with Holocaust and genocide education, including his most recent publication, "Teaching the Unspeakable – The New Jersey Story of Holocaust/Genocide Education." Winkler is currently the Executive Director of The Commission on Holocaust Education in New Jersey. He earned his doctorate degree in educational leadership in 1974.
10/21/2015
In 1994, the New Jersey Department of Education implemented a mandate that required Holocaust and genocide instruction for all K-12 students. The legislation was finalized shortly after New Jersey experienced an upsurge in ethnic hate speech and vandalism. Believing that there is a link between violence and ethnic and racial intolerance, the New Jersey legislature determined that teaching the Holocaust and genocide "must be made a priority" if the State's ethnic, religious, and cultural diversity was to remain one of its strengths.
Dr. Paul B. Winkler has been an instrumental force in guiding New Jersey's Holocaust education policy since the 1970s. With over 50 years experience as a teacher and administrator, and as the current Executive Director of the New Jersey Commission on Holocaust Education, his leadership has informed the implementation of Holocaust education statewide.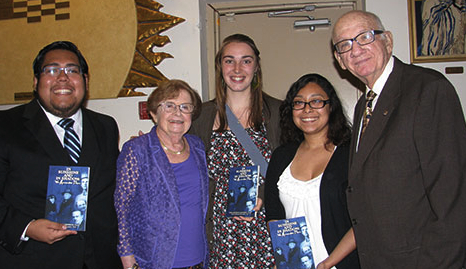 Winkler shares, "I am proud that New Jersey led the way with a well thought-out approach that will not only lead to a thorough understanding of the history of the Holocaust, but to steps that will ensure that tragedies like the Holocaust will never happen again."
Since 2005, Winkler has worked closely with Echoes and Reflections to offer professional development opportunities to educators implementing this mandate. "Echoes and Reflections is an outstanding professional development program and that is why we have gone out of our way to recommend that schools and programs in New Jersey utilize it," Winkler shares. "Our teachers use it because it is an incredibly good resource and provides educators excellent guidance and value."
The Role of Educators
As a strong proponent of the impact education can have on students, Winkler shares that, in the case of the Holocaust, it is important that teachers consider more than the history, the knowledge, and the facts. "In Western society, we have always believed that education, particularly universal education, is the answer to most of the world's problems. But, the perpetrators of the Holocaust were highly educated people with expansive knowledge. Engineers designed the crematoria; doctors prepared and implemented the experiments. How was this possible?" And, what does that mean about the role of education and the role of teachers?
Winkler suggests that Holocaust education requires educators to consider deeply the way they teach and how they choose to present information. The Holocaust is unlike other subjects in that it requires teachers to take a particularly active role in developing students' critical thinking skills that will enable them to identify and analyze human nature and behavior.
Understanding that genocide is "a consequence of prejudice and discrimination" is central, according to Winkler. "The issues of moral dilemma and conscience have a profound impact on life." Examining these subjects highlights the personal responsibility that each citizen bears to fight antisemitism, racism, and all forms of bigotry and hatred wherever and whenever it happens.
Taking Responsibility
According to Winkler, the Holocaust raises many questions that inform students' behavior in the world: "What is our individual responsibility? If we see something evil, should we report it? What if reporting it would endanger your job or personal safety? What is our responsibility as a nation? Are we collectively tasked with speaking out against persecution and injustice in our communities? What about injustice in other parts of the world?"
Winkler highlights the power in asking these questions and considers the impact of this line of questioning the most important lesson for students when studying the Holocaust. As students confront these and many other difficult questions it becomes clear how individual choices have an impact on other people and one's broader context.
The New Jersey mandate to teach Holocaust and genocide education is a strong statement about the value of teaching respect and building strong communities. It encourages a "depth of conscience" in students that ultimately highlights one's personal responsibility to combat prejudice of any sort. With the Commission emphasizing the importance that students grasp the consequences of ignoring those who hate, Winkler feels that Holocaust education will play a central role in encouraging awareness in students.
"The Holocaust remains one of the most disturbing and horrific events of all time…" Winkler adds. "If we are to ensure that it is never repeated, we must understand how the Holocaust happened in the first place, and spend time thinking through what these lessons can teach us about our lives today."