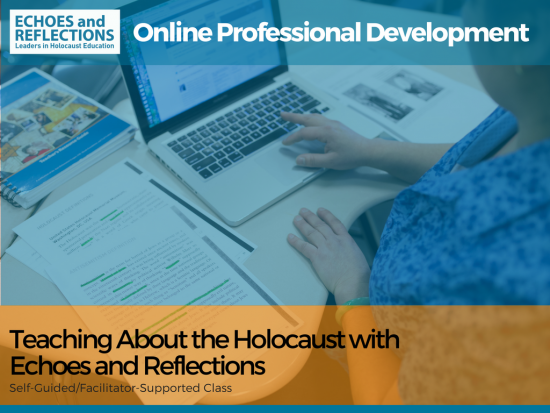 Teaching about the Holocaust – Online Learning for Teachers
Three interactive learning modules released over three weeks.
Module I: Opens April 3
Module II: Opens April 10
Module III: Opens April 17
This program introduces learners to:
Classroom-ready comprehensive print and online resources
Sound pedagogy for teaching about the Holocaust
Instructional pathways to help students learn about the complex history of the Holocaust
Background information on the history of antisemitism
Strategies to incorporate a range of primary sources, including visual history testimony, to classroom instruction
All the Details:
Program includes three interactive modules released over three weeks
Approximately 6 hours to complete in total – at no cost
Proceed at your own pace each week, be supported by an instructor, and enjoy interaction with other educators
Optional: prepare an activity or mini-lesson for your classroom (additional 4 hours)
Receive a certificate of completion and copy of the Echoes and Reflections Teacher's Resource Guide, and join a network of educators teaching about the Holocaust and genocide
Echoes and Reflections delivers value to both experienced Holocaust educators who are supplementing their curricula and for teachers new to Holocaust education.

When: 04/03/17
Time:
All Day
Sponsored by:
Registration:
Registration has now closed.
This program is intended for educators who have not participated in an Echoes and Reflections program previously. The program is being offered at no cost.