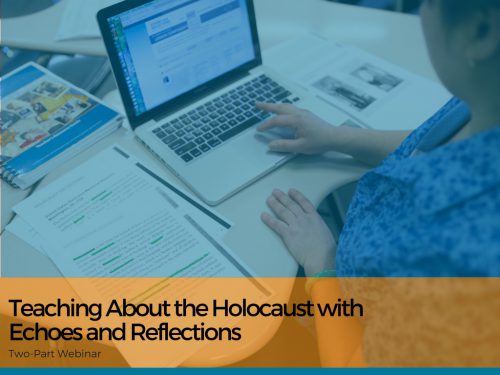 Part 1 (online/moderated) January 17, 2017 @ 4pm PST(90 minutes)
Part 2 (online/moderated) January 31, 2017 @ 4pm PST (90 minutes)
Learning Goals:
Part 1: You will be introduced to and engage with Echoes and Reflections pedagogy and best practices for teaching the Holocaust, the content of the Teacher's Resource Guide and the supporting multimedia components, including visual history testimonies selected and integrated with each lesson.
Part 2:  You will explore a lesson in the Teacher's Resource Guide through analysis, reflection and web-based discussion. Strategies for integrating IWitness to support and extend Echoes and Reflections will also be a focus.

Echoes and Reflections delivers value to both experienced Holocaust educators who are supplementing their curricula and for teachers new to Holocaust education.