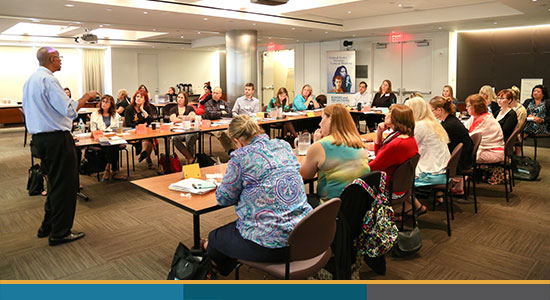 WHY SHOULD YOU ATTEND?
Address Arizona College and Career Ready Standards and incorporate a mix of instructional strategies and technologies for use in 21st century classrooms with teacher-friendly materials.
Tap into a repository of visual history testimony offering first-hand accounts from survivors, liberators, and other witnesses of the Holocaust.
Learn effective teaching strategies to help students understand what happened during the Holocaust, why it happened, and how it relates to difficult issues they face today.
Led by an experienced facilitator.

"The real value Echoes and Reflections offers teachers is that sections may be selected and used in a sequence of lessons in a unit or individually to bring real-world experience into the classroom for greater understanding and connection for students. For students, the wealth of individual narratives and diversity of experiences in the material greatly improves the opportunity for each student to relate to the impact of the Holocaust."
English Teacher
Flagstaff High School
Flagstaff, Arizona
Echoes and Reflections delivers value to both experienced Holocaust educators who are supplementing their curricula and for teachers new to Holocaust education.

When: 01/19/17
Time:
12:00 pm - 3:30 pm
Where: Phoenix Code Academy
Sponsored by:
Phoenix Union High School District
Registration:
For more information and to register, contact Katie Parod Hansen: parod@phoenixunion.org, 602-764-1302