The Voyage of the MS St. Louis: How is this Story Relevant Today?
On May 13, 1939, the MS St. Louis set sail from Hamburg, Germany with 937 passengers, fleeing the threatening conditions descending over Europe. The MS St. Louis crossed the Atlantic only to be denied entrance to Cuba, the United States, and Canada. Of the passengers that returned to Europe, many were sent to concentration camps and did not survive the Holocaust.
The voyage of the MS St. Louis is a humbling example of collective inaction to the plight of refugees. As the anniversary of the ships's departure approaches, utilize the following resources from Echoes and Reflections and our Partners to support educators and students in taking a deeper look at this historical event and examining its contemporary application:
Echoes and Reflections
Research historian, Scott Miller, from the United States Holocaust Memorial Museum, traced the stories of every passenger on the MS St. Louis and discovered what happened to them upon their return to Europe. Read about his journey of discovery here.
Anti- Defamation League
On November 15, 2015, Jonathan Greenblatt, National Director of the Anti-Defamation League wrote, "Those of us whose parents or grandparents, neighbors or community members once faced a similarly callous and unwelcoming world in the darkest of times—there is a particular responsibility to welcome in refugees. For we, too, once were strangers." Read his full article here.
In addition, in September of 2015, Greenblatt and Elisa Massimino, President and CEO of Human Rights First, wrote about the global impact of the Syrian refugee crisis, stating it as the largest refugee crisis since World War II, arguing that it demands a coordinated global response.
USC Shoah Foundation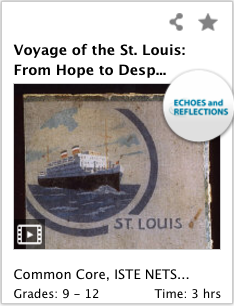 In the IWitness Activity, The Voyage of the St. Louis: From Hope to Despair, students learn the story of the ill-fated voyage and hear the testimonies of Sol Messinger and Liesl Loeb who were both children on the ship.
Yad Vashem
On March 11, 1993, Yad Vashem recognized Captain Gustav Shroeder as Righteous Among the Nations for his effort to protect his Jewish passengers aboard the MS St. Louis and find them a safe haven outside of Germany. This collection of photographs portrays life aboard the ship.