Charlotte and Jacques Wolf Educators' Conference 2014
From Monday July 14th – Friday July 18th, 2014, the ADL's New York Regional Office hosted the 7th Annual Charlotte and Jacques Wolf Educators' Conference on Echoes and Reflections. The conference prepared educators to teach the complex history of the Holocaust and to provide them with the tools needed to engage and challenge students in a meaningful exploration of this subject area. Participants engaged in discussions around issues of choice, roles, and responsibility, and by delving into these topics, the conference empowers educators to support their students as they explore and examine these issues.
Conference participant Frank Curtin said, "The Wolf Conference allowed me to extend my knowledge of the Echoes and Reflections print and online materials as well as work with educators from around the country, who have a similar passion and drive for ensuring the victims' stories are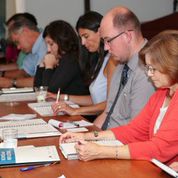 never forgotten… By participating in this conference, I have a new perspective from which to teach and will work to ensure that I continue to give a voice to those affected by the Holocaust.  I want to inspire my students in the same way that I have been inspired by Echoes and Reflections."
Attendees heard from Holocaust survivor Bronia Brandman, who spoke of her experience as a child during the Holocaust. She talked about smuggling food into the ghetto where she lived with her family prior to deportation, about meeting Dr. Mengele at Auschwitz, the moment when she lost her parents, and the impact of receiving the tattooed number on her arm. Her recollection of the first time she laughed, 25 years after being liberated from the camps, when she stepped foot in Israel, struck the hearts of all attendees.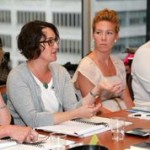 Gatsinzi Basaninyenzi, from Rwanda, gave a compelling presentation on the 1994 Genocide against the Tutsi's. He discussed the circumstances leading up to the genocide in Rwanda and the lengths to the current government is going to ensure that genocide denial and ethnic hate speech are never tolerated.
Each speaker emphasized the critical need to teach students the importance of upholding the principles of democracy by exercising one's voting rights, and actively participating and influencing government.
This year's participants were some of the first educators to receive the newly released Teacher's Resource Guide and to work with Echoes and Reflections new website, that offers a range of companion tools and resources for teachers' classroom use. The new Teacher's Resource Guide reflects the most recent and accurate scholarship and historical understanding of the Holocaust today. Coupled with updated instructional strategies emphasizing high expectations in applying critical thinking, Echoes and Reflections is truly bringing 21st century skills, knowledge and citizenship into the classroom.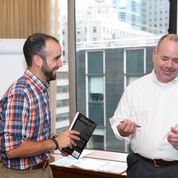 Echoes and Reflections is a unique partnership between three global leaders in education― the Anti-Defamation League, USC Shoah Foundation, and Yad Vashem.   More detail on the conference and speakers can be found under #wolfconference14 on Twitter: @EchoesReflect or at Echoes and Reflections on Facebook.