Making Connections: Holocaust Education, Survivor Testimony, and Citizenship Values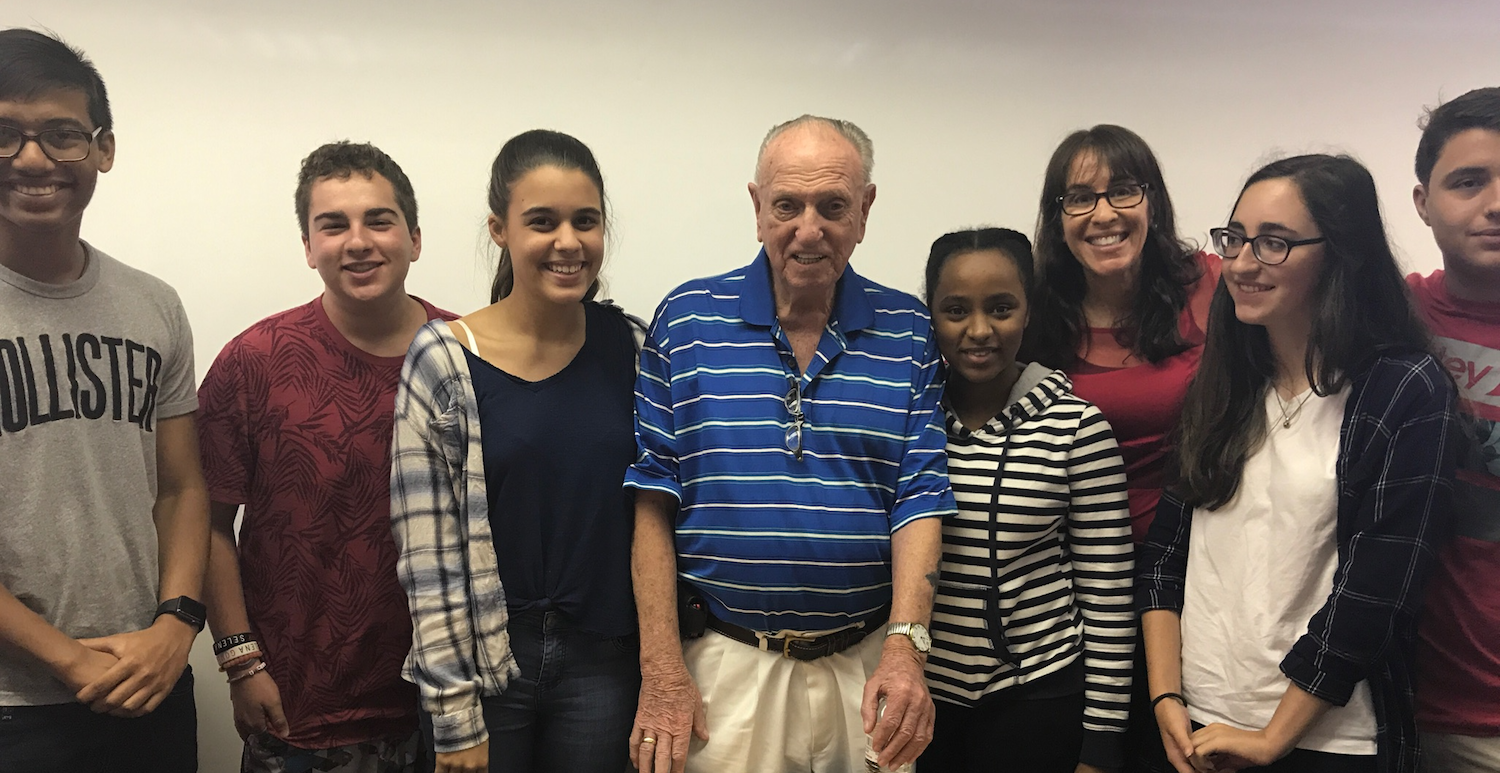 Ivy Schamis, an Echoes and Reflections' alumna, and social studies teacher at Marjory Stoneman Douglas High School in Parkland, FL recently invited Leon Schagrin, a Holocaust Survivor, into her classroom to speak to her students.
"After studying the Holocaust… the personal testimony of Leon speaking to the students at our school really connected the students to a piece of living history that they won't soon forget. The students really felt him and could identify his story with what they had heard and read about during the school year. They were able to clarify their questions and get a sense of what it might have been like to be a preteen in Poland when the Nazis took over. They shook his hand, hugged him and made him feel important. Leon will continue to share his story until his last breath," said Schamis.
Hearing survivor testimony is an invaluable experience for students and one that can teach lessons that extend beyond those laid out neatly in a textbook. This is why Echoes and Reflections has identified fostering empathy and teaching the human story as two key Pedagogical Principles for Effectively Teaching about the Holocaust.
A recent study by Barry University, published by the Journal of Moral Education, found that Holocaust knowledge and Holocaust education experiences predict citizenship values among US adults. Of the Holocaust education experiences examined, the study revealed that learning about the Holocaust in school was the strongest indicator of citizenship values, followed by exposure to Holocaust survivor testimony.
Participants in the study who had heard Holocaust survivor testimony, regardless of the medium (in person or electronic) had higher citizenship and Holocaust knowledge scores compared to participants who had reported not having heard a survivor's story.
Echoes and Reflections' classroom lessons have been seamlessly integrated with visual history testimony from partner USC Shoah Foundation to provide students an important and unique opportunity to connect with a survivor or other witnesses of the Holocaust. These resources allow educators and students to overcome barriers related to the paucity and availability of living survivors.
The influx of tragedies in the news such as reports on recent terror attacks or the rise in antisemitic incidences may make it feel like we are suffering from an empathy drought. Yet, in these moments of fear and uncertainty, it's important to recognize that through the lens of Holocaust education, Echoes and Reflections is working to ensure today's youth can grow and develop to support and work towards a more peaceful future.
To learn more about what you can do to advance Holocaust education please go here.