Jeff Burns: A History Teacher Shares His Experience With Echoes and Reflections
The following blog post was first published at Histocrats.blogspot.com by educator Jeff Burns who attended a recent Echoes and Reflections professional development program in Stockbridge, Georgia.
Echoes and Reflections – by Jeff Burns
I recently had the privilege of participating in a day-long session of professional learning about the Holocaust with Echoes and Reflections. Echoes and Reflections is a Holocaust education program created ten years ago as a partnership between the Anti-Defamation League, USC Shoah Foundation, and Yad Vashem, Israel's Holocaust museum.  In those ten years, more than 25,000 educators across the country have been introduced to the program and its resources.
About forty-five educators from across my district, representing fifth through twelfth grades attended. We left with great new ideas, strategies, and knowledge that will have a great impact on our students for many years to come. The Teacher's Resource Guide is divided into ten lessons, and components of each lesson can be accessed online through the website.
Each lesson contains a wealth of primary and secondary documents and activities that promote critical thinking, discussion, and participation by students. To implement the entire program in the classroom would take weeks, but any teacher can pick and choose and adapt elements to easily fit his/her needs and style.
Perhaps the most important part of the program is the use of video testimony selected from the USC Shoah Foundation Visual History Archive: the massive collection of interviews initiated by Steven Spielberg 20 years ago. Each unit has video clips of survivors that range from 1-3 minutes in length, and the clips perfectly dovetail into each lesson.
The testimony is moving and informational, and the producers of Echoes and Reflections intentionally chose survivors, for the most part, who were teens or very young adults during the Holocaust.  This is an inspired choice, since it provides a major connection between the survivors and the students who will be watching them.
Through the testimonies and activities, students will readily see the relevance of these "ancient" events to their lives and connect the lessons to current issues in the nation and the world.  The material is constructed so that it is easy to connect to current events.
The program and website are also linked to IWitness, a project of USC Shoah Foundation.  This site allows teachers to register, create, and share lessons and activities based on the testimonies and resources. Teachers can assign activities to students, and the class can interact online.
The afternoon concluded with us hearing Mr. Murray Lynn, a Holocaust survivor, tell his story.  I've heard four or five other Holocaust survivors speak, but Mr. Lynn stands out. As a young boy in Hungary, he experienced antisemitism before the war, his father was murdered, and he and his surviving family members were taken to Auschwitz.  Only he survived, and he went on to build a very successful life.  Like many survivors, he refused to tell his story for many years.  Now, in his 80s, he is on a mission to educate young people about the horrors that he survived and about how they must be vigilant so that the horrors aren't perpetuated.  His story is much more than horror and sadness, however. Ultimately, his story is very powerful, uplifting, and unforgettable.
I have attended many professional learning experiences in my twenty-three years of education, and, frankly, not all have been totally professional or promoted learning in any way. But, this professional development program with Echoes and Reflections was a great experience that I will definitely be putting to use.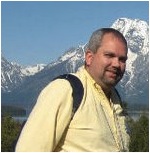 Jeff Burns was born and raised in Vidalia, Georgia. He earned his B.A. in History at Georgia Southwestern College and his M.Ed. in Social Studies Education at Georgia Southern University.  He has more than 20 years of classroom teaching experience at the middle, secondary, and college levels, and he currently teaches Advanced Placement U.S. History and Advanced Placement European History at Ola High School in McDonough, Georgia.  In December 2013, he and three colleagues formed a social media group called the Histocrats. The mission of the Histocrats is to share and promote a love of all things history through blogs, Twitter, Facebook, and Instagram.