Echoes and Reflections Hosts Professional Learning Seminar in New York
On March 14-16, 2016, nineteen Echoes and Reflections staff and per diem trainers gathered in New York for a three-day professional learning seminar. Facilitated by Echoes and Reflections experts, the seminar focused on enhancing participants' skills and knowledge about topics associated with the Holocaust, and on delivering interactive professional development programs to educators nationwide.
Why is Holocaust education relevant today?
Focusing on the question, "Why is Holocaust education relevant today?" Yad Vashem's Shani Lourie, Director of the Pedagogical Division of the International School for Holocaust Studies, reviewed key components of the Echoes and Reflections pedagogy and demonstrated its central importance when preparing educators to teach students about the Holocaust, in general, and the "Final Solution" specifically.
The group was introduced to the new Educator Video Toolbox: "The Final Solution," and worked with primary sources in Lesson 5 to consider effective ways to model this lesson in professional development programs. "How do we tell the story of the 6 million Jewish people who died in the Holocaust?" Lourie asked. "It is critical to focus on the individual… Not six million Jews were murdered, but only one Jew, and this happened six million times."
Holocaust Education and Contemporary Issues
David Friedman, the Anti-Defamation League's Washington, DC Regional Director, delivered a presentation on historical and contemporary antisemitism, and why it is important for teachers and students to recognize that antisemitism did not end with the Holocaust. Staff and per diem trainers explored the new Educator Video Toolbox: Antisemitism, which is designed to prepare educators to address the complexity of this topic with students.
Deborah Batiste, Project Director for Echoes and Reflections at the Anti-Defamation League, and Jill Rembrandt, Associate Project Director, guided participants through using materials in Lesson 8: Survivors and Liberators, Lesson 9: Perpetrators, Collaborators, and Bystanders, and Lesson 10: The Children. Stacy Jackson, an Echoes and Reflections trainer with years of experience delivering professional development programs shared, "I felt the seminar in New York was an invaluable three days of enhanced learning opportunities and sharing of professional facilitation techniques. I left the sessions reenergized and refocused with new strategies to make the Echoes and Reflections professional development programs I deliver more interactive and engaging for participants."
Making Connections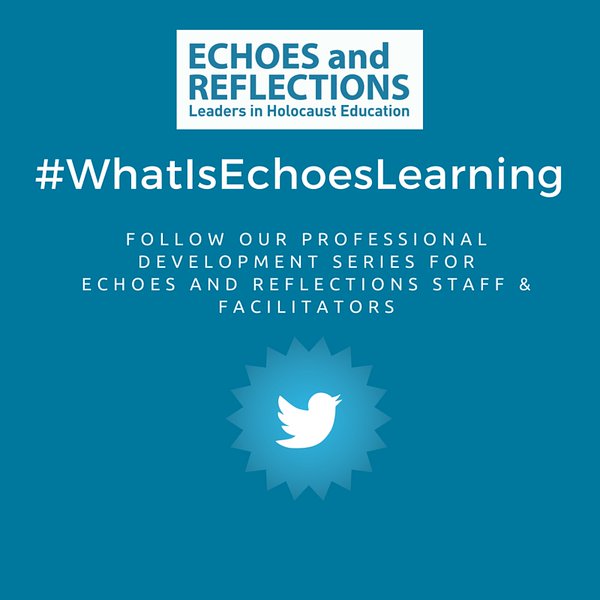 Throughout the seminar, facilitators focused on practicing strategies for delivering interactive professional development program and connecting resources from each of the lessons to enhance student learning.
Lesly Culp, Senior Education Specialist and Trainer at the USC Shoah Foundation, modeled approaches to introduce educators to IWitness, and the new features and activities that link directly to the Echoes and Reflections Teachers Resource Guide.
Follow #WhatisEchoesLearning on Twitter to see more of what Echoes and Reflections facilitators are learning. Visit our complete calendar of Echoes and Reflections Professional Development Programs to learn from our skilled facilitators.