Echoes and Reflections Reaches 49th State
On March 10, 2015, Echoes and Reflections hosted a professional development program in Grand Forks, North Dakota, officially achieving the exciting milestone of delivering programs in 49 states!
The Jewish Community Relations Council of Minnesota and the Dakotas (JCRC), a long-time partner of Echoes and Reflections, has been building relationships and paving the way for this partnership in North Dakota for ten years.
Laura Zelle, Director of Tolerance Minnesota & Holocaust Education at JCRC said, "After many years of collaborative programming, the JCRC's Tolerance Minnesota program is pleased to connect teachers in North Dakota to Echoes and Reflections. This opportunity fits perfectly with our mission to provide Holocaust education to our constituents."
Fourteen educators attended this program at the University of North Dakota Center for Human Rights and Genocide Studies. Stephanie MacMahon Kaye from Yad Vashem co-facilitated along with Zelle.
Of the fourteen educators who participated, approximately half are currently teaching the Holocaust, offering 3-6 week units in their classrooms. Attendees expressed enthusiasm for this unique opportunity to discuss best practices, share resources, and explore the Echoes and Reflections Teachers Resource Guide and digital resources. An educator from Valley Middle School in Grand Forks stated, "I was very pleased with the depth of knowledge that was evident throughout the presentations.  Practical applications are always beneficial.  I feel very empowered to teach this area of my curriculum."
A unique component of this professional development program was a discussion about local, small-town resident Herman Stern, who is credited with saving 175-200 German Jews during the Holocaust. The book about his valor, You Have Been Kind Enough to Assist Me:  Herman Stern and the Jewish Refugee Crisis by Professor Terry Shoptaugh, was highlighted in conjunction with Echoes and Reflections resources from Lesson 7: Rescuers and Non-Jewish Resistance.
An educator from Cavalier Public School in Cavalier shared, "This training was one that opened my eyes to the details of the Holocaust.  Being able to see and hear things that will help me relay and relate the material to my students was fantastic."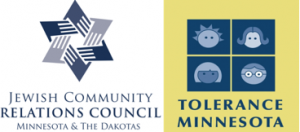 Echoes and Reflections looks forward to identifying additional opportunities to work with JCRC to provide professional development programs for educators in North Dakota.