Meet The Team Behind Echoes and Reflections
About The Author
Deborah Batiste, Claudia Wiedeman and Ephraim Kaye

Deborah Batiste (left), Anti-Defamation League, Claudia R. Wiedeman (center), USC Shoah Foundation and Ephraim Kaye (right), Yad Vashem.

Working with colleagues in each of their respective organizations, the Partners ensure that meaning, accessibility, along with exceptional quality and accuracy, are upheld in the development of all materials and resources.
09/01/2014
Next year marks the 10-year anniversary of Echoes and Reflections. Since launching in 2005, the program has reached over 22,000 teachers and touched the lives of more than 2.2 million students in all 50 states.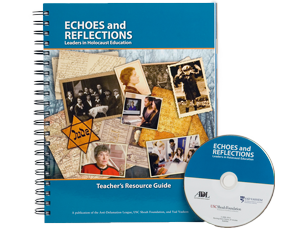 By combining resources and competencies from three world leaders in education―the Anti-Defamation League's experience in curriculum and professional development, access to USC Shoah Foundation's Visual History Archive of survivor and witness testimonies and digital educational tools, and Yad Vashem's historical expertise and primary source materials―the result is the most comprehensive Holocaust education program available today.
In honor of the 10th anniversary of Echoes and Reflections, the Partners aim to reach an additional 10,000 educators before the end of 2015 with an enhanced edition of the Teacher's Resource Guide, which is now available for the 2014-2015 school year. The new Guide, integrates innovations in pedagogy including modern academic standards and an array of multimedia components along with a supportive websi

Representatives from each organization lead the teams responsible for Echoes and Reflections: Deborah Batiste is the Project Director for Echoes and Reflections at the Anti-Defamation League, Claudia R. Wiedeman is the Associate Director of Educational Technologies and Training at USC Shoah Foundation and Ephraim Kaye is the Director of the International Seminars for Educators Department at Yad Vashem. Working with colleagues in each of their respective organizations, the Partners ensure that meaning, accessibility, along with exceptional quality and accuracy, are upheld in the development of all materials and resources.
Why teach the Holocaust?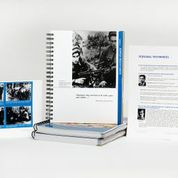 When asked to identify why teaching the Holocaust matters and the purpose or value in it, the Partners highlight one central idea: Studying the Holocaust affords a unique opportunity to examine human nature.
Kaye elaborates, "I think it's important that middle and high school students have some kind of Holocaust education in their formative years. The Holocaust is an irrational human event. It doesn't make sense. So what does that mean for humanity?  Germany was the seat, the epic center of European culture. How could this country perpetuate the Holocaust?…  The other side is the conspiracy of goodness. Peripheral to the entire story, but important. There were people who were willing to save Jews. How is it possible to become a perpetrator and how is it possible to put everything in danger to become a righteous gentile? What does that say about human behavior? Studying the Holocaust is a place to study human nature."
Batiste adds, "We want to help teachers teach this history in meaningful ways because we believe it can impact students' attitudes and behavior.  If students who have learned about the role of bystanders in the Holocaust see unfairness or injustice in their daily lives and ask themselves, even if it is just for a fleeting moment, "If I don't speak up, am I a bystander?" at least they thought about it. "
"It just blows your mind when you start learning about the Holocaust," Batiste further emphasizes. "It is so complex, there are so many moral and ethical dilemmas at every turn and a good teacher, armed with quality resources, can help students make those connections, ask the big questions, and think deeply about the world and their place in it."
Evolving Perspectives & Emerging Research
One of the most exciting advancements of the program is the launch this summer of the revised Teacher's Resource Guide, which contains ten multidisciplinary lessons reviewed and revised to reflect the current scholarship and trends in Holocaust education. The material has been meticulously aligned to academic standards including Common Core State Standards for maximum use in the classroom.  Educators can pick and choose to supplement existing content that they are already using, or use all ten lessons in the Teacher's Resource Guide.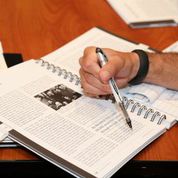 In discussing the history of Holocaust education, Kaye notes that a great deal of teaching material was generated in the late 1980s and 1990s following the release of Hollywood productions: 'Holocaust', 'Shoah', and 'Schindler's List'.  He is careful to note, however, that the work should not stop there. "Research continues to evolve and shed light and understanding for us, which make the changes to the Teacher's Resource Guide more than cosmetic. For example, Antisemitism in Lesson 2 is taught and packaged in a better way that makes more sense… The first version was missing Mein Kampf, which gives teachers more understanding of where and how the Holocaust happened and why Jews were specifically targeted. Now we provide more historical context to continue to help deepen the learning."
Research also impacted the perspectives offered in the team's efforts to always teach the Holocaust as a human story, even in the darkest days. Batiste highlights, "We looked at Lesson 5: The Final Solution and originally, most of it was about dying and how people were killed. We have added a piece, that are supported by USC Shoah Foundation testimonies from people who were there, that focus on how people, even with all that was going on around them, still managed to live and find meaning. What did people do to maintain their dignity and humanity even in the face of horrible situations? This is a profound question."
Making it Work for Today's Student
The goals of Echoes and Reflections are to equip teachers with the background and the tools they need to provide students with a rich, meaningful learning experience that stimulates engagement and personal understanding.  To support this, the classroom lessons integrate a unique opportunity to see powerful visual history testimonies from the USC Shoah Foundation archive. The new Echoes and Reflections website provides activities and intersects with the USC Shoah Foundation's educational website, IWitness, to allow for further extension through the use of survivor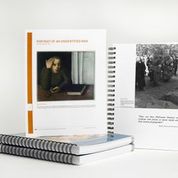 testimony.
Wiedeman offers, "What you see today is a Holocaust education program that changes with the educational landscape and adheres to current academic standards. Echoes and Reflections builds students' 21st century skills, knowledge and citizenship into the classroom."
Trainings for Echoes and Reflections are offered nationwide at no cost. Click here for the schedule of trainings in your area and join the team of Echoes and Reflections trained educators.