Echoes & Reflections is the kind of resource we want to put into the hands of our secondary teachers. The modular nature of the lessons and the integration of visual history testimony make this a very teacher-friendly resource. Your materials support students to use critical thinking skills and to apply what they have learned in their daily lives.

— COORDINATOR, OFFICE OF SECONDARY SOCIAL STUDIES, BALTIMORE COUNTY PUBLIC SCHOOLS
WHY TEACH ABOUT THE HOLOCAUST
With increased hate-fueled violence, incidents of antisemitism and xenophobia, and challenges to democratic values and norms, Holocaust education is more important than ever.
Through a thoughtful and sound study of the Holocaust, students gain an understanding of the potential dangers and consequences of unchecked hate and can grow into responsible citizens.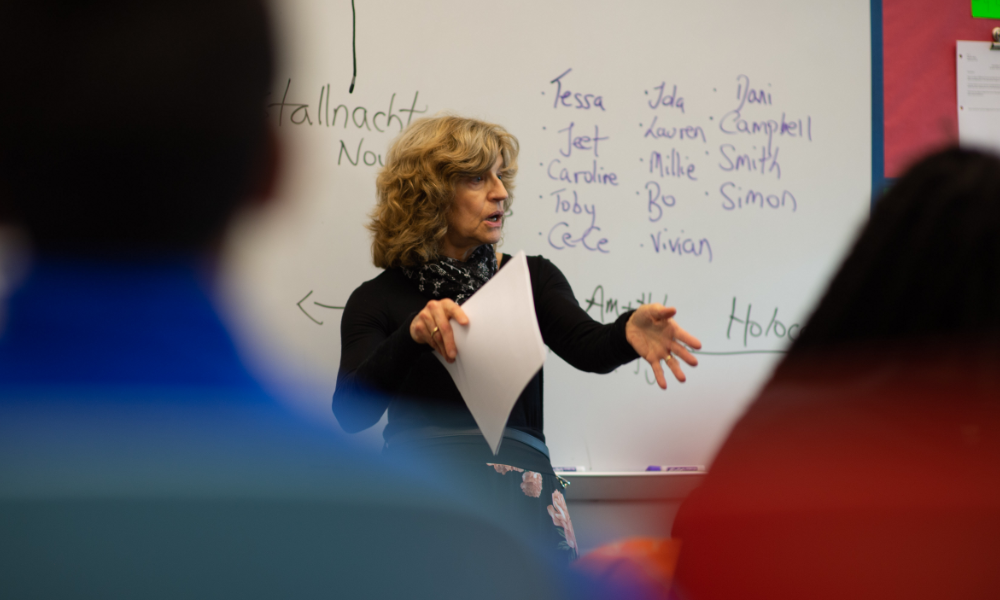 WHAT TO EXPECT FROM ECHOES &
REFLECTIONS TEACHER TRAINING
Echoes & Reflections works with school districts, museums, and other educational organizations to provide teacher trainings, both on-site and online, that support secondary educators as they gain the tools and instructional strategies needed to teach the history of the Holocaust and its lessons for today.
All trainings:
Are

free of cost

to host.
Are led by an

expert facilitator

in the field of Holocaust education.
Provide access to effective

lesson plans

and educational strategies.

Provide the opportunity to

collaborate with colleagues

and join an active network of Holocaust educators for ongoing learning.
Are

customizable

in program length and content to support a variety of subject areas, including history, social studies, language arts, the humanities, and more!
After participating in our professional development programs, teachers indicate high levels of satisfaction:

INCREASED KNOWLEDGE
about the Holocaust and antisemitism

LEARNED INSTRUCTIONAL STRATEGIES
to teach about the Holocaust

RELEVANCY
to classroom and teaching needs

WOULD RECOMMEND
the program to a colleague
FAQS ABOUT ECHOES & REFLECTIONS
Check out our FAQs with details about how our programs work and how teachers can implement Echoes & Reflections in the classroom. Interested? We'd love to have a conversation. Contact Jesse Tannetta, Operations & Outreach Manager.