BLOG


So, it's that time of year again – back to school. For students, no matter their age, the beginning of a new school year is always stressful. Will their new teachers be interesting? Will their friends be in their classes? COVID doesn't help. The old stressors are still around but new ones kick in, too. Will they be going to school physically or will learning be hybrid? Will they have to wear a mask? Maybe they have suffered personal loss during this health crisis, or fear that they or someone they love will get sick.
View more +
I found an unexpected source of comfort that has helped me deal with COVID, lockdowns and restrictions. Yes, there was Netflix and often, a little too much ice cream. But I found a surprising support group that included six teenagers, all going through teenage issues, who helped me get through each day. They aren't exactly your run-of-the-mill teenagers – Anni, Esther, Hannah, Jakub, Petr and Victor are teenagers who lived before WWII, and they are the beating heart of the new Echoes & Reflections lesson on Prewar Jewish Life. Writing about them meant entering their worlds – in Latvia, Poland, Hungary, Czechoslovakia and Tunisia. It meant seeing life through their eyes and understanding their concerns.
Getting to know these six young people while writing the Prewar Jewish Life lesson helped distract me from quarantines, vaccines and the endless news cycle. I wanted to understand them better. I wanted to experience the world they lived in, a world that existed before the shadow of the Holocaust crept up on them.  Who were they?
To figure this out, I poured over their diary entries. I scoured their old photographs. I searched for more and more clues about their lives, all at a time when I wasn't able to go outside. They intrigued me and kept me from dwelling on the pandemic. They also led me to an astonishing realization, made even more potent by the circumstances. The more I immersed myself in their lives, the more I realized that human beings are all connected across time and space. We all face the same personal issues and challenges, no matter when and where we live.
This is the beauty of the Prewar Jewish Life lesson - its ongoing resonance. As Anni, Jakub, Esther, Petr, Hannah and Victor transported me into their worlds, I understood the universality of the human story. Each of these six teenagers was just starting to figure out who she/he was, as are today's teenagers. Burning issues of identity were starting to bubble up to the surface: What do I want to be when I grow up? Will I fit in? Will I be religious or will I assimilate into secular society? What does my heritage mean to me? Should I rebel against my parents or toe the line? Should I be a vegetarian? Do I have the talent to become what I've always dreamed of becoming?
I was truly struck by how many of these questions reflected similar hopes, dreams, fears and life questions that many young people ask today, despite the fact that they live 80 years later and half a world away. This was an excellent confirmation of the Echoes & Reflections mantra: that teaching the human story is important and impactful.
Last school year was a tough one, and by the looks of it, this school year will not be any easier. Let the young people profiled in Echoes & Reflections show the students in your class that they all have much in common. Let them build empathy, as you teach the Holocaust, for the Jewish teenagers (and others) throughout Europe who were thrown into a horrific crisis. Let them transport your students across time and space to really connect with the human stories that were just taking shape. These young people are wonderful examples of the indomitable human spirit. They wrote and painted and pursued their dreams in a world that, unbeknownst to them, was soon to be destroyed. Let them show your students the enormity of what was lost during the dark years of the Holocaust. Hopefully, your students will resolve to be the kind of people who will do their share to make sure that atrocities like these will never happen again.
These past months have possibly been the most complicated and unnerving period your students will ever experience. To all of you, who have been there for them, teaching them, guiding them - Bravo!! Be proud that you supported them.
As we enter the new school year as well as the Jewish New Year, we at Echoes & Reflections would like to wish you all good health and much success this year, and a brighter future of greater tolerance, respect and empathy. May this new year herald a time of health and growth for all.
About the author: Sheryl Ochayon is the Director of Echoes & Reflections for Yad Vashem.
---


A few years back, in front of an audience of a hundred school administrators and educators focused on implementing Holocaust education, one thoughtful participant shared how the study of the Holocaust, particularly the study of the Nazis' anti-Jewish policy, can be an important opportunity for students to connect this to the US's Jim Crow laws passed after the Civil War.  I didn't scan the room but I imagined that his remarks may have landed uncomfortably on some participants for reasons ranging from the unsettling idea of the US as a "beacon of freedom" being a model of racist policies and practices for Nazi Germany to the discomfort and insufficient knowledge and ability to broach such a discussion in the classroom.  Without skipping a beat, I smiled and agreed with him wholeheartedly, and encouraged folks to read James Q. Whitman's book Hitler's American Model: The United States and the Making of Nazi Race Law (2017). 
View more +
The book's title can easily offend those who believe in the idea of America as the land of the free.  Just the hint of a connection between America and Nazi Germany can make such persons uneasy.  Because Holocaust survivors in the US found safe haven and in many cases thrived in this country, so the logic goes, how could this same country be the source of inspiration and guidance for Nazi Germany's efforts to dehumanize and destroy the Jewish people? But if those same people read this book, they would be confronted with a well-researched, evidence-based documentation of how Nazi politicians and lawyers tackled the creation of their "race law" by looking to the US.  Early on in the book, Whitman states, "In the early 1930s the Nazis drew on a range of American examples, both federal and state.  Their America was not just the South; it was a racist America writ much larger.  Moreover, the ironic truth is that when Nazis rejected the American example, it was sometimes because they thought the American practices were overly harsh"(5).
As educators, we may have heard our students – particularly students of color and LGBTQ+ students – advance a burgeoning connection: How an anti-Jewish law or decree reminds them of our country's racist segregation laws or our ban on interracial and same-sex marriages.  This is the moment where we are confronted with a choice: how do we respond?  
Do we provide a tepid acknowledgment or else a statement that this is not the same thing, and continue with the prepared lesson?  Are we even confident and competent enough to navigate this huge "aha" moment? Whitman implores us to dive right into the discussion without hesitation. "America was the leader [in racist law making] during the age of the rise of Hitler. That is the truth, and we cannot squirm away from it" (139). There are consequences to racist, dehumanizing policies, not only on targeted communities whose lives were severely compromised or cut short because of them but also on other countries watching closely to gauge the effectiveness and success of these policies.  Simply put, that's what the Nazis did with our country's racist policies. There is a need to reckon with this truth, that the US inadvertently but nonetheless significantly became a model for the anti-Jewish policies in Germany.
Whitman does a huge service by evidencing the intentional and thorough discussions of US racist policies – not just Jim Crow segregation laws but also its racist immigration laws, citizenship laws, and miscegenation laws – in key Nazi reports, articles, memos and meetings that contributed to the crafting of the 1935 Nuremberg Laws. He explores the crafting of the Reich Citizenship Law – the second of the three Nuremberg Laws – by highlighting the Nazis' keen interest in America's anti-immigration laws (namely its race-based quotas) and citizenship laws with its creation of de jure and de facto forms of second-class citizenship – not only for Black Americans, but also for Puerto Ricans, Filipina/o/x, Chinese and Native Americans – that maintained our country's racial hierarchy and power.  While these anti-immigration laws were more inspirational rather than serving as a blueprint for the Nazis, more critical and closely examined were the US anti-miscegenation laws that informed the third of the Nuremberg Laws – the Blood Law, which banned race mixing in sex and marriage between Jewish and non-Jewish Germans.  Here, Whitman argues, is where "we discover the most provocative evidence of direct Nazi engagement with American legal models, and the most unsettling signs of direct influence" (76).  He highlights the legal techniques -- policies and procedures -- that Americans employed to justify their "race madness" as the source of influence for the Nazis.  Simply put, Whitman writes, "The United States offered the model of anti-miscegenation legislation...and it is in the criminalization of racially mixed marriage [in the US] that we see the strongest signs of direct American influence on the Nuremberg laws" (78-29). 
Whitman's book provides educators with a valuable opportunity to connect with the Holocaust, particularly the anti-Jewish laws, within US history of race-based immigration, segregation, citizenship, and interracial marriages.   Connection points to consider include:
1. The invitation to students to connect these two histories is as easy as using the worksheet  "What Rights are Important to Me" in the Nazi Germany unit. Many educators who have used this in their classrooms have shared stories of students seeing the natural connection: "Voting wasn't allowed by the Black community after Reconstruction," or "Asians who were able to immigrate to the US weren't eligible for citizenship and couldn't even vote," or even "This country didn't allow people of the same sex to get married for a long time."  This is the actualizing of one of our pedagogical principles: Making the Holocaust relevant. 
2. Encourage inquiry-based learning and critical thinking, specifically when viewing visual history testimony.  Students, with their US-centric 21st-century lens, need brave educators to guide them in applying the lessons of the Holocaust to our own racist history without "squirm(ing) away from it." This connection is not saying that the anti-Jewish laws and the assortment of US racist laws are the same; Whitman states very clearly that they are not carbon copies. However, we should not downplay or brush aside these connections as they are truly linked.  Let's use these moments to face our own ugly truths and discuss them openly and critically, knowing that our country's racist laws and practices played a significant role in providing the Nazis with a model that informed their efforts to create their own dehumanizing legal system.
We as educators can no longer rely on the excuse that because we were not taught about racism in our elementary and high school classes, we are ill-equipped to teach and navigate these discussions in our classrooms. It may be an explanation of our shortfalls, but not an absolution of taking on this mantle.  We also cannot turn our heads from the indignities that many Americans suffered in our country's history while exalting inspirational values and focusing only on the good.   Such silence is a practice in denial, and is an anathema to the education profession.  Current legislation in some states to restrict teaching about the realities of the racism embedded in our laws, policies and practices is codifying this silence, and denies students a robust and honest education.  
Our student population – growing in its racial and ethnic diversity, and its connection to the global community – cannot be burdened by and held back because of our denials, fears, and excuses.  We owe it to them to put our learner hat on, find our courage, and delve into this history and its implications, to guide our students to become critical historians and work toward a model of justice and human dignity for all.
About the author: Esther K. Hurh is a highly seasoned education consultant with over 25 years of experience in facilitation, training, curriculum development and program management.  In addition to her work with Echoes & Reflections as its senior trainer since 2014, she is deeply interested in the areas of diversity, equity and inclusion (DEI), social justice education, and Asian American history. 
---


As a slightly younger educator, I came into the classroom with excitement and high hopes for teaching about the Holocaust. I had attended a reputable university that prided itself on turning out engaging and informed teachers who had undergone rigorous coursework and tight scrutiny during student teaching placements. One of my crowning achievements was crafting a complete Holocaust unit that I was eager to implement with students in my own classroom, an opportunity I had two years into my teaching career when I was allowed to create an "Introduction to Holocaust History" elective. 
View more +
At this point in my career, I had not had any formal training on teaching the Holocaust. I had the privilege of learning from an excellent Holocaust historian and had just enrolled in a Holocaust and Genocide Studies MA program at a nearby university. I felt confident and well-equipped to work with my students, a sentiment that I now shake my head at after over a decade and a half of professional development in this field. I couldn't wait to implement the cornerstone activity in my unit – a simulation fostered by my skilled university education professor that crowded students into a corner of my classroom while reading a short piece that had them imagining they were in a boxcar. 
I look back now on that memory and that situation with a mix of shame and revelation. I subjected my students to this experience the first two years I taught the course, and it was not until I met my future mentor, Elaine Culbertson, that I realized just how misguided this practice was. At that time, Elaine was the facilitator of a conference I attended, and she pointed out that simulations, using the boxcar example, were never appropriate in the context of Holocaust education. She challenged their promotion by saying that thankfully, our students were having these experiences inside of climate-controlled classrooms, with school lunches in their bellies and a measure of stability in most of their lives. She explained that our students couldn't understand this scenario, nor should we traumatize them into thinking that they could. 
This was a transformative moment for me, and I am grateful that Elaine and resources like Echoes & Reflections came into my life. Through the use of these carefully curated resources and further professional development, my outlook on teaching the Holocaust significantly changed. I placed at the core a mantra Elaine shared with me – my job as an educator was "to lead my students safely in and safely out of this topic," each and every day. I could do this by choosing responsible, age-appropriate content to share with my students and make sure that I was presenting it to them with suitable methodological approaches.  
Within this context, I learned that instead of sharing images of dead bodies, my students were just as impacted by a picture of empty, piled up clothing. The latter did not give them nightmares and turn them away, instead it compelled questions and thoughts about the human beings who wore those clothes, shoes, and wedding rings. I also learned that memoirs and visual history testimony captivated my students in a way fictional films and books never could. Instead of leaving my class thinking that they "knew how it was" my students left with questions that they wanted to explore further and for some, it sparked paths into lifelong learning. 
As educators, we have a significant responsibility to our students to lead them safely in and safely out of Holocaust content. To help you avoid or correct some of the same mistakes I made, I offer the following suggestions: 
Avoid having students rationalize/justify the thinking of perpetrators. Instead, ask them to explore the roots of Nazi racial ideology and how it was spread to the populations of Germany and occupied Europe. 

Echoes & Reflections Unit 2: Antisemitism

 contains structured lessons to help students reach these understandings by posing inquiry-driven questions and asking students to examine primary sources such as speeches and propaganda illustrations.

 
Remember to keep the social and emotional well-being of your students at the forefront of your planning and rationale when choosing resources. Consider having students examine 

photographs from the Auschwitz Album

 instead of showing them post-death photos. The victims did not give their permission to be photographed in either scenario, but in the former, they are clothed and shown as human beings versus as a mass of anonymous, frightening corpses in the latter. 

 
Be sure to consider the age level of your students. While students may outwardly project maturity at young ages, research by educators such as Simone Schweber, author of 

Making Sense of the 

Holocaust

: Lessons from Classroom Practice, 

show that introducing the more difficult aspects of the Holocaust at too young an age can actually repel students from feeling comfortable studying it in the future. When working with students in younger age groups, such as the middle school level, consider focusing more on the prewar life of Jews in Europe or on topics such as how Jews lived in the ghettos versus focusing on the horror of the Final Solution. Echoes & Reflections recently introduced new resources on prewar Jewish life in 

Unit 1: Studying the Holocaust

. Our 

Unit 4: The Ghettos

 has some powerful pieces of poetry and other imagery that is also more appropriate for middle school learners. 

 
Select activities that ask students to critically approach the history and build empathy through the use of resources such as testimony instead of suggesting that students "simulate" events from this horrific era. Don't ask students what 

they

 would do but ask them how 

testimonies like that of the late Roman Kent

 share what was done and the difficult choices that came along with these decisions.

 
As my mentor Elaine, an Echoes & Reflections trainer, taught me years ago keep the mantra that Echoes espouses, "lead your students safely in and safely out" of this history, at the forefront of your efforts.

 
Ultimately, know that you are not alone in teaching this challenging history. If you have taken a misstep like I did early in my career, it's never too late to do it better the next time around. Today, I am proud to share my mistakes as the Curriculum & Instruction Specialist for Echoes & Reflections and to let you know that this program is always here to support you in that effort. 
About the Author: Jennifer Goss currently serves as the Curriculum and Instruction Specialist for Echoes & Reflections. A 19-year veteran Social Studies teacher, Jennifer holds dual MAs in Holocaust & Genocide Studies and American History.
---




PREVIOUS POSTS
GET INVOLVED
FAQs
Professional Development Programs for Educators
Classroom Planning and Instruction
PRIVACY POLICY
Echoes & Reflections is committed to privacy. This privacy policy discloses our information gathering and dissemination practices for this website: www.echoesandreflections.org.
This site contains links to other sites. Echoes & Reflections is not responsible for the privacy practices or the content of such Web sites. This privacy statement applies solely to information collected by echoesandreflections.org.
GENERAL INFORMATION COLLECTION AND USE
Echoes & Reflections is the sole owner of the information collected on this site. We will not sell, share, or rent this information to others in ways different from what is disclosed in this statement. We collect information from our users at several different points on our website.
COOKIES AND WEBSITE ANALYTICS
Our site uses 'cookies'. A cookie is a piece of data stored on the user's hard drive containing information about the user. Usage of a cookie enables us to track and target the interests of our users to enhance the experience on our site, but is in no way linked to any personally identifiable information while on our site. If a user rejects the cookie, they may still use our site. The only drawback to this is that the user may be limited in some areas of our site (for example, certain surveys or other such activities).
We use Google Analytics to collect information about visitor traffic and behavior. This allows us to identify usage trends and to improve the performance and content of our websites.
We do not use this tool to collect or store your personal information, and it cannot be used to identify who you are. You can use the
Google Analytics Opt-Out Browser Add-on
to disable tracking by Google Analytics.
We currently do not use technology that responds to do-not-track signals from your browser.
VARIOUS REGISTRATIONS
To receive certain updates, enroll in certain programs, or use certain features of our website, a user may have to first complete a registration form. During registration a user is required to give their contact information (such as name and e-mail address). This information is used to contact the user about the services on our site for which they have expressed interest.
NEWSLETTER
If a user wishes to subscribe to our newsletter, we ask for contact information such as name and e-mail address.
ORDERS
Our site uses an order form for customers to request certain products. We collect visitor's contact information (such as name, e-mail, and address). Contact information from the order form is used to send information about Echoes & Reflections to the users of our website. The customer's contact information is also used to get in touch with the visitor when necessary. This information is not shared or resold in any circumstance except as may be required by law.
Users may opt-out of receiving future mailings; see the choice/opt-out section below.
SHARING
We may share aggregated demographic information with our partners. This is not linked to any personal information that can identify any individual person.
We use an outside shipping company to ship orders. These companies are contractually prohibited from retaining, sharing, storing or using personally identifiable information for any secondary purposes.
We may partner with third parties to provide specific services. When a user signs up for these services, we will share names, or other contact information that is necessary for the third party to provide these services.
These parties are contractually prohibited from using personally identifiable information except for the purpose of providing these services.
SECURITY
Our website has security measures in place to protect against the loss, misuse and alteration of the information under our control. This includes a firewall and 24 hour monitoring of site activities by our hosting service provider as well as 128-bit SSL encryption (where allowable by law) on all transaction oriented operations between you and Echoes & Reflections via our transaction service provider. While we use SSL encryption to protect sensitive information online, we also do everything in our power to protect user-information off-line. All of our users' information, not just the sensitive information mentioned above, is restricted in our offices. Only employees who need the information to perform a specific job (for example, our billing clerk, a customer service representative, or database administrator) are granted access to personally identifiable information. Any time new policies are added, our employees are notified and/or reminded about the importance we place on privacy, and what they are required to do to ensure our customers ' information is protected. Finally, the servers that we use to store personally identifiable information on are kept in a secure environment.
CHOICE/OPT-OUT ONLINE & OFFLINE
The following options are available for removing information from our database to discontinue receiving future communications or our service.
1. You can unsubscribe or change your e-mail preferences online by following the link at the bottom of any e-mail you receive from Echoes & Reflections via HubSpot.
2. You can notify us by email at
info@echoesandreflections.org
of your desire to be removed from our e-mail list or contributor mailing list.
CONTACTING THE WEB SITE
If you have any questions about this privacy statement, the practices of our website or your interactions with the website, please send email us at
info@echoesandreflections.org
NOTIFICATION OF CHANGES
If we decide to change our privacy policy, we will post those changes here so our users are always aware of what information we collect, how we use it, and the circumstances, if any, we disclose it.
RESOURCE OVERVIEW
Echoes & Reflections delivers value to both experienced Holocaust educators who are supplementing their curricula and to teachers new to Holocaust education. Learn how to engage further with the important work of Echoes & Reflections by signing up
here.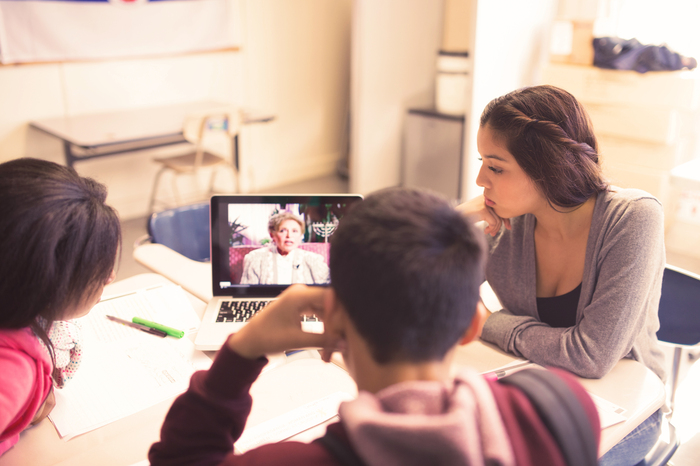 Third a Content