BLOG


In the aftermath of last year's events in Charlottesville, VA, Jennifer Goss, an Echoes & Reflections facilitator and classroom teacher from Staunton, VA, reflects on how "hate in our backyard" impacted her classroom and community. A year later she reflects on how her students' study of the Holocaust has contributed to their healing process and gives them the skills to engage in respectful dialogue on complex issues.
View more +
Charlottesville. It has been one year since the city just a short trip over the mountain from mine became a word uttered in nearly every American household. A beautiful, quaint city, larger than my home of Staunton, but still just as lovely, was forever changed by the events of August 11-12, 2017. In the time that has elapsed since moments of hate touched Central Virginia, not a week has passed when it has not somehow come up in conversation. Whether it's the description of where in Virginia that I live or the airport that I have flown out of to the location where I am speaking to an individual, the response is always similar, "Charlottesville...yes, I know exactly where that is."
I'd like to say that in this year, I've discovered the answers to solve issues related to hatred and discrimination. I wish I felt like our nation and our world has made great strides. I'd like to be able to comment that incidents of hate have drastically diminished (Note: according to ADL reported incidents increased by 57% in 2017). Of course, those of you who have taken the time to read a column such as this know that sadly, this is still not our reality.
What I have discovered in this past year, however, is that there is power in community and conversation. The ripples of Charlottesville have made uncomfortable conversations rise to the surface and in doing so; have brought in new voices and opinions that may not have been ready or felt safe to speak out in the past. Not all of these voices are ones of agreement but there is power in that as well—learning to have effective discourse on issues that divide us is a critical issue in building stronger communities.
One of the places I have been privileged to witness this is within my own classroom and school. As a small Southern town, the issues of Southern history and heritage are part of our community just as they are part of the community of Charlottesville and many others throughout the South. Not all of my students approach this history from the same cultural and historical background but day after day, I repeatedly witnessed respectful and effective discourse on topics that had previously lay dormant. In our region, many schools and segments of our public infrastructure such as roadways bear the names of Confederate leaders. Some students believe that these names should be retained for the sake of marking the importance of local history while others wish to see the names altered because of their direct links to issues such as slavery and oppression. Many of my students were able to vote in our local elections this past spring and some made choices based on this very issue.
Despite differing opinions, most students are able to discuss their beliefs in a respectful and appropriate manner. I have been personally fortunate to witness this repeatedly in my classroom and believe that some of these very skills were facilitated by discussion of tough topics such as the Holocaust within the confines of our classroom walls. In the wake of the incidents in Charlottesville, I utilized the USC Shoah Foundation's IWitness mini-lesson Promoting Effective Conversation Skills, and I plan to make this a staple in my classroom, regardless of the subject I am teaching. The testimony of Holocaust survivor Henry Oertelt and the strategies employed in this mini-lesson helped my students consider ways to disagree but still respect one another. To me, the importance of skills like these goes beyond the content and I am grateful for tools such as this to help me in this process.
It is my hope that as these students go out into the larger nation and world, they will carry their effective conversational tools with them. These students can show the world that you can disagree and still shake hands and walk away from a conversation a bit more educated on what and why the other side holds their beliefs and opinions. These students can also educate others on the lessons they learned from studying the Holocaust—that every human being matters and how the path of hatred doesn't always have to have the same conclusion. They will take the lessons of Holocaust survivors like Henry Oertelt, Kurt Messerschmidt, and Itka Zygmuntowicz and show the world that there is hope for a brighter future even in the complicated and seemingly uncompromising world that we are all trying to navigate today. It is our task as educators not to shrink away from complicated topics and histories but instead, to provide our students with the tools to navigate them respectfully.
About the author: Jennifer Goss is a Social Studies teacher at Staunton City Schools in Staunton, VA where she has taught since 2012. 
---


I knew spending a week studying the Holocaust would be an intense undertaking. What I didn't realize is that spending a week bearing witness at the sites of these atrocities would also be heartbreaking. And while my experience on Echoes & Reflections Educational Journey through Poland with Yad Vashem was both of these things, it was also enlightening and empowering. We all left a piece of ourselves in Poland, but took away so much more.
View more +
Holocaust education has always been a passion of mine. Something about the resilience of the Jewish people, the ability to have seen so much hatred, but still stand strong inspires me.  I have participated in numerous professional development programs on the subject. I have also been lucky enough to spend two summers as part of the Charlotte and Jacques Wolf Conference with ADL, which allowed me to convene with other experienced Holocaust educators from around the country for a multi-day in-depth exploration of Echoes & Reflections materials. I have always left these experiences with a renewed mission and a stronger commitment to my students to educate them on the important lessons of the Holocaust, which often includes telling the stories that are difficult to hear. When I saw the opportunity to further my studies and my understanding of the Holocaust with a group of educators who are equally as passionate as I am, I jumped at the opportunity to visit Poland. I have always told my students that my voice cannot do justice to the stories of this time period. I was not there, I did not live it, and I never stood where the victims and survivors stood, so how could I truly understand? It was my hope that in taking part in this journey that I would be able to do just that—to give voice and do justice to those who lost their lives.
As our group came together, we discovered we were all on this trip for different reasons. Yet, we all had one thing in common: we were all there to bear witness. To say, "I have seen. I will not forget." Every day was harder than the one before. Every day we would feel both depleted and fulfilled. Every night we would question whether we could see any more, feel any more. It is something special to allow yourself to be vulnerable with a group of strangers. But through this journey, we became something more. Sharing in this experience has changed all of us—it has left its mark on our hearts.
Our week in Poland was heavy and it would have been easy to be pulled into a spiral of depression. In our five days, we visited extermination camps, sites of mass graves, and heard the stories of death and destruction as we stood within the ghetto walls. But throughout these visits, we also heard stories that filled us with hope. We heard stories of resistance—people who fought back in any way that they could. We heard stories of love, of friendship, of family. Through these stories, we began to see not the nameless faces of the victims, as the Nazis intended, but the individuals. One of the most powerful moments during the trip was when we each presented on a person that we were asked to research. When we arrived to a site that connected with our person, we shared about their life.
I was asked to research Mordechai Anielewicz. Mordechai was a leader in the Jewish Fighting Organization (ZOB) and was instrumental in the Warsaw Ghetto Uprising and inspiring and leading the Jewish people to fight back against the Nazis. As I was researching and sharing his life, I was struck by how incredibly young he was during these events. I always talk to my students about how their voice matters and Anielwicz's story further confirmed my belief that today's youth have the power to inspire change. I viewed testimony where a survivor remembers being introduced to Anielewicz as "Mr.", even though he was only about 20 years old. It didn't matter to his people how young he was, what mattered was his passion and his belief in what he was asking of his people. I was also struck by Mordechai's willingness to give his life for his cause. In his final letter, he writes "The dream of my life has risen to become fact. Self-defense in the ghetto will have been a reality." As I stood at the site of the bunker where Mordechai took his final breaths, I was overwhelmed by his bravery and self-sacrifice in the face of evil.  As we shared stories of bravery, resistance, and love , these victims have marked our hearts and we will never forget their names. We will remember them. We will be their voice.
I believe in "never again." I believe if we show our students and teach them about the atrocities of the past, we can make a better future. This trip strengthened this belief and emphasized the importance of what we do every day as educators. Every voice matters. It is our job as educators to help our students find their own. It is our responsibility to ensure that our students have open eyes and open hearts, using the stories of the past to shape our future.
About the Author: Ashley Harbel is an English teacher at Sanborn Regional High School in Kingston, NH.
---


This month we asked members of our educator community to share the stories that have inspired them to teach about the Holocaust. The common thread that binds their reflections is the power of the individual story. Although often born from tragic events, such stories can contribute to building empathy and a strong sense of human connection across generations, countries, faiths, and experiences. What stories have moved you to examine the events of this past?  What lessons can be learned from these narratives?
View more +
George Bevington is a 9th & 11th Grade English teacher at Holy Innocents' Episcopal School in Atlanta, Georgia.
One of my favorite accounts of Jewish resistance during the Holocaust is the memoir of Hermann Wygoda, In the Shadow of the Swastika. This story appeals to me because of the coolness and poise Wygoda displayed under the extreme threat of getting caught.  Because he could speak both Polish and German, Wygoda was able to pass as a Volksdeutscher[1] and circumvent the suspicion of the Nazis. He also never gave up and continued to fight on in the face of terrible odds.
I have felt compelled to delve deeper into Wygoda's story because of his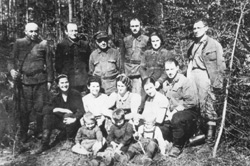 resilience to continue fighting, but also to fulfilling his duty as a parent after the war when he started a family. Although he settled down to a quiet life in Chattanooga, TN, he carried this bloody, horrific, but ultimately triumphant story around with him for the rest of his life, while living in the midst of his neighbors who had no knowledge of his experiences.
I was inspired by Wygoda's story and other partisan's accounts to create a lesson that details his experiences as well as the experiences of the Bielski brothers during World War II. My students are quite astonished that the literature about these partisans comes from eyewitness accounts and personal diaries.  In particular, Wygoda's interactions with other partisan groups inspires a lot of discussion with my students. They often reflect on how although many of these groups may not have been on good terms, or even outright enemies, during peace time, the common enemy in the German Army pulled them together. My students are surprised that resistance was not only possible, but in some cases, led to freedom despite terrible odds and the might of the German Army.
What hooks the students' attention the most is the bravery of these fighters, and the irony of the decision they made to fight back, given the alternative. Throughout the unit and especially near the end, as the outcome of the war becomes inevitable, the students' enthusiasm grows daily for Wygoda and the Bielskis' triumphs over the Nazi Army. Fascinating stories with a lot of suspense!   
[1] Nazi term, literally meaning "German-folk," used to refer to ethnic Germans living outside of Germany.
Rachel Herman is the Content Specialist for Education at USC Shoah Foundation - The Institute for Visual History and Education and is the Institute's Echoes & Reflections partner lead. Rachel was the Holocaust Educator at the Holocaust Center of Pittsburgh from 2013 – 2017.
In the United States, Clara Barton is remembered for her work as a nurse during the Civil War and for establishing the American Red Cross. In Armenia, Clara is remembered for a relief effort that saved over 50,000 Armenians. Clara Barton Our Angel, Too, tells her story in a clear, concise narrative—with text in Armenian and in English—and through colorful illustrations. My favorite quote from the book is, "Even though the Armenian people lived far from the United States, Americans understood that all people share a common humanity." This idea of common humanity is woven throughout the story, and this book is a great way to get students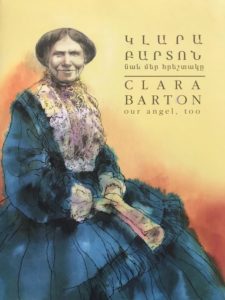 to focus on the importance of empathy, acceptance, and altruism.  I would have loved this book as a child!
Reading this book, I was reminded of a quote by Pastor Andre Trocme, a rescuer during the Holocaust, who said, "I do not know what a Jew is. I know only human beings."  Clara didn't know Armenians, she knew human beings. She heard about people in need and did what she could to help them. Having empathy and seeing people as human beings, full stop, is what I aspire to do. As the Echoes & Reflections Partner lead for USC Shoah Foundation, the testimony I work with on a daily basis helps me empathize with and learn from people of all different backgrounds, ethnicities, and religions. I am grateful for this opportunity and for the resources we have available that constantly expand my worldview.
Dunreith Kelly Lowenstein is an Echoes & Reflections facilitator, a former English/History teacher, and a Fulbright Specialist with the U.S Department of State.
In July 2003, I was invited to attend a presentation by Ava Kadishson Schieber, a Holocaust survivor from the former Yugoslavia. I had no idea when I accepted the invitation that it would lead to an ongoing relationship with the speaker. Ava spent four long years hiding in an unheated shed between the chickens and the pigs on a farm outside of Belgrade. Her experiences during the years prior to, during, and immediately after World War II were harrowing and challenging. But growing up in a loving, multi-generational family greatly contributed to her positive outlook on life and subsequent ability to survive, and even thrive, in the face of the odds she frequently encountered. Her resilience and physical and mental strength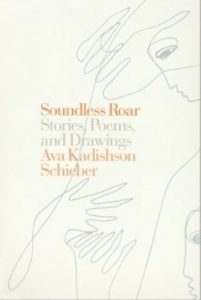 were obvious as she spoke. Completely mesmerized, I introduced myself after the talk to express my gratitude to her for sharing her story. She gave me her calling card with one of her line drawings and address and invited me to visit her home.
I immediately read her book Soundless Roar; Stories, Poems and Drawings, a work which includes stories about her life before the war, and could see how wonderful it would have been to use during my twelve years of teaching English/History to middle and high school students. (I had recently left the classroom and begun a career in professional development).
I have since had the pleasure of accompanying Ava dozens of times as she speaks to middle and high school students, in university classrooms, and at the professional development seminars I facilitate. (I have made it a practice to provide teachers with a copy of her book).
We have developed an enduring friendship, and I learn from her every time we meet. Ava has regaled me with many tales ranging from light and whimsical memories of growing up in Novi Sad; desperate times looking for her father, grandmother, sister and mother after the war; leaving for Israel with her mother in 1949 and building a life there; her decision to begin again in Chicago over thirty years ago after falling in love a second time in her 50s. Now 92, Ava has decided to permanently return to Israel this fall to be with her family. I am relieved to know her voice will continue to inspire others through the availability of her testimony that is part of the USC Shoah Foundation archive.
Patrick Nolan is a Holocaust educator at Sandalwood High School/Florida and State College at Jacksonville, South Campus, Jacksonville, Florida.
I have been studying the history of the Holocaust for more than thirty years; in that time I am sure I have read hundreds of books, articles, journal entries, or other pieces of writing related to the Holocaust. Several stand out and have served as inspiration for the lessons I teach. One in particular has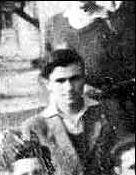 always haunted me, and I use excerpts from this text to teach about the horrors of the Holocaust in general—particularly in the ghettos—and the impact the Holocaust had on a single human being to whom my students can relate.
The Diary of Dawid Sierakowiak, while certainly not as well known or widely-read as Anne Frank: The Diary of a Young Girl, is a stunning exploration into how human depravity impacted the lives of so many young, vibrant, innocent people in places like Lodz, Warsaw, Lublin, and other ghettos. When the attack on Poland commenced on September 1, 1939, the young Dawid Sierakowiak writes about it with what can only be described as a sense of exhilaration. He seems to mock the older women who scream and cry at the sound of bombs exploding and airplanes flying overhead, largely because to him this is an exciting moment in his life—he has no memory of war, and therefore, like other teenagers, there is no sense of the reality of what is happening to his country and to his fellow Poles. It doesn't take long in the narrative for Sierakowiak's demeanor to change, and when his mother is taken away—to the east for resettlement?—he cannot muster tears to cry for her and for his own loss. Sierakowiak's diary ends abruptly, as did the lives of millions of people during the Holocaust. We have Sierakowiak's words as testimony to what he endured, but we do not have Sierakowiak himself to embrace and to reassure. Such a young life, snuffed out in its prime, should serve as a reminder of the tenuous connection all humanity has to the whims of those who would conquer and control us. My students are moved by Sierakowiak's story, as am I. I will continue to tell his story in his own words so that my students, who are his age now, will better understand and appreciate both what they have and what was taken away from so many others.
---




PREVIOUS POSTS
GET INVOLVED
FAQs
CLASSROOM POSTER SERIES
INSPIRING THE HUMAN STORY
Echoes & Reflections is excited to announce the launch of our new poster series:
Inspiring the Human Story
, for which teachers can request
one
free set (three posters) for their classrooms.
The posters (each 24'x 36'), feature the words and experiences of Holocaust survivor and memoirist
Elie Wiesel
, Holocaust survivor
Kurt Messerschmidt
, and Anne Frank rescuer,
Miep Gies
. Each promotes meaningful conversation and reflection in the classroom and inspires students with powerful human stories of the Holocaust that can continue to guide and inform their steps forward.
To support you in these efforts, we have also compiled several suggested
classroom activities
from teachers in our network that may be of use and interest.
Order your set today at no cost!
Please note: In order to reach the maximum number of teachers with this limited opportunity, we are only able to provide one poster set per teacher. Additionally, we are only able to send poster sets to US addresses
.
RESOURCE OVERVIEW
Echoes & Reflections delivers value to both experienced Holocaust educators who are supplementing their curricula and to teachers new to Holocaust education. Draw insights from our
Blog
 , 
Newsletter
, and
FAQs
, and
contact us
  to learn how to engage further with the important work of Echoes & Reflections.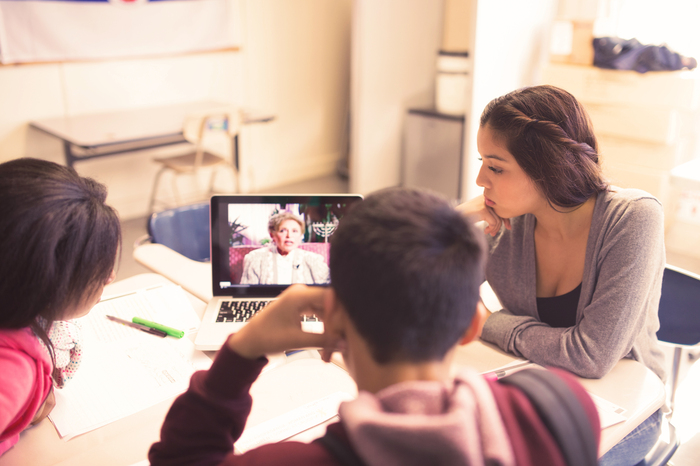 Third a Content