Echoes and Reflections Professional Development Goes Online
About The Author
Phoebe Hartnett and Keith Long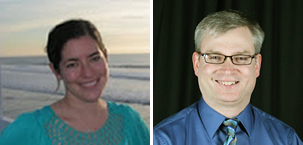 Phoebe Hartnett began her career in Washington State working with 7th and 8th graders with mild to moderate disabilities. She graduated from Western Washington University with a teaching certificate in Special Education and Elementary Education and recently finished a program through Walden University earning her a Masters in Special Education. Hartnett is currently in her fourth year teaching and outside of school she enjoys reading, hiking with her dog, and spending time with family.

Keith Long is a social studies teacher at Cumberland Valley High School in Mechanicsburg, PA. He currently teaches International Baccalaureate World History, Contemporary Global Issues, and Advanced Placement Human Geography. Long earned his Masters Degree in Education from Wilkes University in 2003 and he was a participant in the United States Holocaust Memorial Museum's Belfer Conference for educators in 2015.
02/03/2016
"In my twenty-four years of teaching, this was easily one of the most meaningful professional development experiences I've ever had," said Keith Long, a veteran educator in central Pennsylvania. "Echoes and Reflections is content based, and offers direction to engage students with primary sources and ask them to think about making connections to their experiences around them… I now have a sound pedagogy, coupled with resources that challenge me to take Holocaust education to a whole different level."
Long was among the thirty educators in Echoes and Reflections' fully- online professional development pilot program in December 2015. "The online interface was very user friendly," Long assures. "I'm not a very high-tech person so, if I found it to be user friendly then, it really is."
Phoebe Hartnett, an 8th grade Special Education Language Arts educator in Arizona, also participated in the pilot program. She found the exploration and modeling of the use of primary source materials from the Yad Vashem archives particularly valuable. "We interacted with maps, stories, videos, and testimonies. It was helpful to interact with the content to figure out how we can best teach our students about the Holocaust."
Designed for middle school and high school educators, this new online professional development program (OPD), consists of three interactive learning modules, released over three weeks. They take a total of six hours to complete. This design allows educators to proceed at their own pace while creating opportunities for participants to interact with other learners. An expert instructor is available to offer support wherever it is needed. "Deborah was great!" said Long, referring to Echoes and Reflections' Project Director at the Anti-Defamation League, Deborah Batiste. "I got a lot of very valuable and helpful feedback."
"The pilot was a great success, and the feedback provided has helped us tweak and improve the model," shared Batiste. "We are excited to offer our professional development programs face to face, via webinars, and now in a fully online format. Our goal is to be accessible to every teacher that is teaching the Holocaust – and to offer options for learning that meet their needs and learning styles."
For both Long and Hartnett, the online format of the OPD is what made it possible for them to participate. "The opportunity and flexibility of it being online helped me a lot. I wasn't in a position to travel anywhere during the school year," Long shared. "I actually found it better than a single day workshop because, being spread over a few weeks, it gave us even more time exposure. Having a few weeks to process and think things through is really a plus."
Hartnett was inspired to participate because, as an 8th grade educator, she teaches The Diary of Anne Frank. "The Holocaust isn't anything I've taught in the past, and without a background in history, I guess teaching about the Holocaust wasn't in my comfort zone. The Diary of Anne Frank is an iconic 8th grade book and I want to give the kids more background and context."
Hartnett has started working through the Echoes and Reflections Teacher's Resource Guide with her students and said she is pleasantly surprised by how much interest they have shown in contributing to the conversation. "We started with Lesson 1: Studying the Holocaust looking at catastrophes that are human versus natural… When we went through it as a class the kids got super into the discussion about the differences and what leads to human catastrophe. They were unbelievably engaged. It was great to see that they were really thinking about these concepts."
"I also really like the practicality of a final project," Hartnett shared, referring to the optional final activity of the OPD in which participants can prepare a mini-lesson to use in their classroom. "I will actually use the activity in my class. In my mini-lesson, students will look at a map of Jewish communities in Europe before the war and we will talk through their impressions. Kids have misconceptions that the Jewish population was big and it helps to use this kind of visual."
Long intends to have his students utilize the USC Shoah Foundation's IWitness platform in the mini-lesson he built. "I put together a lesson where students watch the testimony of a Soviet liberator who was an artist and painted about his experience liberating Auschwitz. Students will view his work, and take a look at clips from his testimony, along with clips from Echoes and Reflections Lesson 8: Survivors and Liberators. I will ask them to consider how the experiences are represented and then have them do some writing using the Echoes and Reflections guidelines to help frame students analysis."
"I'm starting to see that there is a level of responsibility we have as the generation who witnessed the Holocaust is slowly leaving us," Long adds thoughtfully. "As educators, we are responsible for filling in the gaps and recovering the identity that was stripped from these people. When we only approach this with statistics what gets lost is the human connection…"
Register for the next Echoes and Reflections Online Professional Development Program opening February 8, 2016 or contact us at info@echoesandreflections.org.