Learning about Learning
About The Author
Learning about Learning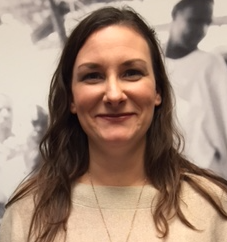 Amy Marczewski Carnes, PhD, completed her doctorate in French at UCLA in 2007 and worked at Human Rights Watch in Los Angeles before starting at USC Shoah Foundation in 2008.  Since then, she has overseen educational projects throughout Europe, curated two exhibitions of testimony, and taught a course at USC titled Rebuilding Rwanda:  Memory, Testimony, and Living Together after Genocide.  In her current role, she oversees evaluation of all Institute programs.
12/14/2016
My job is about learning about learning.  As USC Shoah Foundation's Associate Director of Education – Evaluation, I spend my time thinking about what we are learning from the teachers and students who go through our programs.  Echoes and Reflections is one of these programs, and we have learned a great deal from you, the teachers and other educational professionals who have attended our programs for more than a decade.
What kinds of things do we learn? 
You have told us about how and why you teach about the Holocaust and the challenges you encounter in doing so.  You have also taught us about what is useful in today's classrooms and how to support ongoing professional development.  Perhaps most powerful, you have taught us about the impact that our program has had on you and your students.  Your words inspire us:
I attended this workshop by default. There was not another workshop available in my discipline. I cannot put into words the impact this presentation had on me. Although I am not a history teacher, the information received has reopened my eyes to the importance of teaching and sharing knowledge about events in our history that transcend a specific discipline. It was a remarkable experience. […] By far, one the most powerful PDs I've attended.
I think I have spent my time teaching the Holocaust as a historical event. Moving forward I will teach more of the human story, [which] will help the atrocity of the Holocaust to be real to my students. Students learn when they can attach knowledge to their own lives. Learning about a mother who has to make decisions as to who eats or about a doctor who must decide who receives medication are things that make the event real.
I have been studying the Holocaust for the past 30 years, but I was looking for an appropriate way to teach it. There is a difference between being a scholar and being a teacher. I wanted to learn a sound pedagogy to use not just to share my knowledge, but for these lessons to resonate with students.
Every box checked and comment entered on a survey, every click on our website, helps us put together a picture of what you are learning.  These also help us understand what we could do better and where we need to go next.
As we near the end of the year, it's a good moment to look back at some of this year's learning.  Here are four fun facts from your feedback in 2016:
65% of you feel prepared to use Echoes and Reflections resources in your teaching after a single training…but most of you still want more! We are increasing program offerings in person and online in 2017 to respond to repeated requests for more programming.
Our facilitators are doing a really good job. Across all of our programs, 90% of you say you would recommend Echoes and Reflections to a colleague, and 86% of you rate your overall experience with the program as "excellent."
You go online to find resources for teaching, and you come back! Returning website visitors spend nearly twice as much time on our website than new visitors and look at more pages.  We are thrilled to see that the online content and resources for your teaching are the most often visited. Our website will continue to be built out with more valuable resources in 2017, with continued improvements planned.
Teaching about the Holocaust with a focus on the individual inspires teachers to extend their learning beyond the classroom. We learned about a teacher in California who was so moved by hearing testimonies that he launched a personal project to collect testimonies, which turned into a book project.
We also learn from your students.
In the past two months, we have been to four schools in four states to observe teachers using Echoes and Reflections materials in their classrooms.  We are currently analyzing the data, but as a teaser, I'd like to share a particularly emblematic student quote:
I think the Echoes and Reflections activity made an impact on me by showing me that I had an impact in today's culture, and that by standing up for what's right I could help a lot of people. – 8th grade student, New York
These are just a few droplets from the sea of information that we gather from your insights.  I know that sometimes taking those extra minutes at the end of a program to complete a survey, or to answer an email with a request for more information, can feel like a nuisance, but it is such an integral part of what we do, and we cannot do it without you.
We are grateful to be in this continuous learning process with you. Your voices help us move forward and to prepare for the years ahead!