Teach for America Educators Participate in Holocaust Education Training
About The Author
Noël Ingram and Courtney Parker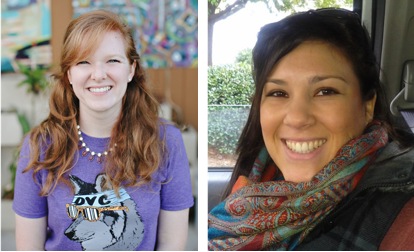 Noël Ingram (left) earned her B.A. in Psychology, with a minor in English from UC Davis. She is remarkably grateful that her job teaching 10th grade humanities at DaVinci Communications allows her to be paid for some of her favorite things: inspiring students to become passionate about literature, facilitating in-class discussions about topics that matter, and occasionally pontificating about her love of languages. Prior to joining Teach For America, Noël worked in a myriad of occupations, including marketing and sales. She taught in South LA, Lincoln Heights, and Koreatown before coming to work at DaVinci. She cares about education, assuming best intentions, interesting stories, and work-life balance. When she is not teaching, reading, or binge-watching shows on Netflix, she can often be found running.

Courtney Parker (right) is a graduate of the University of Iowa where she majored in Religion Studies and English with a minor in African American Studies. She was a 2008 Teach For America corps member in Henderson, North Carolina where she taught middle school language arts for five years. In 2013, Parker joined staff with the Teach For America- Eastern North Carolina regional team as a Manager of Teacher Leadership Development where she supports first and second year teachers in Vance, Durham, and Granville counties. She is a co-founder and sits on the board of the Teach For America Eastern North Carolina chapter of The Collective, an alumni of color organization, and she also sits on the Teach For America regional Leadership Team. Parker lives in Raleigh with her husband of 4 months who is also in education. This summer, she will be teaching elementary school in Israel as a participant in the TALMA fellowship.

02/03/2015
Approximately 200 Teach For America corps members and alumni have been introduced to Echoes and Reflections since 2011. Initiated by Echoes and Reflections staff and Dr. Mary Elizabeth Spalding in the Department of Curriculum and Instruction at the University of Nevada, Las Vegas, this on-going effort offers a mutually beneficial opportunity to provide high quality and relevant professional development for new teachers.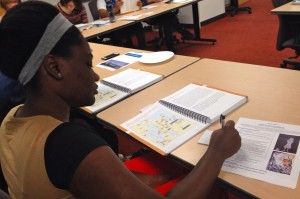 Dr. Spalding says, "I work with cohorts of Teach For America middle and high school English teachers every year. They are very bright, eager to learn, and have strong leanings toward social justice. But, because they are new to the profession, they have limited resources to pull from in planning for and implementing instruction. Many find they are required or encouraged to teach works about the Holocaust, but few have any background in the subject. The Echoes and Reflections program is a high quality, much-needed, and appreciated addition to their teaching 'toolboxes.'"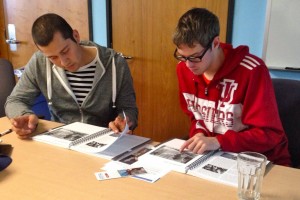 Noël Ingram, a 2013 Teach For America corps member and 10th grade humanities teacher at DaVinci Communications, agrees. She said that the Echoes and Reflections training program she attended in Los Angeles was, "One of the best trainings that I've been to. I left with resources I could use if I was going to teach the Holocaust the next day. It gave helpful ideas for how to talk about a really sensitive subject."
Ingram highlighted that the difference between the Echoes and Reflections experience and many other professional development opportunities was that it offers tangible tools and resources. "A lot of Teach For America sessions focus on leadership and thinking through establishing a culture in your classroom… The Echoes and Reflections facilitator did a really good job answering all our questions and brainstorming how we could implement it in our respective classrooms. She made a conscious effort to connect with each of us and our unique contexts, and she addressed the way Echoes and Reflections can be applied in different subject areas."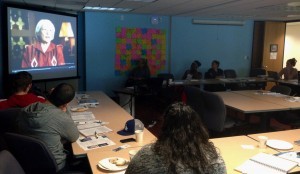 Echoes and Reflections will be the starting point for Ingram's 10th grade project-based learning on the Holocaust for six weeks in the winter of 2015. "Everything we do is connected to a real world issue and what we do is interdisciplinary so that students can see the practical application of what we are learning. We will begin by looking at art as a way to cope with tragedy. I plan to use the Teacher's Resource Guide as a starting point."
Courtney Parker, Manager of Teacher Leadership and Development for Teach For America, participated in an Echoes and Reflections program in June 2014 in North Carolina. She feels it is extremely important to offer these training opportunities and spoke about her role coaching and supporting new teachers. "When I consider a resource, I desire that it fulfill three criteria: it's accessible and user-friendly, it will provide the guidance a novice teacher needs while leaving space for the creativity and individuality of the teacher and his/her students, and it is aligned with my personal and our organizational values of providing an excellent education for kids that is thought-provoking, relevant, and rigorous. The Echoes and Reflections resources meet all of these criteria and more."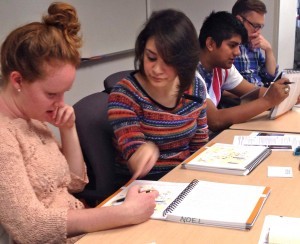 Parker emphasized the relevance and broader application of engaging meaningfully with content from the Echoes and Reflections Teacher's Resource Guide and the value of a continued partnership for both organizations. She said, "My personal conviction is that human beings created all the "isms" that divide and oppress us; thankfully, we can be part of what deconstructs each and every one of them in pursuit of justice and equity. What I love about the program is that it certainly focuses on the Jewish experience, but connects with the overarching themes of prejudice, racism, stereotypes, how power is concentrated and abused, how communities and individuals can fight that power, and the process of violence escalation, all of which are relevant to the students we teach, the minds we are charged with molding and learning from. As such, the program is a lens that transcends any one subject, topic, or period in time, hence why it is so powerful."
Ingram adds, "I'm hoping that this unit helps my students to be much more empathetic to all people in the world and to make the connection that language can be powerful in both helping and hurting groups of people. Ultimately, I want my students to realize that they have a voice and what they say matters. The way they choose to use their voice can have an impact on an entire society."
Echoes and Reflections has worked with Teach For America in Detroit, Los Angeles, Las Vegas, St. Louis, Jacksonville, and Cleveland. Contact us to bring the Echoes and Reflections training program to your community or find a training near you!