As the wheels touched down at Ben Gurion Airport in Tel Aviv, Israel, the real adventure began: the opportunity to participate in the Echoes & Reflections Advanced Seminar for Educators at Yad Vashem in Jerusalem. Israel is about as different as it gets compared to my ranching community in the rolling Sandhills of rural Nebraska; and even though I have traveled quite a bit, this part of the world was totally new to me. On the outside I tried to keep my demeanor calm, however, on the inside my heart and mind were thrilled…and a little nervous. This is what happens when we allow ourselves to say yes to adventure. Take the leap. Teaching became even more enjoyable for me when I figured out that I could mesh my profession with my passions. Not only do these kinds of opportunities enhance my school and community, but these experiences also elevate my humanity and how I interact with the world.
What did I learn?
During the intense 10-day seminar my mind encountered a not-so-little shift in how I approach the Holocaust with my students. I am the only English teacher at my school in rural Nebraska, so I have the unique opportunity to build my Holocaust units year upon year. The seminar at Yad Vashem made it clear to me that I have room for improvement. Living in a community with no Jewish people, one of the reasons I wanted to attend this seminar was to gain a better understanding of Jewish culture, traditions, history, and perspectives. My pen actually ran out of ink because of all the notes I took! Now that I have increased knowledge about Jewish life, and with the help of Echoes & Reflections, I can better pass on what I've learned to my students in a responsible way, using heavily vetted resources and personal testimony. This upcoming school year I will be using several lesson plans from Echoes & Reflections, particularly Unit 1. Studying the Holocaust, Lesson 2: Prewar Jewish Life.
English teachers are known to be sticklers about word choice, and during one of the sessions, I was reminded about how the precision of language is vitally important when we teach about the Holocaust. For example, terms such as the "Final Solution" and extermination camps are perpetrator language, so educators must use caution when using these words with students. Words matter. As we continue to witness a rise in Holocaust denial and distortion, it is more important than ever to educate ourselves on appropriate and precise language when speaking about the Holocaust to our students and community members.
One particularly powerful day was our trek to the Garden of the Righteous Among the Nations. I have a very personal connection to a Holocaust survivor who was saved by someone bestowed with this honor: a non-Jew who put himself and his family at mortal risk to save Jews during the Holocaust and received no compensation. I was three years old when I first met a Holocaust survivor named Sally, and through the years I have told Sally's story and she has done numerous video chats with my students. Sally and her family were saved by Stanislaw Grocholski, who hid 15 people in his attic in rural Poland for two years. Stanislaw was named a Righteous and it was important for me to find his name in the Garden. While our group was in the Garden, Sheryl Ochayon, Project Director at Yad Vashem for Echoes & Reflections and one of our leaders, asked if I would tell Stanislaw's story. After I finished, Sheryl said, "Megan, you know the story well, but there's one thing you don't know. Sally is my aunt. My mother was in that attic, too." Immediately I was crying. Sheryl was crying. Our cohort was crying. It was an incredible moment that will stay with me for a lifetime. Sheryl said that some members of her family often wonder why she chose her job, and she said, "This is exactly why I do what I do. Megan lives in the middle of Nebraska in a town of 150 people with no Jewish community. And yet, each and every year she tells my family's story and the story of Stanislaw." I think about all of the people connected to the Holocaust and on that day, in that space, two people from different parts of the world, created a bond. Yad Vashem highlights the importance of giving victims and survivors their faces and names back. We need to hear their voices and see them as full people: before, during, and after the Holocaust.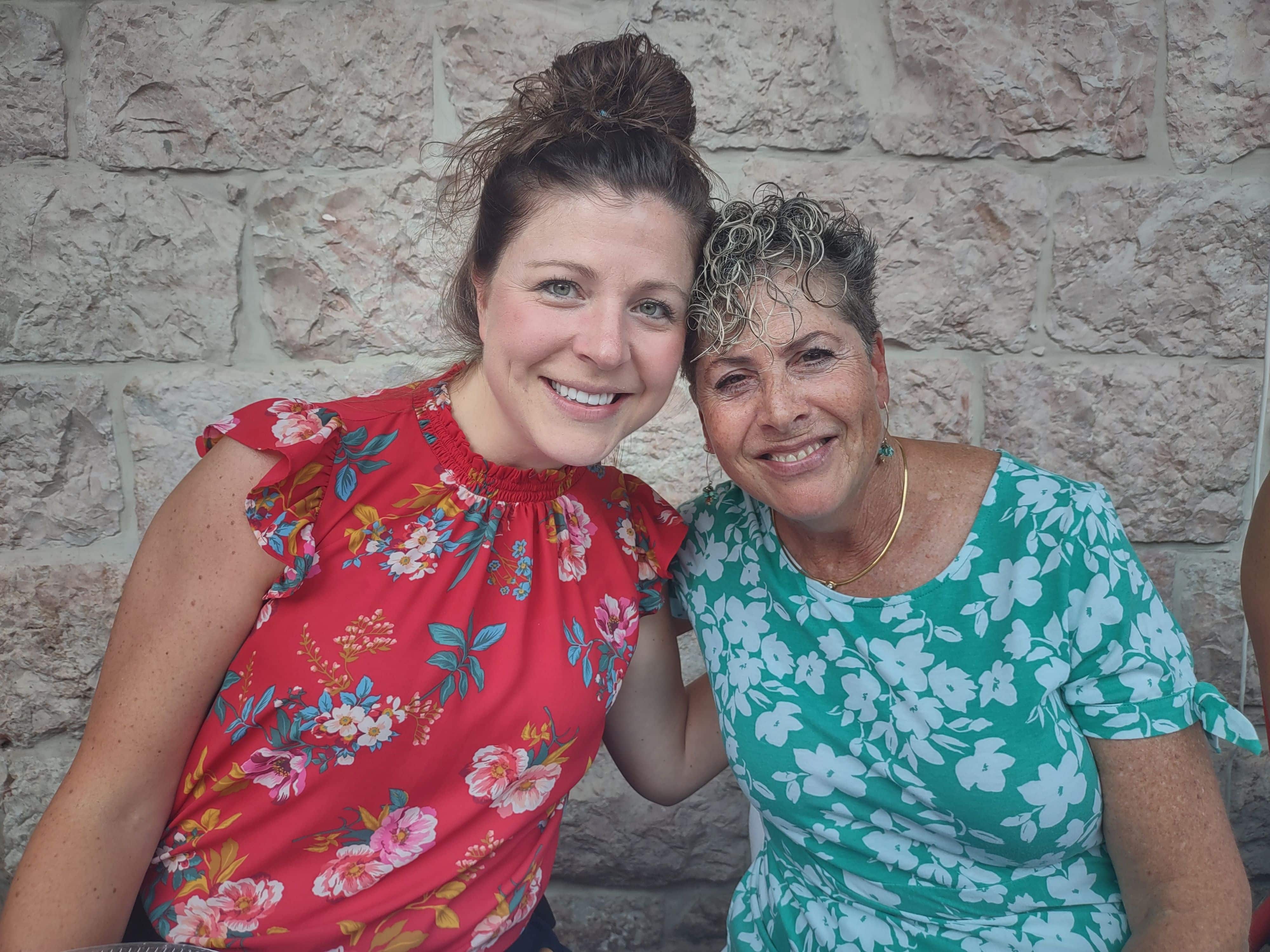 Megan Helberg & Sheryl Ochayon, Project Director at Yad Vashem for Echoes & Reflections
I am eager to share what I learned during my time at Yad Vashem, about the importance of learning from multiple perspectives, and how vital it was for me to learn about the Holocaust while physically being in Israel surrounded by Jewish life. My experience at the Echoes & Reflections seminar cannot be replicated anywhere else, and I am grateful to have Echoes & Reflections lesson plans to help me appropriately teach what I learned to my students. Something I have come to recognize is that just because my students are from a rural area, it does not mean they are any less eager to learn. They simply need an opportunity, and I can offer them this important learning experience.
With that said, teachers, this is your chance to make the leap. Apply for programs that will enhance you professionally and personally. Be the person that brings these learning opportunities to your students, no matter where they call home. Just think, next year you may be telling the story of when the wheels of your airplane touched down in Israel.
About the author: Megan Helberg lives and teaches English in rural Nebraska where she is surrounded by the rolling Sandhills. She is the 2020 Nebraska Teacher of the Year and passionate about traveling the world in order to bring back as much knowledge and love and opportunities as she can for her students.