BLOG


In the United States and across the globe, there is an all-out assault on Jews arising from the political left, political right, and seemingly everywhere in between. From virulent and overt violence to the dog whistles of antisemitic tropes, one can see antisemitism alive and growing in almost every facet of life. In a survey conducted by ADL, over 1 billion out of 4 billion people surveyed across the world harbor antisemitic attitudes. That is over 25%. As the Program Manager for Echoes & Reflections, my career is focused on helping secondary educators effectively and responsibly teach about the Holocaust and contemporary antisemitism. This work has been inspired by my previous role in the classroom and the reaction to antisemitism I saw in my own students.
View more +
As a non-Jew teaching in Catholic high schools, I am almost positive that I never had a Jewish student. By my sixth year teaching in 2019, the project Eva's Stories premiered in January on Instagram. Filmed utilizing the platform's unique features, it was a modern way to tell the story of one person's experience of the Holocaust. Although I mostly taught Catholic theology, I often engaged my students with contemporary issues, what was happening in the news, and what I was learning in my graduate program in Holocaust and Genocide Studies. Before I started the day's lesson, we watched the first few stories posted on the Instagram account and discussed briefly what the students thought about telling such an important story using the platform.
With our conversation finished, I went over to my computer to change the big screen to project my PowerPoint for that day's lesson. A student spoke up and asked what the echo symbol in the comment section was ((())). I answered, informing the student that it was a tool used by antisemites to denote who was Jewish on the internet and thus open them up to harassment and vitriol. I remember saying it matter-of-factly. Even though this student didn't know what the echo symbol was, I assumed they knew that Jews were constantly bombarded with antisemitic abuse on the internet. I was mistaken. The student was horrified by my simple explanation. She was completely unaware of the cesspool of violent Jew-hate that floods the internet. Although probably not the safest response in hindsight, I began scrolling through the comments as account after account spewed antisemitic tropes, degrading rhetoric, and pure hatred to an Instagram post that had been created to teach a factual and what should be a non-controversial topic.
We often think of antisemitism as a core belief of antisemites similar to how we view Adolf Hitler and the Nazis: consumed with a violent hatred of Jews and a desire to rid the Earth of them by murdering every last one. Yes, there are plenty of antisemites that believe in The Protocols of the Elders of Zion, indulge in the wildest conspiracy theories, and base their entire worldview on the evil Jew. They are ignorant, hateful, dangerous, and frankly, a small minority in the world of antisemitism. They may be the most dangerous of committing acts of terror and murdering Jews today, but they are on the fringes of society and do not pose the same level of threat as the systems, institutions, and public antisemitism that has infiltrated human society for generations.
My students were not antisemites by this definition and most likely will never join a Neo-Nazi movement or engage in the violent actions of these radical extremists. I think we could say that about the majority of people in the United States and certainly the vast majority of students who have been fortunate enough to have caring parents and guardians, good teachers, and placed value in their education. That is not to say, however, that my students were not antisemitic. They were raised and educated in a system that perpetuates antisemitism, that utilizes dog whistles to rally the most extreme in our society to persuade us to believe that their fringe beliefs are mainstream, and who have been bombarded with antisemitic tropes in their social media. For some of them, like the young woman who asked about the echo symbol in my class, they are unaware that antisemitism exists today and yet know the negative stereotypes that have been used for centuries and may even accept them as true when it fits their agenda.
Have you ever asked an older person, whether it be a grandparent or someone else, a question, and the answer you get makes you cringe? I can remember my grandmother telling me about the "nice Chinaman" who helped her at the gas station. When I discuss antisemitism with teachers and students, I often use the example of my uncle claiming at the breakfast table while reading the newspaper, "Well of course it says that since the Jews control the media." These were not people I would describe as ignorant, hateful, or antisemites and yet it is clear that the system in which they were raised imbued in them a latent racism and antisemitism. This is how antisemitism continues to exist even after the horrors of the Holocaust and why it is so easy for it to escalate and erupt once again: it is always there in our society. It always exists in our systems, in our institutions, in our government, in our education, and in almost every other facet of our lives. Latent antisemitism remains a fact in human society.
Antisemitism burns uncontrollably when fueled by ignorance and fear, but that is not where it is first learned, taught, and manifests itself in each individual. Antisemitism morphs, changes, adapts and is perverted to fit the current landscape but its existence within the systems that are part of human society remains. It will take exhaustive education, understanding, empathy, compassion, and courage to combat the systems and create a just society that includes Jews. In their formative years, most young people do not encounter Jews on a regular basis, if at all. They are even less likely to learn about Jewish life, culture, diversity, and all the wonderful aspects of Judaism. They have no connection to Jews or real knowledge of what it means to be a Jew. They have no evidence to disprove the seemingly endless conspiracy theories and vitriol aimed at Jews from nearly every direction. They are fed lies from their earliest development about Jews, especially when they do not know any.
Young non-Jews need education (as do plenty of adults). They need experiences learning about Jews and Jewish life. They need to discover the traditions, the history, and the people. They need to be invited into various aspects of Jewish life, from religious services to Passover Seder. They also need to understand the nature of antisemitism as illogical, baseless, and yet ever-present, with the potential to escalate at any time. With the knowledge of the beauty of Jews and Judaism with the ever-constant threat that Jews face, they will be empowered to advocate for and protect their new Jewish friends. Understanding this can help young people combat blatant lies and slander with the truth, empower young Jews to be proud of their heritage and share their beliefs and culture with others to cultivate empathy and understanding, and be inspired to reach out and bring non-Jews into the fight against antisemitism.
For those victims who have had to endure and continue to endure antisemitism, it is a personal and emotionally harrowing experience. As a non-Jew, I can sympathize with Jews, but I cannot truly empathize with that horrible experience as it is one that I will most likely never have to endure. But a clueless non-Jew who doesn't know antisemitism still exists or just how prevalent it is? That is an experience that I truly understand, through my own upbringing and in the eyes of my former students. We may never be able to educate and change the minds and hearts of violent extremists who are determined to wreak havoc and endanger Jewish lives, but the vast majority of antisemites just need to be educated and empowered to act against antisemitism. It may be an illogical and baseless hatred, but it exists and grows in a scientific and systematic way, especially recently as the ADL has tracked over 2,000 antisemitic incidents in the United States for each of the last two years. We must work to dismantle the systems in place that perpetuate antisemitism while engaging with young people to understand its nature, why it is disgusting and wrong, and what can be done to combat it.
About the author: Jesse Tannetta is a former high school teacher who is now the Program Manager for Echoes & Reflections. He holds a master's degree in Holocaust and Genocide Studies and is a current Ph.D. student beginning his dissertation on female concentration camp guard Hermine Braunsteiner Ryan.
This article was originally published in The Lookstein Center of Bar-Ilan University's Jewish Educational Leadership Fall 2021 issue, Jewish Education Amidst Rising Antisemitism. This journal issue, with articles from Jewish communal leaders and experts, explores the educational implications for Jewish students of rising antisemitism. Read the full article here and access the full journal for free here. 
---




PREVIOUS POSTS
GET INVOLVED
FAQs
Professional Development Programs for Educators
Classroom Planning and Instruction
PRIVACY POLICY
Echoes & Reflections is committed to privacy. This privacy policy discloses our information gathering and dissemination practices for this website: www.echoesandreflections.org.
This site contains links to other sites. Echoes & Reflections is not responsible for the privacy practices or the content of such Web sites. This privacy statement applies solely to information collected by echoesandreflections.org.
GENERAL INFORMATION COLLECTION AND USE
Echoes & Reflections is the sole owner of the information collected on this site. We will not sell, share, or rent this information to others in ways different from what is disclosed in this statement. We collect information from our users at several different points on our website.
COOKIES AND WEBSITE ANALYTICS
Our site uses 'cookies'. A cookie is a piece of data stored on the user's hard drive containing information about the user. Usage of a cookie enables us to track and target the interests of our users to enhance the experience on our site, but is in no way linked to any personally identifiable information while on our site. If a user rejects the cookie, they may still use our site. The only drawback to this is that the user may be limited in some areas of our site (for example, certain surveys or other such activities).
We use Google Analytics to collect information about visitor traffic and behavior. This allows us to identify usage trends and to improve the performance and content of our websites.
We do not use this tool to collect or store your personal information, and it cannot be used to identify who you are. You can use the
Google Analytics Opt-Out Browser Add-on
to disable tracking by Google Analytics.
We currently do not use technology that responds to do-not-track signals from your browser.
VARIOUS REGISTRATIONS
To receive certain updates, enroll in certain programs, or use certain features of our website, a user may have to first complete a registration form. During registration a user is required to give their contact information (such as name and e-mail address). This information is used to contact the user about the services on our site for which they have expressed interest.
NEWSLETTER
If a user wishes to subscribe to our newsletter, we ask for contact information such as name and e-mail address.
ORDERS
Our site uses an order form for customers to request certain products. We collect visitor's contact information (such as name, e-mail, and address). Contact information from the order form is used to send information about Echoes & Reflections to the users of our website. The customer's contact information is also used to get in touch with the visitor when necessary. This information is not shared or resold in any circumstance except as may be required by law.
Users may opt-out of receiving future mailings; see the choice/opt-out section below.
SHARING
We may share aggregated demographic information with our partners. This is not linked to any personal information that can identify any individual person.
We use an outside shipping company to ship orders. These companies are contractually prohibited from retaining, sharing, storing or using personally identifiable information for any secondary purposes.
We may partner with third parties to provide specific services. When a user signs up for these services, we will share names, or other contact information that is necessary for the third party to provide these services.
These parties are contractually prohibited from using personally identifiable information except for the purpose of providing these services.
SECURITY
Our website has security measures in place to protect against the loss, misuse and alteration of the information under our control. This includes a firewall and 24 hour monitoring of site activities by our hosting service provider as well as 128-bit SSL encryption (where allowable by law) on all transaction oriented operations between you and Echoes & Reflections via our transaction service provider. While we use SSL encryption to protect sensitive information online, we also do everything in our power to protect user-information off-line. All of our users' information, not just the sensitive information mentioned above, is restricted in our offices. Only employees who need the information to perform a specific job (for example, our billing clerk, a customer service representative, or database administrator) are granted access to personally identifiable information. Any time new policies are added, our employees are notified and/or reminded about the importance we place on privacy, and what they are required to do to ensure our customers ' information is protected. Finally, the servers that we use to store personally identifiable information on are kept in a secure environment.
CHOICE/OPT-OUT ONLINE & OFFLINE
The following options are available for removing information from our database to discontinue receiving future communications or our service.
1. You can unsubscribe or change your e-mail preferences online by following the link at the bottom of any e-mail you receive from Echoes & Reflections via HubSpot.
2. You can notify us by email at
info@echoesandreflections.org
of your desire to be removed from our e-mail list or contributor mailing list.
CONTACTING THE WEB SITE
If you have any questions about this privacy statement, the practices of our website or your interactions with the website, please send email us at
info@echoesandreflections.org
NOTIFICATION OF CHANGES
If we decide to change our privacy policy, we will post those changes here so our users are always aware of what information we collect, how we use it, and the circumstances, if any, we disclose it.
CONTENT USE GUIDELINES
Echoes & Reflections content is royalty free for use by educators and students. Individuals or institutions not affiliated with U.S. public, private or parochial schools or higher education institutions or who are located outside of the U.S. should contact us if they wish to publish and/or translate content from Echoes & Reflections. In all cases, proper credit must be given: "Reprinted with permission from Echoes & Reflection Partnership ©. All rights reserved." The copyright "Echoes & Reflections Partnership ©" is retained. Please send inquiries to
info@echoesandreflections.org
.
RESOURCE OVERVIEW
Echoes & Reflections delivers value to both experienced Holocaust educators who are supplementing their curricula and to teachers new to Holocaust education. Learn how to engage further with the important work of Echoes & Reflections by signing up
here.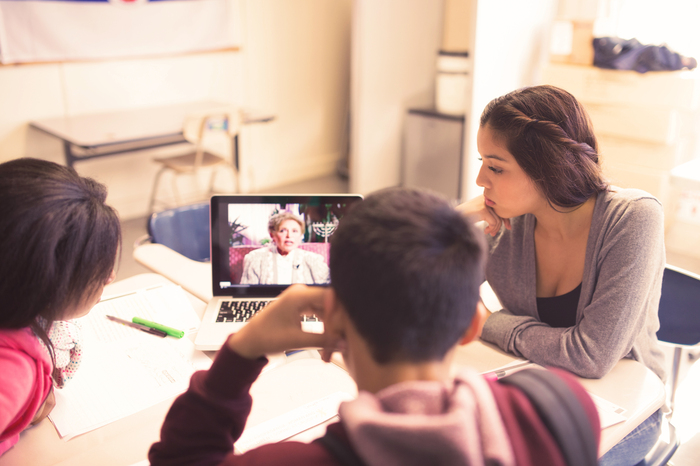 Third a Content