BLOG


This past summer I traveled to Poland as part of Echoes & Reflections Advanced Program with Yad Vashem with a group of educators, where we were surrounded by hate from the ghetto in Warsaw to the ghetto fields in Lodz. We stood at Birkenau together to bear witness to the greatest atrocity in the human world, fueled by hate — and by a particular strain of hate: antisemitism. As I landed back in the United States my heart was overwhelmed with the idea that hate can cause so much harm. While I understood this, to witness it gave me a whole new perspective.
View more +
Today, it has become clear that you do not have to travel far to find hate. My heart was riddled with overwhelming sadness and defeat as I entered my classroom the day after the shooting in Pittsburgh, PA. My heart once again sat in disbelief and shock as I thought about how to talk to my students about hatred and how it had reared its ugly head in a beautiful city with a thriving Jewish community. Now antisemitism was not thousands of miles away in Europe and did not occur decades prior. It was here, now, in Pennsylvania, our own backyard. I wondered how my students would respond. Would they want to talk about gun control or the president? How would I steer the conversation back to where it needs to go? How would I answer questions that my students will pose? They will ask "why the Jews?" and while I know the textbook answer, I will have to say to them "I don't know."
As I look back on my trip to Poland, it is not hate that I am reminded of, but love. While it would be easy to say antisemitism and hate were the common themes, I challenged myself to see that love is the common thread that is woven throughout. Stories of people doing right in the face of terrible wrong, both active and passive resistance, and the undying will to survive. The question becomes "What do I do with that?" As an educator, how do I take the horrible suffering of a generation born decades before me and give it meaning? Then I remember the faces. The beautiful faces that were snuffed from this world too soon — mothers, fathers, sisters, brothers, cousins, husbands and wives. I tell their stories and as a classroom and community, we learn their stories. I allow my students to feel through them the will to overcome hate.
I believe we can combat hate with truth, education, and unwavering love. Be a voice for the voiceless and let your love shine brighter than the hate in the world. When teaching the Holocaust I make every effort to focus on the rescuers and those engaged in resistance. Who are they? What were they doing to help? I ask my students "How could you help?"
Our small community is banding together and collecting donations to send to the synagogue in Pittsburgh. The message is clear:  when hate shows itself, we must make our voices of love and humanity louder. Never again! Hate is sometimes just around the corner, but if we come together as a community, a state, a nation, a world, we can combat antisemitism and all forms of hate - one story at a time.
About the author: Deborah Hamilton is a middle school social studies learning facilitator at Northern Potter School District located in Ulysses, PA. Deborah encourages her students to stand against social injustice and to be a voice for the voiceless. 
---


As the commemoration of the 80th anniversary of Kristallnacht approaches, I am drawn to the words of Holocaust survivor Kurt Messerchmidt: "Silence is what did the harm." I can't help but consider the relevance of this statement and Kurt's experiences during the Holocaust to the lives of my students. The anniversary of Kristallnacht, as well as my recent experiences in Holocaust education, provide a powerful teaching opportunity to examine the importance of recognizing personal narratives as well as the consequences of staying silent in the face of injustice.
View more +
This summer, through Echoes & Reflections—a partnership of ADL, USC Shoah Foundation, and Yad Vashem—I had the opportunity to travel to Poland with an incredible group of dedicated educators from across the United States and our guide, Sheryl Ochayon, the Program Director for Echoes & Reflections at Yad Vashem.  To say that it was an impactful experience doesn't begin to encapsulate the enormity of what we learned and what we were able to bring back to our classrooms.
I am an educator at The Newcomer Center in Arlington Heights, Illinois and work with immigrant and refugee students that are newly arrived to the United States. My Newcomer students, many of whom have suffered trauma in their countries of origin, connect on a deep level with the study of the Holocaust.  The fear and constant threat of violence, hiding to survive, the sense of displacement, and the loss of "home" are some of the things my students have already experienced in their short lives.
The trip to Poland—standing on seemingly forgotten historic grounds where violent pogroms occurred, walking through the deafening silence of concentration camps, and touring museums full of exhibits of what used to be Jewish life—provided me with a fresh perspective on an otherwise familiar topic.  It was a reminder to find the individual stories in the lives of the more than six million victims of the Holocaust, and to remember that every single person, one-by-one, added up to six million. It was a reminder to teach my students that the six million are not a singular collective story of loss and by recognizing individual lives, cut short by cruelty and hate, is how we restore their humanity and work to ensure that future acts of hate cease to occur.
Every Newcomer student is a single story.  Each student carries his or her own hurt, loss, and suffering.  At times, unintentionally, and under the weight of the monumental task of preparing my students for new lives in the United States, I've exercised a version of "silence" by failing to recognize their pain.  Without knowing it, I stopped hearing their voices.
I hope to always acknowledge my students and their plights as individual stories of resilience and hope.  This is what I brought back with me from Poland.  A fresh way of being an advocate for my students and a reminder to find the one in the six million. As educators, it is as important today as it ever was, to take every student into account and to help them find their voice.  In the end, it is the silence that continues to do the most harm.
About the author: Mario Perez is the Coordinator and Social Science/Human Geography Teacher at the Newcomer Center in Arlington Heights, IL, a lifelong Chicagoan, and proud educator for over 18 years working with immigrants and refugees as they start their new lives in the United States.
---


One of the most powerful exhibits I've ever experienced about the Holocaust is at the site of what was once the Auschwitz-Birkenau death camp in Poland.
View more +
Here, in the installation by Yad Vashem at Block 27, the deeply human story is told through flickering film footage of Jews living ordinary lives in Europe before World War II: a young girl ice skating, children singing and dancing.
The story is also told through video testimony of Jews who survived, through giant pages listing the millions of names of those who didn't, and through drawings on the walls.
Viewers are left with the gut-wrenching reality that the Shoah destroyed real people with real names and real lives.
That some aspects of the exhibit were technologically sophisticated and others were devoid of technology is entirely incidental to the experience.
In the sphere of remembrance, technology should never be a "thing" in its own right. Stories, really, are the thing. They are at the heart of how we talk to each other, share memories, transmit understanding. Technology has always been in service of that human function. It is a utility to help tell our stories and deliver our content.  Within Echoes & Reflections, for example, visual history testimonies from survivors and other witnesses to the Holocaust, were carefully curated from USC Shoah Foundation's Visual History Archive, and embedded within each classroom lesson and theme to bring the history to life with real people who lived through this event.
This month and next, as students return to school, I ask educators to bear this message in mind. Students from toddlers to twentysomethings exist in a virtual matrix of gadgets, video games and social media accounts.
This is natural. Media, like fashion, is ever changing. The trick is to use the latest technology to meet the students where they are, and to deliver to them stories that illuminate.
It was with this intention that USC Shoah Foundation has embarked on several technological innovations.
Our 2016 documentary, "The Last Goodbye," is the first virtual-reality film to take audiences through a concentration camp. The power of it lies not in the capability to capture a scene in 360 degrees, but in the immersive experience of being in the Majdanek death camp with the narrator, Pinchas Gutter, the only member of his family of four to survive the camp in Poland. Adding to the authenticity of the experience is the fact that Gutter was filmed not on a green screen in some studio, but on site. When he is standing at the door of the gas chamber where his sister was murdered, there is no escaping the terrible truth of what that place means in his memory.
In this same spirit, we have recorded more than a dozen testimonies using a technology we developed that allows users to interact with the survivors on a screen. (The interviewees were filmed volumetrically, meaning it will one day be possible to reconstruct their images into holograms.) Called Dimensions in Testimony, these interactive biographies enable viewers to be guided by their own curiosity; to take an inquisitive approach to learning a survivor's story, in the same way we do when we see a Holocaust survivor speak to a classroom.
Technology is not the message. It is what our audiences experience that really counts.
About the author: Stephen D. Smith, PhD, is the Andrew J. and Erna Finci Viterbi Executive Director Chair of the USC Shoah Foundation.
---




PREVIOUS POSTS
GET INVOLVED
FAQs
CLASSROOM POSTER SERIES
INSPIRING THE HUMAN STORY
Echoes & Reflections is excited to announce the launch of our new poster series:
Inspiring the Human Story
, for which teachers can request
one
free set (three posters) for their classrooms.
The posters (each 24'x 36'), feature the words and experiences of Holocaust survivor and memoirist
Elie Wiesel
, Holocaust survivor
Kurt Messerschmidt
, and Anne Frank rescuer,
Miep Gies
. Each promotes meaningful conversation and reflection in the classroom and inspires students with powerful human stories of the Holocaust that can continue to guide and inform their steps forward.
To support you in these efforts, we have also compiled several suggested
classroom activities
from teachers in our network that may be of use and interest.
Order your set today at no cost!
Please note: In order to reach the maximum number of teachers with this limited opportunity, we are only able to provide one poster set per teacher. Additionally, we are only able to send poster sets to US addresses
.
RESOURCE OVERVIEW
Echoes & Reflections delivers value to both experienced Holocaust educators who are supplementing their curricula and to teachers new to Holocaust education. Learn how to engage further with the important work of Echoes & Reflections by signing up for our
newsletter.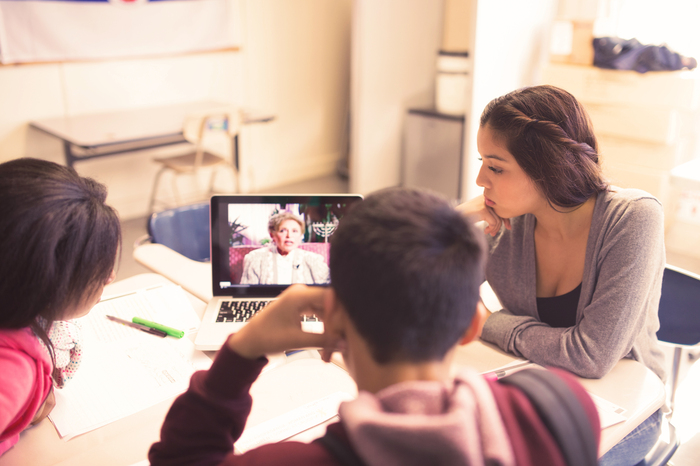 Third a Content