BLOG


This blog originally appeared in The Times of Israel
View more +
Ever since returning from the United States more than a week ago, straight to quarantine in Jerusalem, I have been debating with myself whether to write an op-ed about an uplifting experience I had in Greeneville, Tennessee during my trip. In "normal times," I would not have thought twice about doing so, but with practically every person on earth focused on the coronavirus, I had strong doubts whether anyone would have the patience to read my account. Even worse, many of the readers might think that I had "lost it" completely and was now in "la-la land," cut off from our dismal reality.
In any event, after almost eight days of total isolation, during which I finally mastered the art of online shopping, and internalized the fact that in Jerusalem one has to order groceries about five days before they actually arrive at your doorstep, I decided to take the leap and sit down and recount what happened almost three weeks ago in a small town in Tennessee. I hope that at a minimum, this story will cheer up a few of our readers, and remind them that there is a world out there, that we all will hopefully return to, in the near future.
I first became aware of the town, when I received an invitation to speak at an annual "Holocaust Conference of Eastern Tennessee," which was scheduled to be held in Greenville in early March 2020. The invitation came from Noelle Smith, the young assistant principal of Greeneville High School. She is an incredibly enthusiastic member of the growing cadre of teachers who utilize "Echoes & Reflections," an online program sponsored by Yad Vashem, ADL and the USC Shoah Foundation to encourage and help train teachers how to teach the Shoa to elementary and high school students. The program also offers the teachers an opportunity to attend a special two-week seminar at Yad Vashem, or to visit the death camps in Poland, as well as webinars on special timely topics.
Noelle had participated in the course at Yad Vashem at which I gave a lecture on the efforts to bring Nazi war criminals to justice, as well as a special webinar on the case of Ivan Demjanjuk, in the wake of the recent Netflix series. Thus, when she heard that I was coming to the States to launch the English version of the book Ruta Vanagaite and I wrote on Lithuanian complicity in Holocaust crimes (Our People; Discovering Lithuania's Hidden Holocaust, Rowman and Littlefield, 2020), she inquired whether I would be willing to speak at the upcoming annual Holocaust education conference she and Tennessee Holocaust teaching fellow Lori Wilhoit were organizing in Greeneville, with the help of the Tennessee Holocaust Commission, headed by Knoxville attorney Lawrence Leibowitz, and with the assistance of its Education Director Devora Fish.
Normally, I would not jump at an opportunity to speak to children under 18, let alone elementary school students, because of the complexity of the issues I usually discuss in explaining the challenges I face as a Nazi-hunter. And when Noelle told me about the expected size of the audience (two groups of 1,000 students each, ranging from age 10 to 18), I was very hesitant, but her enthusiasm, along with the encouragement of my friend Sheryl Ochayon, who coordinates the Echoes & Reflections program at Yad Vashem, convinced me that it would be important to speak at the conference.
Getting to and from Greenville was a bit of a shlep, but my experience at the conference more than made up for it. The venue was the First Baptist Church, which had the largest auditorium in town, and as promised, each of my two lectures were before an audience of 1,000 students and about 60 teachers and interested adults from the area. The program included greetings from Lawrence Leibowitz, who has played an important role in promoting Holocaust education throughout the state, as well as a wonderful speech by Carla Kesterson, the 2020 recipient of the Belz-Lipman Annual Teaching Award for excellence in Holocaust education, who explained in a very convincing manner to her young audience why it is vital to learn about the Shoah.
Given the relatively young age of the children, I devoted most of my lecture to stories about individuals, primarily about legendary Nazi-hunter Simon Wiesenthal and Jasenovac concentration camp commander Dinko Sakic, the totally unrepentant Croatian mass murderer who escaped after World War II to Argentina, and whom I helped bring to justice in his native land. To my great surprise, the audience was a model of decorum, and there were no disturbances whatsoever. On the contrary, I had a very attentive and appreciative audience, as evidenced by the large number of questions posed by the students, especially the younger ones, after the lecture, some of which were a bit surprising.
Thus along with the usual queries such as: How many Nazis have you caught? [Several dozen]  Did you always want to be a Nazi-hunter? [No, my fantasy was to be the first Orthodox Jew to play in the NBA]  How did you become a Nazi-hunter and did you accept the job right away? [Read my autobiography.] How much money was offered for information leading to the arrest of a Nazi war criminal? [In the case of Mauthausen sadistic doctor Aribert Heim 310,000 euros; in other cases up to 25,000 euros] Who was the most famous Nazi you caught? [Dinko Sakic], I fielded questions such as: Is Nazi-hunting profitable? [I'm not in it for the money!]  and Who are the most famous people you met? [the most recent was Serbian President Vucic]. And to top it off, literally, there was the young student who, after his question was answered, yelled out: "I like your hat," i.e. my kippa.
If there was a discordant note in the entire day, it took place in private. One of the oldest students approached me after my second lecture to ask me whether I believed in Jesus Christ. When I replied in the negative, he was so disappointed that he didn't wait for my explanation that Jews are still waiting for the Messiah. While that encounter was somewhat unpleasant, the next day's headlines in the local media provided an amazing postscript to the conference. The US Justice Department announced that they had obtained a deportation order against a 94-year-old German concentration camp guard living in nearby Oak Ridge, Tennessee. Needless to say, Noelle made sure to inform all the teachers who participated in the conference of the wonderful news, which strongly reinforced my message to the students about the importance of justice, even many years after the crimes had been committed.
During these trying times, the thought of 2,000 non-Jewish children and 115 teachers being educated about the Shoah by such enthusiastic educators so dedicated to the task, is a very comforting thought. A ray of light in hard times and an important reminder that "Ha-olam LO kulu negdeinu!"
One day, hopefully very soon, the coronavirus crisis will pass, our fears will recede, and life will return to some semblance of normalcy. And then we can return to our contemporary concerns about many other important issues, including anti-Semitism , Holocaust memory, and we can also more fully appreciate what is taking place in Greeneville, Tennessee.
Best wishes to all our readers for good health and if necessary, speedy recovery!!
Dr. Efraim Zuroff
About the author: Dr. Efraim Zuroff is the chief Nazi-hunter of the Simon Wiesenthal Center and the director of the Center's Israel Office and Eastern European Affairs.
---


During these unprecedented times, we remain committed to supporting you to teach about the lessons of the Holocaust. As many of you move to a virtual environment, we recognize that this creates added challenges to teaching about this complex topic effectively.
View more +
As you navigate this new education landscape, please find our recommendations for revised approaches to Echoes & Reflections lesson instruction that will best support students' social-emotional well-being and bring them "safely in and safely out" of their learning.  Furthermore, we offer some general strategies for Holocaust instruction in an online format:
Take a "pulse check" of your students: use the "chat" function or a verbal check-in to ask students to share how they're feeling at the top of the lesson
Focus on the expansiveness of the "human story": what lessons about strength and resilience can we apply to today?
Provide spaces for reflection like journaling, personal connections, and break-out conversations
Fully utilize the features of your distance learning tools: chat boxes, word clouds, quizzes, and breakout rooms can put students at the center of the conversation.
While all Echoes & Reflections content is digital and accessible to you and your students, we want to highlight a few student-facing resources that can be readily brought to your students:
As a reminder, we hope you'll join us on an upcoming session of our newly formed Professional Learning Community to connect with colleagues and share best practices over the next month. This includes a series of 30-minute virtual meetings that support educators who plan to teach about a specific Holocaust topic online, such as Antisemitism and Nazi Germany, The Ghettos, The "Final Solution", Jewish and Non-Jewish Resistance,and Survivors and Liberators. Registration information for these meetings and our regularly scheduled online offerings can be found on our program calendar. Please note, if you are unable to attend any of the meetings or webinars, all will be available to view on-demand.
---


Idaho social studies educator Ben Harris suggests, "The Idaho Anne Frank Human Rights Memorial doesn't seem to be a place of commemoration or sadness – what one might experience in a battlefield or concentration camp. Instead, it invites students to consider a variety of perspectives about human rights and ask questions."
View more +
A study by the Pew Research Center released in January 2020 found that visiting a Holocaust museum or memorial is strongly linked with Holocaust knowledge. A visit to a museum or memorial takes Holocaust education out of the classroom, while encouraging learning approaches and outcomes that are central to Echoes & Reflections pedagogy: inquiry-based learning and critical thinking, fostering empathy, and making the history relevant for students. These visits help students develop a personal connection to the Holocaust.
"Dear Kitty … No one is spared. The sick, the elderly, children, babies and pregnant women – all are marched to their death.  I get frightened myself when I think of close friends who are now at the mercy of the cruelest monsters ever to stalk the earth.  And all because they're Jews." - Anne M. Frank, November 19, 1942
Etched in the stone of the Idaho Anne Frank Human Rights Memorial in Boise, Anne's diary entry illustrates how a group of people who are marginalized or demeaned based on religion, race, ability, gender, sexual orientation or gender identity become viewed by a majority as "the other" and therefore less than or inferior. It's a stark reminder of what can happen when we fail to interrupt the Spiral of Injustice, a model we created for discussing the Holocaust, the attack or harassment of an Idaho student when he or she is viewed as "the other," or the marginalization of any group within the fabric of our community.
The Wassmuth Center was founded in 1996 for the purpose of constructing a memorial to human rights.  That vision became a reality when the Idaho Anne Frank Human Rights Memorial opened to the public in 2002.  Inspired by Anne Frank and funded through the generosity of individual and corporate donors, the Memorial is not simply a static space to reflect on her short life or even on the horrors of the Holocaust.  Instead, it was designed to actively engage visitors to think, to talk with one another, and to respond to the human rights issues we face in our community, our country and our world.
Both the triumphs and tragedies of the human story are on display but, in every quote and every idea, visitors see the profound power of a single voice or bold action to overcome great odds and alter the course of history.
The educational park includes: a life-sized bronze statue of Anne Frank as she peers out an open window into an adjoining amphitheater, 80 quotes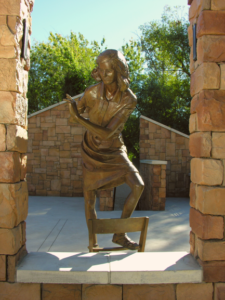 etched into the stone throughout the Memorial, the full text of the Universal Declaration of Human Rights on permanent display, the Rose Beal Legacy Garden honoring a local Holocaust survivor, a sapling from the Anne Frank Chestnut Tree in Amsterdam, the Marilyn Shuler Classroom for Human Rights, recognizing a founder of the Memorial and the state's first director of the Human Rights Commission,  and state-of-the-art electronic technology showcasing the "History of Human Rights in Idaho."
Ryan Coonerty, in the National Geographic publication Etched in Stone: Enduring Words from our Nation's Monuments, commented, "Anne Frank could scarcely have conceived of Boise, Idaho.  Therefore, it seems improbable that the author of a diary that has become among the world's most widely read books has become a symbolic fixture of this community almost 60 years after her death."
The Memorial receives an average of 120,000 visitors annually, with over 10,000 K-12 and university undergraduate students participating in free docent-led tours.
How does a visit to the Memorial inspire and impact teaching and learning about the Holocaust?
A visit to the Idaho Anne Frank Human Rights Memorial is far more than a fieldtrip and can provide a strong foundation for when educators return to the classroom and continue to teach the lessons of the Holocaust and other genocides.  It is the recognition, as stated by Edmund Burke, "All that is necessary for the triumph of evil is that good men [and women] do nothing."
Consider and ask.  When visiting a memorial or museum, the site can introduce a different perspective and an opportunity to ask probing questions.
We see that happen on tours when either a classroom educator or Memorial docent asks each participant to select his/her favorite quote in the Memorial.  The process of selection includes both introspection and reflection; do I see myself in the quote and what does it mean to me?  As students begin to share their selections, the conversation becomes a moment of personal journeys.
High school English teacher Sharon Hansen adds, "While the quotes are available in a booklet or in a digital version, we choose to visit the site, where we feel the presence of Anne Frank looking out over us as we write-- she forever frozen in her hiding place, while those of us who are alive and free have an opportunity to write about injustice in order to move toward justice."
Power of place. At the entrance to the Memorial, visitors read a welcome written by one the Memorial's three founding mothers Rev. Dr. Nancy Taylor.  "May the Idaho Anne Frank Human Rights Memorial stand as a tribute to Anne Frank's memory, as a warning to any who would dare trespass upon the freedoms of others, and as an inspiration to all whose lives are devoted to love, respect, understanding, peace, and good will among the totality and diversity of the human family.  May this memorial inspire each of us to contemplate the moral implications of our civic responsibilities."
Visitors experience the place – it is a physical, emotional, and some might add, a spiritual experience that evokes connections.
Hansen shares, "For my Creative Writing students, a visit to the Memorial is a call to action.  Their writing takes on new purpose, one determined by the place, and one I cannot duplicate in the classroom.  The Anne Frank Memorial is a place of inspiration, calling forth the words of my students to amplify the Memorial's message."
Behind the statue of Anne Frank, the actual size of the family rooms in the secret annex is cut into the concrete; one point of access into the rooms is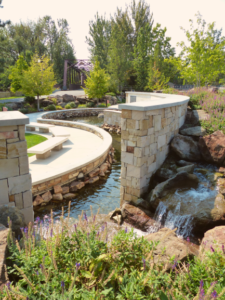 up a nine-step staircase tucked behind a marble bookcase, and the surrounding walls mirror the Amsterdam skyline.
Memorial visitors are able to step into her diary.  And we point to a quote by the American journalist Judith Miller that sits adjacent to the Memorial's entrance.  "We must remind ourselves that the Holocaust was not six million.  It was one, plus one, plus one …"  Anne Frank was one, her sister Margot was one, their mother Edith was one …
Never Again, Never Forget. We recite it, we mean it – but genocide continues to happen.  Notably, George Santayana's words are also inscribed in the Memorial.  "Those who cannot remember the past are condemned to repeat it."
In addition to the Holocaust, we talk about the Armenian, Cambodian, Ukrainian, Rwandan and Bosnian Genocides.  Students are apt to point out that "never again" rings hollow.  Another quote, placed on a rock by the family of a Holocaust survivor, insists, "Never again is now."
Recognized as a member in the International Coalition of Sites of Conscience, the Memorial joins a network of historic sites, museums and memory initiatives that connects past struggles to today's movements for human rights.  The Idaho Anne Frank Human Rights Memorial commits to turning memory into action.
Hansen notes, "The Boise River flows along the Memorial, perhaps echoing the words of Martin Luther King Jr. 'Let justice roll down like waters and righteousness like a mighty stream.'  By being present at the Memorial, students are surrounded by the words of Haim Ginott, Sojourner Truth, and Nelson Mandela, and the language becomes a springboard for students' own yearning toward a free and just future."
And "in spite of everything" Anne still believed that "people are truly good at heart."
About the author: Dan Prinzing, Executive Director of the Wassmuth Center for Human Rights in Boise, Idaho, has a BA in History Secondary Education, an MA in Curriculum and Instruction, an MA in History and Government, and a Ph.D. in Educational Administration.  Prior to the current position, he was the Idaho State Department of Education's coordinator of civic and international education, the former SDE coordinator of social studies and curricular materials, and a language arts and history teacher in the Boise School District.
 To learn more about the Anne Frank please explore our additional resources on her life and legacy:
---




PREVIOUS POSTS
GET INVOLVED
FAQs
PRIVACY POLICY
Echoes & Reflections is committed to privacy. This privacy policy discloses our information gathering and dissemination practices for this website: www.echoesandreflections.org.
This site contains links to other sites. Echoes & Reflections is not responsible for the privacy practices or the content of such Web sites. This privacy statement applies solely to information collected by echoesandreflections.org.
GENERAL INFORMATION COLLECTION AND USE
Echoes & Reflections is the sole owner of the information collected on this site. We will not sell, share, or rent this information to others in ways different from what is disclosed in this statement. We collect information from our users at several different points on our website.
COOKIES AND WEBSITE ANALYTICS
Our site uses 'cookies'. A cookie is a piece of data stored on the user's hard drive containing information about the user. Usage of a cookie enables us to track and target the interests of our users to enhance the experience on our site, but is in no way linked to any personally identifiable information while on our site. If a user rejects the cookie, they may still use our site. The only drawback to this is that the user may be limited in some areas of our site (for example, certain surveys or other such activities).
We use Google Analytics to collect information about visitor traffic and behavior. This allows us to identify usage trends and to improve the performance and content of our websites.
We do not use this tool to collect or store your personal information, and it cannot be used to identify who you are. You can use the
Google Analytics Opt-Out Browser Add-on
to disable tracking by Google Analytics.
We currently do not use technology that responds to do-not-track signals from your browser.
VARIOUS REGISTRATIONS
To receive certain updates, enroll in certain programs, or use certain features of our website, a user may have to first complete a registration form. During registration a user is required to give their contact information (such as name and e-mail address). This information is used to contact the user about the services on our site for which they have expressed interest.
NEWSLETTER
If a user wishes to subscribe to our newsletter, we ask for contact information such as name and e-mail address.
ORDERS
Our site uses an order form for customers to request certain products. We collect visitor's contact information (such as name, e-mail, and address). Contact information from the order form is used to send information about Echoes & Reflections to the users of our website. The customer's contact information is also used to get in touch with the visitor when necessary. This information is not shared or resold in any circumstance except as may be required by law.
Users may opt-out of receiving future mailings; see the choice/opt-out section below.
SHARING
We may share aggregated demographic information with our partners. This is not linked to any personal information that can identify any individual person.
We use an outside shipping company to ship orders. These companies are contractually prohibited from retaining, sharing, storing or using personally identifiable information for any secondary purposes.
We may partner with third parties to provide specific services. When a user signs up for these services, we will share names, or other contact information that is necessary for the third party to provide these services.
These parties are contractually prohibited from using personally identifiable information except for the purpose of providing these services.
SECURITY
Our website has security measures in place to protect against the loss, misuse and alteration of the information under our control. This includes a firewall and 24 hour monitoring of site activities by our hosting service provider as well as 128-bit SSL encryption (where allowable by law) on all transaction oriented operations between you and Echoes & Reflections via our transaction service provider. While we use SSL encryption to protect sensitive information online, we also do everything in our power to protect user-information off-line. All of our users' information, not just the sensitive information mentioned above, is restricted in our offices. Only employees who need the information to perform a specific job (for example, our billing clerk, a customer service representative, or database administrator) are granted access to personally identifiable information. Any time new policies are added, our employees are notified and/or reminded about the importance we place on privacy, and what they are required to do to ensure our customers ' information is protected. Finally, the servers that we use to store personally identifiable information on are kept in a secure environment.
CHOICE/OPT-OUT ONLINE & OFFLINE
The following options are available for removing information from our database to discontinue receiving future communications or our service.
1. You can unsubscribe or change your e-mail preferences online by following the link at the bottom of any e-mail you receive from Echoes & Reflections via HubSpot.
2. You can notify us by email at
info@echoesandreflections.org
of your desire to be removed from our e-mail list or contributor mailing list.
CONTACTING THE WEB SITE
If you have any questions about this privacy statement, the practices of our website or your interactions with the website, please send email us at
info@echoesandreflections.org
NOTIFICATION OF CHANGES
If we decide to change our privacy policy, we will post those changes here so our users are always aware of what information we collect, how we use it, and the circumstances, if any, we disclose it.
RESOURCE OVERVIEW
Echoes & Reflections delivers value to both experienced Holocaust educators who are supplementing their curricula and to teachers new to Holocaust education. Learn how to engage further with the important work of Echoes & Reflections by signing up
here.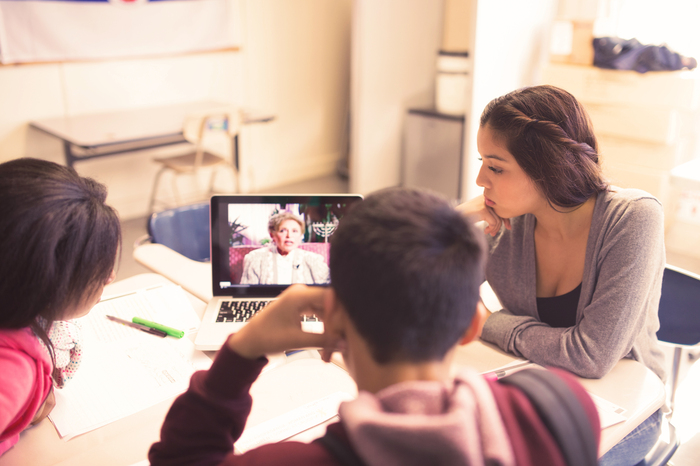 Third a Content