BLOG


What do we, as Holocaust educators, seek to do? It's a question with which I continuously grapple. It is impossible to deny that much of this history showcases the most devastating and bleakest views of humanity. Yet, despite this heart-breaking reality, as educators, we understand the critical importance of teaching our students the consequences of allowing antisemitism and other forms of bias and hate to pervade a society. From this realization, another equally vital question emerges: How do we best teach this history?
View more +
The horrors of the Holocaust are undeniable, and though they must be taught, it is imperative that students are able to understand the material in a way that inspires them to engage positively with their communities to ensure that the past does not repeat. Art can act as an excellent gateway for students to effectively connect to the lessons of this history. Art raises questions seldom addressed when dealing with a historical subject. Art elevates viewpoints to a whole different level, which traditional historical approaches alone cannot inspire. While there are many types of art mediums from the Holocaust, poetry in particular is an excellent way to engage students. Poetry highlights an individual's voice. This allows the reader to more fully empathize with the author's experience and inspires both personal reflection and a greater understanding of the subject matter. Essentially, Holocaust poems are the whispers and cries from a dark past that we must bring to light.
A poem I often recommend educators introduce into the classroom is Five, by Hanuš Hachenberg, a Jewish boy from Prague who wrote these words in 1943 when he was 13 years old.
FIVE
This morning at seven so bright and so early
Five novels lay there, sewn up in a sack
Sewn up in a sack, like all of our lives
They lay there so silent, so silent, all five.
Five books that flung back the curtain of silence
Calling for freedom and not for the world
They're somebody's novels, somebody who loves them...
They call out now, they cried, they shed tears and they pleaded
That they hadn't been finished, the pitiful five.
They declared to the world that the state trades in bodies,
And slowly they vanished and went out of sight
They kept their eyes open, they looked for the world
But nothing they found, they were silent, all five.
-Hanuš Hachenburg
Hanuš wrote this poem and others, for Vedem ("We Lead") - a clandestine magazine produced by Jewish teenage boys imprisoned in the Theresienstadt Ghetto. There, amidst their crushing reality of ever-present death and disease, horrific overcrowding and hunger, living in constant fear of transports "to the east", Hanuš and the boys of his dormitory performed an incredible act of resistance: they created. They secretly wrote stories, poems, jokes, and essays. They illustrated comics and drew fantasy drawings. They wrote bitterly about the inhumane prison they were forced to endure while trying to make sense of the hatred that had engulfed their lives. Mourning their lost childhoods, they still dared to hope that the world they knew would one day be restored. They cautiously dreamed of a brighter future. They remained determined to retain their human dignity in a world that had betrayed them, and their magazine was a means to that end.
Almost of all the young contributors to Vedem were murdered in Auschwitz and other death camps. Of the 7,590 children deported eastward from Theresienstadt, a mere 142 survived to be liberated. Of Hanuš, all that remains behind to show that a person of such sensitivity and brilliance ever existed are his beautiful Vedem poems and writings and a few black and white sketches. Not one photograph of this young man survives. We know almost nothing of his early life, except that it probably wasn't a very happy one — following his parents' divorce Hanuš spent 5 lonely years in an orphanage. The few people who remember Hanuš can only tell us that he was a frail, thin child with very dark and expressive eyes. Even in death he left nothing tangible behind. We will never have the solace of putting a memorial rock on his tombstone, running our fingers lovingly over the name engraved on its surface, sanctifying it with our tears. Auschwitz is his grave, and his poem Five is his epitaph.
For me, Hanuš lives on in his poetry, and its power to move us. His maturity, sensitivity, and brilliance are almost palpable in each line that he writes. Reading the poems of Hanuš, I am overwhelmed by a deep sense of loss. And anger. And yet, his poetry offers us a conduit to connect students to his inner world, to give voice to his fear and despair, his anger, his hope, and his dread of being forgotten. It is a towering testimony to his humanity and individuality. The imagery in Five leaves us to face difficult and important questions to address with students:
How could such grotesque hatred have led to these young innocent lives being cut short, like unfinished novels? How was this possible?
What sack are the 5 books sewn into? Is it the closed sack of the impenetrable walls of Hanuš and his friends' prison, Theresienstadt? Or are the novels engulfed by the indifference of the world, a world that would bury them out of sight, muffling their pleas and stifling their cries?
And the most heartbreaking question of all: If only the five books had been completed, if only they had been allowed to reach their natural conclusion, what might have been contained in their chapters and pages? What could Hanuš and his friends have given the world? Furthermore, what could a million and a half murdered children have given the world?
I think this is at the heart of what we, as Holocaust educators, seek to do. As we accept the challenge of teaching our students this painful history we can amplify it by the use of powerful mediums such as poetry; mediums that can inspire important and meaningful reflection. As educators, we want our students to be the ones to open the sealed sack, take out the forgotten books within, read their brief unfinished chapters, vow to remember the stories, and assure the voices behind them are still heard. By adding to our teaching the personal artistry of the poet, we not only honor the memory of Hanuš, his friends, and all victims of the Holocaust, but also inspire students to reflect on and create more healthy and humane futures.
About the Author: Liz Elsby is a Holocaust Educator and Museum Guide who has worked at Yad Vashem since 2006.
Looking for additional ways to teach about the Holocaust using art and poetry? Please explore the following resources from Echoes & Reflections and our Partners:
---


As a teacher at Marjory Stoneman Douglas (MSD) High School in Parkland, Florida, who survived the tragedy on February 14, 2018, I have spent the past year grappling with this question. By definition, a survivor is a person who continues to function or prosper, in spite of opposition, hardships or setbacks. I have always been in awe of Holocaust Survivors. I tried, but for much of my life I could not fathom what they had been through. Every Holocaust Survivor has a unique experience, but all have suffered loss and terror beyond imagination. They are my true heroes and I think about them daily – the ones I've met in person, and through books and movies. Their will to live, attitude of perseverance, hope for future generations, and willingness to share their personal heart-wrenching stories, so we can learn from them and keep their lessons alive, is inspiring.
View more +
And yet, following the shooting, I felt guilty listening to others who called my fellow MSD teachers, my students and me "survivors." The survivors I've always associated with that word had nothing left after the war -  no family, no possessions, no therapy, no service dogs, no support. Many were often told to "shake it off, move on, try to forget it, make a NEW life!" But, like them, we did survive a tragedy that needs to be told.
The value of sharing Holocaust Survivors' stories and our own is very much motivated by my experience teaching a Holocaust course that was started at our school 5 years ago, to help students understand that the study of genocide is imperative to upholding world democracy. It is a yearlong course, divided into a History of the Holocaust semester and Literature of the Holocaust semester. There was no precedent for this class at our school, so the language arts teacher and I reached out for recommended resources from Echoes & Reflections. We based our curriculum on the comprehensive material in their original Teacher's Guide and on their website, which provides educators and students access to Holocaust Survivor video history testimony to teach the lessons of the Holocaust. Motivated by these lessons, over the past 5 years MSD High School has had numerous speakers, such as Holocaust Survivors, liberators, and WWII veterans come talk with our students about the impact of this important historical event. We make an annual spring luncheon for area Survivors where the students are hosts, servers, entertainers, and most importantly – listeners. We also hosted a Kristallnacht commemoration event in 2017 with a Holocaust Survivor Band and invited the entire community. In essence, we are continuously trying to expose the students and our community to the lessons of the Holocaust through a personal lens in the hopes that others understand that hate is NEVER okay, being a bystander is NOT okay, and that we must all learn to be upstanders. In many respects, these lessons are no different in the aftermath of the shooting at MSD.
I was teaching a Holocaust Studies course at MSD on February 14, 2018 in room 1214 on the first floor of the 1200 building, when a former MSD student began to shoot up our school. I have been teaching at MSD for 18 years and 10 of those years were spent in room 1214 – a Happy Learning Place for me and my students. The walls were adorned with posters of photos of Holocaust victims and there was a large yellow banner in the back of the room that stated: "We Will Never Forget". That banner was given to me by a Holocaust Survivor. Although this room was dedicated to honoring the atrocities of the past, it was also a room full of promise and hope.
That day, we began the 90-minute class with student presentations on how to combat hate and hate group tactics that may be present on their soon-to-be college campuses. We then moved on to an IWitness activity from the USC Shoah Foundation about the 1936 Olympics in Berlin and we watched testimony from German Jewish Athletes who were banned from participating. During the activity we started a discussion on important players during those Olympics and I asked if they knew Adi Dassler. Nicholas Dworet, a senior who just earned a swimming scholarship at the University of Indianapolis, knew it was the German shoemaker who started Adidas! We were all so impressed and he was smiling ear to ear, just as we heard loud shots in the hallway outside our classroom door.
The students immediately flew from their desks to find cover, in a classroom that had no Safe Space. Within seconds, the shooter was blasting his AR 15 into the glass window that runs vertically down the center of the door. The sound was deafening as the bullets flew through the glass randomly aiming at anything that moved. It was complete chaos. Students screamed while they watched their classmates, their friends, get hit with a barrage of bullets. The shooter wounded four of my students and murdered two beautiful souls, Nicholas Dworet, the star athlete, and Helena Ramsay, a beautiful young lady who stated at the beginning of the year that hate would someday be eradicated. They will never fulfill their dreams for the future, as those dreams died in the very class where they were learning how to combat hate. The lessons of the Holocaust came into room 1214.
Following the tragedy, the #NeverAgain movement was not a coincidence. The students over the years who took the Holocaust Studies course knew this slogan, studied this slogan and realized after this shooting, that it was up to them to make changes. Most of the March For Our Lives students learned the term "upstanders" in Room 1214. In part, this learning experience sparked a youth movement that is unstoppable, and my students have set an example for youth around the world. What they do matters! Following the tragedy, not taking action was NOT an option. Speaking out and speaking up on causes such as gun control, school safety, voter registration, and mental health reform has become a key focus in our community and many others have taken their leads from the students in Parkland.
So, like the Holocaust Survivors that we treasure, we too, have a story to tell and it becomes everyone's responsibility to pass it on. As you walk out the door of my new classroom – a portable among many temporarily placed on the outdoor basketball courts, you can't miss a very large Echoes & Reflections poster with a quote from the Nobel Laureate Elie Wiesel: "When you listen to a witness, you become a witness."
We now live by these words: "If we don't do it, who will? The world is watching."
About the Author: Ivy Schamis is a Social Studies teacher from Marjory Stoneman Douglas High School in Parkland, FL.
---


"In two years of combat you can imagine I have seen a lot of death […] but nothing has ever stirred me as much as this […] how could people do things like that? I never believed they could, until now."

- US Staff Sergeant Horace Evers, among the liberators of Dachau, from a letter home featured in Echoes & Reflections
View more +
The liberators of the Nazi camps were young soldiers — many no older than 18 or 19 years old. They were the first outside witnesses to come face to face with the evidence of the monstrous crimes committed by the Nazis and their collaborators against civilians.
Their testimony is qualitatively different from that of survivors of the Holocaust. They had seen their buddies killed in war – they were all too familiar with death and destruction. But the scenes they saw as they liberated the camps were unlike their military experiences. They were suddenly and unexpectedly forced to become witnesses to horrific atrocities. This was a different kind of trauma. Their reactions ranged from shock to disgust to rage. Their "why remember?" comes from this place and this witnessing.
In November, I had the privilege of hearing Alan Moskin speak. Mr. Moskin was part of General George Patton's Third Army. He fought in the Rhineland campaign through France, Germany and Austria. When the Nazis surrendered he was not yet 19. When I heard him speak he was 92 years old, yet the memories were still fresh. He liberated Gunskirchen, a subcamp of Mauthausen, on May 4, 1945.
Mr. Moskin spoke quietly of the overpowering stench and the thousands of corpses and the barbed wire, as though he could still see them. He spoke with great compassion for the skeletal survivors (the "poor souls", as he called them) who were so hungry that they ate the tobacco from the cigarettes the soldiers gave them; who were so thankful that they tried to kiss his boots though they were caked with blood and feces; who were so covered with lice and filth and open sores that they literally reeked. He remembered his captain screaming into a walkie-talkie, "Get help up here, GET HELP!" He remembered feeling weak in the knees and, overcome with emotion, crying.
Mr. Moskin spoke in memory of the 6 million murdered Jews and the others who were persecuted. He also paid tribute to "his own band of brothers" who, as he said, made the ultimate sacrifice. He purposely, purposefully recited each of their names, rapping on a table for emphasis with every name he pronounced: Tex, Jimbo, Muzzy, RJ, Bulldog, Schoolboy, LZ, Rebel, Gonzo, Tony C., Tommy, who was blown to pieces by a mortar shell right before his eyes, and Captain B., the captain he loved, who jumped on a live grenade to protect his squad.
Alan Moskin's was a different kind of testimony than those I've heard from Holocaust survivors. But even if his "why remember?" comes from a different place and a different experience, its goal is the same: not to let any of this be forgotten, "for the sake of humanity and everything decent and just in the world."
I repeat his words here because they made a profound impression on me. They came from his heart.
"I speak here today for each one of those poor souls who was slaughtered by the Nazis, and each one of my buddies and all the other GIs who made the ultimate sacrifice. They can't speak anymore but dammit I can and I will. I'll speak out as long as God gives me the strength to do so. I feel that I'm their messenger. The message is that there was a Holocaust. I bear witness. It occurred. I saw it. I want these young people that I speak to, to be my witness. I don't want them to forget. There are deniers out there now and when we're gone who knows what they're gonna say. That the Jews made it up? That it didn't happen? Well it did happen. And I want these young people to bear witness for me. It's been said many times that those who forget the events of the past are doomed to repeat them."
International Holocaust Remembrance Day is commemorated on January 27th, the date in 1945 on which Auschwitz-Birkenau, the largest Nazi concentration and death camp, was liberated. The UN tied commemoration of the Holocaust to this important milestone of liberation. UN Secretary-General Ban Ki-Moon stated in 2008 that the essence of this Remembrance Day is a twofold approach: one that deals with the memory and remembrance of those who were massacred during the Holocaust, and the other that goes beyond remembrance to educate future generations of its horrors.
This is exactly the "why remember?" message of Alan Moskin's testimony and that of other liberators like the ones featured in the Echoes & Reflections toolbox film, "Liberators and Survivors: The First Moments." There are still liberators among us. We must listen to their stories and share them with our classrooms and communities while we still have the chance to hear them.
About the Author: Sheryl Ochayon is the Project Director for Echoes & Reflections at Yad Vashem.
---




PREVIOUS POSTS
GET INVOLVED
FAQs
RESOURCE OVERVIEW
Echoes & Reflections delivers value to both experienced Holocaust educators who are supplementing their curricula and to teachers new to Holocaust education. Learn how to engage further with the important work of Echoes & Reflections by signing up for our
newsletter.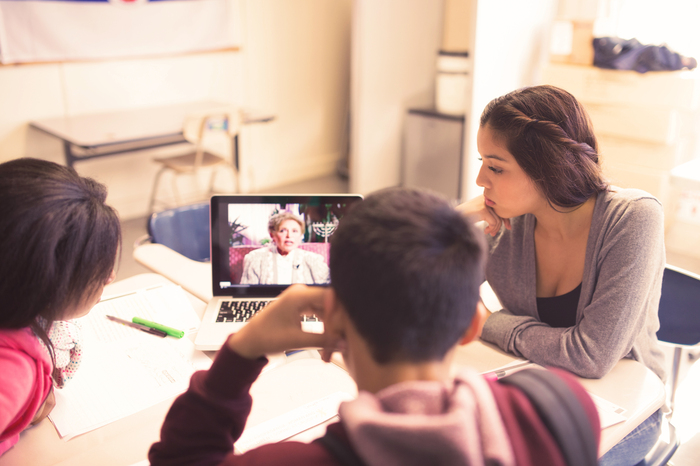 Third a Content