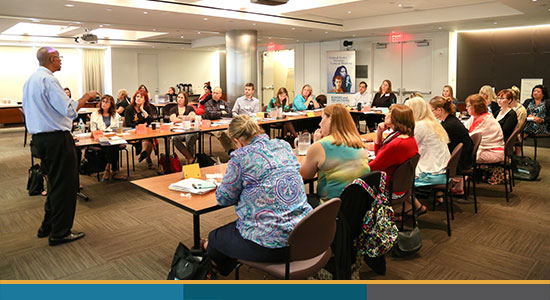 WHY SHOULD YOU ATTEND?
Teacher-friendly materials address Common Core State Standards and incorporate a mix of instructional strategies and technologies for use in 21st century classrooms.
Tap into a repository of visual history testimony offering first-hand accounts from survivors, liberators, and other witnesses of the Holocaust.
Learn effective teaching strategies to help students understand what happened during the Holocaust, why it happened, and how it relates to difficult issues they face today.
Led by an experienced facilitator.

"One of the best trainings that I've been to. I left with resources I could use if I was going to teach the Holocaust the next day. It gave helpful ideas for how to talk about a really sensitive subject."
Humanities Teacher
Da Vinci Communications High School
Sacramento, California
Echoes and Reflections delivers value to both experienced Holocaust educators who are supplementing their curricula and for teachers new to Holocaust education.

When: 04/21/17
Time:
8:30 am - 3:30 pm
Where: San Diego County Office of Education
Sponsored by:
San Diego County Office of Education
Registration:
For more information and to register, contact Matt Hayes, History-Social Science Coordinator: mahayes@sdcoe.net, (858) 292-3820