BLOG


Set among the bucolic farm fields and rural communities of southern Wisconsin, Clinton, where I live and teach, is the quintessential American small town. The center of the community's social life is the Clinton Junior-Senior High School, which prides itself on traditions, such as the homecoming parade, chili and cinnamon roll fundraiser, and drive-your-tractor-to-school day.
View more +
Holocaust education is an equally valued part of children's middle and high school experience in this community, from reading survivor memoirs and novels to the annual 8th-grade trip to the United States Holocaust Memorial Museum in Washington, D.C. By the time students enroll in my junior-senior "Genocide and Human Rights" elective course, most of them have studied the Holocaust numerous times in their social studies, English language arts, and German classes.
Studying the Holocaust can serve as a bridge for teachers and students to incorporate other instances of genocide and mass violence in the classroom, including the genocide of Indigenous peoples. While Holocaust education has become an integral part of the curriculum in Clinton, students have little knowledge or even awareness of the local histories of Indigenous genocide. Students often struggle to name the Ho-Chunk as the Indigenous nation whose ancestral land the town and school are located. Not unique to students in Clinton, in big cities and small towns across the United States, there is little awareness of Indigenous communities and the violence perpetrated against them.
I have found that in my "Genocide and Human Rights" course, students' prior experiences learning about the Holocaust provide inroads for teaching about the genocide of Indigenous peoples. The pedagogical recommendations from Echoes & Reflections and the United States Holocaust Memorial Museum are the bedrock of discussion on teaching hard history and are certainly applicable and advisable for teaching about other cases of genocide and mass violence. Recommendations, such as "contextualize the history" and "teach the human story," are equally important in lessons on Indigenous genocide and the Holocaust, helping students understand the larger context that surrounds episodes of genocide and mass violence and the experiences of individuals. Furthermore, these principles have been guideposts to help me develop the following guidelines to support teaching about the genocide of Indigenous peoples.
Teach about Local Histories
In a neatly manicured park on the edge of Clinton stands the rough-hewn Skavlem-Williams Log Cabin, which, according to the accompanying historical marker, is a "visible reminder of the sacrifices made by early pioneers as they settled this area."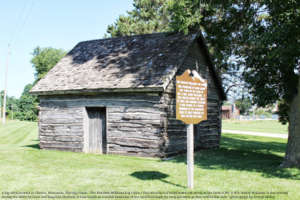 Notably absent from the signage is any mention of the Indigenous inhabitants of this land. Like many communities across the United States, Clinton has a long history of excluding Indigenous peoples from local narratives that celebrate only Euro-American settlement and achievements. The practice of memorializing the "first" Euro-American settlers through monuments while simultaneously writing the perceived "last" Indigenous peoples out of existence is what Jean O'Brien (White Earth Ojibwe) referred to as "firsting and lasting." In local histories, such practices further the myth of the "vanishing Indian," or the notion that the Indigenous peoples vanished due to genocidal violence and assimilation by the end of the nineteenth century.
Examining this local signage inevitably leads my students to ask: who were the Indigenous peoples who lived on this land before the first Euro-American settlers arrived, what were their lives like, and, ultimately, what happened to them? These questions form the basis for our unit on Indigenous genocide. Fostering a classroom learning community that encourages students to ask such essential questions is the first step towards an inquiry-based approach to Holocaust and genocide education.
While students are generally aware of the so-called "Trail of Tears," and some even may refer to this forced removal of tribes from the American southeast in the early 1830s as genocide, they know almost nothing about the local histories of dispossession and violence, such as the treaties that were signed with Indigenous communities or the Black Hawk War of 1832, which made Euro-American settlement possible in southern Wisconsin.
Teach about the Continuing Legacies of Genocide
Though one might point to specific events or instances of violence in nineteenth-century state or national history, the genocide of Indigenous peoples in North America has had far-reaching consequences stretching into the present. To elucidate the legacies of genocide for my students, I use Aaron Huey's powerful TED Talk, "America's Native Prisoners of War," in which he uses contemporary photographs of the Pine Ridge Reservation, one of the poorest places in the United States, to show the legacies of centuries of dispossession, forced removal, and genocidal violence. Though it is important to show the realities of the legacies of violence for contemporary Indigenous peoples, communities have always resisted and survived, maintaining their cultural traditions, despite physical and cultural genocide. My students and I use a collection of video essays, "The Ways: Great Lakes Native Language and Culture," to examine, for example, language revitalization efforts and the Manoomin (wild rice) harvest.
 Partner with Local Indigenous Communities
If the opportunity presents itself, partnering with local Indigenous communities offers students an extremely powerful learning opportunity. Ho-Chunk oral tradition states, "we have always been here." This unequivocal statement is a powerful salvo to challenge the exclusion and misrepresentation of Indigenous peoples that students have experienced in classrooms and curricula. Importantly, I partner with local Indigenous communities to provide opportunities for them to share their collective histories and individual stories. In this way, genocide becomes one part of the larger story of Indigenous peoples, which neither begins nor ends with colonization in the nineteenth century. Just as the Holocaust must be contextualized in the broader history of European and Nazi antisemitism, Indigenous genocide must be taught within the larger context of colonialism. Additionally, partnering with local Indigenous communities helps eschew the foods-and-festivals approach to teaching about "foreign" cultures for in-depth discussions of treaty rights, language revitalization, and tribal efforts to buy back ceded/stolen land. For many students, these are difficult discussions bridging histories of genocide and contemporary realities based on legacies of mass violence.
Recognize the Difficult Nature of Teaching and Learning About Indigenous Genocide
Teaching and learning about national and, especially, local histories of genocide perpetrated against Indigenous peoples is often difficult for non-Indigenous teachers and students. Such narratives challenge foundational stories about local communities and the United States, often evoking feelings of guilt and shame among white students. When left unprocessed, feelings of shame and guilt can result in minimization, distortion, and denial of Indigenous genocide in classrooms. Though teaching about difficult histories of violence in the United States may evoke feelings of guilt and shame, this should never be the goal of such lessons; rather, teaching and learning about difficult histories should provide opportunities to learn about historically marginalized groups, examine contemporary realities within society, and imagine and envision a more equitable future. As with Holocaust education, educators should focus on promoting empathy and understanding when teaching about Indigenous peoples and guide students "safely in and safely out" when teaching about Indigenous genocide.
Do Not Engage in Classroom Discussions that Minimize, Distort, and Deny Indigenous Genocide
Debates about the appropriateness of applying the term genocide to the experiences of Indigenous peoples, statements such as "Indigenous peoples were just as violent (if not more violent) to other Indigenous groups as the Europeans were towards them," or sentiments, such as "the destruction of Indigenous peoples was simply the inevitable result of two cultures colliding," serve to minimize, distort, and deny genocide. Like Holocaust denial and distortion, debating and rejecting claims of Indigenous genocide furthers misinformation and prejudice while disregarding the realities of colonization in North America.
My students immediately recognize that such attitudes can have far-reaching consequences for society. While students are quick to see that contemporary Germany offers one model for recognizing and atoning for difficult histories, I remind them that, within the American context, we must imagine and enact our own paths towards social justice. Indeed, we end our unit on Indigenous genocide by exploring several models of reparative justice from Canada to South Africa.
About the author: George Dalbo is a high school social studies teacher in rural south-central Wisconsin and a Ph.D. Candidate in Social Studies Education at the University of Minnesota. His teaching and research interests center on Holocaust, genocide, and human rights education in middle and high school social studies classrooms and curricula. He works with Echoes & Reflections to facilitate training and develop curricula on the Holocaust.
---


So, it's that time of year again – back to school. For students, no matter their age, the beginning of a new school year is always stressful. Will their new teachers be interesting? Will their friends be in their classes? COVID doesn't help. The old stressors are still around but new ones kick in, too. Will they be going to school physically or will learning be hybrid? Will they have to wear a mask? Maybe they have suffered personal loss during this health crisis, or fear that they or someone they love will get sick.
View more +
I found an unexpected source of comfort that has helped me deal with COVID, lockdowns and restrictions. Yes, there was Netflix and often, a little too much ice cream. But I found a surprising support group that included six teenagers, all going through teenage issues, who helped me get through each day. They aren't exactly your run-of-the-mill teenagers – Anni, Esther, Hannah, Jakub, Petr and Victor are teenagers who lived before WWII, and they are the beating heart of the new Echoes & Reflections lesson on Prewar Jewish Life. Writing about them meant entering their worlds – in Latvia, Poland, Hungary, Czechoslovakia and Tunisia. It meant seeing life through their eyes and understanding their concerns.
Getting to know these six young people while writing the Prewar Jewish Life lesson helped distract me from quarantines, vaccines and the endless news cycle. I wanted to understand them better. I wanted to experience the world they lived in, a world that existed before the shadow of the Holocaust crept up on them.  Who were they?
To figure this out, I poured over their diary entries. I scoured their old photographs. I searched for more and more clues about their lives, all at a time when I wasn't able to go outside. They intrigued me and kept me from dwelling on the pandemic. They also led me to an astonishing realization, made even more potent by the circumstances. The more I immersed myself in their lives, the more I realized that human beings are all connected across time and space. We all face the same personal issues and challenges, no matter when and where we live.
This is the beauty of the Prewar Jewish Life lesson - its ongoing resonance. As Anni, Jakub, Esther, Petr, Hannah and Victor transported me into their worlds, I understood the universality of the human story. Each of these six teenagers was just starting to figure out who she/he was, as are today's teenagers. Burning issues of identity were starting to bubble up to the surface: What do I want to be when I grow up? Will I fit in? Will I be religious or will I assimilate into secular society? What does my heritage mean to me? Should I rebel against my parents or toe the line? Should I be a vegetarian? Do I have the talent to become what I've always dreamed of becoming?
I was truly struck by how many of these questions reflected similar hopes, dreams, fears and life questions that many young people ask today, despite the fact that they live 80 years later and half a world away. This was an excellent confirmation of the Echoes & Reflections mantra: that teaching the human story is important and impactful.
Last school year was a tough one, and by the looks of it, this school year will not be any easier. Let the young people profiled in Echoes & Reflections show the students in your class that they all have much in common. Let them build empathy, as you teach the Holocaust, for the Jewish teenagers (and others) throughout Europe who were thrown into a horrific crisis. Let them transport your students across time and space to really connect with the human stories that were just taking shape. These young people are wonderful examples of the indomitable human spirit. They wrote and painted and pursued their dreams in a world that, unbeknownst to them, was soon to be destroyed. Let them show your students the enormity of what was lost during the dark years of the Holocaust. Hopefully, your students will resolve to be the kind of people who will do their share to make sure that atrocities like these will never happen again.
These past months have possibly been the most complicated and unnerving period your students will ever experience. To all of you, who have been there for them, teaching them, guiding them - Bravo!! Be proud that you supported them.
As we enter the new school year as well as the Jewish New Year, we at Echoes & Reflections would like to wish you all good health and much success this year, and a brighter future of greater tolerance, respect and empathy. May this new year herald a time of health and growth for all.
About the author: Sheryl Ochayon is the Director of Echoes & Reflections for Yad Vashem.
---


A few years back, in front of an audience of a hundred school administrators and educators focused on implementing Holocaust education, one thoughtful participant shared how the study of the Holocaust, particularly the study of the Nazis' anti-Jewish policy, can be an important opportunity for students to connect this to the US's Jim Crow laws passed after the Civil War.  I didn't scan the room but I imagined that his remarks may have landed uncomfortably on some participants for reasons ranging from the unsettling idea of the US as a "beacon of freedom" being a model of racist policies and practices for Nazi Germany to the discomfort and insufficient knowledge and ability to broach such a discussion in the classroom.  Without skipping a beat, I smiled and agreed with him wholeheartedly, and encouraged folks to read James Q. Whitman's book Hitler's American Model: The United States and the Making of Nazi Race Law (2017). 
View more +
The book's title can easily offend those who believe in the idea of America as the land of the free.  Just the hint of a connection between America and Nazi Germany can make such persons uneasy.  Because Holocaust survivors in the US found safe haven and in many cases thrived in this country, so the logic goes, how could this same country be the source of inspiration and guidance for Nazi Germany's efforts to dehumanize and destroy the Jewish people? But if those same people read this book, they would be confronted with a well-researched, evidence-based documentation of how Nazi politicians and lawyers tackled the creation of their "race law" by looking to the US.  Early on in the book, Whitman states, "In the early 1930s the Nazis drew on a range of American examples, both federal and state.  Their America was not just the South; it was a racist America writ much larger.  Moreover, the ironic truth is that when Nazis rejected the American example, it was sometimes because they thought the American practices were overly harsh"(5).
As educators, we may have heard our students – particularly students of color and LGBTQ+ students – advance a burgeoning connection: How an anti-Jewish law or decree reminds them of our country's racist segregation laws or our ban on interracial and same-sex marriages.  This is the moment where we are confronted with a choice: how do we respond?  
Do we provide a tepid acknowledgment or else a statement that this is not the same thing, and continue with the prepared lesson?  Are we even confident and competent enough to navigate this huge "aha" moment? Whitman implores us to dive right into the discussion without hesitation. "America was the leader [in racist law making] during the age of the rise of Hitler. That is the truth, and we cannot squirm away from it" (139). There are consequences to racist, dehumanizing policies, not only on targeted communities whose lives were severely compromised or cut short because of them but also on other countries watching closely to gauge the effectiveness and success of these policies.  Simply put, that's what the Nazis did with our country's racist policies. There is a need to reckon with this truth, that the US inadvertently but nonetheless significantly became a model for the anti-Jewish policies in Germany.
Whitman does a huge service by evidencing the intentional and thorough discussions of US racist policies – not just Jim Crow segregation laws but also its racist immigration laws, citizenship laws, and miscegenation laws – in key Nazi reports, articles, memos and meetings that contributed to the crafting of the 1935 Nuremberg Laws. He explores the crafting of the Reich Citizenship Law – the second of the three Nuremberg Laws – by highlighting the Nazis' keen interest in America's anti-immigration laws (namely its race-based quotas) and citizenship laws with its creation of de jure and de facto forms of second-class citizenship – not only for Black Americans, but also for Puerto Ricans, Filipina/o/x, Chinese and Native Americans – that maintained our country's racial hierarchy and power.  While these anti-immigration laws were more inspirational rather than serving as a blueprint for the Nazis, more critical and closely examined were the US anti-miscegenation laws that informed the third of the Nuremberg Laws – the Blood Law, which banned race mixing in sex and marriage between Jewish and non-Jewish Germans.  Here, Whitman argues, is where "we discover the most provocative evidence of direct Nazi engagement with American legal models, and the most unsettling signs of direct influence" (76).  He highlights the legal techniques -- policies and procedures -- that Americans employed to justify their "race madness" as the source of influence for the Nazis.  Simply put, Whitman writes, "The United States offered the model of anti-miscegenation legislation...and it is in the criminalization of racially mixed marriage [in the US] that we see the strongest signs of direct American influence on the Nuremberg laws" (78-29). 
Whitman's book provides educators with a valuable opportunity to connect with the Holocaust, particularly the anti-Jewish laws, within US history of race-based immigration, segregation, citizenship, and interracial marriages.   Connection points to consider include:
1. The invitation to students to connect these two histories is as easy as using the worksheet  "What Rights are Important to Me" in the Nazi Germany unit. Many educators who have used this in their classrooms have shared stories of students seeing the natural connection: "Voting wasn't allowed by the Black community after Reconstruction," or "Asians who were able to immigrate to the US weren't eligible for citizenship and couldn't even vote," or even "This country didn't allow people of the same sex to get married for a long time."  This is the actualizing of one of our pedagogical principles: Making the Holocaust relevant. 
2. Encourage inquiry-based learning and critical thinking, specifically when viewing visual history testimony.  Students, with their US-centric 21st-century lens, need brave educators to guide them in applying the lessons of the Holocaust to our own racist history without "squirm(ing) away from it." This connection is not saying that the anti-Jewish laws and the assortment of US racist laws are the same; Whitman states very clearly that they are not carbon copies. However, we should not downplay or brush aside these connections as they are truly linked.  Let's use these moments to face our own ugly truths and discuss them openly and critically, knowing that our country's racist laws and practices played a significant role in providing the Nazis with a model that informed their efforts to create their own dehumanizing legal system.
We as educators can no longer rely on the excuse that because we were not taught about racism in our elementary and high school classes, we are ill-equipped to teach and navigate these discussions in our classrooms. It may be an explanation of our shortfalls, but not an absolution of taking on this mantle.  We also cannot turn our heads from the indignities that many Americans suffered in our country's history while exalting inspirational values and focusing only on the good.   Such silence is a practice in denial, and is an anathema to the education profession.  Current legislation in some states to restrict teaching about the realities of the racism embedded in our laws, policies and practices is codifying this silence, and denies students a robust and honest education.  
Our student population – growing in its racial and ethnic diversity, and its connection to the global community – cannot be burdened by and held back because of our denials, fears, and excuses.  We owe it to them to put our learner hat on, find our courage, and delve into this history and its implications, to guide our students to become critical historians and work toward a model of justice and human dignity for all.
About the author: Esther K. Hurh is a highly seasoned education consultant with over 25 years of experience in facilitation, training, curriculum development and program management.  In addition to her work with Echoes & Reflections as its senior trainer since 2014, she is deeply interested in the areas of diversity, equity and inclusion (DEI), social justice education, and Asian American history. 
---




PREVIOUS POSTS
GET INVOLVED
FAQs
Through a study of the Holocaust, students gain the ability to understand the potential dangers and consequences of unchecked hate and can grow into responsible citizens to recognize and prevent the proliferation of future acts of injustice. At Echoes & Reflections we are committed to supporting educators as they prepare to teach this complex subject with accuracy and effectiveness through our free professional development and collection of resources.
To learn more about our work we encourage you to view the FAQs below. Additionally, if you would like to request a training or are interested in a package of printed materials and information, please contact Jesse Tannetta, Operations & Outreach Manager.
Professional Development Programs for Educators
Classroom Planning and Instruction
| | | |
| --- | --- | --- |
| 1 | | What kind of professional development programs does Echoes & Reflections offer? |
We offer a range of on-site and online professional development programs for teachers; all programs provide access to a range of classroom-ready content, sound teaching pedagogy, and instructional strategies:
Mini Courses

: Self-paced digital learning experiences provides pathways and resources to learn and teach about the Holocaust through the lens of media literacy, the refugee experience, contemporary antisemitism and student action, and Elie Wiesel's

Night

. 

Learn More
Online Courses:

 Throughout the year, Echoes & Reflections offers the opportunity for educators to participate in a self-paced three-part online course. Led by a facilitator, participants engage with colleagues, gain access to classroom content, and consider instructional enhancements to support Holocaust instruction. Those who complete the course also have the option to earn graduate-level credit through the University of the Pacific. 

Learn More
Webinars:

 One-hour webinars are led by experts in the field from ADL, USC Shoah Foundation, and Yad Vashem. Topics focus on historical events, classroom practice, and current events. 

Learn More
On-site programs:

Currently, traditional on-site programs are being held in an online, interactive format. Programs are led by an experienced facilitator and agendas can be tailored to the needs of the educator community.
| | | |
| --- | --- | --- |
| 2 | | How do you support Holocaust education at the school district level? |
Echoes & Reflections can work directly with your district to support a thoughtful and comprehensive implementation of Holocaust education across subject areas through our diverse collection of curated content and teacher professional development– all of which can be combined to develop a comprehensive and unique Holocaust education experience for educators and students in a single district. Our products and programs can be combined to support school district initiatives around Holocaust education, including customized curriculum design and integration, online training, online courses, and other digital learning experiences. 
For more information, contact
Jesse Tannetta.
| | | |
| --- | --- | --- |
| 3 | | Can education entities sponsor a training program? |
Yes! School districts, museums, and professional development providers can sponsor a program for their own entity or join other organizations to co-sponsor a district- or community-wide mini-course, or webinar. To learn more about sponsoring a program, contact 
Jesse Tannetta
.
All of our programs are led by a diverse group of expert facilitators, many of whom have a combination of classroom experience and a strong background in Holocaust studies. These professionals are approved after successful participation in a multi-day train-the-trainer model and are required to engage in ongoing trainings throughout the year.

Echoes & Reflections believes that learning about the Holocaust is a fundamental right of all students and thanks to generous funders, programs and materials are provided at no cost.

| | | |
| --- | --- | --- |
| 6 | | Will I get continuing education credit for attending? |
Many program hosts award credit that complies with local requirements, and a certificate of attendance is provided to educators in attendance upon request. All participants in online programs automatically receive a certificate of completion. Because requirements for awarding professional development hours or continuing education units vary widely from state to state, teachers will need to check with their school administration to see if Echoes & Reflections meets specific requirements for their district.

| | | |
| --- | --- | --- |
| 7 | | The timing of a webinar doesn't work for me, are there recordings available? |
We archive most of our webinars for on demand viewing on our
webinar recordings page
. Please note, you will be required to register to view any webinar on-demand.
| | | |
| --- | --- | --- |
| 8 | | What can I expect to happen at a professional development program? |
Echoes & Reflections professional development programs provide the opportunity for educators to discover powerful classroom-ready resources for teaching about the Holocaust, to explore and discuss educational approaches and effective teaching strategies, and to collaborate with and learn from colleagues.
Learn More
| | | |
| --- | --- | --- |
| 9 | | What happens after? Is this a "one and done" experience or is this ongoing? |
Educators are encouraged to continue learning with Echoes & Reflections after completing a professional development program. We offer a
wide variety of trainings
designed for both teachers who are new to Holocaust education and for those who are interested in deepening their learning and advancing their skills.
| | | |
| --- | --- | --- |
| 10 | | How do teachers respond to the trainings? |
Ongoing monitoring assesses participants' levels of satisfaction with in-person and online programs. In 2020, 97% of respondents indicated that the program was "highly relevant to their teaching needs." In addition, teachers agreed that as a result of the program, they:
Increased knowledge about the Holocaust and antisemitism (97%),
Learned instructional strategies to teach about the Holocaust (97%), and
Would recommend the program to a colleague (98%).
| | | |
| --- | --- | --- |
| 11 | | Do you offer programs directly to students? |
At select times throughout the year, we offer webinars directly for students and their teachers. Additionally, all of the student handouts and resources needed for student learning are included for easy access and application on the "right rail" of our online
Lesson Plans
. Further, our
Timeline of the Holocaust
was developed for student use, as either part of a larger course of study or independent learning.
PRIVACY POLICY
Echoes & Reflections is committed to privacy. This privacy policy discloses our information gathering and dissemination practices for this website: www.echoesandreflections.org.
This site contains links to other sites. Echoes & Reflections is not responsible for the privacy practices or the content of such Web sites. This privacy statement applies solely to information collected by echoesandreflections.org.
GENERAL INFORMATION COLLECTION AND USE
Echoes & Reflections is the sole owner of the information collected on this site. We will not sell, share, or rent this information to others in ways different from what is disclosed in this statement. We collect information from our users at several different points on our website.
COOKIES AND WEBSITE ANALYTICS
Our site uses 'cookies'. A cookie is a piece of data stored on the user's hard drive containing information about the user. Usage of a cookie enables us to track and target the interests of our users to enhance the experience on our site, but is in no way linked to any personally identifiable information while on our site. If a user rejects the cookie, they may still use our site. The only drawback to this is that the user may be limited in some areas of our site (for example, certain surveys or other such activities).
We use Google Analytics to collect information about visitor traffic and behavior. This allows us to identify usage trends and to improve the performance and content of our websites.
We do not use this tool to collect or store your personal information, and it cannot be used to identify who you are. You can use the
Google Analytics Opt-Out Browser Add-on
to disable tracking by Google Analytics.
We currently do not use technology that responds to do-not-track signals from your browser.
VARIOUS REGISTRATIONS
To receive certain updates, enroll in certain programs, or use certain features of our website, a user may have to first complete a registration form. During registration a user is required to give their contact information (such as name and e-mail address). This information is used to contact the user about the services on our site for which they have expressed interest.
NEWSLETTER
If a user wishes to subscribe to our newsletter, we ask for contact information such as name and e-mail address.
ORDERS
Our site uses an order form for customers to request certain products. We collect visitor's contact information (such as name, e-mail, and address). Contact information from the order form is used to send information about Echoes & Reflections to the users of our website. The customer's contact information is also used to get in touch with the visitor when necessary. This information is not shared or resold in any circumstance except as may be required by law.
Users may opt-out of receiving future mailings; see the choice/opt-out section below.
SHARING
We may share aggregated demographic information with our partners. This is not linked to any personal information that can identify any individual person.
We use an outside shipping company to ship orders. These companies are contractually prohibited from retaining, sharing, storing or using personally identifiable information for any secondary purposes.
We may partner with third parties to provide specific services. When a user signs up for these services, we will share names, or other contact information that is necessary for the third party to provide these services.
These parties are contractually prohibited from using personally identifiable information except for the purpose of providing these services.
SECURITY
Our website has security measures in place to protect against the loss, misuse and alteration of the information under our control. This includes a firewall and 24 hour monitoring of site activities by our hosting service provider as well as 128-bit SSL encryption (where allowable by law) on all transaction oriented operations between you and Echoes & Reflections via our transaction service provider. While we use SSL encryption to protect sensitive information online, we also do everything in our power to protect user-information off-line. All of our users' information, not just the sensitive information mentioned above, is restricted in our offices. Only employees who need the information to perform a specific job (for example, our billing clerk, a customer service representative, or database administrator) are granted access to personally identifiable information. Any time new policies are added, our employees are notified and/or reminded about the importance we place on privacy, and what they are required to do to ensure our customers ' information is protected. Finally, the servers that we use to store personally identifiable information on are kept in a secure environment.
CHOICE/OPT-OUT ONLINE & OFFLINE
The following options are available for removing information from our database to discontinue receiving future communications or our service.
1. You can unsubscribe or change your e-mail preferences online by following the link at the bottom of any e-mail you receive from Echoes & Reflections via HubSpot.
2. You can notify us by email at
info@echoesandreflections.org
of your desire to be removed from our e-mail list or contributor mailing list.
CONTACTING THE WEB SITE
If you have any questions about this privacy statement, the practices of our website or your interactions with the website, please send email us at
info@echoesandreflections.org
NOTIFICATION OF CHANGES
If we decide to change our privacy policy, we will post those changes here so our users are always aware of what information we collect, how we use it, and the circumstances, if any, we disclose it.
RESOURCE OVERVIEW
Third a Content