BLOG


My mother used to enjoy telling everyone that when I came home from my first day of school, I told her I was going to be a teacher. That was 1959. I never changed my mind. I never wanted to be anything else. My journey began by teaching anyone who would humor me—siblings, cousins, kids in the neighborhood—anyone who let me practice my craft with a piece of chalk and a sidewalk, and in time, a real chalkboard. Funny that now, at the end of my career, those memories should come flooding back. It would make more sense to think back to 1975 when I did finally achieve my childhood dream and become a teacher, but clearly that was just one of the many milestones in my career; the journey began long before that and never ended.
View more +
That's the way it is with most teachers; it is in our DNA. We plan, rehearse, and perform several shows a day, thriving on the energy of our audience, hopefully seeing questions form in invisible bubbles above our students' heads as they ponder what they are hearing and seeing, always looking for an opportunity to go just a bit deeper, and convince those who would often prefer to be somewhere else, doing almost anything else, that this—whatever this is—is exciting and important. We adapt our material to meet a range of skill levels and look for any opportunity to infuse creativity and revise our lessons based on what is on students' minds and what is happening around them. For me, nothing was more energizing and exciting than introducing young teens to the power of literature. To watch students explore the human condition through characters and conflicts and to respond in terms of their own experiences and growing understanding of the world around them with all of its complexity, mystery, and uncertainty was magical. I credit my junior high English teacher with lighting that fire under me as we read and discussed Anne Frank's Diary of a Young Girl.
My story is not unique. Every teacher I've ever met has a story of how they came to the profession, how they accepted the responsibility and embraced the challenge to prepare the next generation to take their place in society, capable and confident. Teachers instinctively understand that for what amounts to but a few moments in time, we are a tremendous influence on young minds. What we do with those moments matters.
For the past 14 years, I have had the great fortune of serving as the ADL Project Director for Echoes & Reflections. In that role, I have had the honor of meeting and working with teachers across the country, hearing about the ways that they are helping students think about difficult topics and themes associated with the Holocaust. With every passing year, teachers have shared with me that the senseless acts of violence that have traumatized our communities—most recently the tragic loss of life at Marjory Stoneman Douglas and Tree of Life *Or L'Simcha Synagogue—have made their jobs increasingly more difficult. They ask themselves how they can help their students make sense of events that they themselves are struggling to comprehend. But, they find a way. They understand and embrace the urgency. They put aside their confusion and sadness, and spring into action like all "first responders" do. They know intuitively that they must provide a safe environment where students can ask questions and engage in difficult conversations. They know how important it is that soon-to-be adults know how to separate fact from fiction and build their understanding of events based on sound evidence. They also know that they must encourage and model an optimistic attitude—one that sends a strong message that communities can heal and thrive despite overwhelming grief when good people act in positive ways. Teachers know that those first moments after tragic events matter, perhaps most of all.
These are difficult times. We have seen a rise in antisemitism and other forms of hate. We have watched as facts have been cast aside and loyalty to one group or another has become the lens with which we see the world. We have seen social media take the place of in-person relationships and institutions strain to inspire confidence in light of widespread cynicism and disillusionment. But, we must also remember that there have always been difficult times and there will always be challenges. The students we are teaching today need our guidance and attention as much as yesterday's students did, as much as tomorrow's will. We must remind ourselves that every year there are new students; we do not keep teaching the same ones over and over, and, in the end we have only a moment or two to add something to their story, something that we hope will last and have meaning.
It has been my honor and privilege to be an educator. I begin my retirement with a great sense of pride but also with unflinching confidence that our students will continue to learn and thrive because of the many dedicated teachers who make magic in classrooms across the country every day. It couldn't be any other way…it's in our DNA.
About the Author: Deborah A. Batiste has been the Echoes & Reflections Project Director at ADL for 14 years since the program's founding in 2005. In addition to being one of the key content developers, she has conducted professional development programs to effectively use Echoes & Reflections in the classroom in 40 states and the District of Columbia, reaching thousands of educators and community leaders. In 2019 she will begin her journey into retirement. 
---


I do not remember my Mom ever sitting me down and telling me the whole story of how she came to America from Austria, rather the details seemed to unfold over my lifetime, but the primary points were there from as far back as I can remember. She was six, her brother was four… Kristallnacht had happened, and her parents felt the only way they could secure the safety of their children was to send them to America with a family friend who would shelter them across the ocean.
View more +
The year was 1939 and once in NYC they moved into an orphanage on the Lower East Side of Manhattan.  Meanwhile, my grandmother stayed in Vienna to care for her elderly parents and my grandfather boarded the MS St. Louis – often called the "Voyage of the Damned" – planning to settle in Cuba and then send for his family to join him.  Unfortunately, upon arrival into Cuba's harbor, my grandfather learned (along with all the other St. Louis passengers) that the documents he had paid so dearly for would not gain him entry into Cuba, which admitted only about 30 of the 937 passengers (those who were not Jews or had special visas). The passengers not admitted sat in Cuba's harbor for 40 days while the world debated their fate, ultimately returning the ship to Europe where many perished at the hands of the Nazis. But my grandfather survived the war in a UK POW Camp, ultimately joining his children in the USA (via Canada with less than $2 in his pocket), while it would be ten years before my grandmother was reunited with all of them. And then, she would die within a year of her arrival here. 
 A few details came early – my mother does not remember being scared during the journey to the USA but clearly remembers feeling very cared for at the orphanage. Although the orphanage cut the hair of the children there very short in an effort to make it easier to care for them, understanding all that my Mom had lost already, they left her long golden curls intact. She worried about her brother more, shifting even at that young age from sibling to caretaker. They wrote letters to a cousin in neutral Switzerland who in turn wrote to their Mom in Vienna, relaying messages back and forth. 
My grandmother kept diaries the entire time (they formed the basis for a book my uncle published in Austria with help from my mom and a professional historian/writer a few years ago) and in reading their translations, the war, the Holocaust, and all that happened in her world made the facts of history very real and personal for me.  I felt her pain – shared her sorrows – so wished I had known her.
 So much of my mom's story shaped who I am and what I have done with my life.  The lessons I took away from it – the family friend whose name I do not know but who brought my mom and her brother to the USA, taught me that one person can truly make a difference – one person made it possible for their lives to be saved.  The fate of the MS St. Louis passengers showed me what happens when the world turns its back – when no one cares.  The kindness shown to my mom at the orphanage taught me how important even small acts can be. And, as I became a mom myself, I have come to understand the extent to which we as parents will put the well-being of our children above the pain our decisions to help them might cause us.
 These lessons stay with me.  When I walk the refugee camps – from Darfur to Jordan to Kenya to most recently, Bangladesh, I see my mom's face on every child I encounter.  I hear my grandfather's voice when talking with those who feel the world has forgotten them. I shudder as I see history repeating itself and hear parents and families share the pain of separation and the horrors that brought them to this point. 
 But, equally, I try to remember how much even one small act can mean and to push myself to take on that challenge. I relish every smile I can help bring out and every song I sing with kids in languages that leave us all unsure of what it is we are actually singing. I push myself to play soccer in the camp's 100+ degree heat because it is a way of connecting and of forgetting where the soccer game happens to be. I offer my hand when a lack of a common language prevents any other form of communication and try to make eye contact whenever it is culturally appropriate.  And as I do so, I am reminded to be thankful for all that I have, for every experience I have been blessed to be part of, and for the many good people with whom I have been privileged to share my life.
 And, I understand that just as my mother was an innocent caught up in the horrors of the Holocaust, so too are the many kids I encounter at every stop that I make  I understand how important it is to not focus on the numbers but to remember that each number represents people – real people. I long for the day that the world sees ALL children for what they are – CHILDREN… not refugees, migrants, aliens, or defined by the borders they happen to be born between or the color of their skin or the faith they practice or the heritage that makes them who they are – just CHILDREN first and foremost. Children do not get to pick where they will be born, whom they will be born to, or under what circumstances. If they did, they surely would not choose poverty, conflict zones, or abusive situations. After all, they are children.  And, we are the grown-ups. 
Teachers especially are the grown-ups who work every day to empower students with the knowledge, empathy, and awareness they need to be the next generation of global citizens. So whether it is by bringing in classroom resources like UNICEF Kid Power that build students' skills and connections as global citizens, teaching with lessons from Echoes & Reflections, or connecting with community organizations locally,  I encourage all teachers to continue to lead the way by helping students believe that they have the power to make a difference in this world. Let us learn from the past and take whatever action – large or small – that is within our individual power and create a world in which we put CHILDREN FIRST.
About the author: Caryl M. Stern is the President and CEO of UNICEF USA. A dynamic change-maker, Stern has dedicated her career to helping others through education, compassion, advocacy and rolling up her sleeves. 
---


This past summer I traveled to Poland as part of Echoes & Reflections Advanced Program with Yad Vashem with a group of educators, where we were surrounded by hate from the ghetto in Warsaw to the ghetto fields in Lodz. We stood at Birkenau together to bear witness to the greatest atrocity in the human world, fueled by hate — and by a particular strain of hate: antisemitism. As I landed back in the United States my heart was overwhelmed with the idea that hate can cause so much harm. While I understood this, to witness it gave me a whole new perspective.
View more +
Today, it has become clear that you do not have to travel far to find hate. My heart was riddled with overwhelming sadness and defeat as I entered my classroom the day after the shooting in Pittsburgh, PA. My heart once again sat in disbelief and shock as I thought about how to talk to my students about hatred and how it had reared its ugly head in a beautiful city with a thriving Jewish community. Now antisemitism was not thousands of miles away in Europe and did not occur decades prior. It was here, now, in Pennsylvania, our own backyard. I wondered how my students would respond. Would they want to talk about gun control or the president? How would I steer the conversation back to where it needs to go? How would I answer questions that my students will pose? They will ask "why the Jews?" and while I know the textbook answer, I will have to say to them "I don't know."
As I look back on my trip to Poland, it is not hate that I am reminded of, but love. While it would be easy to say antisemitism and hate were the common themes, I challenged myself to see that love is the common thread that is woven throughout. Stories of people doing right in the face of terrible wrong, both active and passive resistance, and the undying will to survive. The question becomes "What do I do with that?" As an educator, how do I take the horrible suffering of a generation born decades before me and give it meaning? Then I remember the faces. The beautiful faces that were snuffed from this world too soon — mothers, fathers, sisters, brothers, cousins, husbands and wives. I tell their stories and as a classroom and community, we learn their stories. I allow my students to feel through them the will to overcome hate.
I believe we can combat hate with truth, education, and unwavering love. Be a voice for the voiceless and let your love shine brighter than the hate in the world. When teaching the Holocaust I make every effort to focus on the rescuers and those engaged in resistance. Who are they? What were they doing to help? I ask my students "How could you help?"
Our small community is banding together and collecting donations to send to the synagogue in Pittsburgh. The message is clear:  when hate shows itself, we must make our voices of love and humanity louder. Never again! Hate is sometimes just around the corner, but if we come together as a community, a state, a nation, a world, we can combat antisemitism and all forms of hate - one story at a time.
About the author: Deborah Hamilton is a middle school social studies learning facilitator at Northern Potter School District located in Ulysses, PA. Deborah encourages her students to stand against social injustice and to be a voice for the voiceless. 
---




PREVIOUS POSTS
GET INVOLVED
FAQs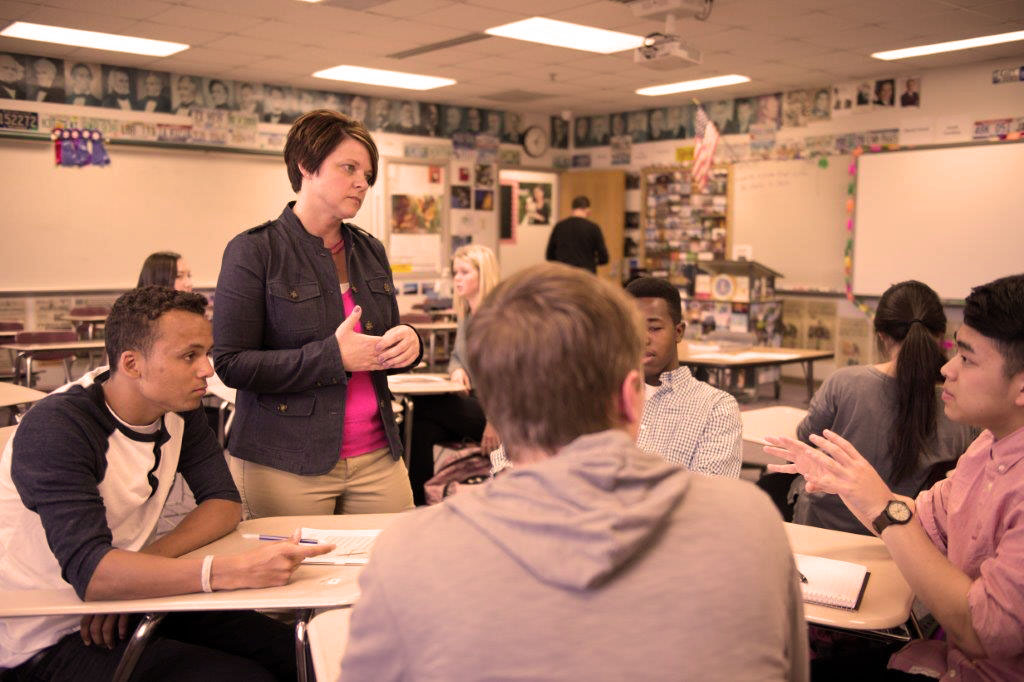 You may have questions about Echoes & Reflections and we are here to provide you with answers. We encourage you to spend time exploring our site to learn more about our work and to view the FAQs below:
1

Where are programs held?


Echoes & Reflections provides conveniently scheduled online offerings and in-person programs across the country. Please visit our Prepare section to learn more about the professional development opportunities we offer.



2

How much does it cost?




Echoes & Reflections believes that learning about the Holocaust is a fundamental right of all students and thanks to our generous funders, we are able to offer programs and materials to secondary educators across the country at no cost.





3

Is there evidence supporting its impact?


Echoes & Reflections is committed to a rigorous mixed-methods evaluation approach. In 2014, the National Center for Research on Evaluation, Standards, and Student Testing (NCSS) released its findings of a study with educators using Echoes & Reflections. Findings included:
• 94% reported the program increased or significantly increased their students' knowledge about the Holocaust.
• 92% indicated that Echoes & Reflections was a better or a significantly better program when compared to similar programs.
• Further data is available on Our Approach page »



4

How can I bring Echoes & Reflections to teachers at my school?


The first step is to familiarize yourself with our resources and professional development opportunities. If you are interested in setting up a program in your community, please contact us at info@echoesandreflections.org



5

Does the program address standards?




Absolutely. Echoes & Reflections classroom content is designed to address rigorous national, state, and local education standards in meaningful ways.





6

Will teachers who receive the training receive professional development credits?


Because requirements for awarding professional development hours or continuing education units vary widely from state to state, teachers will need to check with their school administration to see if Echoes & Reflections meets specific requirements for their district. Many program hosts award credit that complies with local requirements, and a certificate of attendance can be provided to educators in attendance upon request.
If you have any other questions or wish to receive an informational packet, please let us know here.


CLASSROOM POSTER SERIES
INSPIRING THE HUMAN STORY
Echoes & Reflections is excited to announce the launch of our new poster series:
Inspiring the Human Story
, for which teachers can request
one
free set (three posters) for their classrooms.
The posters (each 24'x 36'), feature the words and experiences of Holocaust survivor and memoirist
Elie Wiesel
, Holocaust survivor
Kurt Messerschmidt
, and Anne Frank rescuer,
Miep Gies
. Each promotes meaningful conversation and reflection in the classroom and inspires students with powerful human stories of the Holocaust that can continue to guide and inform their steps forward.
To support you in these efforts, we have also compiled several suggested
classroom activities
from teachers in our network that may be of use and interest.
Order your set today at no cost!
Please note: In order to reach the maximum number of teachers with this limited opportunity, we are only able to provide one poster set per teacher. Additionally, we are only able to send poster sets to US addresses
.
RESOURCE OVERVIEW
Third a Content