BLOG


This month we asked members of our educator community to share the stories that have inspired them to teach about the Holocaust. The common thread that binds their reflections is the power of the individual story. Although often born from tragic events, such stories can contribute to building empathy and a strong sense of human connection across generations, countries, faiths, and experiences. What stories have moved you to examine the events of this past?  What lessons can be learned from these narratives?
View more +
George Bevington is a 9th & 11th Grade English teacher at Holy Innocents' Episcopal School in Atlanta, Georgia.
One of my favorite accounts of Jewish resistance during the Holocaust is the memoir of Hermann Wygoda, In the Shadow of the Swastika. This story appeals to me because of the coolness and poise Wygoda displayed under the extreme threat of getting caught.  Because he could speak both Polish and German, Wygoda was able to pass as a Volksdeutscher[1] and circumvent the suspicion of the Nazis. He also never gave up and continued to fight on in the face of terrible odds.
I have felt compelled to delve deeper into Wygoda's story because of his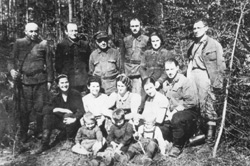 resilience to continue fighting, but also to fulfilling his duty as a parent after the war when he started a family. Although he settled down to a quiet life in Chattanooga, TN, he carried this bloody, horrific, but ultimately triumphant story around with him for the rest of his life, while living in the midst of his neighbors who had no knowledge of his experiences.
I was inspired by Wygoda's story and other partisan's accounts to create a lesson that details his experiences as well as the experiences of the Bielski brothers during World War II. My students are quite astonished that the literature about these partisans comes from eyewitness accounts and personal diaries.  In particular, Wygoda's interactions with other partisan groups inspires a lot of discussion with my students. They often reflect on how although many of these groups may not have been on good terms, or even outright enemies, during peace time, the common enemy in the German Army pulled them together. My students are surprised that resistance was not only possible, but in some cases, led to freedom despite terrible odds and the might of the German Army.
What hooks the students' attention the most is the bravery of these fighters, and the irony of the decision they made to fight back, given the alternative. Throughout the unit and especially near the end, as the outcome of the war becomes inevitable, the students' enthusiasm grows daily for Wygoda and the Bielskis' triumphs over the Nazi Army. Fascinating stories with a lot of suspense!   
[1] Nazi term, literally meaning "German-folk," used to refer to ethnic Germans living outside of Germany.
Rachel Herman is the Content Specialist for Education at USC Shoah Foundation - The Institute for Visual History and Education and is the Institute's Echoes & Reflections partner lead. Rachel was the Holocaust Educator at the Holocaust Center of Pittsburgh from 2013 – 2017.
In the United States, Clara Barton is remembered for her work as a nurse during the Civil War and for establishing the American Red Cross. In Armenia, Clara is remembered for a relief effort that saved over 50,000 Armenians. Clara Barton Our Angel, Too, tells her story in a clear, concise narrative—with text in Armenian and in English—and through colorful illustrations. My favorite quote from the book is, "Even though the Armenian people lived far from the United States, Americans understood that all people share a common humanity." This idea of common humanity is woven throughout the story, and this book is a great way to get students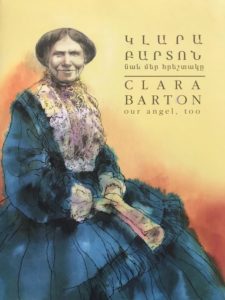 to focus on the importance of empathy, acceptance, and altruism.  I would have loved this book as a child!
Reading this book, I was reminded of a quote by Pastor Andre Trocme, a rescuer during the Holocaust, who said, "I do not know what a Jew is. I know only human beings."  Clara didn't know Armenians, she knew human beings. She heard about people in need and did what she could to help them. Having empathy and seeing people as human beings, full stop, is what I aspire to do. As the Echoes & Reflections Partner lead for USC Shoah Foundation, the testimony I work with on a daily basis helps me empathize with and learn from people of all different backgrounds, ethnicities, and religions. I am grateful for this opportunity and for the resources we have available that constantly expand my worldview.
Dunreith Kelly Lowenstein is an Echoes & Reflections facilitator, a former English/History teacher, and a Fulbright Specialist with the U.S Department of State.
In July 2003, I was invited to attend a presentation by Ava Kadishson Schieber, a Holocaust survivor from the former Yugoslavia. I had no idea when I accepted the invitation that it would lead to an ongoing relationship with the speaker. Ava spent four long years hiding in an unheated shed between the chickens and the pigs on a farm outside of Belgrade. Her experiences during the years prior to, during, and immediately after World War II were harrowing and challenging. But growing up in a loving, multi-generational family greatly contributed to her positive outlook on life and subsequent ability to survive, and even thrive, in the face of the odds she frequently encountered. Her resilience and physical and mental strength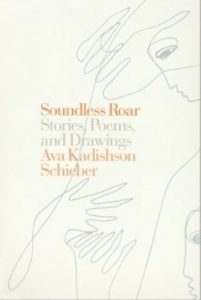 were obvious as she spoke. Completely mesmerized, I introduced myself after the talk to express my gratitude to her for sharing her story. She gave me her calling card with one of her line drawings and address and invited me to visit her home.
I immediately read her book Soundless Roar; Stories, Poems and Drawings, a work which includes stories about her life before the war, and could see how wonderful it would have been to use during my twelve years of teaching English/History to middle and high school students. (I had recently left the classroom and begun a career in professional development).
I have since had the pleasure of accompanying Ava dozens of times as she speaks to middle and high school students, in university classrooms, and at the professional development seminars I facilitate. (I have made it a practice to provide teachers with a copy of her book).
We have developed an enduring friendship, and I learn from her every time we meet. Ava has regaled me with many tales ranging from light and whimsical memories of growing up in Novi Sad; desperate times looking for her father, grandmother, sister and mother after the war; leaving for Israel with her mother in 1949 and building a life there; her decision to begin again in Chicago over thirty years ago after falling in love a second time in her 50s. Now 92, Ava has decided to permanently return to Israel this fall to be with her family. I am relieved to know her voice will continue to inspire others through the availability of her testimony that is part of the USC Shoah Foundation archive.
Patrick Nolan is a Holocaust educator at Sandalwood High School/Florida and State College at Jacksonville, South Campus, Jacksonville, Florida.
I have been studying the history of the Holocaust for more than thirty years; in that time I am sure I have read hundreds of books, articles, journal entries, or other pieces of writing related to the Holocaust. Several stand out and have served as inspiration for the lessons I teach. One in particular has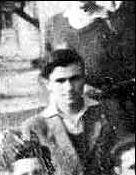 always haunted me, and I use excerpts from this text to teach about the horrors of the Holocaust in general—particularly in the ghettos—and the impact the Holocaust had on a single human being to whom my students can relate.
The Diary of Dawid Sierakowiak, while certainly not as well known or widely-read as Anne Frank: The Diary of a Young Girl, is a stunning exploration into how human depravity impacted the lives of so many young, vibrant, innocent people in places like Lodz, Warsaw, Lublin, and other ghettos. When the attack on Poland commenced on September 1, 1939, the young Dawid Sierakowiak writes about it with what can only be described as a sense of exhilaration. He seems to mock the older women who scream and cry at the sound of bombs exploding and airplanes flying overhead, largely because to him this is an exciting moment in his life—he has no memory of war, and therefore, like other teenagers, there is no sense of the reality of what is happening to his country and to his fellow Poles. It doesn't take long in the narrative for Sierakowiak's demeanor to change, and when his mother is taken away—to the east for resettlement?—he cannot muster tears to cry for her and for his own loss. Sierakowiak's diary ends abruptly, as did the lives of millions of people during the Holocaust. We have Sierakowiak's words as testimony to what he endured, but we do not have Sierakowiak himself to embrace and to reassure. Such a young life, snuffed out in its prime, should serve as a reminder of the tenuous connection all humanity has to the whims of those who would conquer and control us. My students are moved by Sierakowiak's story, as am I. I will continue to tell his story in his own words so that my students, who are his age now, will better understand and appreciate both what they have and what was taken away from so many others.
---


What is courage? Do we all have the ability to act heroically? When we decide to behave courageously, is it because we've already determined that the risk, danger, or potentially hazardous outcome is worth it? How about those whose actions are courageous, but motivation may be selfish? What responsibility do we, as educators, bear in humanizing acts of courage for our students?
View more +
Children hear endless stories of heroism and courage; where muscle-bound superheroes typify valor by saving the world, or 'good guys' take down 'bad guys' in an epic battle royale, standing up for those whose rights have been abused or trampled. This binary structure of good and evil evolves to encompass those who fight in wars against totalitarianism, champions of human rights and social change showing that progress, action, and tolerance can win a decisive victory against darkness. But does our veneration of courageous acts limit how a young person sees themselves in acting with empathy and action to change their world? Does this view attach itself to a narrative of heroism that may make these actions seem inaccessible to an everyday person?
As educators, it's important to show courage not as a single definitive act, but as iterative, sometimes minute, actions that help others to live with dignity. Individual acts of courage and humanity serve as beacons of hope during times of upheaval and cataclysm, and in its most extreme, stand as testament to one's ability to confront and resist extreme evil. During the Holocaust, there were individuals and groups who tried to help Jewish people at great personal risk; with punishments severe and in some cases under penalty of death. For instance, in Echoes & Reflections, we discuss the actions of the Danish citizens when hearing of the planned implementation of the Nazi's Final Solution, standing as an example of how both individuals and communities can act within their own agency on behalf of others. Danes during the Second World War founded the Elsinore Sewing Club, and using speedboats, fishing boats, and other means of transportation ferried Jewish citizens to safety across the sea to neutral Sweden.
The idea that courage is singular, situational and momentary is fallible. The act of riding into battle or stopping a fight, or standing up for your values, all of this is predicated on the notion that to act courageously means to act with the conviction of a single moment. But courage is complicated. It's sustained. It's messy. We tend to venerate those who hid Jews during the Holocaust without knowing or understanding the parameters or motivation behind their actions. The Girl in the Green Sweater, for instance tells the story of a family's survival in the sewers of Lvov during the Holocaust. Leopold Socha, a municipal sewer worker who smuggled the family food in exchange for a fee, helped sustain 21 people daily. If someone behaves courageously, but does so for money, protection, or capital gain, does it negate the good their actions have prompted? Is courage a morally neutral value?
To many during in the Holocaust, courage was not a single definitive moment in time, but a collection of moments – for those who hid Jewish families, courage was a daily test, and for those who hid, courage was fighting back through the simple act of remaining alive. As Miep Gies, who risked her life to hide the Frank family, once stated, "People sometimes call me a hero. I don't like it, because people should never think that you have to be a very special person to help those who need you."
As we discuss the concept of courage and its complexities with students when teaching the Holocaust, bringing in stories of a small kindness and large, momentous movements can help students contextualize how their everyday behaviors impact the lives of those around them, and how they can navigate the complex moral ecosystem of social life with empathy and goodness that may never be written about in text books, but may make a lasting imprint on the lives of those around them.
---


I first traveled to Poland in the summer of 2005. I had never left the United States and had no idea I'd return years later as a researcher and Fulbright scholar. The country had just joined the European Union. Cranes hung from the sky like praying mantises, new tarmac was laid in the airport, highways were expanding, and people seemed cautiously optimistic, if not hopeful. Just over a decade prior, Poland had still been under martial law implemented by the communist ruling government. Now it was the World Cup, Poland was in the semi-finals, and all over the city restaurants spilled into the streets as people gathered around giant outdoor screens. In the midst of this, our student tour walked through the winding cobblestone alleys of Krakòw, learning the history of the Kazimierz neighborhood, the former Jewish quarter of the city. Krakòw was a central city for the Nazi Party, and as such had not been razed to the ground with as much malice as its sister city, Warsaw, where over 80% of the city's buildings sustained structural damage. Warsaw has a feeling of artifice, of new plaster and paint over old wounds. Krakòw has ghosts.
View more +
As I walked, our guide, a scholar from the Jaegallonian University read us "The End and the Beginning", by Wislawa Symborska, Nobel prize-winning Polish poet,
"Those who knew
what this was all about
must make way for those
who know little.
And less than that.
And at last nothing less than nothing.
 Someone has to lie there
in the grass that covers up
the causes and effects
with a cornstalk in his teeth,
gawking at clouds."
This poem hung above my desk for years, a grounding force for me in understanding and contextualizing Holocaust education and the role of conflict and memory. In it, Symborska speaks of violence and the paradox of post-conflict societies, "all the cameras have left for another war" she states. This idea of remembering and forgetting recently came up in a New York Times article, Holocaust is Fading From Memory, Survey Finds, which posits that 31 percent of Americans, and 41 percent of millennials, believe that two million or fewer Jews were killed in the Holocaust. 41 percent of Americans, and 66 percent of millennials, cannot say what Auschwitz was. And 52 percent of Americans wrongly think Hitler came to power through force.
As educators, what role do we play in acting as stewards of Holocaust memory? With the many constraints of time, materials, mandated testing, even language and cultural barriers, how can we bridge gaps of understanding when we teach the Holocaust? What role does memory play in understanding the events of the Holocaust?
In "Meeting a Moral Imperative, a Rationale for Teaching the Holocaust", scholar David Lindquist writes that the primary rationale for studying the Holocaust involves the opportunity to consider the moral implications that can be drawn from examining the event. Studying the Holocaust, he argues, forces students to consider what it means to be human and humane by examining the full continuum of individual behavior, from ultimate evil to ultimate good. He argues that a moral imperative exists for the presence of Holocaust education in contemporary classrooms. Should that moral imperative extend to understanding the ability of time and distance to obscure the past?
The moral imperative for studying the Holocaust in the US and understanding the events of history is more important now than ever. America is facing its own role in triangulating the difficult geometry of past atrocities, making the vital calculus of truth and reconciliation, demarcated with the recent opening of the National Memorial for Peace and Justice , in Montgomery, Alabama. Bryan Stevenson, the head of Equal Justice Initiative which is spearheading the project, told The Jerusalem Post in 2016 that his design was inspired by what the 'memory work' monuments throughout Europe do in commemorating the victims of the Holocaust.  "Auschwitz is a place you visit. It sobers you with the horrors of the Holocaust. When you leave these places, you want to say, 'Never again should we commit this kind of suffering and abuse.'" Stevenson aims to evoke the same feelings in Americans in the design of the first physical space dedicated to the victims of slavery, lynching, segregation and mass incarceration. The physical manifestation of suffering is educative in itself.
Echoes & Reflections structure of primary source documents becomes increasingly important in the work of bridging gaps in memory and understanding. The use of primary sources exposes students to important historical concepts and connects them directly with people in the past whose existence was impacted or extinguished by the Holocaust. Through primary resources, victims and rescuers 'speak' across time, using their diaries, letters, maps, and articles, to construct a view of the past not distorted, but intensified by the passage of time.
As teachers, questions of how time, distance, and desensitization impact our understanding of history are as important as the events of the past themselves. Only in exploring how we see the Holocaust, refracted through the lens of memory, can we come to understand and establish how the arc of human history changes us, calibrates our vision of the world, and weights even our most trivial and minute decisions each day.
About the Author: Melissa Mott is the Deputy Project Director for Echoes & Reflections at ADL.
---




PREVIOUS POSTS
GET INVOLVED
FAQs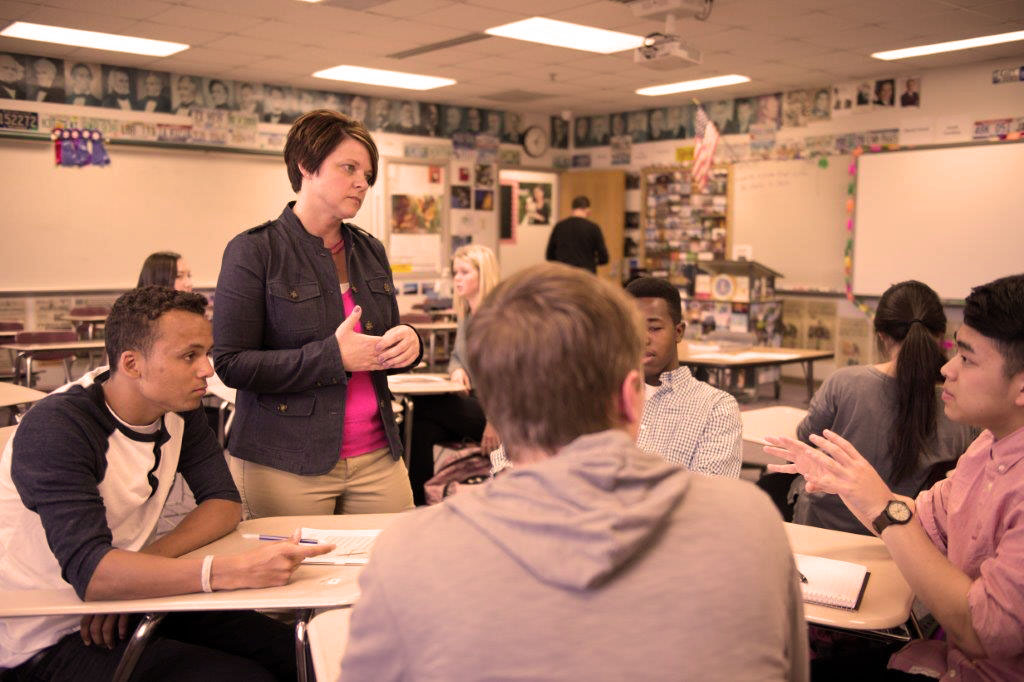 You may have questions about Echoes & Reflections and we are here to provide you with answers. We encourage you to spend time exploring our site to learn more about our work and to view the FAQs below:
1

Where are programs held?


Echoes & Reflections provides conveniently scheduled online offerings and in-person programs across the country. Please visit our Prepare section to learn more about the professional development opportunities we offer.



2

How much does it cost?




Echoes & Reflections believes that learning about the Holocaust is a fundamental right of all students and thanks to our generous funders, we are able to offer programs and materials to secondary educators across the country at no cost.





3

Is there evidence supporting its impact?


Echoes & Reflections is committed to a rigorous mixed-methods evaluation approach. In 2014, the National Center for Research on Evaluation, Standards, and Student Testing (NCSS) released its findings of a study with educators using Echoes & Reflections. Findings included:
• 94% reported the program increased or significantly increased their students' knowledge about the Holocaust.
• 92% indicated that Echoes & Reflections was a better or a significantly better program when compared to similar programs.
• Further data is available on Our Approach page »



4

How can I bring Echoes & Reflections to teachers at my school?


The first step is to familiarize yourself with our resources and professional development opportunities. If you are interested in setting up a program in your community, please contact us at info@echoesandreflections.org



5

Does the program address standards?




Absolutely. Echoes & Reflections classroom content is designed to address rigorous national, state, and local education standards in meaningful ways.





6

Will teachers who receive the training receive professional development credits?


Because requirements for awarding professional development hours or continuing education units vary widely from state to state, teachers will need to check with their school administration to see if Echoes & Reflections meets specific requirements for their district. Many program hosts award credit that complies with local requirements, and a certificate of attendance can be provided to educators in attendance upon request.
If you have any other questions or wish to receive an informational packet, please let us know here.


CLASSROOM POSTER SERIES
INSPIRING THE HUMAN STORY
Echoes & Reflections is excited to announce the launch of our new poster series:
Inspiring the Human Story
, for which teachers can request
one
free set (three posters) for their classrooms.
The posters (each 24'x 36'), feature the words and experiences of Holocaust survivor and memoirist
Elie Wiesel
, Holocaust survivor
Kurt Messerschmidt
, and Anne Frank rescuer,
Miep Gies
. Each promotes meaningful conversation and reflection in the classroom and inspires students with powerful human stories of the Holocaust that can continue to guide and inform their steps forward.
To support you in these efforts, we have also compiled several suggested
classroom activities
from teachers in our network that may be of use and interest.
Order your set today at no cost!
Please note: In order to reach the maximum number of teachers with this limited opportunity, we are only able to provide one poster set per teacher. Additionally, we are only able to send poster sets to US addresses
.
RESOURCE OVERVIEW
Third a Content