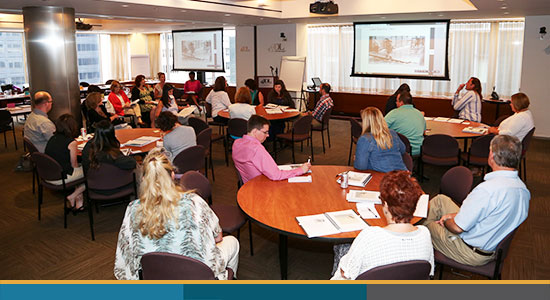 WHY SHOULD YOU ATTEND?
Address academic standards and incorporate a mix of instructional strategies and technologies for use in 21st century classrooms with teacher-friendly materials.
Tap into a repository of visual history testimony offering first-hand accounts from survivors, liberators, and other witnesses of the Holocaust.
Learn effective teaching strategies to help students understand what happened during the Holocaust, why it happened, and how it relates to difficult issues they face today.
Led by an experienced facilitator.

"The ultimate job of a teacher is to make connections to your students with the curriculum. … You want them to get something out of it that's not just the facts. You want them to walk away with a personal sense of responsibility. Echoes and Reflections helps me do that."
Social Studies Teacher
Pinebush High School
New York
Echoes and Reflections delivers value to both experienced Holocaust educators who are supplementing their curricula and for teachers new to Holocaust education.

When: 04/29/17
Time:
9:00 am - 3:30 pm
Where: Western Washington University
Sponsored by:
Western Washington University and The Ray Wolpow Institute for the Study of the Holocaust, Genocide, and Crimes Against Humanity
Registration:

Lunch and snacks will be provided and free WWU campus parking in Lots C and 12A will be available. Participants will have the opportunity to hear Holocaust survivor and educator, Noémi Ban, in a special presentation during this program.