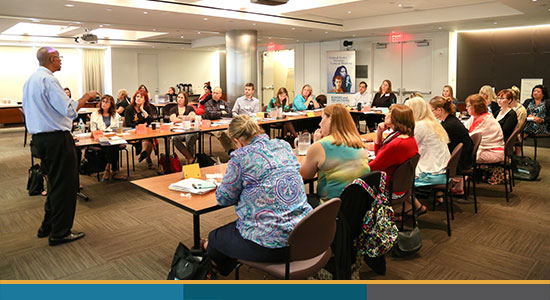 WHY SHOULD YOU ATTEND?
Address Pennsylvania Core Standards while incorporating a mix of instructional strategies and technologies for use in 21st century classrooms.
Echoes and Reflections will be included in the suggested resources to fulfill Act 70 and may be eligible for ACT 48 continuing education.
Tap into a repository of visual history testimony offering first-hand accounts from survivors, liberators, and other witnesses of the Holocaust.
Learn effective teaching strategies to help students understand what happened during the Holocaust, why it happened, and how it relates to difficult issues they face today.
Led by an experienced facilitator.

"Thank you for an enriching and powerful experience. As a new teacher, I am looking forward to using the resource guide and sharing its contents with my colleagues. I am impressed with the anthology of information, the organization of primary sources, and the variety of materials (map, interviews, photos). Thank you again!"
Social Studies Teacher
Tohickon Middle School
Doylestown, Pennsylvania
Echoes and Reflections delivers value to both experienced Holocaust educators who are supplementing their curricula and for teachers new to Holocaust education.

When: 02/27/17
Time:
8:30 am - 2:30 pm
Where: Beaver Valley Intermediate Unit
Sponsored by:
Beaver Valley IU #27
Registration:
For more information and to register, contact Mike Lewis: mlewis@bviu.org/ 724.774.7800 ext 3010