RESOURCE OVERVIEW
Echoes & Reflections is committed to partnering with educators in an effort to support them, foster confidence, and amplify the skills needed to teach about the Holocaust in a comprehensive and meaningful way. We've curated the following programs and materials to help initiate important discussions and respond to students' difficult questions.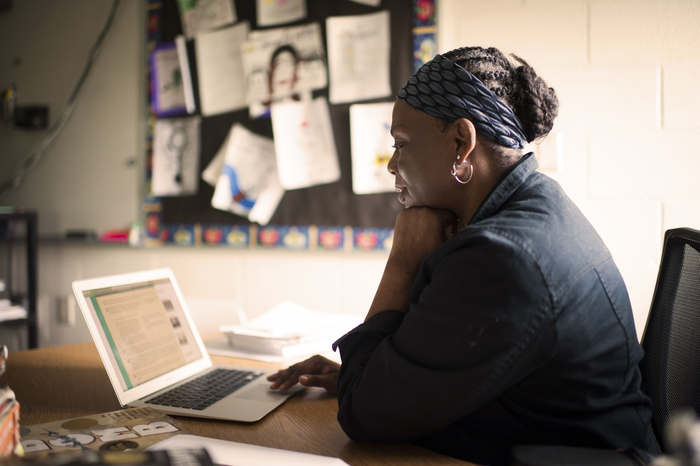 EDUCATOR RESOURCE: VIDEO TOOLBOX
VIDEO TOOLBOX
STUDENTS' TOUGHEST QUESTIONS
PROGRAMS FOR EDUCATORS: IN-PERSON
IN-PERSON
Working closely with education entities across the United States, we deliver programs that support effective teaching of the Holocaust. Led by experienced facilitators, our programs include introductory offerings, as well as thematic and focused areas of study. All programs provide teachers with access to a range of classroom-ready content, sound teaching pedagogy and instructional strategies — all designed to engage students in a comprehensive study of events and to explore how the Holocaust continues to influence social issues in the world today.
FRIDAY

1

TEACHING THE HOLOCAUST, EMPOWERING STUDENTS

JEWISH COMMUNITY CENTER, OMAHA, NE

SPONSORED BY:

Institute for Holocaust Education, University of Nebraska – Omaha (Education Dept)

MONDAY

4

TEACHING THE HOLOCAUST, EMPOWERING STUDENTS

CHICAGO TEACHERS UNION, CHICAGO, IL

SPONSORED BY:

Chicago Teachers Union

TUESDAY

5

CREATING CONTEXT FOR TEACHING NIGHT

CHICAGO TEACHERS UNION, CHICAGO, IL

SPONSORED BY:

Chicago Teachers Union

WEDNESDAY

6

CONNECTING THE PAST WITH TODAY: JEWISH REFUGEES AND THE HOLOCAUST

CHICAGO TEACHERS UNION, CHICAGO, IL

SPONSORED BY:

Chicago Teachers Union

FRIDAY

8

CONNECTING THE PAST WITH TODAY: JEWISH REFUGEES AND THE HOLOCAUST

NORTHWEST TRI-COUNTY INTERMEDIATE UNIT, EDINBORO, PA

SPONSORED BY:

Northwest Tri-County Intermediate Unit #5

MONDAY

11

CONNECTING THE PAST WITH TODAY: JEWISH REFUGEES AND THE HOLOCAUST

KATZ JACC, CHERRY HILL, NJ

SPONSORED BY:

Esther Raab Holocaust Museum and Goodwin Education Center

WEDNESDAY

13

CREATING CONTEXT FOR TEACHING NIGHT

ROE 40, CARLINVILLE, IL

THURSDAY

14

TEACHING ABOUT THE HOLOCAUST, EMPOWERING STUDENTS

KASKASKIA COLLEGE, CENTRALIA, IL

FRIDAY

15

TEACHING THE HOLOCAUST, EMPOWERING STUDENTS

OCM BOCES, CAYUGA CONFERENCE ROOM, LIVERPOOL, NY



Third a Content