BLOG


Recent innovations in Holocaust education empower teachers to create memorable—even life-changing—pedagogies that were not conceivable a decade ago. Cutting-edge technologies offer powerful pathways to achieve key learning aims and outcomes, while grabbing the attention of students who crave new experiences in their learning. However, like all Holocaust education resources, these technologies require a conscientious touch and careful framing to maximize their learning potential and ensure students are prepared.
View more +
USC Shoah Foundation and Echoes & Reflections believe that pedagogical goals must come first—and that advances in technology should only be applied in service of considered educational outcomes. In genocide education—especially when working with personal stories entrusted to us by survivors—it is paramount that technology and innovation are only wielded to amplify a survivor's message, and that they never distort or decontextualize the storytelling.
Keeping the above context in mind, below are several innovative resources available to Echoes & Reflections educators:
Newly available in IWitness, Dimensions in Testimony allows students and educators to ask questions that prompt real-time responses from a pre-recorded video of Holocaust survivor Pinchas Gutter—engaging in a virtual conversation from their own computers, and redefining what inquiry-based education can be. Through Dimensions in Testimony, it is possible to speak with survivors and witnesses of the Holocaust and other genocides from anywhere—and that possibility will remain in perpetuity.
Each student's responses will be wholly unique because each student chooses and asks their own questions. As such, Dimensions in Testimony offers students an unprecedented degree of control over their learning—resulting in deep, empathetic engagement with subject matter.
The Willesden READS Program engages students through the story of Lisa Jura, who was rescued from the Holocaust in Vienna by the Kindertransport. This program has a rich history of in-person engagements: author, performer and virtuoso concert pianist Mona Golabek has shared her mother's story on stage for over one million students around the world. But facing the COVID-19 pandemic, Mona partnered with Echoes & Reflections, USC Shoah Foundation and Discovery Education to transform the program into a livestreamed, remote event, thereby bringing Willesden READS to students and teachers in select cities across the United States in spite of the global health crisis.
Even before this new adaptation, the Willesden READS Program had always been a creative force on the cutting edge of Holocaust education. Fusing multiple media—the book, The Children of Willesden Lane, alongside the live performance and a series of learning engagements beyond.
The Echoes & Reflections interactive timeline—designed foremost for student use—chronicles key dates in the history of the Holocaust, spanning from 1933-1945. With the Timeline of the Holocaust, students explore history through the collective expertise and primary source archives of ADL, USC Shoah Foundation and Yad Vashem, who have constructed an approachable, tactile learning tool that centers on primary sources and individual experiences to ensure that the human impact of the Holocaust is never forgotten.
The Timeline of the Holocaust is designed to be flexible and meet the needs of educators across their curriculum. It can be a resource for students and educators to consult, or it can be the foundation of a multi-day research project.
4. We Share the Same Sky Podcast
Produced by USC Shoah Foundation and listed as one of HuffPost's best podcasts of 2019, We Share The Same Sky brings the past into the present through a granddaughter's decade-long journey to retrace her grandmother's story of survival. We Share The Same Sky tells the two stories of these women—the grandmother, Hana, a refugee who remained one step ahead of the Nazis at every turn, and the granddaughter, host Rachael Cerrotti, on a search to retrace her grandmother's story.
Experienced Holocaust educators at Echoes & Reflections and USC Shoah Foundation have built a series of bold educational resources to support this pioneering podcast which intimately confronts the Holocaust's intergenerational impacts and explains what its legacy can tell us about our world today.
To learn more about how We Share The Same Sky and other podcasts can support Holocaust education, join our webinar on 5/3 at 4 PM ET.
5. IWalk
USC Shoah Foundation's first mobile application, IWalk (available in the App Store and Google Play), offers visitors and students curated tours that connect specific locations of memory with testimonies from survivors and witnesses of genocide, violence and mass atrocity. IWalks are carefully curated by USC Shoah Foundation's team of educators and scholars who help contextualize and humanize the history at sites of memory through testimony, photographs, and maps.
Educators in the United States currently have access to a series of IWalks in Philadelphia, which create potent multimedia learning experiences for students, educators and community members who visit the Horwitz-Wasserman Holocaust Memorial Plaza.
So much more is on the horizon at Echoes & Reflections and USC Shoah Foundation, and we cannot wait to share. We have already arrived at the future of Holocaust education, and it's ready for use in your classroom—today.
About the author: Greg Irwin is Head of Content Management on the Education team at USC Shoah Foundation – The Institute for Visual History and Education. He is the Institute's partner lead for Echoes & Reflections, and manages both the Echoes & Reflections and IWitness websites, as well as the IWalk mobile application.
---


When it comes to the Holocaust, is it appropriate to make comparisons to current events? While not a new phenomenon, many individuals invoke imagery and language traditionally associated with the Holocaust to describe or address contemporary events and personalities and educators often wrestle with the question of how comparisons can or should be made in the context of their teaching.
View more +
We had the honor of discussing this very issue with Professor Yehuda Bauer, world-renowned historian and Holocaust scholar, and Academic Advisor to Yad Vashem. What follows is an abridged version of our conversation:
Q: Teachers today often have difficulty knowing whether they can make comparisons between the Holocaust and current events. What advice can you give them?
A:  One has to remember that all historical comparisons have to be based on two things: 1) the parallels between two events, and 2) the differences. When you do not mention the differences between two events then the fact that there are some similarities is meaningless. Comparison is the toolkit of every historian and we do it all the time. However, we must make it very clear that we not only compare the parallels but also the differences. Teachers must explain the comparisons and the historical context very carefully.
You have similar comparisons all the time: everything bad is compared to the Holocaust or to the Nazis. That in itself is not such a bad thing. It is a good thing to realize that Nazism is bad. However, teachers have to clearly explain to their students that comparisons have to be very carefully examined with knowledge and with understanding. Do not deny the fact that historical comparisons are important and possible, but they have to be weighed very carefully to make students aware that they must look at events and comparisons in a historically balanced way.
The fact that the Holocaust is such a central issue in so many places is because it is still the unprecedented genocide. It can happen again – not in exactly the same way because nothing is repeated in exactly the same way but, after the Holocaust, there were genocides where the perpetrators consciously learned from the Nazis, like in Rwanda.
When you study the Holocaust, you can take certain dilemmas from it and transpose them very, very carefully and show parallels.
Q: Recently, Arnold Schwarzenegger made a video after the insurrection on the U.S. Capitol where he made comparisons to his experiences growing up in Austria and the build-up to Kristallnacht[1] with what happened on January 6, 2021.  What are your thoughts on this analogy?
A: Arnold Schwarzenegger's statement was, without doubt, made with the best of intentions. However, comparing the events at the Capitol building to Kristallnacht is absolutely false.
Certain parallels can be made with the past and, with careful consideration, the lesson to be learned in this case is the defense of democratic values, which was missing in Germany. Abandonment of democratic values should be prevented in democratic countries like the United States. We have to fight for these democratic values. The parallel in this situation - the dangerous parallel – is the global rise of nationalism, segregation, and dictatorships and the anti-liberal, authoritarian regimes that are taking over in more and more places in different ways.
When comparing the past to the present, be very careful.
Q: The connections being made by teachers are not necessarily always related to other genocides but sometimes relate to modern-day political events. For example, some people compared the treatment and incarceration of asylum seekers and refugees at the southern US border last year to concentration camps in Germany in the 1930s. Is this a valid comparison?
A:  Again, a comparison like this must be made very carefully. In other words, there are certain elements that are parallel, sure, but also significant differences. When the Trump administration not only prevented, or tried to prevent, the immigration of Latin Americans into the United States and separated children from their parents, there is no exact comparison between that and what happened in Germany in the 1930s because the Germans never faced any question of immigration into Germany. The question was whether they would allow any emigration from Germany - not only for Jews but also for all opponents of the Nazi regime.
In addition, the comparison of US policy at the border to "concentration camps", which caused a big furor, was made without considering what the purpose of the German concentration camps was, historically. [Ed.: These camps exploited prisoners through harsh forced labor, and two of the concentration camps also functioned as death camps at which Jews were murdered].
Q: Let's address the issue of relevance. Many students have no personal connection to the Holocaust, either because they are not Jewish or, geographically speaking, because the Holocaust happened in Europe, which seems far away. We know that the Holocaust was a watershed event in human history, not just Jewish history. How do we bring more meaning and relevance to our lessons? Is it helpful to use contemporary issues to teach the Holocaust?
A: The answer is yes, very clearly. What educators need to do is to emphasize that the whole world was involved in World War II, which was a war against the Nazi regime, whose ideological centerpiece was the persecution of the Jews. The Nazis said it themselves. In Hitler's view, World War II was a war against the Jews and documents exist to prove this.  However, Nazism endangered the whole world amongst other things in its hatred of Jews. Therefore, the Holocaust is relevant to everyone and we have to teach it.
[1] Kristallnacht, or the November pogrom, was a violent, State-sponsored attack against the Jews of the Third Reich (Germany, Austria and the Sudetenland) beginning on the night of November 9, 1938. More than 1,400 synagogues were torched; approximately 30,000 Jewish men were arrested and sent to concentration camps, and at least 91 Jews were murdered. https://timelineoftheholocaust.org/?evtyear=1938&evtmonth=11&evtday=9
About the authors: Sheryl Ochayon is the Director of Echoes & Reflections for Yad Vashem and Sarah Levy is the Program Coordinator for Echoes & Reflections at Yad Vashem.
---




PREVIOUS POSTS
GET INVOLVED
FAQs
Professional Development Programs for Educators
Classroom Planning and Instruction
PRIVACY POLICY
Echoes & Reflections is committed to privacy. This privacy policy discloses our information gathering and dissemination practices for this website: www.echoesandreflections.org.
This site contains links to other sites. Echoes & Reflections is not responsible for the privacy practices or the content of such Web sites. This privacy statement applies solely to information collected by echoesandreflections.org.
GENERAL INFORMATION COLLECTION AND USE
Echoes & Reflections is the sole owner of the information collected on this site. We will not sell, share, or rent this information to others in ways different from what is disclosed in this statement. We collect information from our users at several different points on our website.
COOKIES AND WEBSITE ANALYTICS
Our site uses 'cookies'. A cookie is a piece of data stored on the user's hard drive containing information about the user. Usage of a cookie enables us to track and target the interests of our users to enhance the experience on our site, but is in no way linked to any personally identifiable information while on our site. If a user rejects the cookie, they may still use our site. The only drawback to this is that the user may be limited in some areas of our site (for example, certain surveys or other such activities).
We use Google Analytics to collect information about visitor traffic and behavior. This allows us to identify usage trends and to improve the performance and content of our websites.
We do not use this tool to collect or store your personal information, and it cannot be used to identify who you are. You can use the
Google Analytics Opt-Out Browser Add-on
to disable tracking by Google Analytics.
We currently do not use technology that responds to do-not-track signals from your browser.
VARIOUS REGISTRATIONS
To receive certain updates, enroll in certain programs, or use certain features of our website, a user may have to first complete a registration form. During registration a user is required to give their contact information (such as name and e-mail address). This information is used to contact the user about the services on our site for which they have expressed interest.
NEWSLETTER
If a user wishes to subscribe to our newsletter, we ask for contact information such as name and e-mail address.
ORDERS
Our site uses an order form for customers to request certain products. We collect visitor's contact information (such as name, e-mail, and address). Contact information from the order form is used to send information about Echoes & Reflections to the users of our website. The customer's contact information is also used to get in touch with the visitor when necessary. This information is not shared or resold in any circumstance except as may be required by law.
Users may opt-out of receiving future mailings; see the choice/opt-out section below.
SHARING
We may share aggregated demographic information with our partners. This is not linked to any personal information that can identify any individual person.
We use an outside shipping company to ship orders. These companies are contractually prohibited from retaining, sharing, storing or using personally identifiable information for any secondary purposes.
We may partner with third parties to provide specific services. When a user signs up for these services, we will share names, or other contact information that is necessary for the third party to provide these services.
These parties are contractually prohibited from using personally identifiable information except for the purpose of providing these services.
SECURITY
Our website has security measures in place to protect against the loss, misuse and alteration of the information under our control. This includes a firewall and 24 hour monitoring of site activities by our hosting service provider as well as 128-bit SSL encryption (where allowable by law) on all transaction oriented operations between you and Echoes & Reflections via our transaction service provider. While we use SSL encryption to protect sensitive information online, we also do everything in our power to protect user-information off-line. All of our users' information, not just the sensitive information mentioned above, is restricted in our offices. Only employees who need the information to perform a specific job (for example, our billing clerk, a customer service representative, or database administrator) are granted access to personally identifiable information. Any time new policies are added, our employees are notified and/or reminded about the importance we place on privacy, and what they are required to do to ensure our customers ' information is protected. Finally, the servers that we use to store personally identifiable information on are kept in a secure environment.
CHOICE/OPT-OUT ONLINE & OFFLINE
The following options are available for removing information from our database to discontinue receiving future communications or our service.
1. You can unsubscribe or change your e-mail preferences online by following the link at the bottom of any e-mail you receive from Echoes & Reflections via HubSpot.
2. You can notify us by email at
info@echoesandreflections.org
of your desire to be removed from our e-mail list or contributor mailing list.
CONTACTING THE WEB SITE
If you have any questions about this privacy statement, the practices of our website or your interactions with the website, please send email us at
info@echoesandreflections.org
NOTIFICATION OF CHANGES
If we decide to change our privacy policy, we will post those changes here so our users are always aware of what information we collect, how we use it, and the circumstances, if any, we disclose it.
CONTENT USE GUIDELINES
Echoes & Reflections content is royalty free for use by educators and students. Individuals or institutions not affiliated with U.S. public, private or parochial schools or higher education institutions or who are located outside of the U.S. should contact us if they wish to publish and/or translate content from Echoes & Reflections. In all cases, proper credit must be given: "Reprinted with permission from Echoes & Reflection Partnership ©. All rights reserved." The copyright "Echoes & Reflections Partnership ©" is retained. Please send inquiries to
info@echoesandreflections.org
.
RESOURCE OVERVIEW
Echoes & Reflections delivers value to both experienced Holocaust educators who are supplementing their curricula and to teachers new to Holocaust education. Learn how to engage further with the important work of Echoes & Reflections by signing up
here.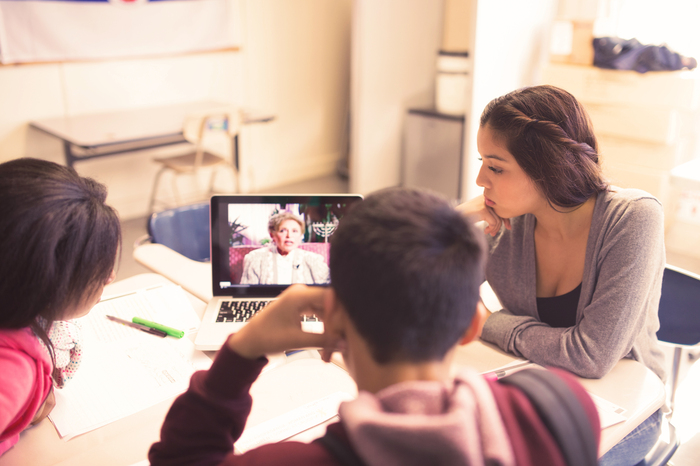 Third a Content