BLOG


My grandfather was an illegal immigrant who worked his way from being a dishwasher to becoming a hotel clerk in New Hampshire. He and his family left Eastern Europe a few years after the First World War, escaping the anti-Jewish pogroms in his region. Born in 1901, he was a young dreamer who smuggled himself across the Canadian border seeking to build a better life. He eventually became a proud citizen of the United States of America who raised his two children to be "good Americans" who only spoke English.
View more +
I recently came across some of his private papers that he apparently saved, dated July 1948, a mere three years after the Holocaust ended. As the desk clerk in this rather touristic spot in the Lakes Region of New Hampshire, he received the following inquiry from Cleveland, Ohio:
"My wife and I may want twin beds with private bath (or shower), or at least hot and cold running water and a private (inside) toilet, for one week approximately from August 8-15. We prefer European plan, no Jews, a free leak less rowboat, comfort without 'swank', with good restaurants nearby. A central meeting place where we could play on occasional game of no-too-expert bridge would be an asset. Please send descriptive literature and quote rates by return mail, dealing with the points mentioned above. Are you on the shore of a lake?"
The same person sent another letter four days later, requesting "a folder" about the amenities available, underscoring their wish for a "gentile atmosphere."
I am sure that my grandfather, who ironically was a competitive bridge player, kept these letters due to their antisemitic content. Unfortunately, he died a year before I was born and therefore I never had an opportunity to ask him about this incident.
Nowadays it is no longer acceptable to contact a hotel and unabashedly request "no Jews" – not only in the United States, but rather in many places across the globe. Overtly racist language of this kind is shunned, and anti-discrimination guidelines require hotel staff to provide goods and services to guests regardless of race, gender, marital status, disability, age and more. Nevertheless, blatant prejudice in general and antisemitism in particular, has clearly not vanished from the US and beyond. Addressing and combatting antisemitism remains relevant.
Substantiating this grim reality, ADL commissioned an audit of antisemitic incidents in 2017. The findings were disturbing: in the US alone, the number of antisemitic incidents surged to 1,986, a 57% increase from the total in 2016. Although we can feel some relief at the finding that a majority of Americans acknowledge the problem — eight out of ten of polled respondents think that the government must play a role in countering antisemitism — the sheer number of incidents provides a chilling reminder of the urgent need for educational programming to counter antisemitism.
The letter-writer from Ohio had no inhibition against signing his name to shamelessly antisemitic requests. Sixty-nine years later in Charlottesville, Virginia, white supremacists showed no inhibition about showing their faces to the cameras as they chanted "Jews will not replace us." The data is incontrovertible: the purveyors of antisemitism have grown bolder in our time, and education will be key to stemming the rising tide of hatred. It is incumbent upon us to stand up to this hatred, then and now, and it starts in the classroom.
Seventy years after my grandfather received these letters, educators across the country are incorporating Echoes & Reflections units on antisemitism – both contemporary and historical – into their classrooms.  Teachers have provided positive feedback about the quality and relevance of the materials and feel they are helping to increase students' knowledge about antisemitism in the world today; and perhaps most importantly, inspiring students to want to do something about it.
Although I never knew my grandfather, he apparently believed in the pursuit of justice. While I may not agree with all of his advice below, I deeply admire his strength of character to speak out. He decided to answer these letters as follows:
"…I could not help but noticing your letter asking for reservations, with 'reservations' namely NO JEWS. Well, you also want a leak less rowboat, you might get your delicate feet wet. You want comfort, of course, with good restaurants, or else you might get indigestion. You want a place to play bridge, although not an expert. I'll bet you are a lousy player, gossiping and criticizing other people at the bridge table. Well, my reaction and suggestion to you is this: Our city is known for being on lakes, four of them. When you do get here, drive down Gale Avenue to Pleasant Street, and there at the end of the street, is a lake: Jump in and do not come up. Disrespectively yours, a good American."
Ultimately, I would like to hope that my grandfather, wherever he may be, enjoys watching his granddaughter promote professional development programming to combat antisemitism.
About the author: Richelle Budd Caplan has served as the Director of the European Department of the International School for Holocaust Studies of Yad Vashem since 2009, and has been working at Yad Vashem since 1993.
---


In the aftermath of last year's events in Charlottesville, VA, Jennifer Goss, an Echoes & Reflections facilitator and classroom teacher from Staunton, VA, reflects on how "hate in our backyard" impacted her classroom and community. A year later she reflects on how her students' study of the Holocaust has contributed to their healing process and gives them the skills to engage in respectful dialogue on complex issues.
View more +
Charlottesville. It has been one year since the city just a short trip over the mountain from mine became a word uttered in nearly every American household. A beautiful, quaint city, larger than my home of Staunton, but still just as lovely, was forever changed by the events of August 11-12, 2017. In the time that has elapsed since moments of hate touched Central Virginia, not a week has passed when it has not somehow come up in conversation. Whether it's the description of where in Virginia that I live or the airport that I have flown out of to the location where I am speaking to an individual, the response is always similar, "Charlottesville...yes, I know exactly where that is."
I'd like to say that in this year, I've discovered the answers to solve issues related to hatred and discrimination. I wish I felt like our nation and our world has made great strides. I'd like to be able to comment that incidents of hate have drastically diminished (Note: according to ADL reported incidents increased by 57% in 2017). Of course, those of you who have taken the time to read a column such as this know that sadly, this is still not our reality.
What I have discovered in this past year, however, is that there is power in community and conversation. The ripples of Charlottesville have made uncomfortable conversations rise to the surface and in doing so; have brought in new voices and opinions that may not have been ready or felt safe to speak out in the past. Not all of these voices are ones of agreement but there is power in that as well—learning to have effective discourse on issues that divide us is a critical issue in building stronger communities.
One of the places I have been privileged to witness this is within my own classroom and school. As a small Southern town, the issues of Southern history and heritage are part of our community just as they are part of the community of Charlottesville and many others throughout the South. Not all of my students approach this history from the same cultural and historical background but day after day, I repeatedly witnessed respectful and effective discourse on topics that had previously lay dormant. In our region, many schools and segments of our public infrastructure such as roadways bear the names of Confederate leaders. Some students believe that these names should be retained for the sake of marking the importance of local history while others wish to see the names altered because of their direct links to issues such as slavery and oppression. Many of my students were able to vote in our local elections this past spring and some made choices based on this very issue.
Despite differing opinions, most students are able to discuss their beliefs in a respectful and appropriate manner. I have been personally fortunate to witness this repeatedly in my classroom and believe that some of these very skills were facilitated by discussion of tough topics such as the Holocaust within the confines of our classroom walls. In the wake of the incidents in Charlottesville, I utilized the USC Shoah Foundation's IWitness mini-lesson Promoting Effective Conversation Skills, and I plan to make this a staple in my classroom, regardless of the subject I am teaching. The testimony of Holocaust survivor Henry Oertelt and the strategies employed in this mini-lesson helped my students consider ways to disagree but still respect one another. To me, the importance of skills like these goes beyond the content and I am grateful for tools such as this to help me in this process.
It is my hope that as these students go out into the larger nation and world, they will carry their effective conversational tools with them. These students can show the world that you can disagree and still shake hands and walk away from a conversation a bit more educated on what and why the other side holds their beliefs and opinions. These students can also educate others on the lessons they learned from studying the Holocaust—that every human being matters and how the path of hatred doesn't always have to have the same conclusion. They will take the lessons of Holocaust survivors like Henry Oertelt, Kurt Messerschmidt, and Itka Zygmuntowicz and show the world that there is hope for a brighter future even in the complicated and seemingly uncompromising world that we are all trying to navigate today. It is our task as educators not to shrink away from complicated topics and histories but instead, to provide our students with the tools to navigate them respectfully.
About the author: Jennifer Goss is a Social Studies teacher at Staunton City Schools in Staunton, VA where she has taught since 2012. 
---




PREVIOUS POSTS
GET INVOLVED
FAQs
Professional Development Programs for Educators
Classroom Planning and Instruction
PRIVACY POLICY
Echoes & Reflections is committed to privacy. This privacy policy discloses our information gathering and dissemination practices for this website: www.echoesandreflections.org.
This site contains links to other sites. Echoes & Reflections is not responsible for the privacy practices or the content of such Web sites. This privacy statement applies solely to information collected by echoesandreflections.org.
GENERAL INFORMATION COLLECTION AND USE
Echoes & Reflections is the sole owner of the information collected on this site. We will not sell, share, or rent this information to others in ways different from what is disclosed in this statement. We collect information from our users at several different points on our website.
COOKIES AND WEBSITE ANALYTICS
Our site uses 'cookies'. A cookie is a piece of data stored on the user's hard drive containing information about the user. Usage of a cookie enables us to track and target the interests of our users to enhance the experience on our site, but is in no way linked to any personally identifiable information while on our site. If a user rejects the cookie, they may still use our site. The only drawback to this is that the user may be limited in some areas of our site (for example, certain surveys or other such activities).
We use Google Analytics to collect information about visitor traffic and behavior. This allows us to identify usage trends and to improve the performance and content of our websites.
We do not use this tool to collect or store your personal information, and it cannot be used to identify who you are. You can use the
Google Analytics Opt-Out Browser Add-on
to disable tracking by Google Analytics.
We currently do not use technology that responds to do-not-track signals from your browser.
VARIOUS REGISTRATIONS
To receive certain updates, enroll in certain programs, or use certain features of our website, a user may have to first complete a registration form. During registration a user is required to give their contact information (such as name and e-mail address). This information is used to contact the user about the services on our site for which they have expressed interest.
NEWSLETTER
If a user wishes to subscribe to our newsletter, we ask for contact information such as name and e-mail address.
ORDERS
Our site uses an order form for customers to request certain products. We collect visitor's contact information (such as name, e-mail, and address). Contact information from the order form is used to send information about Echoes & Reflections to the users of our website. The customer's contact information is also used to get in touch with the visitor when necessary. This information is not shared or resold in any circumstance except as may be required by law.
Users may opt-out of receiving future mailings; see the choice/opt-out section below.
SHARING
We may share aggregated demographic information with our partners. This is not linked to any personal information that can identify any individual person.
We use an outside shipping company to ship orders. These companies are contractually prohibited from retaining, sharing, storing or using personally identifiable information for any secondary purposes.
We may partner with third parties to provide specific services. When a user signs up for these services, we will share names, or other contact information that is necessary for the third party to provide these services.
These parties are contractually prohibited from using personally identifiable information except for the purpose of providing these services.
SECURITY
Our website has security measures in place to protect against the loss, misuse and alteration of the information under our control. This includes a firewall and 24 hour monitoring of site activities by our hosting service provider as well as 128-bit SSL encryption (where allowable by law) on all transaction oriented operations between you and Echoes & Reflections via our transaction service provider. While we use SSL encryption to protect sensitive information online, we also do everything in our power to protect user-information off-line. All of our users' information, not just the sensitive information mentioned above, is restricted in our offices. Only employees who need the information to perform a specific job (for example, our billing clerk, a customer service representative, or database administrator) are granted access to personally identifiable information. Any time new policies are added, our employees are notified and/or reminded about the importance we place on privacy, and what they are required to do to ensure our customers ' information is protected. Finally, the servers that we use to store personally identifiable information on are kept in a secure environment.
CHOICE/OPT-OUT ONLINE & OFFLINE
The following options are available for removing information from our database to discontinue receiving future communications or our service.
1. You can unsubscribe or change your e-mail preferences online by following the link at the bottom of any e-mail you receive from Echoes & Reflections via HubSpot.
2. You can notify us by email at
info@echoesandreflections.org
of your desire to be removed from our e-mail list or contributor mailing list.
CONTACTING THE WEB SITE
If you have any questions about this privacy statement, the practices of our website or your interactions with the website, please send email us at
info@echoesandreflections.org
NOTIFICATION OF CHANGES
If we decide to change our privacy policy, we will post those changes here so our users are always aware of what information we collect, how we use it, and the circumstances, if any, we disclose it.
CONTENT USE GUIDELINES
Echoes & Reflections content is royalty free for use by educators and students. Individuals or institutions not affiliated with U.S. public, private or parochial schools or higher education institutions or who are located outside of the U.S. should contact us if they wish to publish and/or translate content from Echoes & Reflections. In all cases, proper credit must be given: "Reprinted with permission from Echoes & Reflection Partnership ©. All rights reserved." The copyright "Echoes & Reflections Partnership ©" is retained. Please send inquiries to
info@echoesandreflections.org
.
RESOURCE OVERVIEW
Echoes & Reflections delivers value to both experienced Holocaust educators who are supplementing their curricula and to teachers new to Holocaust education. Learn how to engage further with the important work of Echoes & Reflections by signing up
here.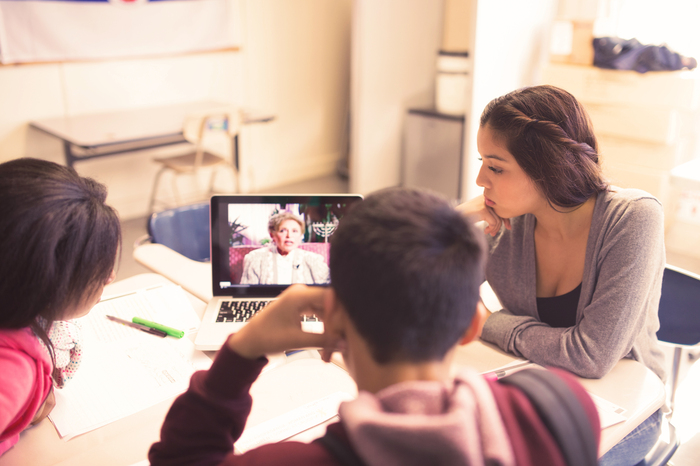 Third a Content