BLOG


In the fall of 1968, Margaret Michaels stood in front of her middle school American History class and shared a difficult truth: her 99.99% white school district had accepted its first Black teacher from Central State University in nearby Wilberforce. At the time, the Beavercreek School District covered fifty square miles of suburban and rural families in the southwestern portion of Ohio. Over seven thousand students filled the high school, two middle schools, and seven elementary schools, and most of the faculty, staff, and administration lived in the community. Some of these individuals still carried the names of the founding families who settled in the area as Ohio emerged from the unexplored west. Parents worked in major industry, owned mom and pop businesses, and farmed the land, and raised the livestock. Busing was a topic of discussion, usually out of earshot of children, as demands for desegregation for the students of the West End of Dayton grew. The West End was home to most of the Black community members, while the North Side housed the synagogue. Unspoken yet clearly understood lines had been drawn long ago. Parents worried that forced busing would send their children to the questionable neighborhoods just outside the township's borders.
View more +
Margaret Michaels, one of the most honest and courageous people I have ever known, explained to her students that day that she was prejudiced. She related how her family ardently believed in the inferiority of Black people. She explained how having a Black friend or dating a Black person was completely beyond the realm of reality in her community and would have resulted in being disowned by her family. She described her qualms about meeting this student teacher and working with him. Mrs. Michaels went so far as to admit that she asked him if she could touch his hair since she had never come in physical contact with a Black person before that moment. Then, Mrs. Michaels explained that although her family would never understand or accept her changing attitude, she was admitting her prejudice and taking responsibility for letting go of the hatred and seeing the individual human, as well as the greater Black community, for who he is: a person deserving of respect and equal rights and access; a person with hopes, skills, and ideas just like anyone else in the world.
Margaret Michaels opened my eyes and my mind when she bravely explained that she chose to change the way she judged people. More than fifty years later, I can still see her standing there telling us that we alone are responsible for our thoughts, actions, and beliefs. We may choose to use the excuse of our upbringing, our families, our friends, our religious institutions, or anything else, but ultimately, we must own our stance in this world.
It is difficult, uncomfortable, and even embarrassing, at times, to speak out when family, friends, or colleagues disagree vehemently. But we must. We must hold up the mirror as individuals and as a country to see honestly why we are where we are in 2020. This requires ongoing reflection and learning and is a fundamental principle that has guided me throughout my personal and professional life. Our responsibility as educators is to show our own discomfort with past and present decisions and actions and impart this value to our students. We must also admit our failings, our moments of hesitation, our fear of speaking up, and speaking out. Just as we admit when we do not have an immediate answer, one that requires additional thought or research, we must admit that we are humans who have and will again fail our fellow humans. That does not excuse our shortcomings; it makes us work harder to acknowledge our own prejudices and fears of peer pressure.
As a Holocaust educator, I could not discuss the prejudice and hateful actions of the Nazis and their collaborators without discussing other examples of hatred around the world and throughout history in the U.S. Pointing a finger at Germany in 1944 is easy; but looking honestly at ourselves and our past is immensely uncomfortable. Yet, we must own that while we may not have personally forced Native Americans to walk the Trail of Tears, or forced those of Japanese descent into internment camps, or enforced the Jim Crow Laws, or supported the sundown laws for People of Color, or denied women equal pay, and the list goes on, we are obligated to fully acknowledge how these pieces of history have caused damage to both the human spirit and body and have consequences that continue to impact us today. It is long past time to stand up for what we know is right in this country.
When I speak with groups about the Holocaust, I do so not just to teach history, but to show the power of one individual. One perpetrator, one victim, one rescuer, one bystander – each has the power to change the world at that moment. The survivors I have met have talked about spiritual resistance which might have included practicing their religious beliefs in Auschwitz, listening to a scholar in the Warsaw Ghetto, or sharing food in hiding. One person can make a difference, and one person can change the world.
Margaret Michaels made her choice and accepted the consequences. When I look at my grandson, I try to see the legacy I will leave for him as a citizen of this country and of this world. I think of my paternal grandparents who decided to travel to Nazi Germany to bring one orphaned Jewish child to the safety of their home in the United States. I believe that most people are loving, caring individuals with the capacity to make the world better, but I also know that our voices and our actions are the only tools that can make long-lasting and positive change.
About the author: Lynne Rosenbaum Ravas retired from teaching and began presenting with the Holocaust Center of Pittsburgh's Generations Program. In addition to serving as a facilitator for Echoes & Reflections, she volunteers with the Federal Executive Board's Hate Crimes Working Group, FBI's Citizens' Academy, and other organizations in the area.
---




PREVIOUS POSTS
GET INVOLVED
FAQs
Professional Development Programs for Educators
Classroom Planning and Instruction
PRIVACY POLICY
Echoes & Reflections is committed to privacy. This privacy policy discloses our information gathering and dissemination practices for this website: www.echoesandreflections.org.
This site contains links to other sites. Echoes & Reflections is not responsible for the privacy practices or the content of such Web sites. This privacy statement applies solely to information collected by echoesandreflections.org.
GENERAL INFORMATION COLLECTION AND USE
Echoes & Reflections is the sole owner of the information collected on this site. We will not sell, share, or rent this information to others in ways different from what is disclosed in this statement. We collect information from our users at several different points on our website.
COOKIES AND WEBSITE ANALYTICS
Our site uses 'cookies'. A cookie is a piece of data stored on the user's hard drive containing information about the user. Usage of a cookie enables us to track and target the interests of our users to enhance the experience on our site, but is in no way linked to any personally identifiable information while on our site. If a user rejects the cookie, they may still use our site. The only drawback to this is that the user may be limited in some areas of our site (for example, certain surveys or other such activities).
We use Google Analytics to collect information about visitor traffic and behavior. This allows us to identify usage trends and to improve the performance and content of our websites.
We do not use this tool to collect or store your personal information, and it cannot be used to identify who you are. You can use the
Google Analytics Opt-Out Browser Add-on
to disable tracking by Google Analytics.
We currently do not use technology that responds to do-not-track signals from your browser.
VARIOUS REGISTRATIONS
To receive certain updates, enroll in certain programs, or use certain features of our website, a user may have to first complete a registration form. During registration a user is required to give their contact information (such as name and e-mail address). This information is used to contact the user about the services on our site for which they have expressed interest.
NEWSLETTER
If a user wishes to subscribe to our newsletter, we ask for contact information such as name and e-mail address.
ORDERS
Our site uses an order form for customers to request certain products. We collect visitor's contact information (such as name, e-mail, and address). Contact information from the order form is used to send information about Echoes & Reflections to the users of our website. The customer's contact information is also used to get in touch with the visitor when necessary. This information is not shared or resold in any circumstance except as may be required by law.
Users may opt-out of receiving future mailings; see the choice/opt-out section below.
SHARING
We may share aggregated demographic information with our partners. This is not linked to any personal information that can identify any individual person.
We use an outside shipping company to ship orders. These companies are contractually prohibited from retaining, sharing, storing or using personally identifiable information for any secondary purposes.
We may partner with third parties to provide specific services. When a user signs up for these services, we will share names, or other contact information that is necessary for the third party to provide these services.
These parties are contractually prohibited from using personally identifiable information except for the purpose of providing these services.
SECURITY
Our website has security measures in place to protect against the loss, misuse and alteration of the information under our control. This includes a firewall and 24 hour monitoring of site activities by our hosting service provider as well as 128-bit SSL encryption (where allowable by law) on all transaction oriented operations between you and Echoes & Reflections via our transaction service provider. While we use SSL encryption to protect sensitive information online, we also do everything in our power to protect user-information off-line. All of our users' information, not just the sensitive information mentioned above, is restricted in our offices. Only employees who need the information to perform a specific job (for example, our billing clerk, a customer service representative, or database administrator) are granted access to personally identifiable information. Any time new policies are added, our employees are notified and/or reminded about the importance we place on privacy, and what they are required to do to ensure our customers ' information is protected. Finally, the servers that we use to store personally identifiable information on are kept in a secure environment.
CHOICE/OPT-OUT ONLINE & OFFLINE
The following options are available for removing information from our database to discontinue receiving future communications or our service.
1. You can unsubscribe or change your e-mail preferences online by following the link at the bottom of any e-mail you receive from Echoes & Reflections via HubSpot.
2. You can notify us by email at
info@echoesandreflections.org
of your desire to be removed from our e-mail list or contributor mailing list.
CONTACTING THE WEB SITE
If you have any questions about this privacy statement, the practices of our website or your interactions with the website, please send email us at
info@echoesandreflections.org
NOTIFICATION OF CHANGES
If we decide to change our privacy policy, we will post those changes here so our users are always aware of what information we collect, how we use it, and the circumstances, if any, we disclose it.
CONTENT USE GUIDELINES
Echoes & Reflections content is royalty free for use by educators and students. Individuals or institutions not affiliated with U.S. public, private or parochial schools or higher education institutions or who are located outside of the U.S. should contact us if they wish to publish and/or translate content from Echoes & Reflections. In all cases, proper credit must be given: "Reprinted with permission from Echoes & Reflection Partnership ©. All rights reserved." The copyright "Echoes & Reflections Partnership ©" is retained. Please send inquiries to
info@echoesandreflections.org
.
RESOURCE OVERVIEW
Echoes & Reflections delivers value to both experienced Holocaust educators who are supplementing their curricula and to teachers new to Holocaust education. Learn how to engage further with the important work of Echoes & Reflections by signing up
here.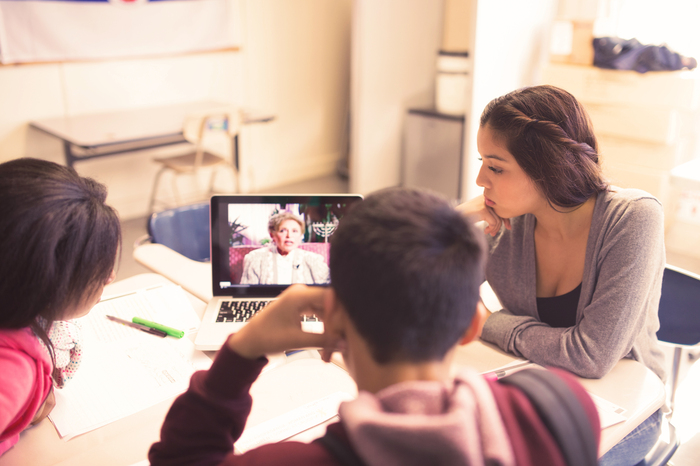 Third a Content