BLOG


A few years back, in front of an audience of a hundred school administrators and educators focused on implementing Holocaust education, one thoughtful participant shared how the study of the Holocaust, particularly the study of the Nazis' anti-Jewish policy, can be an important opportunity for students to connect this to the US's Jim Crow laws passed after the Civil War.  I didn't scan the room but I imagined that his remarks may have landed uncomfortably on some participants for reasons ranging from the unsettling idea of the US as a "beacon of freedom" being a model of racist policies and practices for Nazi Germany to the discomfort and insufficient knowledge and ability to broach such a discussion in the classroom.  Without skipping a beat, I smiled and agreed with him wholeheartedly, and encouraged folks to read James Q. Whitman's book Hitler's American Model: The United States and the Making of Nazi Race Law (2017). 
View more +
The book's title can easily offend those who believe in the idea of America as the land of the free.  Just the hint of a connection between America and Nazi Germany can make such persons uneasy.  Because Holocaust survivors in the US found safe haven and in many cases thrived in this country, so the logic goes, how could this same country be the source of inspiration and guidance for Nazi Germany's efforts to dehumanize and destroy the Jewish people? But if those same people read this book, they would be confronted with a well-researched, evidence-based documentation of how Nazi politicians and lawyers tackled the creation of their "race law" by looking to the US.  Early on in the book, Whitman states, "In the early 1930s the Nazis drew on a range of American examples, both federal and state.  Their America was not just the South; it was a racist America writ much larger.  Moreover, the ironic truth is that when Nazis rejected the American example, it was sometimes because they thought the American practices were overly harsh"(5).
As educators, we may have heard our students – particularly students of color and LGBTQ+ students – advance a burgeoning connection: How an anti-Jewish law or decree reminds them of our country's racist segregation laws or our ban on interracial and same-sex marriages.  This is the moment where we are confronted with a choice: how do we respond?  
Do we provide a tepid acknowledgment or else a statement that this is not the same thing, and continue with the prepared lesson?  Are we even confident and competent enough to navigate this huge "aha" moment? Whitman implores us to dive right into the discussion without hesitation. "America was the leader [in racist law making] during the age of the rise of Hitler. That is the truth, and we cannot squirm away from it" (139). There are consequences to racist, dehumanizing policies, not only on targeted communities whose lives were severely compromised or cut short because of them but also on other countries watching closely to gauge the effectiveness and success of these policies.  Simply put, that's what the Nazis did with our country's racist policies. There is a need to reckon with this truth, that the US inadvertently but nonetheless significantly became a model for the anti-Jewish policies in Germany.
Whitman does a huge service by evidencing the intentional and thorough discussions of US racist policies – not just Jim Crow segregation laws but also its racist immigration laws, citizenship laws, and miscegenation laws – in key Nazi reports, articles, memos and meetings that contributed to the crafting of the 1935 Nuremberg Laws. He explores the crafting of the Reich Citizenship Law – the second of the three Nuremberg Laws – by highlighting the Nazis' keen interest in America's anti-immigration laws (namely its race-based quotas) and citizenship laws with its creation of de jure and de facto forms of second-class citizenship – not only for Black Americans, but also for Puerto Ricans, Filipina/o/x, Chinese and Native Americans – that maintained our country's racial hierarchy and power.  While these anti-immigration laws were more inspirational rather than serving as a blueprint for the Nazis, more critical and closely examined were the US anti-miscegenation laws that informed the third of the Nuremberg Laws – the Blood Law, which banned race mixing in sex and marriage between Jewish and non-Jewish Germans.  Here, Whitman argues, is where "we discover the most provocative evidence of direct Nazi engagement with American legal models, and the most unsettling signs of direct influence" (76).  He highlights the legal techniques -- policies and procedures -- that Americans employed to justify their "race madness" as the source of influence for the Nazis.  Simply put, Whitman writes, "The United States offered the model of anti-miscegenation legislation...and it is in the criminalization of racially mixed marriage [in the US] that we see the strongest signs of direct American influence on the Nuremberg laws" (78-29). 
Whitman's book provides educators with a valuable opportunity to connect with the Holocaust, particularly the anti-Jewish laws, within US history of race-based immigration, segregation, citizenship, and interracial marriages.   Connection points to consider include:
1. The invitation to students to connect these two histories is as easy as using the worksheet  "What Rights are Important to Me" in the Nazi Germany unit. Many educators who have used this in their classrooms have shared stories of students seeing the natural connection: "Voting wasn't allowed by the Black community after Reconstruction," or "Asians who were able to immigrate to the US weren't eligible for citizenship and couldn't even vote," or even "This country didn't allow people of the same sex to get married for a long time."  This is the actualizing of one of our pedagogical principles: Making the Holocaust relevant. 
2. Encourage inquiry-based learning and critical thinking, specifically when viewing visual history testimony.  Students, with their US-centric 21st-century lens, need brave educators to guide them in applying the lessons of the Holocaust to our own racist history without "squirm(ing) away from it." This connection is not saying that the anti-Jewish laws and the assortment of US racist laws are the same; Whitman states very clearly that they are not carbon copies. However, we should not downplay or brush aside these connections as they are truly linked.  Let's use these moments to face our own ugly truths and discuss them openly and critically, knowing that our country's racist laws and practices played a significant role in providing the Nazis with a model that informed their efforts to create their own dehumanizing legal system.
We as educators can no longer rely on the excuse that because we were not taught about racism in our elementary and high school classes, we are ill-equipped to teach and navigate these discussions in our classrooms. It may be an explanation of our shortfalls, but not an absolution of taking on this mantle.  We also cannot turn our heads from the indignities that many Americans suffered in our country's history while exalting inspirational values and focusing only on the good.   Such silence is a practice in denial, and is an anathema to the education profession.  Current legislation in some states to restrict teaching about the realities of the racism embedded in our laws, policies and practices is codifying this silence, and denies students a robust and honest education.  
Our student population – growing in its racial and ethnic diversity, and its connection to the global community – cannot be burdened by and held back because of our denials, fears, and excuses.  We owe it to them to put our learner hat on, find our courage, and delve into this history and its implications, to guide our students to become critical historians and work toward a model of justice and human dignity for all.
About the author: Esther K. Hurh is a highly seasoned education consultant with over 25 years of experience in facilitation, training, curriculum development and program management.  In addition to her work with Echoes & Reflections as its senior trainer since 2014, she is deeply interested in the areas of diversity, equity and inclusion (DEI), social justice education, and Asian American history. 
---




PREVIOUS POSTS
GET INVOLVED
FAQs
Professional Development Programs for Educators
Classroom Planning and Instruction
PRIVACY POLICY
Echoes & Reflections is committed to privacy. This privacy policy discloses our information gathering and dissemination practices for this website: www.echoesandreflections.org.
This site contains links to other sites. Echoes & Reflections is not responsible for the privacy practices or the content of such Web sites. This privacy statement applies solely to information collected by echoesandreflections.org.
GENERAL INFORMATION COLLECTION AND USE
Echoes & Reflections is the sole owner of the information collected on this site. We will not sell, share, or rent this information to others in ways different from what is disclosed in this statement. We collect information from our users at several different points on our website.
COOKIES AND WEBSITE ANALYTICS
Our site uses 'cookies'. A cookie is a piece of data stored on the user's hard drive containing information about the user. Usage of a cookie enables us to track and target the interests of our users to enhance the experience on our site, but is in no way linked to any personally identifiable information while on our site. If a user rejects the cookie, they may still use our site. The only drawback to this is that the user may be limited in some areas of our site (for example, certain surveys or other such activities).
We use Google Analytics to collect information about visitor traffic and behavior. This allows us to identify usage trends and to improve the performance and content of our websites.
We do not use this tool to collect or store your personal information, and it cannot be used to identify who you are. You can use the
Google Analytics Opt-Out Browser Add-on
to disable tracking by Google Analytics.
We currently do not use technology that responds to do-not-track signals from your browser.
VARIOUS REGISTRATIONS
To receive certain updates, enroll in certain programs, or use certain features of our website, a user may have to first complete a registration form. During registration a user is required to give their contact information (such as name and e-mail address). This information is used to contact the user about the services on our site for which they have expressed interest.
NEWSLETTER
If a user wishes to subscribe to our newsletter, we ask for contact information such as name and e-mail address.
ORDERS
Our site uses an order form for customers to request certain products. We collect visitor's contact information (such as name, e-mail, and address). Contact information from the order form is used to send information about Echoes & Reflections to the users of our website. The customer's contact information is also used to get in touch with the visitor when necessary. This information is not shared or resold in any circumstance except as may be required by law.
Users may opt-out of receiving future mailings; see the choice/opt-out section below.
SHARING
We may share aggregated demographic information with our partners. This is not linked to any personal information that can identify any individual person.
We use an outside shipping company to ship orders. These companies are contractually prohibited from retaining, sharing, storing or using personally identifiable information for any secondary purposes.
We may partner with third parties to provide specific services. When a user signs up for these services, we will share names, or other contact information that is necessary for the third party to provide these services.
These parties are contractually prohibited from using personally identifiable information except for the purpose of providing these services.
SECURITY
Our website has security measures in place to protect against the loss, misuse and alteration of the information under our control. This includes a firewall and 24 hour monitoring of site activities by our hosting service provider as well as 128-bit SSL encryption (where allowable by law) on all transaction oriented operations between you and Echoes & Reflections via our transaction service provider. While we use SSL encryption to protect sensitive information online, we also do everything in our power to protect user-information off-line. All of our users' information, not just the sensitive information mentioned above, is restricted in our offices. Only employees who need the information to perform a specific job (for example, our billing clerk, a customer service representative, or database administrator) are granted access to personally identifiable information. Any time new policies are added, our employees are notified and/or reminded about the importance we place on privacy, and what they are required to do to ensure our customers ' information is protected. Finally, the servers that we use to store personally identifiable information on are kept in a secure environment.
CHOICE/OPT-OUT ONLINE & OFFLINE
The following options are available for removing information from our database to discontinue receiving future communications or our service.
1. You can unsubscribe or change your e-mail preferences online by following the link at the bottom of any e-mail you receive from Echoes & Reflections via HubSpot.
2. You can notify us by email at
info@echoesandreflections.org
of your desire to be removed from our e-mail list or contributor mailing list.
CONTACTING THE WEB SITE
If you have any questions about this privacy statement, the practices of our website or your interactions with the website, please send email us at
info@echoesandreflections.org
NOTIFICATION OF CHANGES
If we decide to change our privacy policy, we will post those changes here so our users are always aware of what information we collect, how we use it, and the circumstances, if any, we disclose it.
CONTENT USE GUIDELINES
Echoes & Reflections content is royalty free for use by educators and students. Individuals or institutions not affiliated with U.S. public, private or parochial schools or higher education institutions or who are located outside of the U.S. should contact us if they wish to publish and/or translate content from Echoes & Reflections. In all cases, proper credit must be given: "Reprinted with permission from Echoes & Reflection Partnership ©. All rights reserved." The copyright "Echoes & Reflections Partnership ©" is retained. Please send inquiries to
info@echoesandreflections.org
.
RESOURCE OVERVIEW
Echoes & Reflections delivers value to both experienced Holocaust educators who are supplementing their curricula and to teachers new to Holocaust education. Learn how to engage further with the important work of Echoes & Reflections by signing up
here.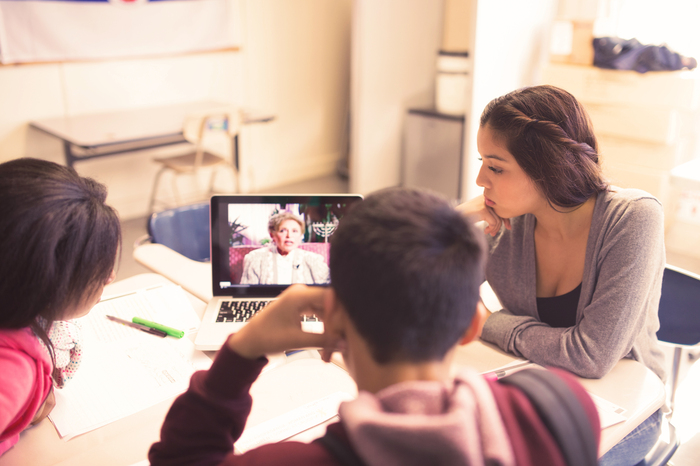 Third a Content