BLOG


In a climate of increased antisemitism and other hate-related incidents, working to encourage empathy and empathic leadership certainly seems to me to be profoundly important in today's world.
View more +
When I was five years old, my mother presented me with a pair of ice skates that she had worn as a child. She could hardly get the words out to tell me about this special gift and I can still envision her tearful face that day long ago.  These were not ordinary ice skates. They were brown and old and didn't look at all like the pretty white ice skates that my friend's parents had bought them at the local store. This was no typical presentation of a childhood artifact to an offspring. These skates had been worn by my mother when she was growing up as a happy Jewish child in Vienna, Austria, before the Nazis took over in March of 1938.  These skates were a physical testament to her life before her parents (my grandparents) were murdered in The Holocaust. My mother had taken these skates with her when at the tender age of thirteen, she was forced to leave her parents a few days after Kristallnacht.  These skates had then been hidden under the ground for the three horrific war years that my mother had spent in hiding without her family and as a teenager in Holland. These skates were the embodiment of her survival and of her profound losses: of her childhood, home, country, family, and even her sense of self.
I knew that I didn't have relatives, and that something horrible had happened to my mother. But this actual physical manifestation of her trauma shown to me when I was young left a profound impact on my life.  It shaped who I am and started my own journey toward developing empathy toward others' suffering. More importantly, directly hearing and seeing the terrible impact of trauma created a desire in me to want to work to develop empathy in others and try to create a better world. Throughout this work, I consciously utilized what I understood about my personal connections to my family's Holocaust stories, to reach students and help them to care about others.
Research shows that when students learn to become more empathic, they improve their communication skills, lessen the likelihood of anti-social behavior, demonstrate higher academic achievement, and develop more positive relationships.  Research also shows that these skills can assist students to achieve more success in an increasingly complex world.
How Holocaust Education Can Support Educators
Testimony from Holocaust survivors and witnesses as well as artifacts, like my mother's ice skates, are useful tools for developing empathy among students. The Echoes & Reflections Holocaust education program offers us reflective ways to develop these important skills, specifically through their collection of  visual history testimony  provided by USC Shoah Foundation's IWitness  and the featuring of artifacts and primary sources in their lesson plans. Hearing from Holocaust survivors and witnesses is one of the strongest predictors of citizenship values, as reported by the Journal of Moral Education. When a student watches and hears visual history testimony, they become connected to that person in a way that wouldn't be possible through another medium. With support from Echoes & Reflections resources, educators can work with students to help them do a deep dive into analyzing testimony and be better able to tap into their imaginations and develop their ability to understand another person's experiences. Visual history testimony can be used to teach listening skills, how to read body language, and how to have an increased understanding of personal emotions.
To facilitate this process, educators can ask their students to focus on particular aspects of a person's testimony and ask students to answer pointed questions such as:
"How does this testimony make me feel?"
"What specifically do I notice about the person's tone of voice and body language throughout the testimony?"
"Does the person's body language change when they are speaking about different incidents and if so, what does this change tell us about the person's experiences?"
"What does this remind me of in my own life?"
"What might I do differently in my own life after seeing this testimony?"
Employing these questions, educators can facilitate classroom discussion, encourage journaling, and foster ongoing reflection projects. Educators can also use these ideas in exploring many other Echoes & Reflections resources such as photographs, literature, poetry, artwork, and other primary sources to better foster empathy.
For me, the ice skates that my mother gave me that day long ago became the embodiment of the reason for the need for empathy. Holocaust education can cultivate that skill in our students so that future generations will foster empathic leaders and improve the world.
About the author: Evelyn Loeb LCSW-R is a retired school social worker and clinician. In addition to serving as a facilitator for Echoes & Reflections, she facilitates programs for the  "A World of Difference Institute" and "Words to Action"( Confronting Antisemitism) for ADL. 
---




PREVIOUS POSTS
GET INVOLVED
FAQs
Professional Development Programs for Educators
Classroom Planning and Instruction
PRIVACY POLICY
Echoes & Reflections is committed to privacy. This privacy policy discloses our information gathering and dissemination practices for this website: www.echoesandreflections.org.
This site contains links to other sites. Echoes & Reflections is not responsible for the privacy practices or the content of such Web sites. This privacy statement applies solely to information collected by echoesandreflections.org.
GENERAL INFORMATION COLLECTION AND USE
Echoes & Reflections is the sole owner of the information collected on this site. We will not sell, share, or rent this information to others in ways different from what is disclosed in this statement. We collect information from our users at several different points on our website.
COOKIES AND WEBSITE ANALYTICS
Our site uses 'cookies'. A cookie is a piece of data stored on the user's hard drive containing information about the user. Usage of a cookie enables us to track and target the interests of our users to enhance the experience on our site, but is in no way linked to any personally identifiable information while on our site. If a user rejects the cookie, they may still use our site. The only drawback to this is that the user may be limited in some areas of our site (for example, certain surveys or other such activities).
We use Google Analytics to collect information about visitor traffic and behavior. This allows us to identify usage trends and to improve the performance and content of our websites.
We do not use this tool to collect or store your personal information, and it cannot be used to identify who you are. You can use the
Google Analytics Opt-Out Browser Add-on
to disable tracking by Google Analytics.
We currently do not use technology that responds to do-not-track signals from your browser.
VARIOUS REGISTRATIONS
To receive certain updates, enroll in certain programs, or use certain features of our website, a user may have to first complete a registration form. During registration a user is required to give their contact information (such as name and e-mail address). This information is used to contact the user about the services on our site for which they have expressed interest.
NEWSLETTER
If a user wishes to subscribe to our newsletter, we ask for contact information such as name and e-mail address.
ORDERS
Our site uses an order form for customers to request certain products. We collect visitor's contact information (such as name, e-mail, and address). Contact information from the order form is used to send information about Echoes & Reflections to the users of our website. The customer's contact information is also used to get in touch with the visitor when necessary. This information is not shared or resold in any circumstance except as may be required by law.
Users may opt-out of receiving future mailings; see the choice/opt-out section below.
SHARING
We may share aggregated demographic information with our partners. This is not linked to any personal information that can identify any individual person.
We use an outside shipping company to ship orders. These companies are contractually prohibited from retaining, sharing, storing or using personally identifiable information for any secondary purposes.
We may partner with third parties to provide specific services. When a user signs up for these services, we will share names, or other contact information that is necessary for the third party to provide these services.
These parties are contractually prohibited from using personally identifiable information except for the purpose of providing these services.
SECURITY
Our website has security measures in place to protect against the loss, misuse and alteration of the information under our control. This includes a firewall and 24 hour monitoring of site activities by our hosting service provider as well as 128-bit SSL encryption (where allowable by law) on all transaction oriented operations between you and Echoes & Reflections via our transaction service provider. While we use SSL encryption to protect sensitive information online, we also do everything in our power to protect user-information off-line. All of our users' information, not just the sensitive information mentioned above, is restricted in our offices. Only employees who need the information to perform a specific job (for example, our billing clerk, a customer service representative, or database administrator) are granted access to personally identifiable information. Any time new policies are added, our employees are notified and/or reminded about the importance we place on privacy, and what they are required to do to ensure our customers ' information is protected. Finally, the servers that we use to store personally identifiable information on are kept in a secure environment.
CHOICE/OPT-OUT ONLINE & OFFLINE
The following options are available for removing information from our database to discontinue receiving future communications or our service.
1. You can unsubscribe or change your e-mail preferences online by following the link at the bottom of any e-mail you receive from Echoes & Reflections via HubSpot.
2. You can notify us by email at
info@echoesandreflections.org
of your desire to be removed from our e-mail list or contributor mailing list.
CONTACTING THE WEB SITE
If you have any questions about this privacy statement, the practices of our website or your interactions with the website, please send email us at
info@echoesandreflections.org
NOTIFICATION OF CHANGES
If we decide to change our privacy policy, we will post those changes here so our users are always aware of what information we collect, how we use it, and the circumstances, if any, we disclose it.
CONTENT USE GUIDELINES
Echoes & Reflections content is royalty free for use by educators and students. Individuals or institutions not affiliated with U.S. public, private or parochial schools or higher education institutions or who are located outside of the U.S. should contact us if they wish to publish and/or translate content from Echoes & Reflections. In all cases, proper credit must be given: "Reprinted with permission from Echoes & Reflection Partnership ©. All rights reserved." The copyright "Echoes & Reflections Partnership ©" is retained. Please send inquiries to
info@echoesandreflections.org
.
RESOURCE OVERVIEW
Echoes & Reflections delivers value to both experienced Holocaust educators who are supplementing their curricula and to teachers new to Holocaust education. Learn how to engage further with the important work of Echoes & Reflections by signing up
here.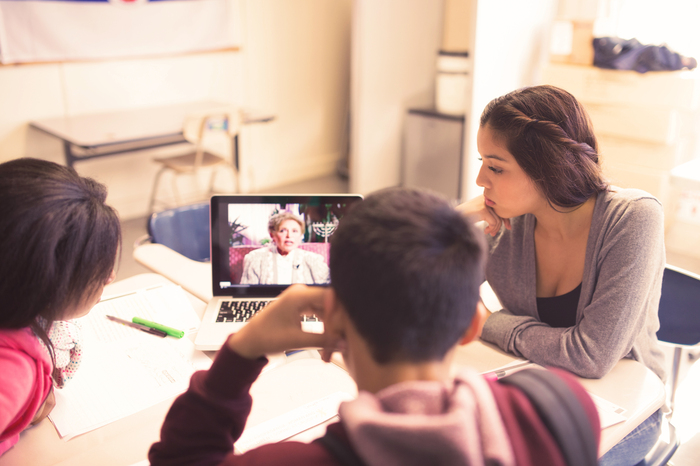 Third a Content