BLOG


The advent of the XXIII Olympic Winter Games gives educators the opportunity to discuss this event's influence in advancing mutual respect and understanding across the world. It is also an opportunity to examine how events like the Olympics are not immune to bias and injustice toward groups and individuals. This prejudice was especially evident at the Berlin, Germany 1936 Summer Olympics when Nazi ideology was taking hold in Germany.
View more +
Leading up to the Games, many countries, including the United States, considered boycotting the Olympics in protest of Nazi persecution of German-Jewish athletes like Margaret Lambert. However, many African-American leaders in the United States opposed the boycott, believing that the achievements of African-American athletes in Germany would challenge and delegitimize both the discriminatory policies in Germany and in the United States. The boycott did not occur, and in what many considered a controversial move, African-Americans Jesse Owens and Ralph Metcalfe replaced two American-Jewish runners, Marty Glickman and Sam Stoller, on the US 4x100-meter relay team.
Although the reason behind this last minute decision was never confirmed, Glickman has stated that his coaches feared the optics of two Jewish athletes standing on the winning podium under the Nazi flag.
While the 1936 Games were originally an opportunity for Germany to convince the world of their false notion of Aryan supremacy, in a moment of victory, African-American track and field athlete, Jesse Owens defied the Nazi's racist propaganda by winning four gold medals and breaking two Olympic records.
One would have hoped that Owens's achievements at the 1936 Games would have had a profound influence on combating antisemitism and racism; however, history has shown that his performance had no immediate influence on the fate of those affected by such ideology. Following the 1936 Olympics, Nazi influence continued to grow, and the US would not officially abolish Jim Crow laws until passage of the 1964 Civil Rights Act.
A sign of the times in which Owens lived; President Franklin D. Roosevelt did not meet with the athlete to congratulate him, which was customary for returning Olympic champions. It was not until 1976 that sitting US president Gerald Ford formally recognized Jesse Owens by awarding him the Presidential Medal of Freedom.
Later in his life, Jesse Owens's reflected on his homecoming:
"After I came home from the 1936 Olympics with my four medals, it became increasingly apparent that everyone was going to slap me on the back, want to shake my hand or have me up to their suite. But none was going to offer me a job."
The story of the 1936 Olympics provides an entry point for students to grapple with complex questions. Despite Jesse Owens's achievements, in the aftermath of the Games, why was he not given the same respect as other Olympic athletes? What prevented people from calling out the injustice and hypocrisy of Jim Crow, and why was no action taken by the world to prevent the Holocaust?
Such questions are not meant to undermine the determination of the few who were advocating for the freedoms of African Americans and Jews before, during, and following the Games. Yet, it is clear that the numbers were too few and progress too slow. This unfortunate delay in societal change makes it imperative to bring attention to the inaction that took place following the Games, in the classroom. We must give students the opportunity to explore the setbacks of this history so they can think critically about the world around them today, and make choices that will increase the pace in which freedom and equality are universally accessed.
For an in-depth look at how racism played a role at the 1936 Olympics explore this IWitness activity from our Partners at USC Shoah Foundation The Institute for Visual History and Education.
---




PREVIOUS POSTS
GET INVOLVED
FAQs
CLASSROOM POSTER SERIES
INSPIRING THE HUMAN STORY
Echoes & Reflections is excited to announce the launch of our new poster series:
Inspiring the Human Story
, for which teachers can request
one
free set (three posters) for their classrooms.
The posters (each 24'x 36'), feature the words and experiences of Holocaust survivor and memoirist
Elie Wiesel
, Holocaust survivor
Kurt Messerschmidt
, and Anne Frank rescuer,
Miep Gies
. Each promotes meaningful conversation and reflection in the classroom and inspires students with powerful human stories of the Holocaust that can continue to guide and inform their steps forward.
To support you in these efforts, we have also compiled several suggested
classroom activities
from teachers in our network that may be of use and interest.
Order your set today at no cost!
Please note: In order to reach the maximum number of teachers with this limited opportunity, we are only able to provide one poster set per teacher. Additionally, we are only able to send poster sets to US addresses
.
RESOURCE OVERVIEW
Echoes & Reflections delivers value to both experienced Holocaust educators who are supplementing their curricula and to teachers new to Holocaust education. Learn how to engage further with the important work of Echoes & Reflections by signing up for our
newsletter.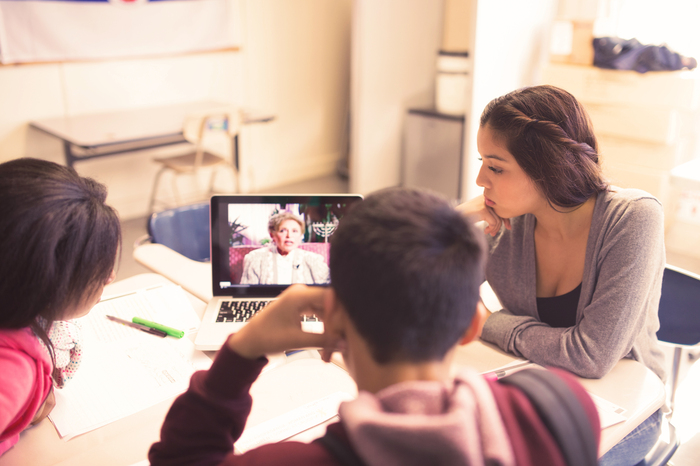 Third a Content