BLOG


The advent of the XXIII Olympic Winter Games gives educators the opportunity to discuss this event's influence in advancing mutual respect and understanding across the world. It is also an opportunity to examine how events like the Olympics are not immune to bias and injustice toward groups and individuals. This prejudice was especially evident at the Berlin, Germany 1936 Summer Olympics when Nazi ideology was taking hold in Germany.
View more +
Leading up to the Games, many countries, including the United States, considered boycotting the Olympics in protest of Nazi persecution of German-Jewish athletes like Margaret Lambert. However, many African-American leaders in the United States opposed the boycott, believing that the achievements of African-American athletes in Germany would challenge and delegitimize both the discriminatory policies in Germany and in the United States. The boycott did not occur, and in what many considered a controversial move, African-Americans Jesse Owens and Ralph Metcalfe replaced two American-Jewish runners, Marty Glickman and Sam Stoller, on the US 4x100-meter relay team.
Although the reason behind this last minute decision was never confirmed, Glickman has stated that his coaches feared the optics of two Jewish athletes standing on the winning podium under the Nazi flag.
While the 1936 Games were originally an opportunity for Germany to convince the world of their false notion of Aryan supremacy, in a moment of victory, African-American track and field athlete, Jesse Owens defied the Nazi's racist propaganda by winning four gold medals and breaking two Olympic records.
One would have hoped that Owens's achievements at the 1936 Games would have had a profound influence on combating antisemitism and racism; however, history has shown that his performance had no immediate influence on the fate of those affected by such ideology. Following the 1936 Olympics, Nazi influence continued to grow, and the US would not officially abolish Jim Crow laws until passage of the 1964 Civil Rights Act.
A sign of the times in which Owens lived; President Franklin D. Roosevelt did not meet with the athlete to congratulate him, which was customary for returning Olympic champions. It was not until 1976 that sitting US president Gerald Ford formally recognized Jesse Owens by awarding him the Presidential Medal of Freedom.
Later in his life, Jesse Owens's reflected on his homecoming:
"After I came home from the 1936 Olympics with my four medals, it became increasingly apparent that everyone was going to slap me on the back, want to shake my hand or have me up to their suite. But none was going to offer me a job."
The story of the 1936 Olympics provides an entry point for students to grapple with complex questions. Despite Jesse Owens's achievements, in the aftermath of the Games, why was he not given the same respect as other Olympic athletes? What prevented people from calling out the injustice and hypocrisy of Jim Crow, and why was no action taken by the world to prevent the Holocaust?
Such questions are not meant to undermine the determination of the few who were advocating for the freedoms of African Americans and Jews before, during, and following the Games. Yet, it is clear that the numbers were too few and progress too slow. This unfortunate delay in societal change makes it imperative to bring attention to the inaction that took place following the Games, in the classroom. We must give students the opportunity to explore the setbacks of this history so they can think critically about the world around them today, and make choices that will increase the pace in which freedom and equality are universally accessed.
For an in-depth look at how racism played a role at the 1936 Olympics explore this IWitness activity from our Partners at USC Shoah Foundation The Institute for Visual History and Education.
---




PREVIOUS POSTS
GET INVOLVED
FAQs
Professional Development Programs for Educators
Classroom Planning and Instruction
PRIVACY POLICY
Echoes & Reflections is committed to privacy. This privacy policy discloses our information gathering and dissemination practices for this website: www.echoesandreflections.org.
This site contains links to other sites. Echoes & Reflections is not responsible for the privacy practices or the content of such Web sites. This privacy statement applies solely to information collected by echoesandreflections.org.
GENERAL INFORMATION COLLECTION AND USE
Echoes & Reflections is the sole owner of the information collected on this site. We will not sell, share, or rent this information to others in ways different from what is disclosed in this statement. We collect information from our users at several different points on our website.
COOKIES AND WEBSITE ANALYTICS
Our site uses 'cookies'. A cookie is a piece of data stored on the user's hard drive containing information about the user. Usage of a cookie enables us to track and target the interests of our users to enhance the experience on our site, but is in no way linked to any personally identifiable information while on our site. If a user rejects the cookie, they may still use our site. The only drawback to this is that the user may be limited in some areas of our site (for example, certain surveys or other such activities).
We use Google Analytics to collect information about visitor traffic and behavior. This allows us to identify usage trends and to improve the performance and content of our websites.
We do not use this tool to collect or store your personal information, and it cannot be used to identify who you are. You can use the
Google Analytics Opt-Out Browser Add-on
to disable tracking by Google Analytics.
We currently do not use technology that responds to do-not-track signals from your browser.
VARIOUS REGISTRATIONS
To receive certain updates, enroll in certain programs, or use certain features of our website, a user may have to first complete a registration form. During registration a user is required to give their contact information (such as name and e-mail address). This information is used to contact the user about the services on our site for which they have expressed interest.
NEWSLETTER
If a user wishes to subscribe to our newsletter, we ask for contact information such as name and e-mail address.
ORDERS
Our site uses an order form for customers to request certain products. We collect visitor's contact information (such as name, e-mail, and address). Contact information from the order form is used to send information about Echoes & Reflections to the users of our website. The customer's contact information is also used to get in touch with the visitor when necessary. This information is not shared or resold in any circumstance except as may be required by law.
Users may opt-out of receiving future mailings; see the choice/opt-out section below.
SHARING
We may share aggregated demographic information with our partners. This is not linked to any personal information that can identify any individual person.
We use an outside shipping company to ship orders. These companies are contractually prohibited from retaining, sharing, storing or using personally identifiable information for any secondary purposes.
We may partner with third parties to provide specific services. When a user signs up for these services, we will share names, or other contact information that is necessary for the third party to provide these services.
These parties are contractually prohibited from using personally identifiable information except for the purpose of providing these services.
SECURITY
Our website has security measures in place to protect against the loss, misuse and alteration of the information under our control. This includes a firewall and 24 hour monitoring of site activities by our hosting service provider as well as 128-bit SSL encryption (where allowable by law) on all transaction oriented operations between you and Echoes & Reflections via our transaction service provider. While we use SSL encryption to protect sensitive information online, we also do everything in our power to protect user-information off-line. All of our users' information, not just the sensitive information mentioned above, is restricted in our offices. Only employees who need the information to perform a specific job (for example, our billing clerk, a customer service representative, or database administrator) are granted access to personally identifiable information. Any time new policies are added, our employees are notified and/or reminded about the importance we place on privacy, and what they are required to do to ensure our customers ' information is protected. Finally, the servers that we use to store personally identifiable information on are kept in a secure environment.
CHOICE/OPT-OUT ONLINE & OFFLINE
The following options are available for removing information from our database to discontinue receiving future communications or our service.
1. You can unsubscribe or change your e-mail preferences online by following the link at the bottom of any e-mail you receive from Echoes & Reflections via HubSpot.
2. You can notify us by email at
info@echoesandreflections.org
of your desire to be removed from our e-mail list or contributor mailing list.
CONTACTING THE WEB SITE
If you have any questions about this privacy statement, the practices of our website or your interactions with the website, please send email us at
info@echoesandreflections.org
NOTIFICATION OF CHANGES
If we decide to change our privacy policy, we will post those changes here so our users are always aware of what information we collect, how we use it, and the circumstances, if any, we disclose it.
CONTENT USE GUIDELINES
Echoes & Reflections content is royalty free for use by educators and students. Individuals or institutions not affiliated with U.S. public, private or parochial schools or higher education institutions or who are located outside of the U.S. should contact us if they wish to publish and/or translate content from Echoes & Reflections. In all cases, proper credit must be given: "Reprinted with permission from Echoes & Reflection Partnership ©. All rights reserved." The copyright "Echoes & Reflections Partnership ©" is retained. Please send inquiries to
info@echoesandreflections.org
.
RESOURCE OVERVIEW
Echoes & Reflections delivers value to both experienced Holocaust educators who are supplementing their curricula and to teachers new to Holocaust education. Learn how to engage further with the important work of Echoes & Reflections by signing up
here.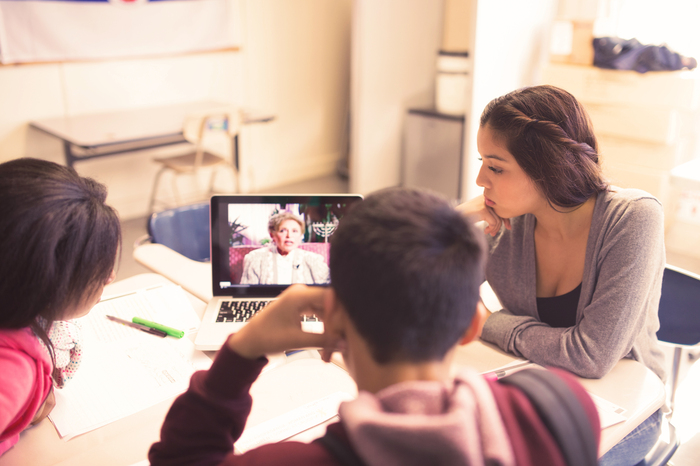 Third a Content