BLOG


As a teacher at Marjory Stoneman Douglas (MSD) High School in Parkland, Florida, who survived the tragedy on February 14, 2018, I have spent the past year grappling with this question. By definition, a survivor is a person who continues to function or prosper, in spite of opposition, hardships or setbacks. I have always been in awe of Holocaust Survivors. I tried, but for much of my life I could not fathom what they had been through. Every Holocaust Survivor has a unique experience, but all have suffered loss and terror beyond imagination. They are my true heroes and I think about them daily – the ones I've met in person, and through books and movies. Their will to live, attitude of perseverance, hope for future generations, and willingness to share their personal heart-wrenching stories, so we can learn from them and keep their lessons alive, is inspiring.
View more +
And yet, following the shooting, I felt guilty listening to others who called my fellow MSD teachers, my students and me "survivors." The survivors I've always associated with that word had nothing left after the war -  no family, no possessions, no therapy, no service dogs, no support. Many were often told to "shake it off, move on, try to forget it, make a NEW life!" But, like them, we did survive a tragedy that needs to be told.
The value of sharing Holocaust Survivors' stories and our own is very much motivated by my experience teaching a Holocaust course that was started at our school 5 years ago, to help students understand that the study of genocide is imperative to upholding world democracy. It is a yearlong course, divided into a History of the Holocaust semester and Literature of the Holocaust semester. There was no precedent for this class at our school, so the language arts teacher and I reached out for recommended resources from Echoes & Reflections. We based our curriculum on the comprehensive material in their original Teacher's Guide and on their website, which provides educators and students access to Holocaust Survivor video history testimony to teach the lessons of the Holocaust. Motivated by these lessons, over the past 5 years MSD High School has had numerous speakers, such as Holocaust Survivors, liberators, and WWII veterans come talk with our students about the impact of this important historical event. We make an annual spring luncheon for area Survivors where the students are hosts, servers, entertainers, and most importantly – listeners. We also hosted a Kristallnacht commemoration event in 2017 with a Holocaust Survivor Band and invited the entire community. In essence, we are continuously trying to expose the students and our community to the lessons of the Holocaust through a personal lens in the hopes that others understand that hate is NEVER okay, being a bystander is NOT okay, and that we must all learn to be upstanders. In many respects, these lessons are no different in the aftermath of the shooting at MSD.
I was teaching a Holocaust Studies course at MSD on February 14, 2018 in room 1214 on the first floor of the 1200 building, when a former MSD student began to shoot up our school. I have been teaching at MSD for 18 years and 10 of those years were spent in room 1214 – a Happy Learning Place for me and my students. The walls were adorned with posters of photos of Holocaust victims and there was a large yellow banner in the back of the room that stated: "We Will Never Forget". That banner was given to me by a Holocaust Survivor. Although this room was dedicated to honoring the atrocities of the past, it was also a room full of promise and hope.
That day, we began the 90-minute class with student presentations on how to combat hate and hate group tactics that may be present on their soon-to-be college campuses. We then moved on to an IWitness activity from the USC Shoah Foundation about the 1936 Olympics in Berlin and we watched testimony from German Jewish Athletes who were banned from participating. During the activity we started a discussion on important players during those Olympics and I asked if they knew Adi Dassler. Nicholas Dworet, a senior who just earned a swimming scholarship at the University of Indianapolis, knew it was the German shoemaker who started Adidas! We were all so impressed and he was smiling ear to ear, just as we heard loud shots in the hallway outside our classroom door.
The students immediately flew from their desks to find cover, in a classroom that had no Safe Space. Within seconds, the shooter was blasting his AR 15 into the glass window that runs vertically down the center of the door. The sound was deafening as the bullets flew through the glass randomly aiming at anything that moved. It was complete chaos. Students screamed while they watched their classmates, their friends, get hit with a barrage of bullets. The shooter wounded four of my students and murdered two beautiful souls, Nicholas Dworet, the star athlete, and Helena Ramsay, a beautiful young lady who stated at the beginning of the year that hate would someday be eradicated. They will never fulfill their dreams for the future, as those dreams died in the very class where they were learning how to combat hate. The lessons of the Holocaust came into room 1214.
Following the tragedy, the #NeverAgain movement was not a coincidence. The students over the years who took the Holocaust Studies course knew this slogan, studied this slogan and realized after this shooting, that it was up to them to make changes. Most of the March For Our Lives students learned the term "upstanders" in Room 1214. In part, this learning experience sparked a youth movement that is unstoppable, and my students have set an example for youth around the world. What they do matters! Following the tragedy, not taking action was NOT an option. Speaking out and speaking up on causes such as gun control, school safety, voter registration, and mental health reform has become a key focus in our community and many others have taken their leads from the students in Parkland.
So, like the Holocaust Survivors that we treasure, we too, have a story to tell and it becomes everyone's responsibility to pass it on. As you walk out the door of my new classroom – a portable among many temporarily placed on the outdoor basketball courts, you can't miss a very large Echoes & Reflections poster with a quote from the Nobel Laureate Elie Wiesel: "When you listen to a witness, you become a witness."
We now live by these words: "If we don't do it, who will? The world is watching."
About the Author: Ivy Schamis is a Social Studies teacher from Marjory Stoneman Douglas High School in Parkland, FL.
---




PREVIOUS POSTS
GET INVOLVED
FAQs
Professional Development Programs for Educators
Classroom Planning and Instruction
PRIVACY POLICY
Echoes & Reflections is committed to privacy. This privacy policy discloses our information gathering and dissemination practices for this website: www.echoesandreflections.org.
This site contains links to other sites. Echoes & Reflections is not responsible for the privacy practices or the content of such Web sites. This privacy statement applies solely to information collected by echoesandreflections.org.
GENERAL INFORMATION COLLECTION AND USE
Echoes & Reflections is the sole owner of the information collected on this site. We will not sell, share, or rent this information to others in ways different from what is disclosed in this statement. We collect information from our users at several different points on our website.
COOKIES AND WEBSITE ANALYTICS
Our site uses 'cookies'. A cookie is a piece of data stored on the user's hard drive containing information about the user. Usage of a cookie enables us to track and target the interests of our users to enhance the experience on our site, but is in no way linked to any personally identifiable information while on our site. If a user rejects the cookie, they may still use our site. The only drawback to this is that the user may be limited in some areas of our site (for example, certain surveys or other such activities).
We use Google Analytics to collect information about visitor traffic and behavior. This allows us to identify usage trends and to improve the performance and content of our websites.
We do not use this tool to collect or store your personal information, and it cannot be used to identify who you are. You can use the
Google Analytics Opt-Out Browser Add-on
to disable tracking by Google Analytics.
We currently do not use technology that responds to do-not-track signals from your browser.
VARIOUS REGISTRATIONS
To receive certain updates, enroll in certain programs, or use certain features of our website, a user may have to first complete a registration form. During registration a user is required to give their contact information (such as name and e-mail address). This information is used to contact the user about the services on our site for which they have expressed interest.
NEWSLETTER
If a user wishes to subscribe to our newsletter, we ask for contact information such as name and e-mail address.
ORDERS
Our site uses an order form for customers to request certain products. We collect visitor's contact information (such as name, e-mail, and address). Contact information from the order form is used to send information about Echoes & Reflections to the users of our website. The customer's contact information is also used to get in touch with the visitor when necessary. This information is not shared or resold in any circumstance except as may be required by law.
Users may opt-out of receiving future mailings; see the choice/opt-out section below.
SHARING
We may share aggregated demographic information with our partners. This is not linked to any personal information that can identify any individual person.
We use an outside shipping company to ship orders. These companies are contractually prohibited from retaining, sharing, storing or using personally identifiable information for any secondary purposes.
We may partner with third parties to provide specific services. When a user signs up for these services, we will share names, or other contact information that is necessary for the third party to provide these services.
These parties are contractually prohibited from using personally identifiable information except for the purpose of providing these services.
SECURITY
Our website has security measures in place to protect against the loss, misuse and alteration of the information under our control. This includes a firewall and 24 hour monitoring of site activities by our hosting service provider as well as 128-bit SSL encryption (where allowable by law) on all transaction oriented operations between you and Echoes & Reflections via our transaction service provider. While we use SSL encryption to protect sensitive information online, we also do everything in our power to protect user-information off-line. All of our users' information, not just the sensitive information mentioned above, is restricted in our offices. Only employees who need the information to perform a specific job (for example, our billing clerk, a customer service representative, or database administrator) are granted access to personally identifiable information. Any time new policies are added, our employees are notified and/or reminded about the importance we place on privacy, and what they are required to do to ensure our customers ' information is protected. Finally, the servers that we use to store personally identifiable information on are kept in a secure environment.
CHOICE/OPT-OUT ONLINE & OFFLINE
The following options are available for removing information from our database to discontinue receiving future communications or our service.
1. You can unsubscribe or change your e-mail preferences online by following the link at the bottom of any e-mail you receive from Echoes & Reflections via HubSpot.
2. You can notify us by email at
info@echoesandreflections.org
of your desire to be removed from our e-mail list or contributor mailing list.
CONTACTING THE WEB SITE
If you have any questions about this privacy statement, the practices of our website or your interactions with the website, please send email us at
info@echoesandreflections.org
NOTIFICATION OF CHANGES
If we decide to change our privacy policy, we will post those changes here so our users are always aware of what information we collect, how we use it, and the circumstances, if any, we disclose it.
CONTENT USE GUIDELINES
Echoes & Reflections content is royalty free for use by educators and students. Individuals or institutions not affiliated with U.S. public, private or parochial schools or higher education institutions or who are located outside of the U.S. should contact us if they wish to publish and/or translate content from Echoes & Reflections. In all cases, proper credit must be given: "Reprinted with permission from Echoes & Reflection Partnership ©. All rights reserved." The copyright "Echoes & Reflections Partnership ©" is retained. Please send inquiries to
info@echoesandreflections.org
.
RESOURCE OVERVIEW
Echoes & Reflections delivers value to both experienced Holocaust educators who are supplementing their curricula and to teachers new to Holocaust education. Learn how to engage further with the important work of Echoes & Reflections by signing up
here.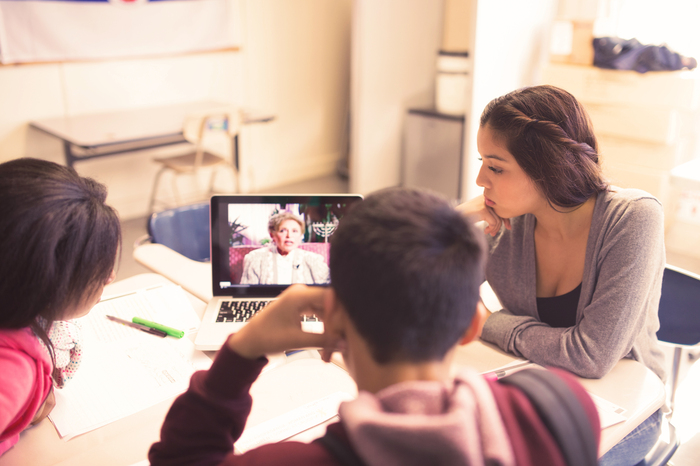 Third a Content