BLOG


"In two years of combat you can imagine I have seen a lot of death […] but nothing has ever stirred me as much as this […] how could people do things like that? I never believed they could, until now."

- US Staff Sergeant Horace Evers, among the liberators of Dachau, from a letter home featured in Echoes & Reflections
View more +
The liberators of the Nazi camps were young soldiers — many no older than 18 or 19 years old. They were the first outside witnesses to come face to face with the evidence of the monstrous crimes committed by the Nazis and their collaborators against civilians.
Their testimony is qualitatively different from that of survivors of the Holocaust. They had seen their buddies killed in war – they were all too familiar with death and destruction. But the scenes they saw as they liberated the camps were unlike their military experiences. They were suddenly and unexpectedly forced to become witnesses to horrific atrocities. This was a different kind of trauma. Their reactions ranged from shock to disgust to rage. Their "why remember?" comes from this place and this witnessing.
In November, I had the privilege of hearing Alan Moskin speak. Mr. Moskin was part of General George Patton's Third Army. He fought in the Rhineland campaign through France, Germany and Austria. When the Nazis surrendered he was not yet 19. When I heard him speak he was 92 years old, yet the memories were still fresh. He liberated Gunskirchen, a subcamp of Mauthausen, on May 4, 1945.
Mr. Moskin spoke quietly of the overpowering stench and the thousands of corpses and the barbed wire, as though he could still see them. He spoke with great compassion for the skeletal survivors (the "poor souls", as he called them) who were so hungry that they ate the tobacco from the cigarettes the soldiers gave them; who were so thankful that they tried to kiss his boots though they were caked with blood and feces; who were so covered with lice and filth and open sores that they literally reeked. He remembered his captain screaming into a walkie-talkie, "Get help up here, GET HELP!" He remembered feeling weak in the knees and, overcome with emotion, crying.
Mr. Moskin spoke in memory of the 6 million murdered Jews and the others who were persecuted. He also paid tribute to "his own band of brothers" who, as he said, made the ultimate sacrifice. He purposely, purposefully recited each of their names, rapping on a table for emphasis with every name he pronounced: Tex, Jimbo, Muzzy, RJ, Bulldog, Schoolboy, LZ, Rebel, Gonzo, Tony C., Tommy, who was blown to pieces by a mortar shell right before his eyes, and Captain B., the captain he loved, who jumped on a live grenade to protect his squad.
Alan Moskin's was a different kind of testimony than those I've heard from Holocaust survivors. But even if his "why remember?" comes from a different place and a different experience, its goal is the same: not to let any of this be forgotten, "for the sake of humanity and everything decent and just in the world."
I repeat his words here because they made a profound impression on me. They came from his heart.
"I speak here today for each one of those poor souls who was slaughtered by the Nazis, and each one of my buddies and all the other GIs who made the ultimate sacrifice. They can't speak anymore but dammit I can and I will. I'll speak out as long as God gives me the strength to do so. I feel that I'm their messenger. The message is that there was a Holocaust. I bear witness. It occurred. I saw it. I want these young people that I speak to, to be my witness. I don't want them to forget. There are deniers out there now and when we're gone who knows what they're gonna say. That the Jews made it up? That it didn't happen? Well it did happen. And I want these young people to bear witness for me. It's been said many times that those who forget the events of the past are doomed to repeat them."
International Holocaust Remembrance Day is commemorated on January 27th, the date in 1945 on which Auschwitz-Birkenau, the largest Nazi concentration and death camp, was liberated. The UN tied commemoration of the Holocaust to this important milestone of liberation. UN Secretary-General Ban Ki-Moon stated in 2008 that the essence of this Remembrance Day is a twofold approach: one that deals with the memory and remembrance of those who were massacred during the Holocaust, and the other that goes beyond remembrance to educate future generations of its horrors.
This is exactly the "why remember?" message of Alan Moskin's testimony and that of other liberators like the ones featured in the Echoes & Reflections toolbox film, "Liberators and Survivors: The First Moments." There are still liberators among us. We must listen to their stories and share them with our classrooms and communities while we still have the chance to hear them.
About the Author: Sheryl Ochayon is the Project Director for Echoes & Reflections at Yad Vashem.
---




PREVIOUS POSTS
GET INVOLVED
FAQs
Professional Development Programs for Educators
Classroom Planning and Instruction
PRIVACY POLICY
Echoes & Reflections is committed to privacy. This privacy policy discloses our information gathering and dissemination practices for this website: www.echoesandreflections.org.
This site contains links to other sites. Echoes & Reflections is not responsible for the privacy practices or the content of such Web sites. This privacy statement applies solely to information collected by echoesandreflections.org.
GENERAL INFORMATION COLLECTION AND USE
Echoes & Reflections is the sole owner of the information collected on this site. We will not sell, share, or rent this information to others in ways different from what is disclosed in this statement. We collect information from our users at several different points on our website.
COOKIES AND WEBSITE ANALYTICS
Our site uses 'cookies'. A cookie is a piece of data stored on the user's hard drive containing information about the user. Usage of a cookie enables us to track and target the interests of our users to enhance the experience on our site, but is in no way linked to any personally identifiable information while on our site. If a user rejects the cookie, they may still use our site. The only drawback to this is that the user may be limited in some areas of our site (for example, certain surveys or other such activities).
We use Google Analytics to collect information about visitor traffic and behavior. This allows us to identify usage trends and to improve the performance and content of our websites.
We do not use this tool to collect or store your personal information, and it cannot be used to identify who you are. You can use the
Google Analytics Opt-Out Browser Add-on
to disable tracking by Google Analytics.
We currently do not use technology that responds to do-not-track signals from your browser.
VARIOUS REGISTRATIONS
To receive certain updates, enroll in certain programs, or use certain features of our website, a user may have to first complete a registration form. During registration a user is required to give their contact information (such as name and e-mail address). This information is used to contact the user about the services on our site for which they have expressed interest.
NEWSLETTER
If a user wishes to subscribe to our newsletter, we ask for contact information such as name and e-mail address.
ORDERS
Our site uses an order form for customers to request certain products. We collect visitor's contact information (such as name, e-mail, and address). Contact information from the order form is used to send information about Echoes & Reflections to the users of our website. The customer's contact information is also used to get in touch with the visitor when necessary. This information is not shared or resold in any circumstance except as may be required by law.
Users may opt-out of receiving future mailings; see the choice/opt-out section below.
SHARING
We may share aggregated demographic information with our partners. This is not linked to any personal information that can identify any individual person.
We use an outside shipping company to ship orders. These companies are contractually prohibited from retaining, sharing, storing or using personally identifiable information for any secondary purposes.
We may partner with third parties to provide specific services. When a user signs up for these services, we will share names, or other contact information that is necessary for the third party to provide these services.
These parties are contractually prohibited from using personally identifiable information except for the purpose of providing these services.
SECURITY
Our website has security measures in place to protect against the loss, misuse and alteration of the information under our control. This includes a firewall and 24 hour monitoring of site activities by our hosting service provider as well as 128-bit SSL encryption (where allowable by law) on all transaction oriented operations between you and Echoes & Reflections via our transaction service provider. While we use SSL encryption to protect sensitive information online, we also do everything in our power to protect user-information off-line. All of our users' information, not just the sensitive information mentioned above, is restricted in our offices. Only employees who need the information to perform a specific job (for example, our billing clerk, a customer service representative, or database administrator) are granted access to personally identifiable information. Any time new policies are added, our employees are notified and/or reminded about the importance we place on privacy, and what they are required to do to ensure our customers ' information is protected. Finally, the servers that we use to store personally identifiable information on are kept in a secure environment.
CHOICE/OPT-OUT ONLINE & OFFLINE
The following options are available for removing information from our database to discontinue receiving future communications or our service.
1. You can unsubscribe or change your e-mail preferences online by following the link at the bottom of any e-mail you receive from Echoes & Reflections via HubSpot.
2. You can notify us by email at
info@echoesandreflections.org
of your desire to be removed from our e-mail list or contributor mailing list.
CONTACTING THE WEB SITE
If you have any questions about this privacy statement, the practices of our website or your interactions with the website, please send email us at
info@echoesandreflections.org
NOTIFICATION OF CHANGES
If we decide to change our privacy policy, we will post those changes here so our users are always aware of what information we collect, how we use it, and the circumstances, if any, we disclose it.
CONTENT USE GUIDELINES
Echoes & Reflections content is royalty free for use by educators and students. Individuals or institutions not affiliated with U.S. public, private or parochial schools or higher education institutions or who are located outside of the U.S. should contact us if they wish to publish and/or translate content from Echoes & Reflections. In all cases, proper credit must be given: "Reprinted with permission from Echoes & Reflection Partnership ©. All rights reserved." The copyright "Echoes & Reflections Partnership ©" is retained. Please send inquiries to
info@echoesandreflections.org
.
RESOURCE OVERVIEW
Echoes & Reflections delivers value to both experienced Holocaust educators who are supplementing their curricula and to teachers new to Holocaust education. Learn how to engage further with the important work of Echoes & Reflections by signing up
here.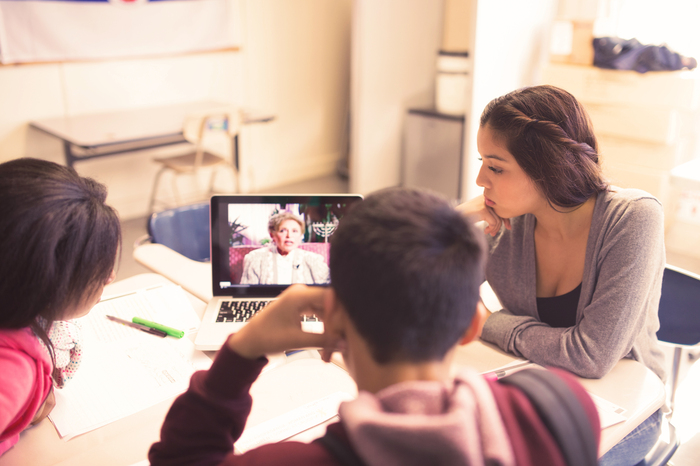 Third a Content