BLOG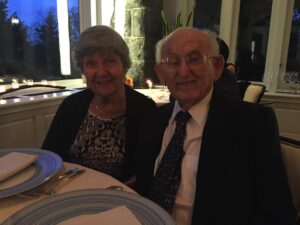 After surviving the Holocaust, then living an extraordinary life, my grandfather, Herschel (Hersi) Zelovic, lost his life to Covid-19 on November 11th at the age of 93. On this day, my grandfather was one of the 1,431 Covid-related deaths in the United States. As I am writing this blog—not even three months after his death—there have been more than 400,000 reported deaths nation-wide due to this terrifying disease.
View more +
Both of my maternal grandparents survived the Holocaust, and it is their history and experiences during this tragedy, retold to me over time, which influenced and inspired me to pursue a career in Holocaust education. And, just as Echoes & Reflections pedagogy emphasizes the importance of translating numbers from the Holocaust into personal stories to promote empathy and understanding, I am committed to keeping my grandfather's story alive, and ensuring that his death is not just an awful statistic from the Covid-19 pandemic. In fact, my pursuit to tell his story began long before his unfortunate passing.
As a young adult, my mother asked my grandfather to write down his memories of his hometown, his childhood, and his experiences during the Holocaust so that she could one day share them with her own children. In response to his daughter's wish, on September 20, 1982, my grandfather began writing what became 153 pages of testimony. On April 27, 2005, my three sisters and I presented my grandfather with a typed up, bound version of his memoir, with the dedication, "On the 60th anniversary of your liberation day… you have lived a life of strength and perseverance, filled with undying love for your family. You are a model to all of us."
As we approach International Holocaust Remembrance Day—the anniversary of the liberation of Auschwitz-Birkenau, I recall that for my grandfather, the pivotal event of liberation was the turning point that opened up the possibility of a fulfilling life. It is the part of his story I remember most vividly. It stands out most to me because of the clarity, emotion, and passion with which he himself tells about the experience. It also highlights for me that his ability to pass down his story firsthand provides me with the privilege – and the responsibility - to tell his story and share my memories in his absence.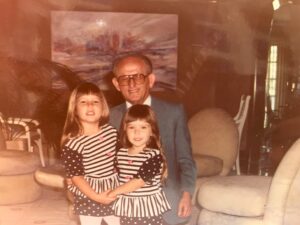 In an effort to remind myself of all the details of my grandfather's experiences during the Holocaust, I turn to his autobiography again. I also look at old photos and at recent photos, I watch old film and new video, I laugh and cry with family, I watch video testimony and reread his written testimony – all to build a complete story that I can share with my children, as well as with friends, colleagues, and with the wider community of Echoes & Reflections educators.
My Grandfather's Story
Herschel (Hersi) Zelovic was born in 1927 in Munkacs, Czechoslovakia, to a large family of eight children. In 1938, the Hungarians occupied Munkacs and that is when restrictions against Jewish-owned businesses began and displays of antisemitism grew.
In March 1944, the Nazis occupied Munkacs. Two weeks later, boys and men over ten years old were forced to build the ghetto in town. Then after a few weeks, my grandfather was sent on a train to Auschwitz with his family.
After 11 days in Auschwitz, my grandfather was sent to Warsaw to clean up the damage after the Warsaw Ghetto Uprising. He was then sent to Dachau to build a railroad and an underground factory and rebuild bombed railroads in Munich. While he was separated from his parents at their arrival in Auschwitz, my grandfather and his brother, my great-uncle Willy, surprisingly were never separated, which gave them both hope and the will to survive.
In April 1945, rumors went around that the American army was getting closer and so camp guards rounded the prisoners up and loaded them onto a train. A German military train pulled up next to the train full of prisoners in the hopes that the incoming air raid would not attack with a civilian train nearby.
However, airplanes appeared and shooting began. The prisoners were ordered off the train and with all the commotion, my grandfather, his brother, and twelve other prisoners escaped into the forest together. After walking into the evening, the group fell asleep and were awoken by an SS officer who ordered them to walk to the nearby village.
The SS officer left the group with the mayor and then went to round up more runaway prisoners. In fear of spreading Typhoid fever to the town, the mayor advised my grandfather's group to run toward the American army who would help them.
On their way, they found a deserted looking farm and spent a few nights in the hayloft. They shared the boiled potatoes with the pigs until they were discovered by a kind woman who began bringing them hot soup, milk, cheese, and bread. Once the German army pulled out of the area, my grandfather and his friends were able to walk around freely. American soldiers then entered the town and the group was taken to a hospital to recuperate and recover.
In my mind, what happened next is the most beautiful part of the story… the journey through liberation.
Hersi and Willy discovered that seven out of eight siblings had miraculously survived! After the war, one went to Brazil, several to Palestine, and three to England. My grandfather went to England and lived in a home for orphaned boys. There, he met and fell in love with my grandmother Renate, who had come to England from Germany on the Kindertransport when she was six years old.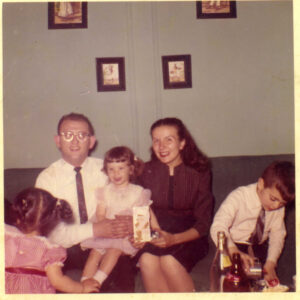 They married and moved to New York City, surrounded by family and friends from Europe. They built a happy life together; my mother was born, then there were grandkids, and two great-grandchildren – a life and legacy made possible after liberation.
_ _ _ _ _ _ _ _ _ _ _ _ _
Although I am deeply saddened by my grandfather's passing, this loss only further motivates me to keep his story alive through my work in Holocaust education. With the dwindling population of Holocaust survivors still with us, it is the responsibility of the second generation, third generation, and educators to share personal stories from the Holocaust.
It is my wish that you will pass on my grandfather's story and those of other survivors to bring lessons of hope and resilience to future generations, as well as to provide a cautionary tale for allowing antisemitism and hate to flourish in society.
To support your teaching about liberation and the experiences of survivors, access Echoes & Reflections lesson plans on these topics here.
About the author: Ariel Behrman is ADL's Director of Echoes & Reflections. Ariel received her undergraduate degree in Religion Studies at Lehigh University with a focus on Holocaust history and education and sat on the committee to choose the first Holocaust education chair at the university. Ariel lives in New Jersey with her husband Adam, her two daughters Sadie and Olivia, and two puppies Moana and Zeus.
---




PREVIOUS POSTS
GET INVOLVED
FAQs
Professional Development Programs for Educators
Classroom Planning and Instruction
PRIVACY POLICY
Echoes & Reflections is committed to privacy. This privacy policy discloses our information gathering and dissemination practices for this website: www.echoesandreflections.org.
This site contains links to other sites. Echoes & Reflections is not responsible for the privacy practices or the content of such Web sites. This privacy statement applies solely to information collected by echoesandreflections.org.
GENERAL INFORMATION COLLECTION AND USE
Echoes & Reflections is the sole owner of the information collected on this site. We will not sell, share, or rent this information to others in ways different from what is disclosed in this statement. We collect information from our users at several different points on our website.
COOKIES AND WEBSITE ANALYTICS
Our site uses 'cookies'. A cookie is a piece of data stored on the user's hard drive containing information about the user. Usage of a cookie enables us to track and target the interests of our users to enhance the experience on our site, but is in no way linked to any personally identifiable information while on our site. If a user rejects the cookie, they may still use our site. The only drawback to this is that the user may be limited in some areas of our site (for example, certain surveys or other such activities).
We use Google Analytics to collect information about visitor traffic and behavior. This allows us to identify usage trends and to improve the performance and content of our websites.
We do not use this tool to collect or store your personal information, and it cannot be used to identify who you are. You can use the
Google Analytics Opt-Out Browser Add-on
to disable tracking by Google Analytics.
We currently do not use technology that responds to do-not-track signals from your browser.
VARIOUS REGISTRATIONS
To receive certain updates, enroll in certain programs, or use certain features of our website, a user may have to first complete a registration form. During registration a user is required to give their contact information (such as name and e-mail address). This information is used to contact the user about the services on our site for which they have expressed interest.
NEWSLETTER
If a user wishes to subscribe to our newsletter, we ask for contact information such as name and e-mail address.
ORDERS
Our site uses an order form for customers to request certain products. We collect visitor's contact information (such as name, e-mail, and address). Contact information from the order form is used to send information about Echoes & Reflections to the users of our website. The customer's contact information is also used to get in touch with the visitor when necessary. This information is not shared or resold in any circumstance except as may be required by law.
Users may opt-out of receiving future mailings; see the choice/opt-out section below.
SHARING
We may share aggregated demographic information with our partners. This is not linked to any personal information that can identify any individual person.
We use an outside shipping company to ship orders. These companies are contractually prohibited from retaining, sharing, storing or using personally identifiable information for any secondary purposes.
We may partner with third parties to provide specific services. When a user signs up for these services, we will share names, or other contact information that is necessary for the third party to provide these services.
These parties are contractually prohibited from using personally identifiable information except for the purpose of providing these services.
SECURITY
Our website has security measures in place to protect against the loss, misuse and alteration of the information under our control. This includes a firewall and 24 hour monitoring of site activities by our hosting service provider as well as 128-bit SSL encryption (where allowable by law) on all transaction oriented operations between you and Echoes & Reflections via our transaction service provider. While we use SSL encryption to protect sensitive information online, we also do everything in our power to protect user-information off-line. All of our users' information, not just the sensitive information mentioned above, is restricted in our offices. Only employees who need the information to perform a specific job (for example, our billing clerk, a customer service representative, or database administrator) are granted access to personally identifiable information. Any time new policies are added, our employees are notified and/or reminded about the importance we place on privacy, and what they are required to do to ensure our customers ' information is protected. Finally, the servers that we use to store personally identifiable information on are kept in a secure environment.
CHOICE/OPT-OUT ONLINE & OFFLINE
The following options are available for removing information from our database to discontinue receiving future communications or our service.
1. You can unsubscribe or change your e-mail preferences online by following the link at the bottom of any e-mail you receive from Echoes & Reflections via HubSpot.
2. You can notify us by email at
info@echoesandreflections.org
of your desire to be removed from our e-mail list or contributor mailing list.
CONTACTING THE WEB SITE
If you have any questions about this privacy statement, the practices of our website or your interactions with the website, please send email us at
info@echoesandreflections.org
NOTIFICATION OF CHANGES
If we decide to change our privacy policy, we will post those changes here so our users are always aware of what information we collect, how we use it, and the circumstances, if any, we disclose it.
CONTENT USE GUIDELINES
Echoes & Reflections content is royalty free for use by educators and students. Individuals or institutions not affiliated with U.S. public, private or parochial schools or higher education institutions or who are located outside of the U.S. should contact us if they wish to publish and/or translate content from Echoes & Reflections. In all cases, proper credit must be given: "Reprinted with permission from Echoes & Reflection Partnership ©. All rights reserved." The copyright "Echoes & Reflections Partnership ©" is retained. Please send inquiries to
info@echoesandreflections.org
.
RESOURCE OVERVIEW
Echoes & Reflections delivers value to both experienced Holocaust educators who are supplementing their curricula and to teachers new to Holocaust education. Learn how to engage further with the important work of Echoes & Reflections by signing up
here.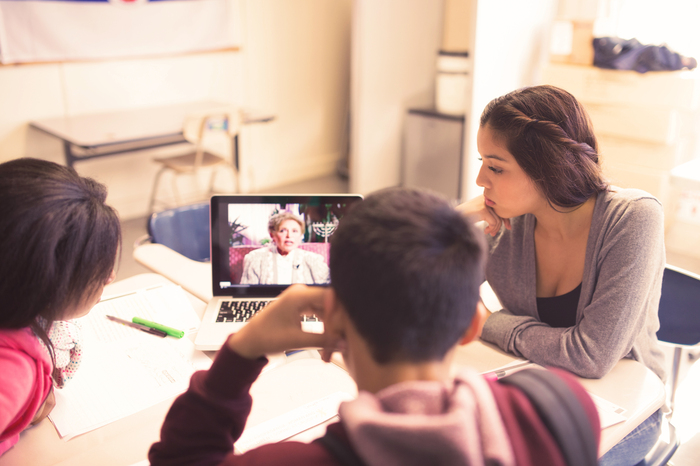 Third a Content