BLOG


This piece was originally published in The English Pub (April 2020 Newsletter, pg 22-23).
View more +
In March, in the middle of the virus onset, conferences I had planned to attend began cancelling. Papers I'd workshopped with friends were put on hold, and opportunities to reconnect with colleagues and reinvigorate my inspiration to teach evaporated. It was about that time that I remembered the Echoes & Reflections organization I'd learned about at an NCTE convention. I'm always shy about undertaking new adventures alone, so I talked it over with a friend who teaches mathematics and together we embarked on an April training course in Teaching the Holocaust: Empowering Students.
I know quite a bit about the British Civil War and Victorian cultural shifts, but I know embarrassingly zip about 20th century history, so I had a lot to learn. I'd never puzzled over the meaning of the term "antisemitism" before. I didn't realize that Jews weren't allowed to be teachers. I wasn't aware that a vast archive of firsthand records and artifacts is available to those who incorporate Holocaust studies in their classroom curriculum.
In this course designed primarily for middle and high school teachers, I was able to identify the connections I need to make in my university classes—to Shakespeare plays, to William Blake's Romantic poetry, and to John Ruskin's declarations that architecture tells the story of a culture if we read it with care and attention.
I learned about "bystanders" and "liberators" and the importance of defining such terms for students who are investigating Holocaust history for what may be their first encounter. I made note of the Glossary of terms Echoes & Reflections provides. I dove into the vast video archive and watched Paul Parks tell his story about meeting a woman who remembered him and his kindness from when she was a little girl in Dachau concentration camp and he was a soldier in uniform come to save her. His words, quoting hers, "I know you by your eyes" still echo in my soul as testimony of the importance of showing compassion to every child we encounter.
I learned about the Kindertransport that saved Jewish children by tearing families apart. I found a ready link to the Geneva Declaration of the Rights of the Child. I examined the Pedagogical Principles for Effective Holocaust Instruction and considered their insistence that teachers Use Primary Source Materials, Encourage Inquiry-Based Learning and Critical Thinking, and Foster Empathy. These sound pedagogical approaches adapt readily to all that ELA teachers in Arkansas attempt in our classrooms, so the effectiveness of this direction rings true.
I took part in these webcasts: "`Who Will Write Our History?': A Special Conversation with Director Roberta Grossman," "Mindful Exploration: Resilience in Times of Change," and "Echoes of Night: Personal Reflections from Elie Wiesel's Student." I connected with IWitness, part of the USC Shoah Foundation, and learned to create assignments there enabling students to access a wealth of video testimonials recording the accounts of witnesses.
There was no way to plumb the vast extent of free resources available to teachers in the three weeks I had, particularly as one of them was spent dodging tornadoes and without electricity and the other two were spent navigating my students' transition to online learning and modifying and implementing my formula for assessing their performance. Final grades, after all, were due before the work for my course was complete. Nevertheless, I got a glimpse of the possibilities, and I have the summer before me.
I made note of the upcoming webcast Sherry Bard will offer on July 1st, "Creating Context for Teaching Night" and have bookmarked the link to other upcoming webcasts sponsored by Echoes & Reflections. Whether we directly teach Holocaust studies in our curriculum or not, developing a sensitivity to the topic and a sympathetic means of introducing it to students is essential to helping them understand the importance of an empathetic response to the world they live in.
The information I gleaned from my participation in the course has implications in my own classrooms as I teach research skills, composition, world literature, Shakespeare, and other courses. It will help me discuss the importance of developing communication skills and the responsibilities that come with education. It will help me explore with my students the importance of recognizing and defending the humanity of every child. It will enable me to share with them the power of voice that a treasury of records and primary documents provides, and it will highlight the wonder of memory.
ELA classrooms in Arkansas, or their virtual cousins, can feel a world away from the gritty realities of concentration camps in World War II Eastern Europe, but we have local the relics of Japanese internment camps in Jerome to remind us and reason enough to thank God the outcomes of those moments in Arkansas history differed from those of the Jews during the Holocaust.
About the author: Dr. Kay Walter is a Professor of English at University of Arkansas at Monticello. She can be contacted at walter@uamont.edu
---




PREVIOUS POSTS
GET INVOLVED
FAQs
Professional Development Programs for Educators
Classroom Planning and Instruction
PRIVACY POLICY
Echoes & Reflections is committed to privacy. This privacy policy discloses our information gathering and dissemination practices for this website: www.echoesandreflections.org.
This site contains links to other sites. Echoes & Reflections is not responsible for the privacy practices or the content of such Web sites. This privacy statement applies solely to information collected by echoesandreflections.org.
GENERAL INFORMATION COLLECTION AND USE
Echoes & Reflections is the sole owner of the information collected on this site. We will not sell, share, or rent this information to others in ways different from what is disclosed in this statement. We collect information from our users at several different points on our website.
COOKIES AND WEBSITE ANALYTICS
Our site uses 'cookies'. A cookie is a piece of data stored on the user's hard drive containing information about the user. Usage of a cookie enables us to track and target the interests of our users to enhance the experience on our site, but is in no way linked to any personally identifiable information while on our site. If a user rejects the cookie, they may still use our site. The only drawback to this is that the user may be limited in some areas of our site (for example, certain surveys or other such activities).
We use Google Analytics to collect information about visitor traffic and behavior. This allows us to identify usage trends and to improve the performance and content of our websites.
We do not use this tool to collect or store your personal information, and it cannot be used to identify who you are. You can use the
Google Analytics Opt-Out Browser Add-on
to disable tracking by Google Analytics.
We currently do not use technology that responds to do-not-track signals from your browser.
VARIOUS REGISTRATIONS
To receive certain updates, enroll in certain programs, or use certain features of our website, a user may have to first complete a registration form. During registration a user is required to give their contact information (such as name and e-mail address). This information is used to contact the user about the services on our site for which they have expressed interest.
NEWSLETTER
If a user wishes to subscribe to our newsletter, we ask for contact information such as name and e-mail address.
ORDERS
Our site uses an order form for customers to request certain products. We collect visitor's contact information (such as name, e-mail, and address). Contact information from the order form is used to send information about Echoes & Reflections to the users of our website. The customer's contact information is also used to get in touch with the visitor when necessary. This information is not shared or resold in any circumstance except as may be required by law.
Users may opt-out of receiving future mailings; see the choice/opt-out section below.
SHARING
We may share aggregated demographic information with our partners. This is not linked to any personal information that can identify any individual person.
We use an outside shipping company to ship orders. These companies are contractually prohibited from retaining, sharing, storing or using personally identifiable information for any secondary purposes.
We may partner with third parties to provide specific services. When a user signs up for these services, we will share names, or other contact information that is necessary for the third party to provide these services.
These parties are contractually prohibited from using personally identifiable information except for the purpose of providing these services.
SECURITY
Our website has security measures in place to protect against the loss, misuse and alteration of the information under our control. This includes a firewall and 24 hour monitoring of site activities by our hosting service provider as well as 128-bit SSL encryption (where allowable by law) on all transaction oriented operations between you and Echoes & Reflections via our transaction service provider. While we use SSL encryption to protect sensitive information online, we also do everything in our power to protect user-information off-line. All of our users' information, not just the sensitive information mentioned above, is restricted in our offices. Only employees who need the information to perform a specific job (for example, our billing clerk, a customer service representative, or database administrator) are granted access to personally identifiable information. Any time new policies are added, our employees are notified and/or reminded about the importance we place on privacy, and what they are required to do to ensure our customers ' information is protected. Finally, the servers that we use to store personally identifiable information on are kept in a secure environment.
CHOICE/OPT-OUT ONLINE & OFFLINE
The following options are available for removing information from our database to discontinue receiving future communications or our service.
1. You can unsubscribe or change your e-mail preferences online by following the link at the bottom of any e-mail you receive from Echoes & Reflections via HubSpot.
2. You can notify us by email at
info@echoesandreflections.org
of your desire to be removed from our e-mail list or contributor mailing list.
CONTACTING THE WEB SITE
If you have any questions about this privacy statement, the practices of our website or your interactions with the website, please send email us at
info@echoesandreflections.org
NOTIFICATION OF CHANGES
If we decide to change our privacy policy, we will post those changes here so our users are always aware of what information we collect, how we use it, and the circumstances, if any, we disclose it.
CONTENT USE GUIDELINES
Echoes & Reflections content is royalty free for use by educators and students. Individuals or institutions not affiliated with U.S. public, private or parochial schools or higher education institutions or who are located outside of the U.S. should contact us if they wish to publish and/or translate content from Echoes & Reflections. In all cases, proper credit must be given: "Reprinted with permission from Echoes & Reflection Partnership ©. All rights reserved." The copyright "Echoes & Reflections Partnership ©" is retained. Please send inquiries to
info@echoesandreflections.org
.
RESOURCE OVERVIEW
Echoes & Reflections delivers value to both experienced Holocaust educators who are supplementing their curricula and to teachers new to Holocaust education. Learn how to engage further with the important work of Echoes & Reflections by signing up
here.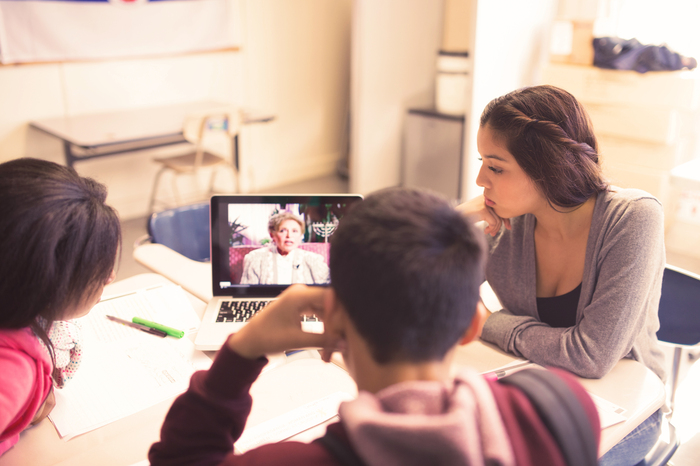 Third a Content