BLOG


"It's not like I had a natural talent for athletics… It was just plain fun." – Margaret Lambert
View more +
Born Gretel Bergmann on April 12, 1914, Lambert achieved the German high jump record in 1931 and, as a young athlete, was committed to pursuing a career in athletics. In her 1995 interview with the USC Shoah Foundation, Lambert shared that with the Nazi rise to power, "Everything changed. People that you knew wouldn't talk to you anymore," and Lambert was excluded from organized sports because she was Jewish.
"Teaching with Margaret's testimony, and sharing her story with students, adds a unique dimension and depth to learning about the Holocaust," shares Robert Adler, a history, special education, and English teacher at Berks County Intermediate Unit in Pennsylvania. "Here is somebody who actually lived the experience," he says, emphasizing that her unprecedented athletic career and discussion about life under the Nazi dictatorship is a powerful introduction for students to the study of the Holocaust, and the complexity of persecution, bias, and antisemitism.  
"In my classroom, we talk about Margaret's life, how affected she was by the prejudice she faced, and the injustice of what she experienced. Margaret's testimony brings light to the fear and trepidation people felt when the Nazis took over, people's responses, and the way they changed their behavior. Suddenly her friends were not her friends. It is an experience that is relatable for today's kids…"
In her testimony, Lambert explains that in an effort to continue her career she moved to the United Kingdom where, in 1934 she won the British high jump Championship with a height of 1.55 meters. However, under the pressure of an international boycott of the 1936 Olympics in protest of Germany's treatment of Jewish athletes, the Nazi dictatorship exerted pressure on Lambert's family and she was forced to return to Germany. In what Lambert describes as a "charade," she was placed on the German Olympic team.
"The reason why I was put on the German Olympic team was that the Americans, the French, the English, they all wanted to boycott the 1936 Olympics in Berlin. I was the only Jewish athlete with world-class capabilities… If you can imagine what it feels like to compete in the Adolf Hitler stadium in front of only non-Jewish people who… didn't have very nice thoughts about me. What is this Jew doing there?"
One month prior to the opening of the 1936 Olympics, Lambert tied the German high jump record of 1.6 meters when she won the Württembergian Championship. However, with the boycott movement subdued and international teams enroute to participate in the Olympic games, the Nazi regime officially struck Lambert's accomplishment from the record books, and the German sports authorities removed her from the national team for under-performance.
Adler's students examine the challenges Lambert faced and are able to draw connections to behavior they have witnessed in their own lives. "The Holocaust is devastating, but Lambert's story encourages students to think critically about the way we behave toward one another and to take a hard look at what people can do, the strength of the human spirit, and to see the lessons we can learn from today."
"We talk about how Margaret fought as best she could not to give into the pressures she experienced and I emphasize that history is ongoing and active. My students are moved by her courage and they are inspired to act on what they see happening today."
Adler also highlights that a number of other historical themes are brought to the forefront when students learn about Lambert. "Born in 1914," Adler explains, "Her story is one about women's roles too. She broke the norm with her independent spirit and the way she preferred to dress in pants. She asked tough questions about why she should be relegated to a particular role. In the 1920's and 30's it couldn't have been easy. She wasn't about to let herself be typecast and that is powerful for my students."
Margaret Lambert's life story is one of perseverance, persistence, and strength. As a talented athlete she faced extraordinary challenges and did everything that she could to follow her dreams.
In 1937, Lambert immigrated to the United States where, determined to leave her German past behind, she Americanized her name to Margaret. That year, she won the US women's high jump and shot put championships, and in 1938, she again won the US high jump. She resigned from her career in sports after the outbreak of World War II.
Lambert married Bruno Lambert in 1937 and had two sons, Glen and Gary. She published a book about her experiences in 2004 entitled, By Leaps and Bounds and was featured in a 2004 HBO documentary Hitler's Pawn about her athletic career in Germany. Following her career in sports she became a physical therapist and, at the age of 102, Lambert currently lives in New York.
In recent years the German track and field association has worked to make amends. In 1995, a sports complex in Berlin was named in Lambert's honor. She and her husband were Germany's guests of honor at the 1995 torch lighting at the Olympics in Atlanta. And, in 1999, the Laupheim stadium that Lambert had been banned from in the 1930s was officially named after her. Lambert's 1936 German national record was officially restored in 2009.
Robert Adler has worked as an Alternative Education teacher at Berks County Intermediate Unit in Reading, PA since 2001.
---




PREVIOUS POSTS
GET INVOLVED
FAQs
Professional Development Programs for Educators
Classroom Planning and Instruction
PRIVACY POLICY
Echoes & Reflections is committed to privacy. This privacy policy discloses our information gathering and dissemination practices for this website: www.echoesandreflections.org.
This site contains links to other sites. Echoes & Reflections is not responsible for the privacy practices or the content of such Web sites. This privacy statement applies solely to information collected by echoesandreflections.org.
GENERAL INFORMATION COLLECTION AND USE
Echoes & Reflections is the sole owner of the information collected on this site. We will not sell, share, or rent this information to others in ways different from what is disclosed in this statement. We collect information from our users at several different points on our website.
COOKIES AND WEBSITE ANALYTICS
Our site uses 'cookies'. A cookie is a piece of data stored on the user's hard drive containing information about the user. Usage of a cookie enables us to track and target the interests of our users to enhance the experience on our site, but is in no way linked to any personally identifiable information while on our site. If a user rejects the cookie, they may still use our site. The only drawback to this is that the user may be limited in some areas of our site (for example, certain surveys or other such activities).
We use Google Analytics to collect information about visitor traffic and behavior. This allows us to identify usage trends and to improve the performance and content of our websites.
We do not use this tool to collect or store your personal information, and it cannot be used to identify who you are. You can use the
Google Analytics Opt-Out Browser Add-on
to disable tracking by Google Analytics.
We currently do not use technology that responds to do-not-track signals from your browser.
VARIOUS REGISTRATIONS
To receive certain updates, enroll in certain programs, or use certain features of our website, a user may have to first complete a registration form. During registration a user is required to give their contact information (such as name and e-mail address). This information is used to contact the user about the services on our site for which they have expressed interest.
NEWSLETTER
If a user wishes to subscribe to our newsletter, we ask for contact information such as name and e-mail address.
ORDERS
Our site uses an order form for customers to request certain products. We collect visitor's contact information (such as name, e-mail, and address). Contact information from the order form is used to send information about Echoes & Reflections to the users of our website. The customer's contact information is also used to get in touch with the visitor when necessary. This information is not shared or resold in any circumstance except as may be required by law.
Users may opt-out of receiving future mailings; see the choice/opt-out section below.
SHARING
We may share aggregated demographic information with our partners. This is not linked to any personal information that can identify any individual person.
We use an outside shipping company to ship orders. These companies are contractually prohibited from retaining, sharing, storing or using personally identifiable information for any secondary purposes.
We may partner with third parties to provide specific services. When a user signs up for these services, we will share names, or other contact information that is necessary for the third party to provide these services.
These parties are contractually prohibited from using personally identifiable information except for the purpose of providing these services.
SECURITY
Our website has security measures in place to protect against the loss, misuse and alteration of the information under our control. This includes a firewall and 24 hour monitoring of site activities by our hosting service provider as well as 128-bit SSL encryption (where allowable by law) on all transaction oriented operations between you and Echoes & Reflections via our transaction service provider. While we use SSL encryption to protect sensitive information online, we also do everything in our power to protect user-information off-line. All of our users' information, not just the sensitive information mentioned above, is restricted in our offices. Only employees who need the information to perform a specific job (for example, our billing clerk, a customer service representative, or database administrator) are granted access to personally identifiable information. Any time new policies are added, our employees are notified and/or reminded about the importance we place on privacy, and what they are required to do to ensure our customers ' information is protected. Finally, the servers that we use to store personally identifiable information on are kept in a secure environment.
CHOICE/OPT-OUT ONLINE & OFFLINE
The following options are available for removing information from our database to discontinue receiving future communications or our service.
1. You can unsubscribe or change your e-mail preferences online by following the link at the bottom of any e-mail you receive from Echoes & Reflections via HubSpot.
2. You can notify us by email at
info@echoesandreflections.org
of your desire to be removed from our e-mail list or contributor mailing list.
CONTACTING THE WEB SITE
If you have any questions about this privacy statement, the practices of our website or your interactions with the website, please send email us at
info@echoesandreflections.org
NOTIFICATION OF CHANGES
If we decide to change our privacy policy, we will post those changes here so our users are always aware of what information we collect, how we use it, and the circumstances, if any, we disclose it.
CONTENT USE GUIDELINES
Echoes & Reflections content is royalty free for use by educators and students. Individuals or institutions not affiliated with U.S. public, private or parochial schools or higher education institutions or who are located outside of the U.S. should contact us if they wish to publish and/or translate content from Echoes & Reflections. In all cases, proper credit must be given: "Reprinted with permission from Echoes & Reflection Partnership ©. All rights reserved." The copyright "Echoes & Reflections Partnership ©" is retained. Please send inquiries to
info@echoesandreflections.org
.
RESOURCE OVERVIEW
Echoes & Reflections delivers value to both experienced Holocaust educators who are supplementing their curricula and to teachers new to Holocaust education. Learn how to engage further with the important work of Echoes & Reflections by signing up
here.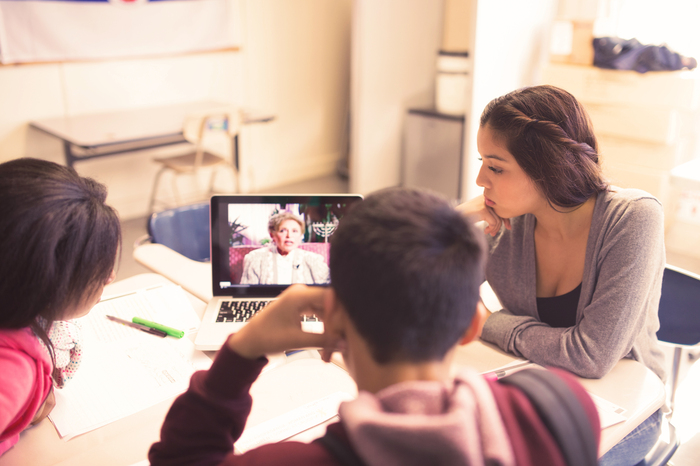 Third a Content