BLOG


Human Rights and Genocide Awareness Month offers a unique opportunity for educators to think about meaningful ways to raise complex and challenging topics with students.
View more +
In an effort to bring students, "safely in, and safely out," seasoned Echoes and Reflections' educators Kelly Bales and Tyrone Shaw discuss, "Where do I begin?" and share their different approaches to introducing students to the Holocaust and other genocides.
Where do I begin?
"When I speak with my students about the Holocaust and about genocide for the first time, it is hard to anticipate their reactions," Bales shares. "Will they be shocked? Interested? Horrified? I try to start the conversation about genocide with something that is relevant and familiar to my students…"
She notes that because students are familiar with human rights as a buzzword she starts there, and challenges them to identify examples where they think human rights have been violated. "We look at recent cases of young teens in urban areas… I bring in examples from history such as the internment of Japanese Americans during World War II. Together, we begin a dialogue about what factors contribute to human rights violations, which begins a longer discussion about the way our choices and actions today are influenced by the way we understand the Holocaust and other historical human rights abuses."
Shaw begins by asking his students to look within. "Who am I?" he asks, and challenges his students to consider, how studying the Holocaust and other genocides might inform their lives today. "My students encounter real life experiences of classism, sexism, and racism," Shaw explains. "But, they don't always have the tools or the language to talk about it… In my course, we develop those skills and explore the social construction of identity…" He adds that in starting with identity, his students gain a strong understanding that human rights abuses, the Holocaust, and genocide, don't "just happen." "They are the result of choice, prejudices, and a lot of people remaining silent."
Resources – Deepening the Conversation
Building on the conversation about human rights, Bales introduces her students to the Holocaust and other genocides. "I rely heavily on primary and secondary sources," Bales shares. "Echoes and Reflections is an excellent tool for any teacher in reaching students… I generally start with Lesson 2: Antisemitism. Students understand being discriminated against or targeted because of their skin color, race, or national identity... Echoes and Reflections' primary sources help me introduce the idea of antisemitism and explain its historical origins."
Shaw adds that building from identity, "I use the three definitions of the Holocaust that appear in Lesson 1: Studying the Holocaust." He asks students to explain why there are different definitions and why each group might think differently about the same event. "We then do an activity where students discuss the way identity influences our perspectives on events and I use the Pyramid of Hate to explore this further."
Bales shared that a key component of introducing students to the study of the Holocaust and other genocides is exposing them to the idea of being a bystander. She uses Echoes and Reflections Lesson 7: Rescuers and Non-Jewish Resistance and notes, "Many of my students identify with the people and their experiences that are highlighted in this lesson–the power of the individual becomes evident."
Both Bales and Shaw utilize resources from Lesson 4: The Ghettos to support their students in understanding the context. In framing a conversation about this lesson, Shaw uses resources from this lesson in conjunction with the external resource, Iris Marion Young's, "Five Faces of Oppression," to explore the idea of powerlessness and the experiences of marginalized, oppressed groups. Bales' students read Excerpts from the Diary of Dawid Sierakowiak, which she feels helps them better understand what life was like for Jewish people in Europe during the Holocaust.
Key Messages
"I try to focus on the survivors and emphasize that life did not end for the Jewish people after the Holocaust," Bales shares, emphasizing that people's experiences rather than the numbers and statistics are central to the study of human rights and genocide. "One action, one statement, one look, could have changed or altered people's lives… Human interactions and human behavior are key to these historical events... What can we do as individuals to bring attention to this? What is our role as human beings? It is important to have these conversations with your students."
Shaw adds that, "What I hope students take away is an understanding of some of the reasons the Holocaust and other genocides have taken place and continue to take place. I hope they come to understand that atrocities like these are not random or inevitable. They stem from society not acknowledging and respecting human rights."
Kelly Bales has been teaching at Tates Creek High School, an International Baccalaureate School, for four years. She is an alumna of the 2015 Charlotte and Jacques Wolf Conference in New York. Tyrone Shaw is in his fourth year of teaching at McKinley Technology High School in Washington D.C. He teaches World History I, AP World History, and an elective focused on Social Justice, the Holocaust, and Genocide Studies.
---




PREVIOUS POSTS
GET INVOLVED
FAQs
Professional Development Programs for Educators
Classroom Planning and Instruction
PRIVACY POLICY
Echoes & Reflections is committed to privacy. This privacy policy discloses our information gathering and dissemination practices for this website: www.echoesandreflections.org.
This site contains links to other sites. Echoes & Reflections is not responsible for the privacy practices or the content of such Web sites. This privacy statement applies solely to information collected by echoesandreflections.org.
GENERAL INFORMATION COLLECTION AND USE
Echoes & Reflections is the sole owner of the information collected on this site. We will not sell, share, or rent this information to others in ways different from what is disclosed in this statement. We collect information from our users at several different points on our website.
COOKIES AND WEBSITE ANALYTICS
Our site uses 'cookies'. A cookie is a piece of data stored on the user's hard drive containing information about the user. Usage of a cookie enables us to track and target the interests of our users to enhance the experience on our site, but is in no way linked to any personally identifiable information while on our site. If a user rejects the cookie, they may still use our site. The only drawback to this is that the user may be limited in some areas of our site (for example, certain surveys or other such activities).
We use Google Analytics to collect information about visitor traffic and behavior. This allows us to identify usage trends and to improve the performance and content of our websites.
We do not use this tool to collect or store your personal information, and it cannot be used to identify who you are. You can use the
Google Analytics Opt-Out Browser Add-on
to disable tracking by Google Analytics.
We currently do not use technology that responds to do-not-track signals from your browser.
VARIOUS REGISTRATIONS
To receive certain updates, enroll in certain programs, or use certain features of our website, a user may have to first complete a registration form. During registration a user is required to give their contact information (such as name and e-mail address). This information is used to contact the user about the services on our site for which they have expressed interest.
NEWSLETTER
If a user wishes to subscribe to our newsletter, we ask for contact information such as name and e-mail address.
ORDERS
Our site uses an order form for customers to request certain products. We collect visitor's contact information (such as name, e-mail, and address). Contact information from the order form is used to send information about Echoes & Reflections to the users of our website. The customer's contact information is also used to get in touch with the visitor when necessary. This information is not shared or resold in any circumstance except as may be required by law.
Users may opt-out of receiving future mailings; see the choice/opt-out section below.
SHARING
We may share aggregated demographic information with our partners. This is not linked to any personal information that can identify any individual person.
We use an outside shipping company to ship orders. These companies are contractually prohibited from retaining, sharing, storing or using personally identifiable information for any secondary purposes.
We may partner with third parties to provide specific services. When a user signs up for these services, we will share names, or other contact information that is necessary for the third party to provide these services.
These parties are contractually prohibited from using personally identifiable information except for the purpose of providing these services.
SECURITY
Our website has security measures in place to protect against the loss, misuse and alteration of the information under our control. This includes a firewall and 24 hour monitoring of site activities by our hosting service provider as well as 128-bit SSL encryption (where allowable by law) on all transaction oriented operations between you and Echoes & Reflections via our transaction service provider. While we use SSL encryption to protect sensitive information online, we also do everything in our power to protect user-information off-line. All of our users' information, not just the sensitive information mentioned above, is restricted in our offices. Only employees who need the information to perform a specific job (for example, our billing clerk, a customer service representative, or database administrator) are granted access to personally identifiable information. Any time new policies are added, our employees are notified and/or reminded about the importance we place on privacy, and what they are required to do to ensure our customers ' information is protected. Finally, the servers that we use to store personally identifiable information on are kept in a secure environment.
CHOICE/OPT-OUT ONLINE & OFFLINE
The following options are available for removing information from our database to discontinue receiving future communications or our service.
1. You can unsubscribe or change your e-mail preferences online by following the link at the bottom of any e-mail you receive from Echoes & Reflections via HubSpot.
2. You can notify us by email at
info@echoesandreflections.org
of your desire to be removed from our e-mail list or contributor mailing list.
CONTACTING THE WEB SITE
If you have any questions about this privacy statement, the practices of our website or your interactions with the website, please send email us at
info@echoesandreflections.org
NOTIFICATION OF CHANGES
If we decide to change our privacy policy, we will post those changes here so our users are always aware of what information we collect, how we use it, and the circumstances, if any, we disclose it.
CONTENT USE GUIDELINES
Echoes & Reflections content is royalty free for use by educators and students. Individuals or institutions not affiliated with U.S. public, private or parochial schools or higher education institutions or who are located outside of the U.S. should contact us if they wish to publish and/or translate content from Echoes & Reflections. In all cases, proper credit must be given: "Reprinted with permission from Echoes & Reflection Partnership ©. All rights reserved." The copyright "Echoes & Reflections Partnership ©" is retained. Please send inquiries to
info@echoesandreflections.org
.
RESOURCE OVERVIEW
Echoes & Reflections delivers value to both experienced Holocaust educators who are supplementing their curricula and to teachers new to Holocaust education. Learn how to engage further with the important work of Echoes & Reflections by signing up
here.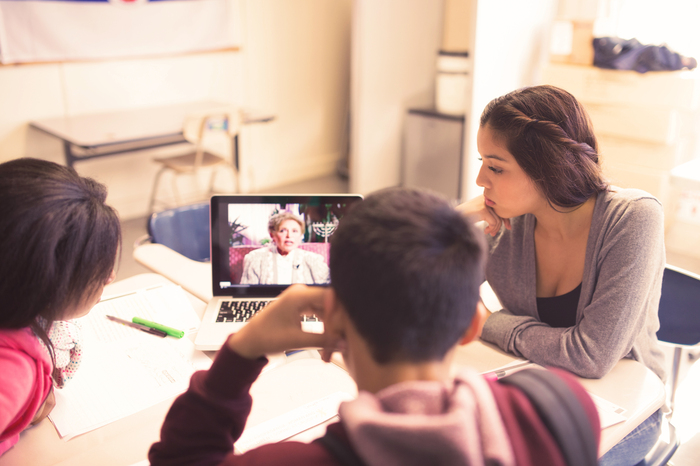 Third a Content