BLOG


What is courage? Do we all have the ability to act heroically? When we decide to behave courageously, is it because we've already determined that the risk, danger, or potentially hazardous outcome is worth it? How about those whose actions are courageous, but motivation may be selfish? What responsibility do we, as educators, bear in humanizing acts of courage for our students?
View more +
Children hear endless stories of heroism and courage; where muscle-bound superheroes typify valor by saving the world, or 'good guys' take down 'bad guys' in an epic battle royale, standing up for those whose rights have been abused or trampled. This binary structure of good and evil evolves to encompass those who fight in wars against totalitarianism, champions of human rights and social change showing that progress, action, and tolerance can win a decisive victory against darkness. But does our veneration of courageous acts limit how a young person sees themselves in acting with empathy and action to change their world? Does this view attach itself to a narrative of heroism that may make these actions seem inaccessible to an everyday person?
As educators, it's important to show courage not as a single definitive act, but as iterative, sometimes minute, actions that help others to live with dignity. Individual acts of courage and humanity serve as beacons of hope during times of upheaval and cataclysm, and in its most extreme, stand as testament to one's ability to confront and resist extreme evil. During the Holocaust, there were individuals and groups who tried to help Jewish people at great personal risk; with punishments severe and in some cases under penalty of death. For instance, in Echoes & Reflections, we discuss the actions of the Danish citizens when hearing of the planned implementation of the Nazi's Final Solution, standing as an example of how both individuals and communities can act within their own agency on behalf of others. Danes during the Second World War founded the Elsinore Sewing Club, and using speedboats, fishing boats, and other means of transportation ferried Jewish citizens to safety across the sea to neutral Sweden.
The idea that courage is singular, situational and momentary is fallible. The act of riding into battle or stopping a fight, or standing up for your values, all of this is predicated on the notion that to act courageously means to act with the conviction of a single moment. But courage is complicated. It's sustained. It's messy. We tend to venerate those who hid Jews during the Holocaust without knowing or understanding the parameters or motivation behind their actions. The Girl in the Green Sweater, for instance tells the story of a family's survival in the sewers of Lvov during the Holocaust. Leopold Socha, a municipal sewer worker who smuggled the family food in exchange for a fee, helped sustain 21 people daily. If someone behaves courageously, but does so for money, protection, or capital gain, does it negate the good their actions have prompted? Is courage a morally neutral value?
To many during in the Holocaust, courage was not a single definitive moment in time, but a collection of moments – for those who hid Jewish families, courage was a daily test, and for those who hid, courage was fighting back through the simple act of remaining alive. As Miep Gies, who risked her life to hide the Frank family, once stated, "People sometimes call me a hero. I don't like it, because people should never think that you have to be a very special person to help those who need you."
As we discuss the concept of courage and its complexities with students when teaching the Holocaust, bringing in stories of a small kindness and large, momentous movements can help students contextualize how their everyday behaviors impact the lives of those around them, and how they can navigate the complex moral ecosystem of social life with empathy and goodness that may never be written about in text books, but may make a lasting imprint on the lives of those around them.
---


I first traveled to Poland in the summer of 2005. I had never left the United States and had no idea I'd return years later as a researcher and Fulbright scholar. The country had just joined the European Union. Cranes hung from the sky like praying mantises, new tarmac was laid in the airport, highways were expanding, and people seemed cautiously optimistic, if not hopeful. Just over a decade prior, Poland had still been under martial law implemented by the communist ruling government. Now it was the World Cup, Poland was in the semi-finals, and all over the city restaurants spilled into the streets as people gathered around giant outdoor screens. In the midst of this, our student tour walked through the winding cobblestone alleys of Krakòw, learning the history of the Kazimierz neighborhood, the former Jewish quarter of the city. Krakòw was a central city for the Nazi Party, and as such had not been razed to the ground with as much malice as its sister city, Warsaw, where over 80% of the city's buildings sustained structural damage. Warsaw has a feeling of artifice, of new plaster and paint over old wounds. Krakòw has ghosts.
View more +
As I walked, our guide, a scholar from the Jaegallonian University read us "The End and the Beginning", by Wislawa Symborska, Nobel prize-winning Polish poet,
"Those who knew
what this was all about
must make way for those
who know little.
And less than that.
And at last nothing less than nothing.
 Someone has to lie there
in the grass that covers up
the causes and effects
with a cornstalk in his teeth,
gawking at clouds."
This poem hung above my desk for years, a grounding force for me in understanding and contextualizing Holocaust education and the role of conflict and memory. In it, Symborska speaks of violence and the paradox of post-conflict societies, "all the cameras have left for another war" she states. This idea of remembering and forgetting recently came up in a New York Times article, Holocaust is Fading From Memory, Survey Finds, which posits that 31 percent of Americans, and 41 percent of millennials, believe that two million or fewer Jews were killed in the Holocaust. 41 percent of Americans, and 66 percent of millennials, cannot say what Auschwitz was. And 52 percent of Americans wrongly think Hitler came to power through force.
As educators, what role do we play in acting as stewards of Holocaust memory? With the many constraints of time, materials, mandated testing, even language and cultural barriers, how can we bridge gaps of understanding when we teach the Holocaust? What role does memory play in understanding the events of the Holocaust?
In "Meeting a Moral Imperative, a Rationale for Teaching the Holocaust", scholar David Lindquist writes that the primary rationale for studying the Holocaust involves the opportunity to consider the moral implications that can be drawn from examining the event. Studying the Holocaust, he argues, forces students to consider what it means to be human and humane by examining the full continuum of individual behavior, from ultimate evil to ultimate good. He argues that a moral imperative exists for the presence of Holocaust education in contemporary classrooms. Should that moral imperative extend to understanding the ability of time and distance to obscure the past?
The moral imperative for studying the Holocaust in the US and understanding the events of history is more important now than ever. America is facing its own role in triangulating the difficult geometry of past atrocities, making the vital calculus of truth and reconciliation, demarcated with the recent opening of the National Memorial for Peace and Justice , in Montgomery, Alabama. Bryan Stevenson, the head of Equal Justice Initiative which is spearheading the project, told The Jerusalem Post in 2016 that his design was inspired by what the 'memory work' monuments throughout Europe do in commemorating the victims of the Holocaust.  "Auschwitz is a place you visit. It sobers you with the horrors of the Holocaust. When you leave these places, you want to say, 'Never again should we commit this kind of suffering and abuse.'" Stevenson aims to evoke the same feelings in Americans in the design of the first physical space dedicated to the victims of slavery, lynching, segregation and mass incarceration. The physical manifestation of suffering is educative in itself.
Echoes & Reflections structure of primary source documents becomes increasingly important in the work of bridging gaps in memory and understanding. The use of primary sources exposes students to important historical concepts and connects them directly with people in the past whose existence was impacted or extinguished by the Holocaust. Through primary resources, victims and rescuers 'speak' across time, using their diaries, letters, maps, and articles, to construct a view of the past not distorted, but intensified by the passage of time.
As teachers, questions of how time, distance, and desensitization impact our understanding of history are as important as the events of the past themselves. Only in exploring how we see the Holocaust, refracted through the lens of memory, can we come to understand and establish how the arc of human history changes us, calibrates our vision of the world, and weights even our most trivial and minute decisions each day.
About the Author: Melissa Mott is the Deputy Project Director for Echoes & Reflections at ADL.
---




PREVIOUS POSTS
GET INVOLVED
FAQs
Professional Development Programs for Educators
Classroom Planning and Instruction
PRIVACY POLICY
Echoes & Reflections is committed to privacy. This privacy policy discloses our information gathering and dissemination practices for this website: www.echoesandreflections.org.
This site contains links to other sites. Echoes & Reflections is not responsible for the privacy practices or the content of such Web sites. This privacy statement applies solely to information collected by echoesandreflections.org.
GENERAL INFORMATION COLLECTION AND USE
Echoes & Reflections is the sole owner of the information collected on this site. We will not sell, share, or rent this information to others in ways different from what is disclosed in this statement. We collect information from our users at several different points on our website.
COOKIES AND WEBSITE ANALYTICS
Our site uses 'cookies'. A cookie is a piece of data stored on the user's hard drive containing information about the user. Usage of a cookie enables us to track and target the interests of our users to enhance the experience on our site, but is in no way linked to any personally identifiable information while on our site. If a user rejects the cookie, they may still use our site. The only drawback to this is that the user may be limited in some areas of our site (for example, certain surveys or other such activities).
We use Google Analytics to collect information about visitor traffic and behavior. This allows us to identify usage trends and to improve the performance and content of our websites.
We do not use this tool to collect or store your personal information, and it cannot be used to identify who you are. You can use the
Google Analytics Opt-Out Browser Add-on
to disable tracking by Google Analytics.
We currently do not use technology that responds to do-not-track signals from your browser.
VARIOUS REGISTRATIONS
To receive certain updates, enroll in certain programs, or use certain features of our website, a user may have to first complete a registration form. During registration a user is required to give their contact information (such as name and e-mail address). This information is used to contact the user about the services on our site for which they have expressed interest.
NEWSLETTER
If a user wishes to subscribe to our newsletter, we ask for contact information such as name and e-mail address.
ORDERS
Our site uses an order form for customers to request certain products. We collect visitor's contact information (such as name, e-mail, and address). Contact information from the order form is used to send information about Echoes & Reflections to the users of our website. The customer's contact information is also used to get in touch with the visitor when necessary. This information is not shared or resold in any circumstance except as may be required by law.
Users may opt-out of receiving future mailings; see the choice/opt-out section below.
SHARING
We may share aggregated demographic information with our partners. This is not linked to any personal information that can identify any individual person.
We use an outside shipping company to ship orders. These companies are contractually prohibited from retaining, sharing, storing or using personally identifiable information for any secondary purposes.
We may partner with third parties to provide specific services. When a user signs up for these services, we will share names, or other contact information that is necessary for the third party to provide these services.
These parties are contractually prohibited from using personally identifiable information except for the purpose of providing these services.
SECURITY
Our website has security measures in place to protect against the loss, misuse and alteration of the information under our control. This includes a firewall and 24 hour monitoring of site activities by our hosting service provider as well as 128-bit SSL encryption (where allowable by law) on all transaction oriented operations between you and Echoes & Reflections via our transaction service provider. While we use SSL encryption to protect sensitive information online, we also do everything in our power to protect user-information off-line. All of our users' information, not just the sensitive information mentioned above, is restricted in our offices. Only employees who need the information to perform a specific job (for example, our billing clerk, a customer service representative, or database administrator) are granted access to personally identifiable information. Any time new policies are added, our employees are notified and/or reminded about the importance we place on privacy, and what they are required to do to ensure our customers ' information is protected. Finally, the servers that we use to store personally identifiable information on are kept in a secure environment.
CHOICE/OPT-OUT ONLINE & OFFLINE
The following options are available for removing information from our database to discontinue receiving future communications or our service.
1. You can unsubscribe or change your e-mail preferences online by following the link at the bottom of any e-mail you receive from Echoes & Reflections via HubSpot.
2. You can notify us by email at
info@echoesandreflections.org
of your desire to be removed from our e-mail list or contributor mailing list.
CONTACTING THE WEB SITE
If you have any questions about this privacy statement, the practices of our website or your interactions with the website, please send email us at
info@echoesandreflections.org
NOTIFICATION OF CHANGES
If we decide to change our privacy policy, we will post those changes here so our users are always aware of what information we collect, how we use it, and the circumstances, if any, we disclose it.
CONTENT USE GUIDELINES
Echoes & Reflections content is royalty free for use by educators and students. Individuals or institutions not affiliated with U.S. public, private or parochial schools or higher education institutions or who are located outside of the U.S. should contact us if they wish to publish and/or translate content from Echoes & Reflections. In all cases, proper credit must be given: "Reprinted with permission from Echoes & Reflection Partnership ©. All rights reserved." The copyright "Echoes & Reflections Partnership ©" is retained. Please send inquiries to
info@echoesandreflections.org
.
RESOURCE OVERVIEW
Echoes & Reflections delivers value to both experienced Holocaust educators who are supplementing their curricula and to teachers new to Holocaust education. Learn how to engage further with the important work of Echoes & Reflections by signing up
here.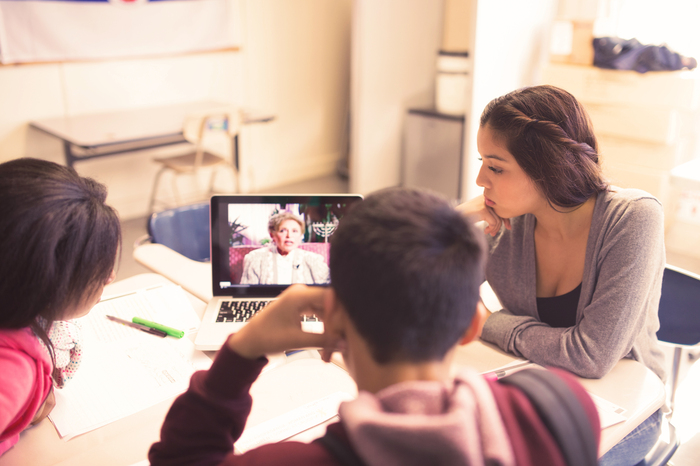 Third a Content