BLOG


"I always knew I was Jewish, but in our house, there was no religion practiced really." These are words from Holocaust survivor Margaret Lambert, describing  what her life was like in Germany before Hitler's rise to power in 1933. It's a sentiment I can relate to as I also have always known I was Jewish. There was never any need to give intentional visibility to this identity through custom or tradition. My non-English name ascribed to me at birth, given out of remembrance, to hold onto what my mother left behind in her homeland, instilled in me an immutable awareness of my cultural roots. 
View more +
The "always knowing" clings more tightly as a third-generation survivor, as the Holocaust has also always been a part of unconscious memory. I don't recall a moment during a classroom lesson, watching a movie, or in conversation where I first acquired knowledge about this catastrophe—it is one that has always been with me, a specter of my past. My maternal grandfather's survival story was ever-present in my childhood. It was a tale drenched in the heroism and bravery of a young man who fled Poland (now Belarus) by sea to Palestine in 1937, illegally jumped ship and joined the British army as a spy to fight against the Axis powers—forces that would be responsible for the deaths of so many of my other relatives. It never eludes me that my very existence, my ability to live freely and have endless opportunities in this country, is a result of his fortuitous escape. 
In some ways I am envious of those who have had the privilege to be introduced in a well thought out and planned way to this pivotal history. That there are those who can pinpoint a specific moment when they learned about the Holocaust, designating a before and after, a division of this time in their lives. These are people who have a mechanism to assess their perspective on humanity prior to knowing vs. now having the knowledge cemented, which can hopefully offer deeper reflection on the timeless lessons of this history. 
It's not that I don't have memories about moments of witnessing, experiencing an awareness of the Holocaust, or that it wasn't ever presented to me in a classroom setting, but they often are fraught with discomfort—it feels at times too personal. When I was 10 years old, I visited the United States Holocaust Memorial Museum and wandered through Daniel's Story—on my own. I distinctly remember entering the concentration camp section of the exhibit, my lungs filling with a heavy cold air, a sudden suffocation of dread and panic, the thought of "this could have been me" creeping through my mind. I raced out of there as fast I could, wanting to shed whatever memory or passed down trauma I may have inadvertently absorbed. This is not because Daniel's Story is one that should not be viewed by young people, but it does make me wonder if there are deeper considerations as to how a generational survivor might be impacted by certain Holocaust learning experiences. 
Despite the challenges of remembrance, there is the question of responsibility. What is my duty to share, uphold, the memories of a story, that isn't really my own lived experience, but one that seems to reside firmly in my DNA? "Never Forget" has been, still is, and will always be a reverberating phrase in my consciousness. While there is no clear beginning to the memory, the not forgetting is the foundational tenet of my Holocaust education. I firmly believe in this notion, but over the years I have encountered a tension between the "knowing'' and the actions I am expected to take with this knowledge, particularly if it involves sharing my own ancestral trauma. Perhaps it's because I don't want myself or my family to be defined by tragedy, by the weight it inevitably carries. 
And yet, the work I do is a reminder that the action of remembrance can take different forms. I may not be openly sharing my family's history on a regular basis, but it is because of my background that I feel an unexpected comfort, sense of ease even, in being one to support educators and students in learning about the Holocaust. I am contributing to a program that provides Holocaust education in a responsible and effective manner, which perhaps is my own way of moving "safely in and out"—an experience I severely lacked in my youth. And, with time, almost six years at this point, I am beginning to allow more of the personal to seep  into the  work, like seeing myself through Margaret, or through the multitude of visual history testimonies our program provides. It is perhaps through this ongoing experience, that at some point I will be able to move towards a greater security to openly share my family's Holocaust story.
About the author: Talia Langman is the Media & Communications Specialist for Echoes & Reflections.
---




PREVIOUS POSTS
GET INVOLVED
FAQs
Professional Development Programs for Educators
Classroom Planning and Instruction
PRIVACY POLICY
Echoes & Reflections is committed to privacy. This privacy policy discloses our information gathering and dissemination practices for this website: www.echoesandreflections.org.
This site contains links to other sites. Echoes & Reflections is not responsible for the privacy practices or the content of such Web sites. This privacy statement applies solely to information collected by echoesandreflections.org.
GENERAL INFORMATION COLLECTION AND USE
Echoes & Reflections is the sole owner of the information collected on this site. We will not sell, share, or rent this information to others in ways different from what is disclosed in this statement. We collect information from our users at several different points on our website.
COOKIES AND WEBSITE ANALYTICS
Our site uses 'cookies'. A cookie is a piece of data stored on the user's hard drive containing information about the user. Usage of a cookie enables us to track and target the interests of our users to enhance the experience on our site, but is in no way linked to any personally identifiable information while on our site. If a user rejects the cookie, they may still use our site. The only drawback to this is that the user may be limited in some areas of our site (for example, certain surveys or other such activities).
We use Google Analytics to collect information about visitor traffic and behavior. This allows us to identify usage trends and to improve the performance and content of our websites.
We do not use this tool to collect or store your personal information, and it cannot be used to identify who you are. You can use the
Google Analytics Opt-Out Browser Add-on
to disable tracking by Google Analytics.
We currently do not use technology that responds to do-not-track signals from your browser.
VARIOUS REGISTRATIONS
To receive certain updates, enroll in certain programs, or use certain features of our website, a user may have to first complete a registration form. During registration a user is required to give their contact information (such as name and e-mail address). This information is used to contact the user about the services on our site for which they have expressed interest.
NEWSLETTER
If a user wishes to subscribe to our newsletter, we ask for contact information such as name and e-mail address.
ORDERS
Our site uses an order form for customers to request certain products. We collect visitor's contact information (such as name, e-mail, and address). Contact information from the order form is used to send information about Echoes & Reflections to the users of our website. The customer's contact information is also used to get in touch with the visitor when necessary. This information is not shared or resold in any circumstance except as may be required by law.
Users may opt-out of receiving future mailings; see the choice/opt-out section below.
SHARING
We may share aggregated demographic information with our partners. This is not linked to any personal information that can identify any individual person.
We use an outside shipping company to ship orders. These companies are contractually prohibited from retaining, sharing, storing or using personally identifiable information for any secondary purposes.
We may partner with third parties to provide specific services. When a user signs up for these services, we will share names, or other contact information that is necessary for the third party to provide these services.
These parties are contractually prohibited from using personally identifiable information except for the purpose of providing these services.
SECURITY
Our website has security measures in place to protect against the loss, misuse and alteration of the information under our control. This includes a firewall and 24 hour monitoring of site activities by our hosting service provider as well as 128-bit SSL encryption (where allowable by law) on all transaction oriented operations between you and Echoes & Reflections via our transaction service provider. While we use SSL encryption to protect sensitive information online, we also do everything in our power to protect user-information off-line. All of our users' information, not just the sensitive information mentioned above, is restricted in our offices. Only employees who need the information to perform a specific job (for example, our billing clerk, a customer service representative, or database administrator) are granted access to personally identifiable information. Any time new policies are added, our employees are notified and/or reminded about the importance we place on privacy, and what they are required to do to ensure our customers ' information is protected. Finally, the servers that we use to store personally identifiable information on are kept in a secure environment.
CHOICE/OPT-OUT ONLINE & OFFLINE
The following options are available for removing information from our database to discontinue receiving future communications or our service.
1. You can unsubscribe or change your e-mail preferences online by following the link at the bottom of any e-mail you receive from Echoes & Reflections via HubSpot.
2. You can notify us by email at
info@echoesandreflections.org
of your desire to be removed from our e-mail list or contributor mailing list.
CONTACTING THE WEB SITE
If you have any questions about this privacy statement, the practices of our website or your interactions with the website, please send email us at
info@echoesandreflections.org
NOTIFICATION OF CHANGES
If we decide to change our privacy policy, we will post those changes here so our users are always aware of what information we collect, how we use it, and the circumstances, if any, we disclose it.
CONTENT USE GUIDELINES
Echoes & Reflections content is royalty free for use by educators and students. Individuals or institutions not affiliated with U.S. public, private or parochial schools or higher education institutions or who are located outside of the U.S. should contact us if they wish to publish and/or translate content from Echoes & Reflections. In all cases, proper credit must be given: "Reprinted with permission from Echoes & Reflection Partnership ©. All rights reserved." The copyright "Echoes & Reflections Partnership ©" is retained. Please send inquiries to
info@echoesandreflections.org
.
RESOURCE OVERVIEW
Echoes & Reflections delivers value to both experienced Holocaust educators who are supplementing their curricula and to teachers new to Holocaust education. Learn how to engage further with the important work of Echoes & Reflections by signing up
here.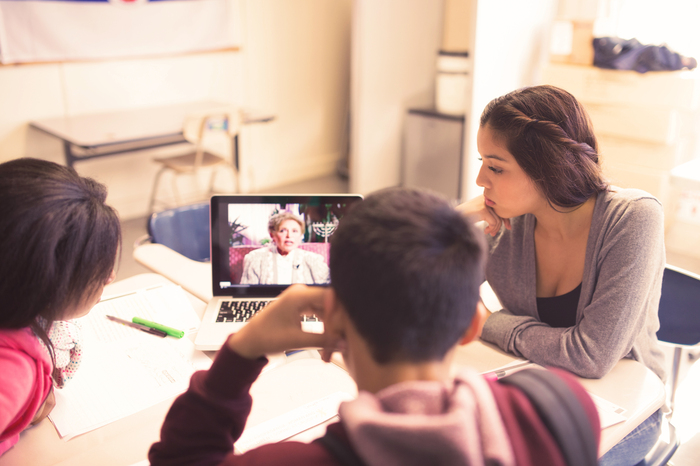 Third a Content