BLOG


In 1994, the New Jersey Department of Education implemented a mandate that required Holocaust and genocide education for all K-12 students. The legislation was finalized shortly after New Jersey experienced an upsurge in ethnic hate speech and vandalism. Believing that there is a link between violence and ethnic and racial intolerance, the New Jersey legislature determined that teaching the Holocaust and genocide "must be made a priority" if the State's ethnic, religious, and cultural diversity was to remain one of its strengths.
View more +
Dr. Paul B. Winkler has been an instrumental force in guiding New Jersey's Holocaust education policy since the 1970s. With over 50 years experience as a teacher and administrator, and as the current Executive Director of the New Jersey Commission on Holocaust Education, his leadership has informed the implementation of Holocaust education statewide.
Winkler shares, "I am proud that New Jersey led the way with a well-thought-out approach that will not only lead to a thorough understanding of the history of the Holocaust, but to steps that will ensure that tragedies like the Holocaust will never happen again."
Since 2005, Winkler has worked closely with Echoes and Reflections to offer professional development opportunities to educators implementing this mandate. "Echoes and Reflections is an outstanding professional development program and that is why we have gone out of our way to recommend that schools and programs in New Jersey utilize it," Winkler shares. "Our teachers use it because it is an incredibly good resource and provides educators excellent guidance and value."
The Role of Educators
As a strong proponent of the impact education can have on students, Winkler shares that, in the case of the Holocaust, it is important that teachers consider more than the history, the knowledge, and the facts. "In Western society, we have always believed that education, particularly universal education, is the answer to most of the world's problems. But, the perpetrators of the Holocaust were highly educated people with expansive knowledge. Engineers designed the crematoria; doctors prepared and implemented the experiments. How was this possible?" And, what does that mean about the role of education and the role of teachers?
Winkler suggests that Holocaust education requires educators to consider deeply the way they teach and how they choose to present information. The Holocaust is unlike other subjects in that it requires teachers to take a particularly active role in developing students' critical thinking skills that will enable them to identify and analyze human nature and behavior.
Understanding that genocide is "a consequence of prejudice and discrimination" is central, according to Winkler. "The issues of moral dilemma and conscience have a profound impact on life." Examining these subjects highlights the personal responsibility that each citizen bears to fight antisemitism, racism, and all forms of bigotry and hatred wherever and whenever it happens.
Taking Responsibility
According to Winkler, the Holocaust raises many questions that inform students' behavior in the world: "What is our individual responsibility? If we see something evil, should we report it? What if reporting it would endanger your job or personal safety? What is our responsibility as a nation? Are we collectively tasked with speaking out against persecution and injustice in our communities? What about injustice in other parts of the world?"
Winkler highlights the power in asking these questions and considers the impact of this line of questioning the most important lesson for students when studying the Holocaust. As students confront these and many other difficult questions it becomes clear how individual choices have an impact on other people and one's broader context.
The New Jersey mandate to teach Holocaust and genocide education is a strong statement about the value of teaching respect and building strong communities. It encourages a "depth of conscience" in students that ultimately highlights one's personal responsibility to combat prejudice of any sort. With the Commission emphasizing the importance that students grasp the consequences of ignoring those who hate, Winkler feels that Holocaust education will play a central role in encouraging awareness in students.
"The Holocaust remains one of the most disturbing and horrific events of all time…" Winkler adds. "If we are to ensure that it is never repeated, we must understand how the Holocaust happened in the first place, and spend time thinking through what these lessons can teach us about our lives today."
The late Dr. Paul B. Winkler served as the Executive Director of The Commission on Holocaust Education in New Jersey. Winkler was formally involved in Holocaust, genocide, and prejudice reduction education since 1974.
---




PREVIOUS POSTS
GET INVOLVED
FAQs
Professional Development Programs for Educators
Classroom Planning and Instruction
PRIVACY POLICY
Echoes & Reflections is committed to privacy. This privacy policy discloses our information gathering and dissemination practices for this website: www.echoesandreflections.org.
This site contains links to other sites. Echoes & Reflections is not responsible for the privacy practices or the content of such Web sites. This privacy statement applies solely to information collected by echoesandreflections.org.
GENERAL INFORMATION COLLECTION AND USE
Echoes & Reflections is the sole owner of the information collected on this site. We will not sell, share, or rent this information to others in ways different from what is disclosed in this statement. We collect information from our users at several different points on our website.
COOKIES AND WEBSITE ANALYTICS
Our site uses 'cookies'. A cookie is a piece of data stored on the user's hard drive containing information about the user. Usage of a cookie enables us to track and target the interests of our users to enhance the experience on our site, but is in no way linked to any personally identifiable information while on our site. If a user rejects the cookie, they may still use our site. The only drawback to this is that the user may be limited in some areas of our site (for example, certain surveys or other such activities).
We use Google Analytics to collect information about visitor traffic and behavior. This allows us to identify usage trends and to improve the performance and content of our websites.
We do not use this tool to collect or store your personal information, and it cannot be used to identify who you are. You can use the
Google Analytics Opt-Out Browser Add-on
to disable tracking by Google Analytics.
We currently do not use technology that responds to do-not-track signals from your browser.
VARIOUS REGISTRATIONS
To receive certain updates, enroll in certain programs, or use certain features of our website, a user may have to first complete a registration form. During registration a user is required to give their contact information (such as name and e-mail address). This information is used to contact the user about the services on our site for which they have expressed interest.
NEWSLETTER
If a user wishes to subscribe to our newsletter, we ask for contact information such as name and e-mail address.
ORDERS
Our site uses an order form for customers to request certain products. We collect visitor's contact information (such as name, e-mail, and address). Contact information from the order form is used to send information about Echoes & Reflections to the users of our website. The customer's contact information is also used to get in touch with the visitor when necessary. This information is not shared or resold in any circumstance except as may be required by law.
Users may opt-out of receiving future mailings; see the choice/opt-out section below.
SHARING
We may share aggregated demographic information with our partners. This is not linked to any personal information that can identify any individual person.
We use an outside shipping company to ship orders. These companies are contractually prohibited from retaining, sharing, storing or using personally identifiable information for any secondary purposes.
We may partner with third parties to provide specific services. When a user signs up for these services, we will share names, or other contact information that is necessary for the third party to provide these services.
These parties are contractually prohibited from using personally identifiable information except for the purpose of providing these services.
SECURITY
Our website has security measures in place to protect against the loss, misuse and alteration of the information under our control. This includes a firewall and 24 hour monitoring of site activities by our hosting service provider as well as 128-bit SSL encryption (where allowable by law) on all transaction oriented operations between you and Echoes & Reflections via our transaction service provider. While we use SSL encryption to protect sensitive information online, we also do everything in our power to protect user-information off-line. All of our users' information, not just the sensitive information mentioned above, is restricted in our offices. Only employees who need the information to perform a specific job (for example, our billing clerk, a customer service representative, or database administrator) are granted access to personally identifiable information. Any time new policies are added, our employees are notified and/or reminded about the importance we place on privacy, and what they are required to do to ensure our customers ' information is protected. Finally, the servers that we use to store personally identifiable information on are kept in a secure environment.
CHOICE/OPT-OUT ONLINE & OFFLINE
The following options are available for removing information from our database to discontinue receiving future communications or our service.
1. You can unsubscribe or change your e-mail preferences online by following the link at the bottom of any e-mail you receive from Echoes & Reflections via HubSpot.
2. You can notify us by email at
info@echoesandreflections.org
of your desire to be removed from our e-mail list or contributor mailing list.
CONTACTING THE WEB SITE
If you have any questions about this privacy statement, the practices of our website or your interactions with the website, please send email us at
info@echoesandreflections.org
NOTIFICATION OF CHANGES
If we decide to change our privacy policy, we will post those changes here so our users are always aware of what information we collect, how we use it, and the circumstances, if any, we disclose it.
CONTENT USE GUIDELINES
Echoes & Reflections content is royalty free for use by educators and students. Individuals or institutions not affiliated with U.S. public, private or parochial schools or higher education institutions or who are located outside of the U.S. should contact us if they wish to publish and/or translate content from Echoes & Reflections. In all cases, proper credit must be given: "Reprinted with permission from Echoes & Reflection Partnership ©. All rights reserved." The copyright "Echoes & Reflections Partnership ©" is retained. Please send inquiries to
info@echoesandreflections.org
.
RESOURCE OVERVIEW
Echoes & Reflections delivers value to both experienced Holocaust educators who are supplementing their curricula and to teachers new to Holocaust education. Learn how to engage further with the important work of Echoes & Reflections by signing up
here.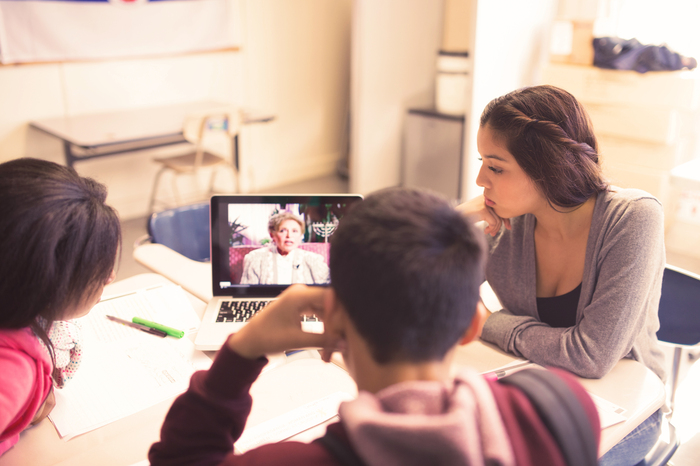 Third a Content