BLOG


The Kristallnacht Pogrom marked a devastating turning point during the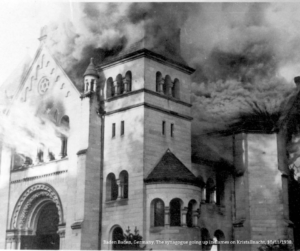 Holocaust: a shift from antisemitic propaganda and policy to government-sanctioned violence against Jewish communities in Germany, annexed Austria, and in areas of Czechoslovakia that had been recently occupied by German troops. The anniversary of this event on November 9 and 10 presents an opportunity for educators to explore this history with students­—to teach about the dangers of antisemitism and the role and responsibility of an individual in interrupting the escalation of hate. Furthermore, the lessons of the Kristallnacht Pogrom, only further highlight the importance of our collective duty to uphold the pillars of democracy. At a time when our nation is facing increasingly high levels of antisemitism, the lessons from the "Night of Broken Glass" can resonate deeply with students and compel them to examine the critical need to stand up to antisemitism and all forms of hate.  Here are some strategies and resources to guide you in teaching this topic:
View more +
Explore Personal Narratives
Those who experienced the horrors of the Kristallnacht Pogrom provide powerful insights into the impact of the choices and decisions made in the face of the growing hatred and violence that surrounded them. As a teenager, Holocaust survivor Kurt Messerschmidt witnessed mobs attacking Jews in the street, in their homes, and at their places of worship, while many of his German neighbors and friends stood idly by. His testimony offers an important and inspirational message for students:
"SOME OF THE PEOPLE DISAPPROVED, BUT THEIR DISAPPROVAL WAS ONLY SILENCE."
Have students reflect on this powerful statement and learn more about Kurt Messerchmidt:
Additionally, the testimony of survivor Esther Clifford, also impacted by the devastation of the Kristallnacht Pogrom, can help students understand the human story behind this event and consider the consequences of not standing up to injustice.
Use Primary Sources
A key component of our Echoes & Reflections pedagogy is to enrich students' understanding of the Holocaust by providing an abundance of print and digital resources from a variety of perspectives. An examination of historical documentation can aid students to further contextualize and gain a deeper understanding of the Kristallnacht Pogrom:
Access our lesson plan, Kristallnacht: "Night of Broken Glass", and Unit on Nazi Germany for tools and approaches for incorporating primary sources into your instruction.
Read our blog written by an Echoes & Reflections teacher who offers suggestions for using primary sources to connect students to the lessons of the Kristallnacht Pogrom.
Take a virtual field trip with students to Yad Vashem - The World Holocaust Remembrance Center to explore primary sources from the Kristallnacht Pogrom featured in their online exhibition.
Teach with a Timeline:
Timelines can serve as a visual tool for studying periods of history and help students realize not only how events happened, but how to construct meaning and illuminate the human experience throughout a past era. This resource can also encourage students to see connections between events occurring in a single period and bring history to life by mapping dates onto a cohesive narrative. On our interactive Timeline of the Holocaust with accompanying activities, teachers can introduce the Kristallnacht Pogrom, as well as the dates prior to and immediately following this pivotal incident, which can allow students to grasp that the Holocaust was a progression of decisions, actions, and inactions, any of which might have happened differently if alternative choices were made.
Teaching about the Kristallnacht Pogrom is a crucial component of Holocaust education as it can reinforce students' understanding of what ultimately led to the extermination of Europe's six million Jews by the Nazis, underscoring the notion that the Holocaust was not inevitable.
---


"…If you ever survive this war tell everyone how we went.  Tell everyone how you said good-bye to me and remember one thing.  Wherever you may be always wear a nice clean shirt and be clean.  If someone throws a rock at you then throw them back bread."
View more +
These are the words that Holocaust survivor Maurice Markheim will never forget.  They comprise the indelible message that is etched into his memory as the last conversation he had with his mother.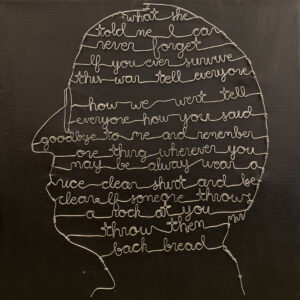 When we viewed this piece, we were struck by these poignant and heartfelt words of love and kindness as well as the way in which Evan Hong, an eighth grader at Mariners Christian School in Costa Mesa, California, memorialized them by creating a wire silhouette as an art project her school submitted for Chapman University's 21st Annual Holocaust Art and Writing Contest.
Last year,  thousands of middle and high school students from across the United States and seven other countries, watched survivor video testimonies and responded to the contest prompt through prose, poetry, art, or film.  This year's contest, now in its 22nd year, challenges students to reflect upon and interpret the theme, "Sharing Strength: Sustaining Humanity."
To prepare students to participate in the contest, many teachers turn to Echoes & Reflections, a valued partner in the contest, for professional development and to help them provide historical context to the testimonies that students watch.  This year, Chapman University will team up with Echoes & Reflections to offer a contest-specific professional development program to highlight key resources that align with the contest, as well as effective strategies to further student engagement with the testimonies they view.
In our respective roles as the Associate Director and Education Consultant for the Rodgers Center at Chapman University, we have seen the contest grow tremendously over the years.  What we think continues to be particularly appealing and, perhaps why many teachers participate year after year, is the contest's way of combining study of the Holocaust with the hands-on participation in the arts, offering students a platform and a voice to process and express their thoughts and reactions and to make their own, individual meaning.
In fact, this contest might offer even greater benefits to those participating.  Authors Brian Kisida and Daniel H. Bowen, write in their Brookings Institute blog, New Evidence of the Benefits of Arts Education, that participation in the arts challenge us with different points of view, compel students to empathize with "others," and give us the opportunity to reflect on the human condition.1
For example, Noa Nerwich, a middle school student from King David Linksfield School in South Africa, drafted the following poem based on the testimony of Holocaust survivor Ruth Halbreich.  It examines how a simple, everyday object, a "Maroon Hankie," became a meaningful, everlasting and valued connection to her father.
Cleanly pressed and folded it was placed into my hand
A last token of a soon to be memory
I received a maroon hankie
I didn't know the value of objects, until had one
I didn't know the value of people, until I had none.
But my one object carried all the worth in the world
A maroon hankie
I don't know what happened to him
All I know is the walls were rising
And there were bombs, more people dying
And Warsaw was in flames: Red, licking flames
Like the colour of my maroon hankie
We watched the window, havoc unleashed on our home
Yet we were the opportune, we were on the right side of the window pane
The side where we still wore silky dresses made by the sisters.
The same silk of my maroon hankie.
I was lucky
Not because I was saved
But because I learned the true meaning of love
His love was sewn into my heart
The same way I held the hankie so tight at night
That its fibers have sewn into the fibers of my skin
Because of my father's honour I survived
Because of his love for us he died
He sacrificed it all so we could breathe the air of freedom

To the man who gave to me
The thing that has carried all of my tears
A maroon hankie
His maroon hankie
This year as we commemorated the 75th anniversary of the liberation of the camps we were reminded that today's students are the last generation to hear directly from the survivors.  As we look to the future, one of the lasting artifacts we have are the survivors' precious video testimonies, a permanent record that captures their stories, warnings, and memories. The testimonies also stand as the fulfillment of a promise that the eyewitnesses made to each other during the Holocaust, in which they vowed if they survived to tell the story, to let the world know what happened and to do their utmost to assure that these events would never be forgotten.  Students who participate in the contest have now become their "messengers of memory," the ones entrusted with perpetuating this vow for generations to come and, as a recent survey has shown, their exposure to Holocaust survivor testimony can support them in building a better future.
This year's contest information is now available and educators are invited to participate.
For more information: Annual Holocaust Art & Writing Contest
Contact: Jessica MyLymuk at cioffi@chapman.edu, (714) 532-6003
Note:  Last year, Chapman University had to cancel its 21st Annual Holocaust Art & Writing Contest awards ceremony, which was scheduled on March 13, 2020, due to the Coronavirus.  A virtual program is posted on the contest website and can be watched here.
1https://www.brookings.edu/blog/brown-center-chalkboard/2019/02/12/new-evidence-of-the-benefits-of-arts-education/
About the authors:
Jessica MyLymuk is the Associate Director at the Rodgers Center for Holocaust Education at Chapman University and oversees the planning and implementation for the Annual Holocaust Art & Writing Contest.
Sherry Bard is an Education Consultant for the Rodgers Center for Holocaust Education and a Senior Training Specialist for the Echoes & Reflections program.
---




PREVIOUS POSTS
GET INVOLVED
FAQs
Professional Development Programs for Educators
Classroom Planning and Instruction
PRIVACY POLICY
Echoes & Reflections is committed to privacy. This privacy policy discloses our information gathering and dissemination practices for this website: www.echoesandreflections.org.
This site contains links to other sites. Echoes & Reflections is not responsible for the privacy practices or the content of such Web sites. This privacy statement applies solely to information collected by echoesandreflections.org.
GENERAL INFORMATION COLLECTION AND USE
Echoes & Reflections is the sole owner of the information collected on this site. We will not sell, share, or rent this information to others in ways different from what is disclosed in this statement. We collect information from our users at several different points on our website.
COOKIES AND WEBSITE ANALYTICS
Our site uses 'cookies'. A cookie is a piece of data stored on the user's hard drive containing information about the user. Usage of a cookie enables us to track and target the interests of our users to enhance the experience on our site, but is in no way linked to any personally identifiable information while on our site. If a user rejects the cookie, they may still use our site. The only drawback to this is that the user may be limited in some areas of our site (for example, certain surveys or other such activities).
We use Google Analytics to collect information about visitor traffic and behavior. This allows us to identify usage trends and to improve the performance and content of our websites.
We do not use this tool to collect or store your personal information, and it cannot be used to identify who you are. You can use the
Google Analytics Opt-Out Browser Add-on
to disable tracking by Google Analytics.
We currently do not use technology that responds to do-not-track signals from your browser.
VARIOUS REGISTRATIONS
To receive certain updates, enroll in certain programs, or use certain features of our website, a user may have to first complete a registration form. During registration a user is required to give their contact information (such as name and e-mail address). This information is used to contact the user about the services on our site for which they have expressed interest.
NEWSLETTER
If a user wishes to subscribe to our newsletter, we ask for contact information such as name and e-mail address.
ORDERS
Our site uses an order form for customers to request certain products. We collect visitor's contact information (such as name, e-mail, and address). Contact information from the order form is used to send information about Echoes & Reflections to the users of our website. The customer's contact information is also used to get in touch with the visitor when necessary. This information is not shared or resold in any circumstance except as may be required by law.
Users may opt-out of receiving future mailings; see the choice/opt-out section below.
SHARING
We may share aggregated demographic information with our partners. This is not linked to any personal information that can identify any individual person.
We use an outside shipping company to ship orders. These companies are contractually prohibited from retaining, sharing, storing or using personally identifiable information for any secondary purposes.
We may partner with third parties to provide specific services. When a user signs up for these services, we will share names, or other contact information that is necessary for the third party to provide these services.
These parties are contractually prohibited from using personally identifiable information except for the purpose of providing these services.
SECURITY
Our website has security measures in place to protect against the loss, misuse and alteration of the information under our control. This includes a firewall and 24 hour monitoring of site activities by our hosting service provider as well as 128-bit SSL encryption (where allowable by law) on all transaction oriented operations between you and Echoes & Reflections via our transaction service provider. While we use SSL encryption to protect sensitive information online, we also do everything in our power to protect user-information off-line. All of our users' information, not just the sensitive information mentioned above, is restricted in our offices. Only employees who need the information to perform a specific job (for example, our billing clerk, a customer service representative, or database administrator) are granted access to personally identifiable information. Any time new policies are added, our employees are notified and/or reminded about the importance we place on privacy, and what they are required to do to ensure our customers ' information is protected. Finally, the servers that we use to store personally identifiable information on are kept in a secure environment.
CHOICE/OPT-OUT ONLINE & OFFLINE
The following options are available for removing information from our database to discontinue receiving future communications or our service.
1. You can unsubscribe or change your e-mail preferences online by following the link at the bottom of any e-mail you receive from Echoes & Reflections via HubSpot.
2. You can notify us by email at
info@echoesandreflections.org
of your desire to be removed from our e-mail list or contributor mailing list.
CONTACTING THE WEB SITE
If you have any questions about this privacy statement, the practices of our website or your interactions with the website, please send email us at
info@echoesandreflections.org
NOTIFICATION OF CHANGES
If we decide to change our privacy policy, we will post those changes here so our users are always aware of what information we collect, how we use it, and the circumstances, if any, we disclose it.
CONTENT USE GUIDELINES
Echoes & Reflections content is royalty free for use by educators and students. Individuals or institutions not affiliated with U.S. public, private or parochial schools or higher education institutions or who are located outside of the U.S. should contact us if they wish to publish and/or translate content from Echoes & Reflections. In all cases, proper credit must be given: "Reprinted with permission from Echoes & Reflection Partnership ©. All rights reserved." The copyright "Echoes & Reflections Partnership ©" is retained. Please send inquiries to
info@echoesandreflections.org
.
RESOURCE OVERVIEW
Echoes & Reflections delivers value to both experienced Holocaust educators who are supplementing their curricula and to teachers new to Holocaust education. Learn how to engage further with the important work of Echoes & Reflections by signing up
here.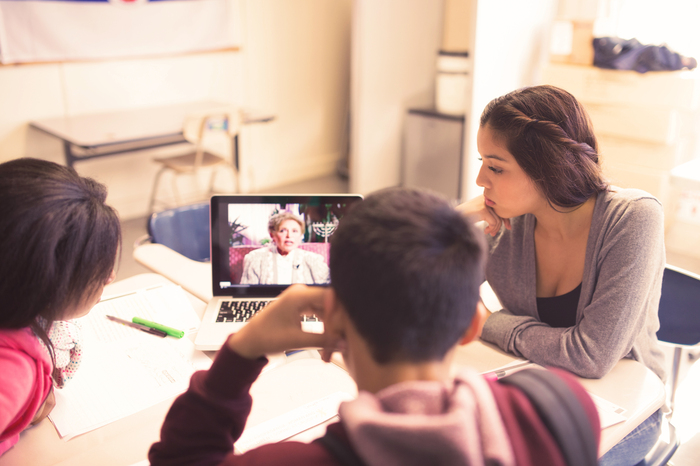 Third a Content