BLOG


A new statewide initiative is being implemented in Pennsylvania that encourages educators to integrate Holocaust education into their curriculum. Act 70 provides, "Children with an understanding of the importance of the protection of human rights and the potential consequences of unchecked ignorance, discrimination and persecution." Pennsylvania has determined that, "It is a matter of high priority that children in this Commonwealth be educated concerning the Holocaust, genocide, and other human rights violations."
View more +
Randi Boyette, Associate Regional Director of the Anti-Defamation League's Philadelphia Regional Office, and Cynthia Murphy, Director of Curriculum, Technology, and Resources at Seneca Highlands Intermediate Unit 9 (IU9), talk about Pennsylvania's efforts to prioritize Holocaust education through Act 70.
Enacting Act 70
As a convener of the Regional Consortium of Holocaust Educators in Greater Philadelphia, and consultant on the Act 70 Implementation Committee, Boyette shares, "The Department of Education has made a strong commitment to increase Holocaust, genocide, and human rights violations education in Pennsylvania… Act 70 is the document that says, 'We think it is important to teach about the Holocaust, this is why, and we at the Department of Education are going to help you do it.'"
Pennsylvania consulted experts from across the country in the development of Act 70. Dr. Kori Street, Director of Education at USC Shoah Foundation, joined Boyette, along with representatives from the United States Holocaust Memorial and Museum, National Catholic Center for Holocaust Education, and more.
Murphy works with educators in fourteen districts in Pennsylvania and is responsible for facilitating and providing professional development for teachers and administrators. In implementing Act 70 she shares that, "As educators, we have the responsibility to teach the Holocaust in a thoughtful, purposeful, and safe way for our kids. We have that opportunity, that obligation."
Why Teach the Holocaust?
"Holocaust education is so linked to character education, civic engagement, and the kind of people students are – or can be," Boyette shares. "That is the power of Holocaust education. It engages students intellectually while also appealing to their hearts."  Murphy echoes that this is best achieved when strong pedagogy is coupled with compelling material. "When our teachers have a good understanding, our students get a good understanding. It is our responsibility to make sure that they know what happened in the past, and that teachers use this material in a way that fosters empathy."
Holocaust education presents the unique opportunity to contemplate hard questions about human nature, and challenges students to consider their own choices while learning about an important period in history.
Key Components of Comprehensive Holocaust Education
Act 70 outlines curriculum guidelines to teach the Holocaust effectively to students. "Echoes and Reflections, along with IWitness, are excellent examples of resources that meet the Act 70 guidelines in terms of its pedagogy. The Pennsylvania Department of Education sees Echoes and Reflections as a wonderful partner in offering teacher training programs," Boyette shares.
Act 70 encourages the inclusion of the following subjects where appropriate in instruction:
Discuss the breadth of the history of the Holocaust, including the Third Reich dictatorship, concentration camp system, persecution of Jews and non-Jews, Jewish and non-Jewish resistance, and Post World War II trials.

Include the definition, history, response, and actions taken in the face of genocide, including the Holocaust and any other genocide perpetrated against humanity.

Discussion of human rights violations, antisemitism, racism, and the abridgment of civil rights.
"I think Echoes and Reflections is going to make it easier for Pennsylvania teachers to be compliant with Act 70," says Boyette. "It is crafted to keep the focus on the lives of the victims and not the perpetrators, and it contextualizes the history while complying with Common Core." Resources in Lesson Components on the Echoes and Reflections website relate directly to the guidelines in Act 70.
Examining the Holocaust challenges students to consider difficult questions. "How did people stand by and watch?" Murphy asks. "Echoes and Reflections is so rich with primary sources that it makes you think and wonder about why people made the choices they made. Listening to survivor testimony and hearing their stories is really impactful to students as well as teachers. You can't put yourself in their place but it's a question that will challenge kids to really think. What is the level of responsibility for people who knew and how do you determine the difference between guilt and blame?"
Professional Development in Pennsylvania
The Pennsylvania Department of Education has added Holocaust education resources to their website and will be offering professional development opportunities for educators statewide.
Echoes and Reflections is hosting 18 professional development programs in Pennsylvania in October and November 2015. Teachers will learn about the requirements of Act 70 along with effective teaching strategies to help students understand what happened during the Holocaust, why it happened, and how it relates to different issues they face today.
Cynthia Murphy is the Director of Curriculum, Technology, and Resources at Seneca Highlands Intermediate Unit 9 (IU9), in rural northwestern Pennsylvania. Randi Boyette is the Associate Regional Director for the Anti-Defamation League's Philadelphia Regional Office.
---




PREVIOUS POSTS
GET INVOLVED
FAQs
Professional Development Programs for Educators
Classroom Planning and Instruction
PRIVACY POLICY
Echoes & Reflections is committed to privacy. This privacy policy discloses our information gathering and dissemination practices for this website: www.echoesandreflections.org.
This site contains links to other sites. Echoes & Reflections is not responsible for the privacy practices or the content of such Web sites. This privacy statement applies solely to information collected by echoesandreflections.org.
GENERAL INFORMATION COLLECTION AND USE
Echoes & Reflections is the sole owner of the information collected on this site. We will not sell, share, or rent this information to others in ways different from what is disclosed in this statement. We collect information from our users at several different points on our website.
COOKIES AND WEBSITE ANALYTICS
Our site uses 'cookies'. A cookie is a piece of data stored on the user's hard drive containing information about the user. Usage of a cookie enables us to track and target the interests of our users to enhance the experience on our site, but is in no way linked to any personally identifiable information while on our site. If a user rejects the cookie, they may still use our site. The only drawback to this is that the user may be limited in some areas of our site (for example, certain surveys or other such activities).
We use Google Analytics to collect information about visitor traffic and behavior. This allows us to identify usage trends and to improve the performance and content of our websites.
We do not use this tool to collect or store your personal information, and it cannot be used to identify who you are. You can use the
Google Analytics Opt-Out Browser Add-on
to disable tracking by Google Analytics.
We currently do not use technology that responds to do-not-track signals from your browser.
VARIOUS REGISTRATIONS
To receive certain updates, enroll in certain programs, or use certain features of our website, a user may have to first complete a registration form. During registration a user is required to give their contact information (such as name and e-mail address). This information is used to contact the user about the services on our site for which they have expressed interest.
NEWSLETTER
If a user wishes to subscribe to our newsletter, we ask for contact information such as name and e-mail address.
ORDERS
Our site uses an order form for customers to request certain products. We collect visitor's contact information (such as name, e-mail, and address). Contact information from the order form is used to send information about Echoes & Reflections to the users of our website. The customer's contact information is also used to get in touch with the visitor when necessary. This information is not shared or resold in any circumstance except as may be required by law.
Users may opt-out of receiving future mailings; see the choice/opt-out section below.
SHARING
We may share aggregated demographic information with our partners. This is not linked to any personal information that can identify any individual person.
We use an outside shipping company to ship orders. These companies are contractually prohibited from retaining, sharing, storing or using personally identifiable information for any secondary purposes.
We may partner with third parties to provide specific services. When a user signs up for these services, we will share names, or other contact information that is necessary for the third party to provide these services.
These parties are contractually prohibited from using personally identifiable information except for the purpose of providing these services.
SECURITY
Our website has security measures in place to protect against the loss, misuse and alteration of the information under our control. This includes a firewall and 24 hour monitoring of site activities by our hosting service provider as well as 128-bit SSL encryption (where allowable by law) on all transaction oriented operations between you and Echoes & Reflections via our transaction service provider. While we use SSL encryption to protect sensitive information online, we also do everything in our power to protect user-information off-line. All of our users' information, not just the sensitive information mentioned above, is restricted in our offices. Only employees who need the information to perform a specific job (for example, our billing clerk, a customer service representative, or database administrator) are granted access to personally identifiable information. Any time new policies are added, our employees are notified and/or reminded about the importance we place on privacy, and what they are required to do to ensure our customers ' information is protected. Finally, the servers that we use to store personally identifiable information on are kept in a secure environment.
CHOICE/OPT-OUT ONLINE & OFFLINE
The following options are available for removing information from our database to discontinue receiving future communications or our service.
1. You can unsubscribe or change your e-mail preferences online by following the link at the bottom of any e-mail you receive from Echoes & Reflections via HubSpot.
2. You can notify us by email at
info@echoesandreflections.org
of your desire to be removed from our e-mail list or contributor mailing list.
CONTACTING THE WEB SITE
If you have any questions about this privacy statement, the practices of our website or your interactions with the website, please send email us at
info@echoesandreflections.org
NOTIFICATION OF CHANGES
If we decide to change our privacy policy, we will post those changes here so our users are always aware of what information we collect, how we use it, and the circumstances, if any, we disclose it.
CONTENT USE GUIDELINES
Echoes & Reflections content is royalty free for use by educators and students. Individuals or institutions not affiliated with U.S. public, private or parochial schools or higher education institutions or who are located outside of the U.S. should contact us if they wish to publish and/or translate content from Echoes & Reflections. In all cases, proper credit must be given: "Reprinted with permission from Echoes & Reflection Partnership ©. All rights reserved." The copyright "Echoes & Reflections Partnership ©" is retained. Please send inquiries to
info@echoesandreflections.org
.
RESOURCE OVERVIEW
Echoes & Reflections delivers value to both experienced Holocaust educators who are supplementing their curricula and to teachers new to Holocaust education. Learn how to engage further with the important work of Echoes & Reflections by signing up
here.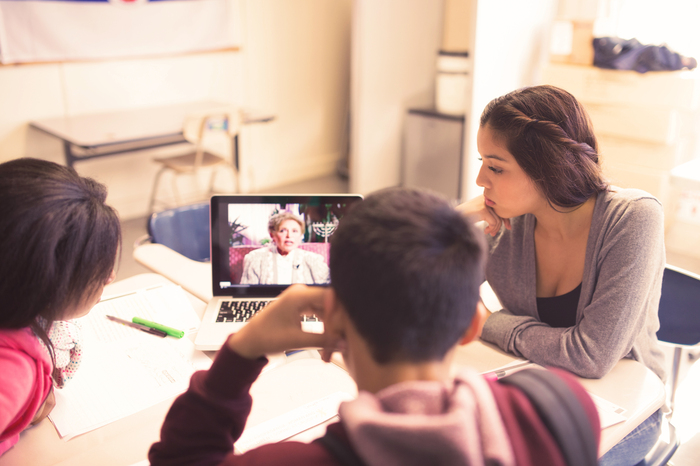 Third a Content