BLOG


According to the late David Bowie, "We can be heroes, just for one day." In countries all over the world, social studies curricula have used the past to create and highlight heroes, models of civic duty and individual sacrifice to inspire a nation. Some heroes may even become significant sources of identification, moral formation, and identity development for students (Yair, 2014).
View more +
Reading a personal, emotional story–albeit sad–can often resonate with people of all ages, especially the testimonies of Holocaust survivors. Echoes and Reflections content does not focus on heroism per se, though after watching featured video testimonies and reading primary source documents, we often see some students identify and/or begin to empathize with Holocaust victims. Though never will you hear survivors refer to themselves as heroes, some students may be inspired by Holocaust survivors who managed to rebuild their lives, often against all odds.
Over the past decade, Scholastic Inc., a long-standing reading hub of ongoing popularity, has published two Holocaust-related books by Mara Bovsun and Allan Zullo: Survivors: True Stories of Children in the Holocaust and Heroes of the Holocaust: True Stories of Rescues by Teens. These books focus on the personal stories of Holocaust survivors and/or non-Jewish teenagers who dared to help Jews during this period.
Echoes and Reflections content can offer a bridge of understanding and context to those themes raised in Bovsun and Zullo's books. For example, in Survivors: True Stories of Children in the Holocaust, students are introduced  to George and Ursula Levy. In Chapter 7, Ursula shares her experience hiding in a Dutch orphanage. The Levy children's story in this book highlights many difficult dilemmas and may be of special interest to students after studying material in Lesson 7: Rescue and Non-Jewish Resistance and Lesson 8: Survivors and Liberators.
Zullo and Bovsun's books have been widely reviewed on the Internet by young readers, as well as by adults who are interested in this genre. In the opening notes to both books, the authors express their hope that readers will "Find the stories in the book inspiring and that they help you to understand how important it is to keep recalling the past… so no one ever forgets."   
On the Goodreads website, two students reviewed Heroes of the Holocaust: True Stories of Rescues by Teens as follows:
"I rated this book as five stars because I was very fascinated by it. I can't believe how brave these teenagers were. It was very touching. Bad things can sure bring out the best in people. This book was also very motivating. It's good to do what's right."
Another wrote, "I thought it was amazing to read about teenagers who were caught doing good [sic], instead of bad, for once. These teenagers, by simply choosing to do what they knew was right, saved a lot of people. Because of what they did, and by hearing their stories, I honor them as heroes. It's great to know that anybody can change the world for others."
In the eyes of these two students, and perhaps those of their peer group, heroes are driven by a moral compass, trying in essence "to do what's right." These two students openly state that they were inspired by the stories researched and written by Bovsun and Zullo.
The dilemmas that people faced during the Holocaust are powerful stories that can be inspirational for some students, yet the gray zones of human behavior raise questions more often than they provide clear answers. As outlined in Lesson 7: Rescue and Non-Jewish Resistance and Lesson 9: Perpetrators, Collaborators, and Bystanders, most people were apathetic bystanders during the Holocaust and elected not to help many Jewish people. We also know that while people may be considered heroes for their so-called brave actions on one day during the Holocaust, they may have collaborated with perpetrators the following day. Recalling again the chorus of David Bowie, some people really were heroes – just for one day.
As educators, it is our mission to encourage the use of primary sources and critical thinking so that our students can study this paradigmatic event in world history as the complex event that it was.  Teachers should introduce their students to the history of antisemitism in Lesson 2 so that they can gain a better understanding of the power of propaganda and the roots of antisemitic legislation in the Third Reich and other European countries during this period. Students should also learn more about the stages of the "Final Solution" in Lesson 5 so that they begin to grasp how and why Nazi Germany developed an extermination camp system. By learning more about the historical context, students may begin to better understand that the people whom they perceive as "heroes of the Holocaust" did not always "do what's right," either by virtue of circumstances or as a result of decisions they made at the time.
Echoes and Reflections can help us teach our students about the past as we strive to shape a better future. By gaining more knowledge about how human beings failed to respond to antisemitism and hatred in their midst, we hope our students will internalize the words of the German-Jewish essayist Kurt Tucholsky: "A country is not just what it does, it is also what it tolerates."
Richelle Budd Caplan has served as the Director of the European Department of the International School for Holocaust Studies of Yad Vashem since 2009, and has been working at Yad Vashem since 1993.
---




PREVIOUS POSTS
GET INVOLVED
FAQs
Professional Development Programs for Educators
Classroom Planning and Instruction
PRIVACY POLICY
Echoes & Reflections is committed to privacy. This privacy policy discloses our information gathering and dissemination practices for this website: www.echoesandreflections.org.
This site contains links to other sites. Echoes & Reflections is not responsible for the privacy practices or the content of such Web sites. This privacy statement applies solely to information collected by echoesandreflections.org.
GENERAL INFORMATION COLLECTION AND USE
Echoes & Reflections is the sole owner of the information collected on this site. We will not sell, share, or rent this information to others in ways different from what is disclosed in this statement. We collect information from our users at several different points on our website.
COOKIES AND WEBSITE ANALYTICS
Our site uses 'cookies'. A cookie is a piece of data stored on the user's hard drive containing information about the user. Usage of a cookie enables us to track and target the interests of our users to enhance the experience on our site, but is in no way linked to any personally identifiable information while on our site. If a user rejects the cookie, they may still use our site. The only drawback to this is that the user may be limited in some areas of our site (for example, certain surveys or other such activities).
We use Google Analytics to collect information about visitor traffic and behavior. This allows us to identify usage trends and to improve the performance and content of our websites.
We do not use this tool to collect or store your personal information, and it cannot be used to identify who you are. You can use the
Google Analytics Opt-Out Browser Add-on
to disable tracking by Google Analytics.
We currently do not use technology that responds to do-not-track signals from your browser.
VARIOUS REGISTRATIONS
To receive certain updates, enroll in certain programs, or use certain features of our website, a user may have to first complete a registration form. During registration a user is required to give their contact information (such as name and e-mail address). This information is used to contact the user about the services on our site for which they have expressed interest.
NEWSLETTER
If a user wishes to subscribe to our newsletter, we ask for contact information such as name and e-mail address.
ORDERS
Our site uses an order form for customers to request certain products. We collect visitor's contact information (such as name, e-mail, and address). Contact information from the order form is used to send information about Echoes & Reflections to the users of our website. The customer's contact information is also used to get in touch with the visitor when necessary. This information is not shared or resold in any circumstance except as may be required by law.
Users may opt-out of receiving future mailings; see the choice/opt-out section below.
SHARING
We may share aggregated demographic information with our partners. This is not linked to any personal information that can identify any individual person.
We use an outside shipping company to ship orders. These companies are contractually prohibited from retaining, sharing, storing or using personally identifiable information for any secondary purposes.
We may partner with third parties to provide specific services. When a user signs up for these services, we will share names, or other contact information that is necessary for the third party to provide these services.
These parties are contractually prohibited from using personally identifiable information except for the purpose of providing these services.
SECURITY
Our website has security measures in place to protect against the loss, misuse and alteration of the information under our control. This includes a firewall and 24 hour monitoring of site activities by our hosting service provider as well as 128-bit SSL encryption (where allowable by law) on all transaction oriented operations between you and Echoes & Reflections via our transaction service provider. While we use SSL encryption to protect sensitive information online, we also do everything in our power to protect user-information off-line. All of our users' information, not just the sensitive information mentioned above, is restricted in our offices. Only employees who need the information to perform a specific job (for example, our billing clerk, a customer service representative, or database administrator) are granted access to personally identifiable information. Any time new policies are added, our employees are notified and/or reminded about the importance we place on privacy, and what they are required to do to ensure our customers ' information is protected. Finally, the servers that we use to store personally identifiable information on are kept in a secure environment.
CHOICE/OPT-OUT ONLINE & OFFLINE
The following options are available for removing information from our database to discontinue receiving future communications or our service.
1. You can unsubscribe or change your e-mail preferences online by following the link at the bottom of any e-mail you receive from Echoes & Reflections via HubSpot.
2. You can notify us by email at
info@echoesandreflections.org
of your desire to be removed from our e-mail list or contributor mailing list.
CONTACTING THE WEB SITE
If you have any questions about this privacy statement, the practices of our website or your interactions with the website, please send email us at
info@echoesandreflections.org
NOTIFICATION OF CHANGES
If we decide to change our privacy policy, we will post those changes here so our users are always aware of what information we collect, how we use it, and the circumstances, if any, we disclose it.
CONTENT USE GUIDELINES
Echoes & Reflections content is royalty free for use by educators and students. Individuals or institutions not affiliated with U.S. public, private or parochial schools or higher education institutions or who are located outside of the U.S. should contact us if they wish to publish and/or translate content from Echoes & Reflections. In all cases, proper credit must be given: "Reprinted with permission from Echoes & Reflection Partnership ©. All rights reserved." The copyright "Echoes & Reflections Partnership ©" is retained. Please send inquiries to
info@echoesandreflections.org
.
RESOURCE OVERVIEW
Echoes & Reflections delivers value to both experienced Holocaust educators who are supplementing their curricula and to teachers new to Holocaust education. Learn how to engage further with the important work of Echoes & Reflections by signing up
here.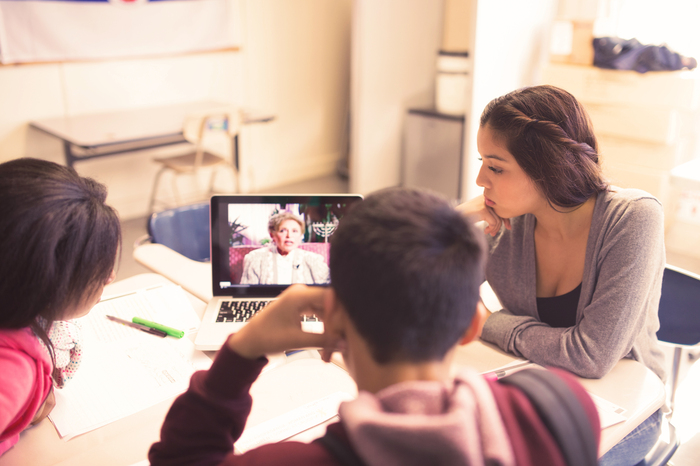 Third a Content