BLOG


Good questions are essential to sound pedagogy and solid teaching. As teachers, we spend countless hours creating questions for exams and structured discussions. We even construct questions spontaneously during dialogue with students, hoping to generate critical thinking and deeper cognition. At Echoes & Reflections, our pedagogy guides us to encourage inquiry-based learning; the best way to do this is to inspire students to create their own questions and drive their own learning. Here are five tips to do just that:
View more +
1. Make Question Asking the Norm
One of the tenets of our pedagogy is to ensure a supportive learning environment. We often discuss this in terms of "Safely In and Safely Out" when studying the horrors of the Holocaust. However, there is so much more to creating a safe, trustworthy, and fun environment in the classroom. Do more to encourage questions than just for clarity. Challenge students to think deeper and more critically: just because you are the teacher does not mean that information presented cannot be critiqued, challenged, and discussed. Welcome these questions as an opportunity to facilitate learning through discourse.
2. Model Good Questions
Creating a culture that encourages questions includes consistently providing examples of good questions. Students typically do not focus on the quality of questions; they focus on answers. Incorporate good questions into your lessons. If at first, they don't come from the students, they must come from you. This is especially necessary at the beginning of the year. Good questions build on prior knowledge, expand perspectives, and challenge students to think in more depth. For example, in our Nazi Germany unit, we ask: "What was the significance of the destruction of cultural institutions, such as synagogues? What message did this communicate to Jewish people? To German society more generally?" Many of our other units include essential questions to guide you in helping students to ask good questions on Holocaust topics.
3. Have Students Construct their own Questions and Provide Feedback
The ability to ask good questions is a skill that needs to be practiced, fine-tuned, and requires feedback.  Students should be consistently tasked with creating their own questions. This is a great addition to a homework assignment that can serve as solid prep work for a class discussion. Teach students how to develop good questions by giving them concrete and critical feedback to hone this valuable skill set.
4. Ask Clarifying Questions and Dig Deeper into Student Responses
We want students to do more than remember or understand a concept; we want them to think critically, defend their position, and analyze the information being presented. Do not be satisfied with a simple answer to a question but probe deeper, ask clarifying questions, and provide other students the ability to chime in, voice their thoughts, and learn together. This is demonstrated in our Document Analysis handout which challenges students to explain their answers, infer from what they've learned, and drives further student inquiry. It provides a helpful blueprint into how to incorporate these techniques into your classroom discussions.
5. Embrace the Silence
Silence can be uncomfortable, especially for our students who are constantly inundated with media, noise, and distractions. If we want students to think critically and deeply, we need to give them time to do just that. Embrace the uncomfortable silence: your students are thinking and that is exactly the reason we asked a question in the first place.
For more insight on how to support asking good questions, join Echoes & Reflections webinar on 4/6 where we will address questions submitted by students to serve as a springboard to open up important classroom conversations that are vital to Holocaust education.
About the author: Jesse Tannetta is a former high school teacher who is now the Operations and Outreach Manager for Echoes & Reflections. He holds a master's degree in Holocaust and Genocide Studies and is a current Ph.D. student beginning his dissertation on female concentration camp guard Hermine Braunsteiner Ryan.
---




PREVIOUS POSTS
GET INVOLVED
FAQs
Professional Development Programs for Educators
Classroom Planning and Instruction
PRIVACY POLICY
Echoes & Reflections is committed to privacy. This privacy policy discloses our information gathering and dissemination practices for this website: www.echoesandreflections.org.
This site contains links to other sites. Echoes & Reflections is not responsible for the privacy practices or the content of such Web sites. This privacy statement applies solely to information collected by echoesandreflections.org.
GENERAL INFORMATION COLLECTION AND USE
Echoes & Reflections is the sole owner of the information collected on this site. We will not sell, share, or rent this information to others in ways different from what is disclosed in this statement. We collect information from our users at several different points on our website.
COOKIES AND WEBSITE ANALYTICS
Our site uses 'cookies'. A cookie is a piece of data stored on the user's hard drive containing information about the user. Usage of a cookie enables us to track and target the interests of our users to enhance the experience on our site, but is in no way linked to any personally identifiable information while on our site. If a user rejects the cookie, they may still use our site. The only drawback to this is that the user may be limited in some areas of our site (for example, certain surveys or other such activities).
We use Google Analytics to collect information about visitor traffic and behavior. This allows us to identify usage trends and to improve the performance and content of our websites.
We do not use this tool to collect or store your personal information, and it cannot be used to identify who you are. You can use the
Google Analytics Opt-Out Browser Add-on
to disable tracking by Google Analytics.
We currently do not use technology that responds to do-not-track signals from your browser.
VARIOUS REGISTRATIONS
To receive certain updates, enroll in certain programs, or use certain features of our website, a user may have to first complete a registration form. During registration a user is required to give their contact information (such as name and e-mail address). This information is used to contact the user about the services on our site for which they have expressed interest.
NEWSLETTER
If a user wishes to subscribe to our newsletter, we ask for contact information such as name and e-mail address.
ORDERS
Our site uses an order form for customers to request certain products. We collect visitor's contact information (such as name, e-mail, and address). Contact information from the order form is used to send information about Echoes & Reflections to the users of our website. The customer's contact information is also used to get in touch with the visitor when necessary. This information is not shared or resold in any circumstance except as may be required by law.
Users may opt-out of receiving future mailings; see the choice/opt-out section below.
SHARING
We may share aggregated demographic information with our partners. This is not linked to any personal information that can identify any individual person.
We use an outside shipping company to ship orders. These companies are contractually prohibited from retaining, sharing, storing or using personally identifiable information for any secondary purposes.
We may partner with third parties to provide specific services. When a user signs up for these services, we will share names, or other contact information that is necessary for the third party to provide these services.
These parties are contractually prohibited from using personally identifiable information except for the purpose of providing these services.
SECURITY
Our website has security measures in place to protect against the loss, misuse and alteration of the information under our control. This includes a firewall and 24 hour monitoring of site activities by our hosting service provider as well as 128-bit SSL encryption (where allowable by law) on all transaction oriented operations between you and Echoes & Reflections via our transaction service provider. While we use SSL encryption to protect sensitive information online, we also do everything in our power to protect user-information off-line. All of our users' information, not just the sensitive information mentioned above, is restricted in our offices. Only employees who need the information to perform a specific job (for example, our billing clerk, a customer service representative, or database administrator) are granted access to personally identifiable information. Any time new policies are added, our employees are notified and/or reminded about the importance we place on privacy, and what they are required to do to ensure our customers ' information is protected. Finally, the servers that we use to store personally identifiable information on are kept in a secure environment.
CHOICE/OPT-OUT ONLINE & OFFLINE
The following options are available for removing information from our database to discontinue receiving future communications or our service.
1. You can unsubscribe or change your e-mail preferences online by following the link at the bottom of any e-mail you receive from Echoes & Reflections via HubSpot.
2. You can notify us by email at
info@echoesandreflections.org
of your desire to be removed from our e-mail list or contributor mailing list.
CONTACTING THE WEB SITE
If you have any questions about this privacy statement, the practices of our website or your interactions with the website, please send email us at
info@echoesandreflections.org
NOTIFICATION OF CHANGES
If we decide to change our privacy policy, we will post those changes here so our users are always aware of what information we collect, how we use it, and the circumstances, if any, we disclose it.
CONTENT USE GUIDELINES
Echoes & Reflections content is royalty free for use by educators and students. Individuals or institutions not affiliated with U.S. public, private or parochial schools or higher education institutions or who are located outside of the U.S. should contact us if they wish to publish and/or translate content from Echoes & Reflections. In all cases, proper credit must be given: "Reprinted with permission from Echoes & Reflection Partnership ©. All rights reserved." The copyright "Echoes & Reflections Partnership ©" is retained. Please send inquiries to
info@echoesandreflections.org
.
RESOURCE OVERVIEW
Echoes & Reflections delivers value to both experienced Holocaust educators who are supplementing their curricula and to teachers new to Holocaust education. Learn how to engage further with the important work of Echoes & Reflections by signing up
here.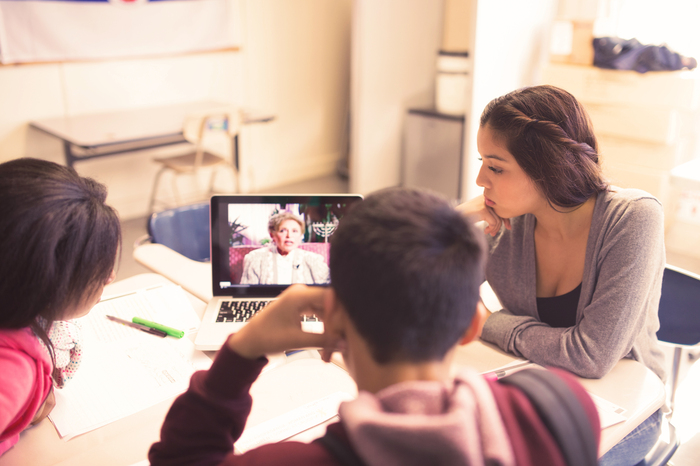 Third a Content