BLOG


We are clearly living in turbulent times. ADL regularly reports a rise in antisemitic incidents, both here and abroad, and the proliferation of right- wing populist governments continues to be cause for concern. And against the backdrop of increasingly partisan rhetoric in this country as elsewhere, it is incumbent upon teachers to educate our students about the Holocaust and to show them what happens when hateful racist ideology takes hold of governments and even entire societies until only widescale force applied can bring an end to the madness.
View more +
At such a moment, it is sobering to teach about Kristallnacht because, in retrospect, we can clearly see the two-day pogrom as a watershed moment, a three-week period when physical attacks upon Jewish lives and property in Nazi Germany were front page news in this country. But, when international outrage and condemnation resulted in no real consequence to the German State, the Nazi leadership interpreted this inaction as a green light to pursue their anti-Jewish agenda.
To those of us aware of this history, the need to push back against antisemitic, racist, homophobic, and or misogynistic rhetoric and policy is fueled both by moral outrage and by the need to protect against an analogous tipping point in our own times.
It wasn't long after I started teaching Holocaust literature that I found Echoes & Reflections, or rather Echoes & Reflections found me. I attended several of their workshops and seminars at the Illinois Holocaust Museum and Education Center, and I immediately gravitated to their philosophical approach to the subject matter and to their focus on the individual story. Among their many lesson plans is one about the November Pogrom.
The facts of November 9 and 10, 1938, are well known. "From the time the Nazis came to power in 1933 they began isolating Jews in Germany, and passed many laws to that effect. In the first half of 1938, additional laws were passed in Germany restricting German economic activity and educational opportunities…Later that year, 17,000 Jews of Polish citizenship were arrested and relocated across the Polish border. The Polish government refused to admit them so they were interned in relocation camps on the Polish frontier."[1] Among the many deportees were the parents of seventeen-year-old Herschel Grynszpan, who was living with an uncle in Paris at the time. Outraged by the Nazis' treatment of his family, he went to the German Embassy in Paris intending to assassinate the German ambassador there but instead killed Ernst vom Rath, a lesser figure in the diplomatic hierarchy. When vom Rath died two days later from his wounds, the Nazis used his death as a pretext to launch attacks on Jewish synagogues, homes, and businesses throughout Germany.
What is interesting and significant about these events from a teaching perspective, is that we have documents related to the attack which make it perfectly clear to our students that the Nazis planned every aspect of the events over that two- day period. For example, Echoes & Reflections materials include a copy of Heydrich's Instructions to "All Headquarters and Stations of the State Police and "All districts and sub districts of the SD (the Sicherheitsdienst or Secret Police)."[2] Asking students to examine this document and report their findings to their peers allows them to see for themselves the extent of Nazi cynicism and corruption with respect to the rule of law and of human decency. For example, the police were instructed that "only such measures are to be taken as do not endanger German lives or property (i.e. synagogues are to be burned down only where there is no danger of fire in neighboring buildings)."[3]
As a teacher, I find it imperative that students be guided to discover the truths of these documents for themselves by way of careful questions. For example, you can ask them what instructions they would give to their district commanders were they the officers in charge of managing a demonstration in their home city or community. More poignantly, you can ask them what they think Heydrich is saying when he draws a distinction between German and Jewish property. Finally, you can ask them to think about the international situation in 1938 and the reason Heydrich cautions that "Foreign citizens, even if they are Jews, are not to be touched."[4]
It is both exhilarating and sobering to teach this material to young people. Hearing their outrage and their determination to never let this happen again gives one hope for a better world. And yet, it is sobering to lead these students inevitably towards the later events of the Holocaust and towards the realization that fellow human beings are capable of such atrocities.
This summer I spent three weeks immersed in Holocaust studies in Israel at Yad Vashem. I now know more about the events of the Nazi era than ever before and paradoxically, the more I know about those years and those events, the harder it becomes to teach this history. It breaks my heart to have to tell these wonderful young people how ugly the human heart can be.
And yet, even the student who most hated to hear what happened, wrote of the Holocaust unit last year that he "needed to hear it" and that "only by learning this can we make sure such things can never happen again."
At the end of this year's lesson on Kristallnacht, I gave my students a new homework assignment. I asked them three questions about those events:
Does it make a difference how we label those events, calling them either Kristallnacht or The November Pogrom?
In what way(s) is your answer complicated by the fact the Nazis called it Kristallnacht and the Jews called it the November Pogrom?
Who has the right to label the event: the perpetrators; the victims; or a third party such as a historian?
With few exceptions, my students are able to discuss the importance of the name and to connect the events of November 1938 to the long history of antisemitism that continues to this day. Their outrage gives me hope that teaching a rigorous Holocaust program in schools may help build a bulwark against the tide of hateful rhetoric permeating so much of the world today.
 About the author: Originally from London, England, Dr. Susan Schinleber taught Cultural and Business and Communication at New York University before moving to Chicago with her young family. After teaching in several area universities, she moved to North Shore Country Day School in Winnetka, IL, where she teaches English, Public Speaking, and Holocaust Studies.
[1] Excerpt from Studying the Holocaust, Kristallnacht. Echoes & Reflections.
[2] From Heydrich's Instructions, November 1938 in Studying the Holocaust, Kristallnacht. Echoes & Reflections.
[3] Ibid.
[4] Ibid.
---




PREVIOUS POSTS
GET INVOLVED
FAQs
Professional Development Programs for Educators
Classroom Planning and Instruction
PRIVACY POLICY
Echoes & Reflections is committed to privacy. This privacy policy discloses our information gathering and dissemination practices for this website: www.echoesandreflections.org.
This site contains links to other sites. Echoes & Reflections is not responsible for the privacy practices or the content of such Web sites. This privacy statement applies solely to information collected by echoesandreflections.org.
GENERAL INFORMATION COLLECTION AND USE
Echoes & Reflections is the sole owner of the information collected on this site. We will not sell, share, or rent this information to others in ways different from what is disclosed in this statement. We collect information from our users at several different points on our website.
COOKIES AND WEBSITE ANALYTICS
Our site uses 'cookies'. A cookie is a piece of data stored on the user's hard drive containing information about the user. Usage of a cookie enables us to track and target the interests of our users to enhance the experience on our site, but is in no way linked to any personally identifiable information while on our site. If a user rejects the cookie, they may still use our site. The only drawback to this is that the user may be limited in some areas of our site (for example, certain surveys or other such activities).
We use Google Analytics to collect information about visitor traffic and behavior. This allows us to identify usage trends and to improve the performance and content of our websites.
We do not use this tool to collect or store your personal information, and it cannot be used to identify who you are. You can use the
Google Analytics Opt-Out Browser Add-on
to disable tracking by Google Analytics.
We currently do not use technology that responds to do-not-track signals from your browser.
VARIOUS REGISTRATIONS
To receive certain updates, enroll in certain programs, or use certain features of our website, a user may have to first complete a registration form. During registration a user is required to give their contact information (such as name and e-mail address). This information is used to contact the user about the services on our site for which they have expressed interest.
NEWSLETTER
If a user wishes to subscribe to our newsletter, we ask for contact information such as name and e-mail address.
ORDERS
Our site uses an order form for customers to request certain products. We collect visitor's contact information (such as name, e-mail, and address). Contact information from the order form is used to send information about Echoes & Reflections to the users of our website. The customer's contact information is also used to get in touch with the visitor when necessary. This information is not shared or resold in any circumstance except as may be required by law.
Users may opt-out of receiving future mailings; see the choice/opt-out section below.
SHARING
We may share aggregated demographic information with our partners. This is not linked to any personal information that can identify any individual person.
We use an outside shipping company to ship orders. These companies are contractually prohibited from retaining, sharing, storing or using personally identifiable information for any secondary purposes.
We may partner with third parties to provide specific services. When a user signs up for these services, we will share names, or other contact information that is necessary for the third party to provide these services.
These parties are contractually prohibited from using personally identifiable information except for the purpose of providing these services.
SECURITY
Our website has security measures in place to protect against the loss, misuse and alteration of the information under our control. This includes a firewall and 24 hour monitoring of site activities by our hosting service provider as well as 128-bit SSL encryption (where allowable by law) on all transaction oriented operations between you and Echoes & Reflections via our transaction service provider. While we use SSL encryption to protect sensitive information online, we also do everything in our power to protect user-information off-line. All of our users' information, not just the sensitive information mentioned above, is restricted in our offices. Only employees who need the information to perform a specific job (for example, our billing clerk, a customer service representative, or database administrator) are granted access to personally identifiable information. Any time new policies are added, our employees are notified and/or reminded about the importance we place on privacy, and what they are required to do to ensure our customers ' information is protected. Finally, the servers that we use to store personally identifiable information on are kept in a secure environment.
CHOICE/OPT-OUT ONLINE & OFFLINE
The following options are available for removing information from our database to discontinue receiving future communications or our service.
1. You can unsubscribe or change your e-mail preferences online by following the link at the bottom of any e-mail you receive from Echoes & Reflections via HubSpot.
2. You can notify us by email at
info@echoesandreflections.org
of your desire to be removed from our e-mail list or contributor mailing list.
CONTACTING THE WEB SITE
If you have any questions about this privacy statement, the practices of our website or your interactions with the website, please send email us at
info@echoesandreflections.org
NOTIFICATION OF CHANGES
If we decide to change our privacy policy, we will post those changes here so our users are always aware of what information we collect, how we use it, and the circumstances, if any, we disclose it.
CONTENT USE GUIDELINES
Echoes & Reflections content is royalty free for use by educators and students. Individuals or institutions not affiliated with U.S. public, private or parochial schools or higher education institutions or who are located outside of the U.S. should contact us if they wish to publish and/or translate content from Echoes & Reflections. In all cases, proper credit must be given: "Reprinted with permission from Echoes & Reflection Partnership ©. All rights reserved." The copyright "Echoes & Reflections Partnership ©" is retained. Please send inquiries to
info@echoesandreflections.org
.
RESOURCE OVERVIEW
Echoes & Reflections delivers value to both experienced Holocaust educators who are supplementing their curricula and to teachers new to Holocaust education. Learn how to engage further with the important work of Echoes & Reflections by signing up
here.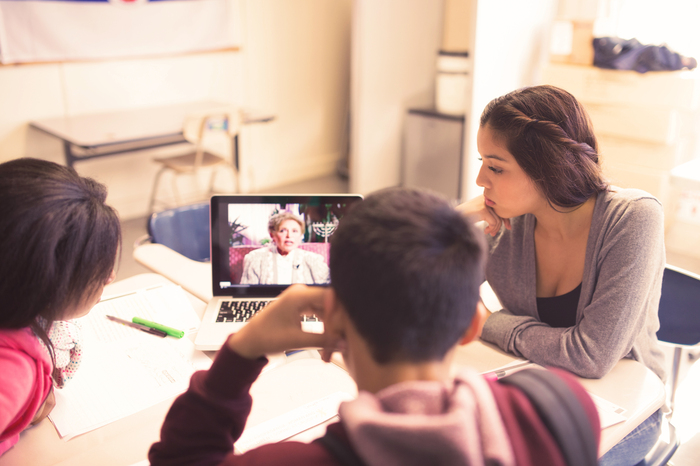 Third a Content