BLOG


Whether you have returned to the classroom, are embracing a hybrid model, or are entirely virtual, we can all agree that teaching this school year comes with more distance. As a former classroom teacher who now works with educators, I have heard and understand the many concerns teachers have about how to teach the Holocaust in these environments. Like you, Echoes & Reflections has been learning throughout the pandemic from students, teachers, and other educational experts on best practices for this new way of life. You can find some of these suggestions in a previous blog.
View more +
Although much has changed, there are many aspects of teaching the Holocaust that remain the same. Good pedagogy is essential although how we implement it may need some updates. Our rationale for teaching the Holocaust ought to be consistent with several of our principles of pedagogy: to foster empathy, to encourage inquiry-based learning and critical thinking, and to make the Holocaust relevant to our students.
Primarily, it's important to:
Highlight powerful themes that are relevant to today and inspire action in students: resilience, resistance, and rescue, just to name a few. Emphasize agency, individual choice, and how lessons of the Holocaust invoke the need for positive action in the world today.
How do we do this in a classroom with more distance between ourselves and our students?
1. Ensure a supportive learning environment, what we call "Safely in and Safely out." Topics such as the Holocaust elicit strong emotions, require deep reflectivity, and extensive debriefing. Providing opportunities for students to express their emotions comes naturally in the classroom but with more distance, teachers must be deliberate in facilitating these vital conversations. Utilize the time you have together, in-person or online, to connect with your students in conversation and to address questions. Structure social-emotional check-ins and activities often and encourage student reflection on the events of the Holocaust. Remember, emotion can be a powerful source of knowledge.
2. Focus on the entirety of Social-Emotional Learning (SEL). We often focus on the "E" of emotion when we talk about SEL, but the "S" is just as important. In the classroom, it is natural to group students together or have them have a quick conversation with a partner. In a more distanced environment, we must structure these social learning opportunities more concretely. Asynchronous learning can be a great opportunity to foster these conversations in discussion boards, to task students with creating a shared product, or to engage in project-based learning. Grant students the freedom and flexibility to research, connect, and share new knowledge with you and their classmates in multiple modalities. Enable students to engage with this material in a meaningful and personal way to "leave something of themselves," such as an artifact they can share with the class. We know that successful teachers imbue their lessons with elements of themselves; create opportunities for students to do the same.
3. Work to connect our students with us, with each other, and with humanity in general. Again, we look to our pedagogy to guide our instruction when we proclaim: "Teach the Human Story". This principle is the fulcrum of Echoes & Reflections pedagogy, and in a more distanced environment only carries more weight. The human story should be a focus in developing and delivering lessons to students who must connect themselves to these narratives on an individual basis.
4. Rely on primary sources to highlight the events of the Holocaust. Highlight multimedia projects, videos, and other multi-modal sources such as artwork, poetry, diary entries, photographs, and especially testimony. Push students to interact with these sources in depth to read between the lines and foster empathy. For example, when viewing testimony, such as Kurt Messerschmidt's recollection of Kristallnacht, challenge students to read his emotional reactions through body language, tone inflection, and facial expressions.
There is great concern that students are behind due to the upheaval caused by COVID-19. Although there is a desire to overload on content to "catch up," we mustn't allow this to cloud our judgment or change our rationale for teaching the Holocaust. Our role as Holocaust educators is to inspire our students to learn more, seek understanding, and grow as individuals to become more human. Knowledge can be acquired but empathy, compassion, and activism must be cultivated. That should be our focus as we enter a school year unlike any other. Teach the human story, teach it to the humans who so desperately need your support, and cultivate in them a desire to positively impact the world which so desperately needs their support.
To learn more, participate in the webinars in our new series on supporting Holocaust education in the virtual classroom:
About the author: Jesse Tannetta is a former high school teacher who is now the Operations and Outreach Manager for Echoes & Reflections. He holds a master's degree in Holocaust and Genocide Studies and is a current Ph.D. student beginning his dissertation on female concentration camp guard Hermine Braunsteiner Ryan.
---




PREVIOUS POSTS
GET INVOLVED
FAQs
Professional Development Programs for Educators
Classroom Planning and Instruction
PRIVACY POLICY
Echoes & Reflections is committed to privacy. This privacy policy discloses our information gathering and dissemination practices for this website: www.echoesandreflections.org.
This site contains links to other sites. Echoes & Reflections is not responsible for the privacy practices or the content of such Web sites. This privacy statement applies solely to information collected by echoesandreflections.org.
GENERAL INFORMATION COLLECTION AND USE
Echoes & Reflections is the sole owner of the information collected on this site. We will not sell, share, or rent this information to others in ways different from what is disclosed in this statement. We collect information from our users at several different points on our website.
COOKIES AND WEBSITE ANALYTICS
Our site uses 'cookies'. A cookie is a piece of data stored on the user's hard drive containing information about the user. Usage of a cookie enables us to track and target the interests of our users to enhance the experience on our site, but is in no way linked to any personally identifiable information while on our site. If a user rejects the cookie, they may still use our site. The only drawback to this is that the user may be limited in some areas of our site (for example, certain surveys or other such activities).
We use Google Analytics to collect information about visitor traffic and behavior. This allows us to identify usage trends and to improve the performance and content of our websites.
We do not use this tool to collect or store your personal information, and it cannot be used to identify who you are. You can use the
Google Analytics Opt-Out Browser Add-on
to disable tracking by Google Analytics.
We currently do not use technology that responds to do-not-track signals from your browser.
VARIOUS REGISTRATIONS
To receive certain updates, enroll in certain programs, or use certain features of our website, a user may have to first complete a registration form. During registration a user is required to give their contact information (such as name and e-mail address). This information is used to contact the user about the services on our site for which they have expressed interest.
NEWSLETTER
If a user wishes to subscribe to our newsletter, we ask for contact information such as name and e-mail address.
ORDERS
Our site uses an order form for customers to request certain products. We collect visitor's contact information (such as name, e-mail, and address). Contact information from the order form is used to send information about Echoes & Reflections to the users of our website. The customer's contact information is also used to get in touch with the visitor when necessary. This information is not shared or resold in any circumstance except as may be required by law.
Users may opt-out of receiving future mailings; see the choice/opt-out section below.
SHARING
We may share aggregated demographic information with our partners. This is not linked to any personal information that can identify any individual person.
We use an outside shipping company to ship orders. These companies are contractually prohibited from retaining, sharing, storing or using personally identifiable information for any secondary purposes.
We may partner with third parties to provide specific services. When a user signs up for these services, we will share names, or other contact information that is necessary for the third party to provide these services.
These parties are contractually prohibited from using personally identifiable information except for the purpose of providing these services.
SECURITY
Our website has security measures in place to protect against the loss, misuse and alteration of the information under our control. This includes a firewall and 24 hour monitoring of site activities by our hosting service provider as well as 128-bit SSL encryption (where allowable by law) on all transaction oriented operations between you and Echoes & Reflections via our transaction service provider. While we use SSL encryption to protect sensitive information online, we also do everything in our power to protect user-information off-line. All of our users' information, not just the sensitive information mentioned above, is restricted in our offices. Only employees who need the information to perform a specific job (for example, our billing clerk, a customer service representative, or database administrator) are granted access to personally identifiable information. Any time new policies are added, our employees are notified and/or reminded about the importance we place on privacy, and what they are required to do to ensure our customers ' information is protected. Finally, the servers that we use to store personally identifiable information on are kept in a secure environment.
CHOICE/OPT-OUT ONLINE & OFFLINE
The following options are available for removing information from our database to discontinue receiving future communications or our service.
1. You can unsubscribe or change your e-mail preferences online by following the link at the bottom of any e-mail you receive from Echoes & Reflections via HubSpot.
2. You can notify us by email at
info@echoesandreflections.org
of your desire to be removed from our e-mail list or contributor mailing list.
CONTACTING THE WEB SITE
If you have any questions about this privacy statement, the practices of our website or your interactions with the website, please send email us at
info@echoesandreflections.org
NOTIFICATION OF CHANGES
If we decide to change our privacy policy, we will post those changes here so our users are always aware of what information we collect, how we use it, and the circumstances, if any, we disclose it.
CONTENT USE GUIDELINES
Echoes & Reflections content is royalty free for use by educators and students. Individuals or institutions not affiliated with U.S. public, private or parochial schools or higher education institutions or who are located outside of the U.S. should contact us if they wish to publish and/or translate content from Echoes & Reflections. In all cases, proper credit must be given: "Reprinted with permission from Echoes & Reflection Partnership ©. All rights reserved." The copyright "Echoes & Reflections Partnership ©" is retained. Please send inquiries to
info@echoesandreflections.org
.
RESOURCE OVERVIEW
Echoes & Reflections delivers value to both experienced Holocaust educators who are supplementing their curricula and to teachers new to Holocaust education. Learn how to engage further with the important work of Echoes & Reflections by signing up
here.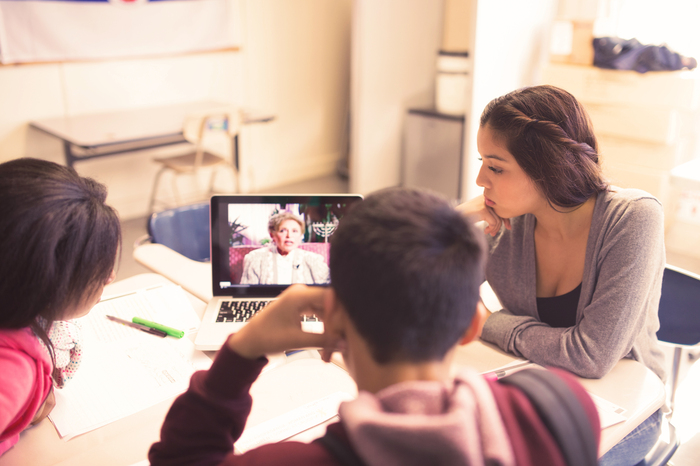 Third a Content