BLOG


What is courage? Do we all have the ability to act heroically? When we decide to behave courageously, is it because we've already determined that the risk, danger, or potentially hazardous outcome is worth it? How about those whose actions are courageous, but motivation may be selfish? What responsibility do we, as educators, bear in humanizing acts of courage for our students?
View more +
Children hear endless stories of heroism and courage; where muscle-bound superheroes typify valor by saving the world, or 'good guys' take down 'bad guys' in an epic battle royale, standing up for those whose rights have been abused or trampled. This binary structure of good and evil evolves to encompass those who fight in wars against totalitarianism, champions of human rights and social change showing that progress, action, and tolerance can win a decisive victory against darkness. But does our veneration of courageous acts limit how a young person sees themselves in acting with empathy and action to change their world? Does this view attach itself to a narrative of heroism that may make these actions seem inaccessible to an everyday person?
As educators, it's important to show courage not as a single definitive act, but as iterative, sometimes minute, actions that help others to live with dignity. Individual acts of courage and humanity serve as beacons of hope during times of upheaval and cataclysm, and in its most extreme, stand as testament to one's ability to confront and resist extreme evil. During the Holocaust, there were individuals and groups who tried to help Jewish people at great personal risk; with punishments severe and in some cases under penalty of death. For instance, in Echoes & Reflections, we discuss the actions of the Danish citizens when hearing of the planned implementation of the Nazi's Final Solution, standing as an example of how both individuals and communities can act within their own agency on behalf of others. Danes during the Second World War founded the Elsinore Sewing Club, and using speedboats, fishing boats, and other means of transportation ferried Jewish citizens to safety across the sea to neutral Sweden.
The idea that courage is singular, situational and momentary is fallible. The act of riding into battle or stopping a fight, or standing up for your values, all of this is predicated on the notion that to act courageously means to act with the conviction of a single moment. But courage is complicated. It's sustained. It's messy. We tend to venerate those who hid Jews during the Holocaust without knowing or understanding the parameters or motivation behind their actions. The Girl in the Green Sweater, for instance tells the story of a family's survival in the sewers of Lvov during the Holocaust. Leopold Socha, a municipal sewer worker who smuggled the family food in exchange for a fee, helped sustain 21 people daily. If someone behaves courageously, but does so for money, protection, or capital gain, does it negate the good their actions have prompted? Is courage a morally neutral value?
To many during in the Holocaust, courage was not a single definitive moment in time, but a collection of moments – for those who hid Jewish families, courage was a daily test, and for those who hid, courage was fighting back through the simple act of remaining alive. As Miep Gies, who risked her life to hide the Frank family, once stated, "People sometimes call me a hero. I don't like it, because people should never think that you have to be a very special person to help those who need you."
As we discuss the concept of courage and its complexities with students when teaching the Holocaust, bringing in stories of a small kindness and large, momentous movements can help students contextualize how their everyday behaviors impact the lives of those around them, and how they can navigate the complex moral ecosystem of social life with empathy and goodness that may never be written about in text books, but may make a lasting imprint on the lives of those around them.
---


I first traveled to Poland in the summer of 2005. I had never left the United States and had no idea I'd return years later as a researcher and Fulbright scholar. The country had just joined the European Union. Cranes hung from the sky like praying mantises, new tarmac was laid in the airport, highways were expanding, and people seemed cautiously optimistic, if not hopeful. Just over a decade prior, Poland had still been under martial law implemented by the communist ruling government. Now it was the World Cup, Poland was in the semi-finals, and all over the city restaurants spilled into the streets as people gathered around giant outdoor screens. In the midst of this, our student tour walked through the winding cobblestone alleys of Krakòw, learning the history of the Kazimierz neighborhood, the former Jewish quarter of the city. Krakòw was a central city for the Nazi Party, and as such had not been razed to the ground with as much malice as its sister city, Warsaw, where over 80% of the city's buildings sustained structural damage. Warsaw has a feeling of artifice, of new plaster and paint over old wounds. Krakòw has ghosts.
View more +
As I walked, our guide, a scholar from the Jaegallonian University read us "The End and the Beginning", by Wislawa Symborska, Nobel prize-winning Polish poet,
"Those who knew
what this was all about
must make way for those
who know little.
And less than that.
And at last nothing less than nothing.
 Someone has to lie there
in the grass that covers up
the causes and effects
with a cornstalk in his teeth,
gawking at clouds."
This poem hung above my desk for years, a grounding force for me in understanding and contextualizing Holocaust education and the role of conflict and memory. In it, Symborska speaks of violence and the paradox of post-conflict societies, "all the cameras have left for another war" she states. This idea of remembering and forgetting recently came up in a New York Times article, Holocaust is Fading From Memory, Survey Finds, which posits that 31 percent of Americans, and 41 percent of millennials, believe that two million or fewer Jews were killed in the Holocaust. 41 percent of Americans, and 66 percent of millennials, cannot say what Auschwitz was. And 52 percent of Americans wrongly think Hitler came to power through force.
As educators, what role do we play in acting as stewards of Holocaust memory? With the many constraints of time, materials, mandated testing, even language and cultural barriers, how can we bridge gaps of understanding when we teach the Holocaust? What role does memory play in understanding the events of the Holocaust?
In "Meeting a Moral Imperative, a Rationale for Teaching the Holocaust", scholar David Lindquist writes that the primary rationale for studying the Holocaust involves the opportunity to consider the moral implications that can be drawn from examining the event. Studying the Holocaust, he argues, forces students to consider what it means to be human and humane by examining the full continuum of individual behavior, from ultimate evil to ultimate good. He argues that a moral imperative exists for the presence of Holocaust education in contemporary classrooms. Should that moral imperative extend to understanding the ability of time and distance to obscure the past?
The moral imperative for studying the Holocaust in the US and understanding the events of history is more important now than ever. America is facing its own role in triangulating the difficult geometry of past atrocities, making the vital calculus of truth and reconciliation, demarcated with the recent opening of the National Memorial for Peace and Justice , in Montgomery, Alabama. Bryan Stevenson, the head of Equal Justice Initiative which is spearheading the project, told The Jerusalem Post in 2016 that his design was inspired by what the 'memory work' monuments throughout Europe do in commemorating the victims of the Holocaust.  "Auschwitz is a place you visit. It sobers you with the horrors of the Holocaust. When you leave these places, you want to say, 'Never again should we commit this kind of suffering and abuse.'" Stevenson aims to evoke the same feelings in Americans in the design of the first physical space dedicated to the victims of slavery, lynching, segregation and mass incarceration. The physical manifestation of suffering is educative in itself.
Echoes & Reflections structure of primary source documents becomes increasingly important in the work of bridging gaps in memory and understanding. The use of primary sources exposes students to important historical concepts and connects them directly with people in the past whose existence was impacted or extinguished by the Holocaust. Through primary resources, victims and rescuers 'speak' across time, using their diaries, letters, maps, and articles, to construct a view of the past not distorted, but intensified by the passage of time.
As teachers, questions of how time, distance, and desensitization impact our understanding of history are as important as the events of the past themselves. Only in exploring how we see the Holocaust, refracted through the lens of memory, can we come to understand and establish how the arc of human history changes us, calibrates our vision of the world, and weights even our most trivial and minute decisions each day.
About the Author: Melissa Mott is the Deputy Project Director for Echoes & Reflections at ADL.
---


Wrote T.S. Eliot in "The Burial of the Dead," the first section of The Waste Land. That line could not have been about April 19, 1943, when Jews in the Warsaw ghetto took up arms to resist Nazi soldiers who had come to deport them to concentration and extermination camps. Nor could it have been about April 7, 1994, when the genocide against the Tutsi in Rwanda began. The Waste Land was published in 1922. But, by some sort of irony, Yom Hashoah, or Holocaust Remembrance Day, is often in April, as is the case this year. Also, the commemoration of the genocide against the Tutsi begins on April 7.
View more +
On April 7, 1994, all of my wife's relatives who lived on a hill called Kunanga, a total of 118 of four generations, were killed. Among the victims were my two aunts, Nyirabagenera and Kamamure, who were married to my wife's cousins. What happened on that hill on that fateful day was also happening on several other hills and in several valleys across the mountainous country, and would continue to happen in the following 99 days. By July 4, when soldiers of the Rwandan Patriotic Front (RPF) took control of the entire country, ending the genocide, over a million Tutsis and their Hutu sympathizers had been killed. As a kid in 1959, I had seen houses go up in flames; unbeknown to me then was that the houses were torched because they belonged to Tutsis. Thirty-five years later when the genocide was carried out, I was living and teaching in Zimbabwe. Although I knew then of the many anti-Tutsi pogroms, I was not prepared for the incessant news of indiscriminate killings of Tutsis —the old, the young, the infant, and even the unborn. The news, though numbing, gave rise to a hatred for Hutus who had killed innocent beings just for who they were. They must have been monsters, I erroneously thought. You see, I had no historical references whatsoever for what was happening in Rwanda. I had not read Karl's confession to Simon Wiesenthal, author of The Sunflower, to understand how ordinary people become perpetrators. Karl, a dying Nazi soldier, had been raised Catholic and had joined Hitler's Youth and the SS, institutions in which he had been taught that doing what he was commissioned to do was a patriotic duty. Granted, I knew that approximately six million Jews had been killed during the Second World War, but I did not know why or how they had been killed. The Holocaust had never been part of my curriculum.
That was to change 14 years later when I had opportunities to learn about the Holocaust, which to me was an entry into learning about the genocide against the Tutsi. These opportunities included a seminar on Holocaust education at The Olga Lengyel Institute for Holocaust Studies and Human Rights (TOLI) in 2008; an Echoes & Reflections seminar at Yad Vashem: The World Holocaust Remembrance Centerin 2011; a TOLI educational tour of Poland's Holocaust sites and Israel's historical sites in 2012. From these educational opportunities, I learned two fundamental lessons: one, that all genocides have histories; two, that genocide is preventable. Irving Roth, a Holocaust survivor who spoke at the 2008 TOLI Summer Seminar I attended, used the term "signposts" along the road to the Holocaust to underscore the fact that the Holocaust was not a spontaneous event: there had been the Nuremberg race laws, which codified policies of discrimination against Jews; the Kristallnacht Pogrom, when several synagogues and Jewish-owned businesses were destroyed; the letter "J" on Jewish identity cards, which made it possible for Nazis to single out Jews for any nefarious purposes.
The road to the genocide against the Tutsi too, like all roads leading to genocides, had signposts. Using criteria of scientific racism, the Belgian colonial administration had noses of individuals in Rwanda measured to determine who was Hutu and who was Tutsi. Gerard Prunier in The Rwanda Crisis quotes a colonial administration document which described Tutsis as having "features [that] are very fine: a high brow, thin nose and fine lips" and as being "gifted with a vivacious intelligence"; Hutus as being "short and thick-set with a big head" and "less intelligent"; and Twas as having "a monkey-like face." The administration also issued identity cards with Tutsi, Hutu, and Twa labels, and enacted policies that favored Tutsis and discriminated against Hutus and Twas. For example, it removed Hutu chiefs and replaced them with Tutsis. In the late 1950s, when the Tutsi elite demanded political independence from Belgium, the colonial administration switched its allegiance to the Hutu. In 1959, rumors of an attack of a prominent Hutu leader by a group of Tutsi young men sparked the first anti-Tutsi pogrom. In 1962, following Rwanda's independence, the exclusively Hutu government continued the policy of issuing identity cards with Hutu, Tutsi, and Twa labels in order to enforce discriminatory policies against Tutsis. For example, teachers were mandated to regularly do a headcount of Tutsi students in their classes so as not to exceed the allowed quota. In her memoir, Chosen to Die, Destined to Live, Frida Gashumba wrote, "The head count of Hutus and Tutsis came to be a three-month occurrence, as the headmaster complied with the government's directive…. Each time the Hutu children would laugh at us and goad us, and neither the headmaster nor our teacher would make any attempt to shut them up." The Hutu government also oversaw anti-Tutsi pogroms in 1963, 1967, 1973 when all Tutsi students were expelled from the only university in the country then, and 1990.  Perhaps worst of all signposts on the road to the genocide was the dehumanization of Tutsis; they were called cockroaches, rats, and snakes, which justified their extermination.
In On Austrian Soil, one of the texts we used at the 2008 TOLI Summer Seminar, Sondra Perl wrote: "You are not responsible for the past. But I think you do have, that we all have, a responsibility to the future.... Not to turn our backs. Not to be silent [in the face of any form of social injustice]." Perl's primary audience was educators, who have the responsibility to teach against prejudice, discrimination, and persecution—beliefs and practices that potentially lead to genocide. That ordinary people in Germany and in Rwanda became genocide perpetrators indeed speaks to the failures of institutions, such as schools, which taught or tolerated prejudice and hatred. This April month we remember the Holocaust, the genocide against the Tutsi, and other genocides to recall mistakes of the past so that they are not repeated.
About the Author: Gatsinzi Basaninyenzi, Ph.D. is an Associate Professor of English at Alabama A&M University.
---




PREVIOUS POSTS
GET INVOLVED
FAQs
RESOURCE OVERVIEW
Echoes & Reflections delivers value to both experienced Holocaust educators who are supplementing their curricula and to teachers new to Holocaust education. Draw insights from our
Blog
 , 
Newsletter
, and
FAQs
, and
contact us
  to learn how to engage further with the important work of Echoes & Reflections.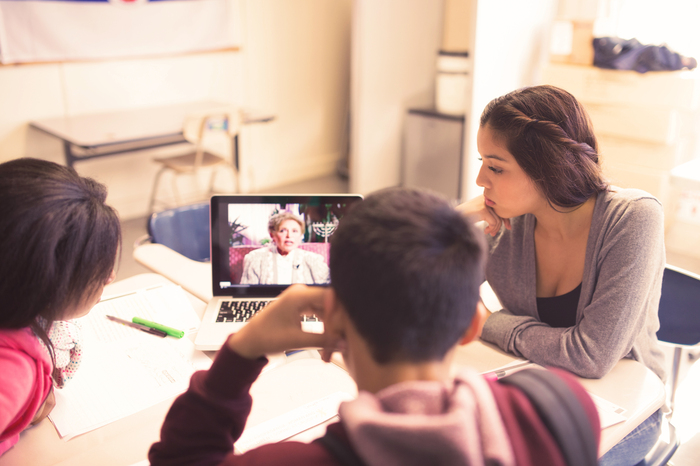 Third a Content