Holocaust Educators Have Heart
2017 Echoes and Reflections Advanced Seminar at Yad Vashem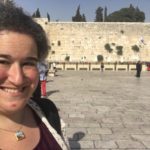 As someone who has dedicated her life to teaching and empowering youth and has experienced firsthand acts of contemporary antisemitism in her community, Emily Bengels believes that now more than ever she must work towards fighting hate. She strives to do this by promoting compassion, love, and understanding among her students through the lessons and teachings of the Holocaust.
"The seeds of hatred still need to be tended to…my calling as a teacher is to replace the seeds of hatred with love and understanding, and replace the seeds of fear with compassion," said Bengels.
Bengels is deeply passionate about Holocaust education and is motivated by her upbringing and her knowledge of the Yiddish language, "So many of the victims of the Holocaust laughed and sang and told stories in this language [Yiddish]. As a secular Jew and a Yiddishist, I want to keep their stories and lessons alive."
Prior to attending the Advanced Seminar, Bengels had used many of Echoes and Reflections' lessons in the classroom. Bengels applied for the Advanced Seminar to gain more knowledge about human resilience in connection with the Holocaust. She feels that Echoes and Reflections is a model program for its emphasis on individual spiritual resistance. Throughout the Advanced Seminar, Bengels felt that the compassion of her leaders and teachers in the group was incomparable.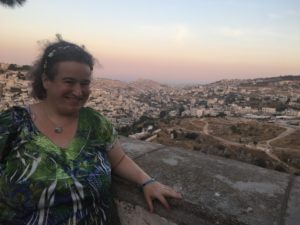 "My new saying is: Holocaust educators have heart," said Bengels in reference to her lasting impressions of the Advanced Seminar.
Bengels found inspiration in multiple aspects of the Advanced Seminar. She was especially moved by both the individuals who worked to protect Jews during the Nazi regime, such as the residents of the French village of Le Chambon-sur-Lignon, and the young victims of the Holocaust. Additionally, Bengels was deeply impacted by having the opportunity to meet with and hear personal stories from both survivors of the Holocaust and the Rwandan Genocide.
Emily Bengels is French and Theater Teacher at Readington Middle School in Whitehouse Station, NJ.