Echoes and Reflections Resources for the 70th Anniversary of the Liberation from Auschwitz
Tuesday, January 27, 2015 marks the 70th Anniversary of the liberation of Auschwitz-Birkenau. Echoes and Reflections and our Partners offer an array of resources for educators to acknowledge this anniversary with students.
Check out our latest newsletter for helpful links and references for educators!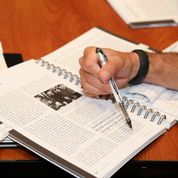 Follow the commemoration ceremony at Auschwitz-Birkenau on January 27, 2015 at 15:30 CET on Twitter with #Auschwitz70
Read USC Shoah Foundation Executive Director, Stephen Smith's thoughts on Preserving Auschwitz
Stay connected and receive the Echoes and Reflections newsletter!